Thanks in large part to Chevrolet's involvement in NASCAR racing, the somewhat anachronistic Monte Carlo outlived its useful life span by half a decade or so. By 2000, the mainstream-brand midsize/large coupe segment was all but gone, with only the coupe versions of the Honda Accord and the Toyota Camry (dubbed Solara) still seeing meaningful sales volume.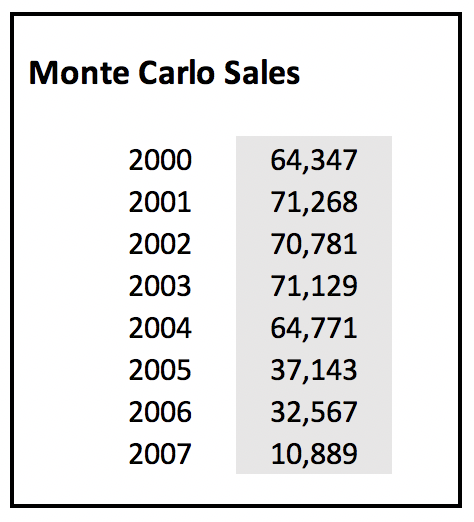 The sixth—and last—generation of the Monte Carlo debuted for 2000. The Monte rode on General Motors' W-platform architecture, and was thus similar mechanically to the Buick Century, Lacrosse, and Regal, as well as the Chevrolet Impala, Oldsmobile Intrigue, and Pontiac Grand Prix.
A performance-oriented version of the Monte Carlo, the SS, was available for the entire 2000-2007 run of the last-gen model. For 2000-2006, the SS was powered by a supercharged version of GM's ubiquitous 3.8-liter "3800" V6. The beefy engine cranked out a middling 240 horsepower, but a substantial 280 lb-ft of torque at just 3600 rpm.
The big news for performance fans was the arrival of a 5.3-liter V8 for 2006. This pushrod V8, also found under the hood of GM's half-ton pickups, was good for substantially more horsepower (303) and torque (323 lb-ft) than the V6.
Monte Carlos powered by the 5.3 V8 are rather rare, as the engine became available midway through the 2006 model year, and total sales volume for 2006 and 2007—the Monte's last years—was very low.
Shared below is Consumer Guide's original review of the 2007 Monte Carlo SS (including the original "News" section at the end of the report, which looks forward to the impending arrival of the reborn Chevrolet Camaro). Noteworthy is the absence of comment regarding the V8 Monte Carlo's most sinister handling characteristic: torque steer. As this author can attest to first hand, full-throttle acceleration in any V8-powered GM W-platform model resulted in impressive pull to the side and required healthy amounts of driver correction to keep the car on course. You can read all about that torque steer here.
2007 Monte Carlo SS Review
Overview
Chevrolet's midsize coupe shares its basic underskin design with the Impala sedan. Monte Carlo comes in LS, LT, and sporty SS trim. LS and LT have a 211-hp V6 engine. SS has a 303-hp V8 with GM's Active Fuel Management that deactivates four cylinders while cruising to save fuel. The 233-hp V6 LTZ model is discontinued. All Monte Carlos have a 4-speed automatic transmission. Front side airbags are standard. Curtain side airbags are unavailable. Leather upholstery and heated front seats are standard on SS, available on LT. OnStar assistance is standard.
Torque-Steering Trio: Remembering GM's "Small Block" Front-Drivers
Acceleration
Ample power at any speed. Similar test Impalas with 211-hp V6 less strong but still more than adequate in around-town driving. Ethanol-blended fuel, called E85, is available in many states and can be less expensive than regular-grade gasoline. E85 can be used in 211-hp Monte Carlos. Test Impalas showed no difference in acceleration using E85.
Fuel Economy
Test SS averaged 17.2 mpg in mostly city driving. V6 Monte Carlos use regular-grade fuel. Chevy recommends premium for V8s.
Ride Comfort
Surprisingly compliant given SS models' sport suspension and 18-inch tires. Large bumps felt but Monte Carlo is never harsh.
Handling
SS has sporty moves with well-balanced steering, though it never really feels agile. Good stopping control.
Quietness
Wind rush and tire roar both intrude. V8 subdued at cruise, has muscle car rumble under throttle.
Controls
Gauges clearly marked, easy to read. Large, clearly marked radio/climate controls have easy-grip rubberized surfaces, operate smoothly, though climate controls mounted too low for easy use. Monte Carlo trails most like-priced imports for quality feel. Hard plastic expanses dominate cabin, have budget look and feel.
Review Flashback! 1987 Chevrolet Monte Carlo SS
Comfort
FRONT: Head, leg room adequate. Good seat comfort with easy entry/exit. Decent visibility compromised slightly by thick rear pillars.
REAR: Generous space for a sporty coupe, though passengers over 5-ft-10 will want more head room. High step over, low seat complicate entry/exit.
Cargo Room
Generous trunk space for a coupe, just average for a midsize car. Standard 60/40 split folding rear seatbacks increase versatility. Adequate cabin storage.
Headlamp Hat Dance: 6 Years of the Chevrolet Monte Carlo
Value
Monte Carlo is a throwback to the era of the midsize domestic coupe, trading passenger space and cargo room for a sporty profile. It's affordable, has competent road manners, and the SS accelerates and sounds like a muscle car. But this midsize car feels dated compared to class pacesetters such as the Honda Accord and Toyota Solara.
News
Monte Carlo is a goner after 2007, say our sources. Slow sales are the main reason. But another factor is the announced return of a Camaro coupe and convertible on General Motors' new rear-wheel-drive Zeta platform. Expected to start sale in early 2009, Chevy's reborn "ponycars" should look much like the recent crowd-wowing concepts. Like previous Camaros, the new ones will seat four and offer both V6 and V8 power. Independent rear suspension is planned to trump the solid axle of archrival Ford Mustang.
Listen to the Consumer Guide Car Stuff Podcast
2007 Chevrolet Monte Carlo SS Gallery
2007 Chevrolet Monte Carlo SS
Written by: Tom Appel
on December 10, 2020.
on March 25, 2021.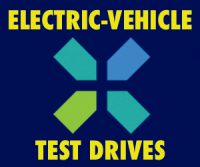 Auto Shows
Steve & Johnnie's Road Tests