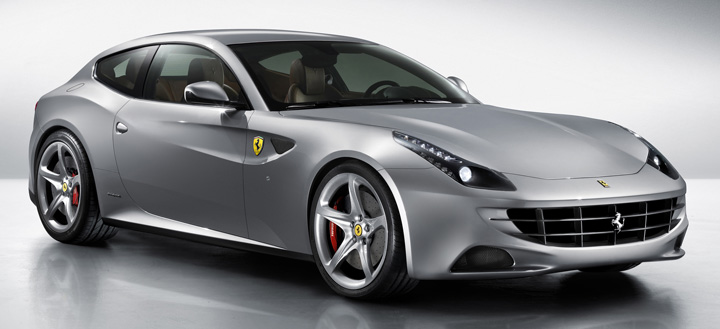 The 2013 Ferrari FF should see no major changes following its introduction for the 2012 model year. For 2012, the Ferrari FF replaces the 612 Scaglietti as the brand's flagship car. This 4-passenger, 2-door hatchback is Ferrari's luxury grand touring car, and is the first production Ferrari with all-wheel drive.
2013 Ferrari FF
FF is an acronym for Ferrari Four (four seats and four-wheel drive). The all-wheel-drive system is unique in that the front wheels are driven by a 2-speed automatic power-transfer unit mounted on the front of the 651-horsepower 6.3-liter V12 engine. Each front wheel has an electronically controlled clutch pack that transmits power when needed for traction. Up to 20% of the engine's torque can be sent to the front wheels. A standard 7-speed automated-manual transmission that behaves much like an automatic sends most power to the rear wheels.
Ferrari claims the FF accelerates 0-62 mph in 3.7 seconds and has a top speed of 208 mph. Ferrari's start-stop system can turn off the engine when stopped and restart when the driver releases the brake. Safety features include ABS, traction control, antiskid system, and front side airbags. Available features include a navigation system, rear-seat entertainment system for watching TV and DVD, and carbon-ceramic brakes.
Consumer Guide Picks the 15 Best-Looking Cars of All Time*