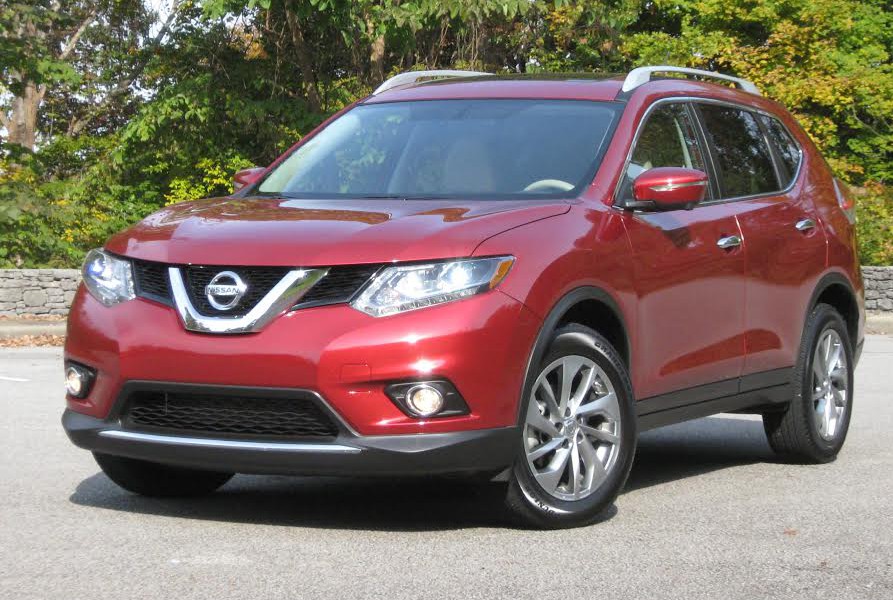 Triggered by an explosion in popularity during the 1990s, every mainstream manufacturer had an entry in the compact-SUV class by the mid-2000s … every major manufacturer, that is, except Nissan. Oddly, that situation wasn't rectified until Nissan brought out the Rogue for 2008.
2014 Nissan Rogue
Considering it was so late to arrive, the Rogue really didn't bring that much to the party. It was a nice little SUV to be sure, but aside from its rather quirky CVT automatic transmission and full complement of standard safety features, it didn't break new ground, nor did it sprint to the head of the class. It was just kind of … there.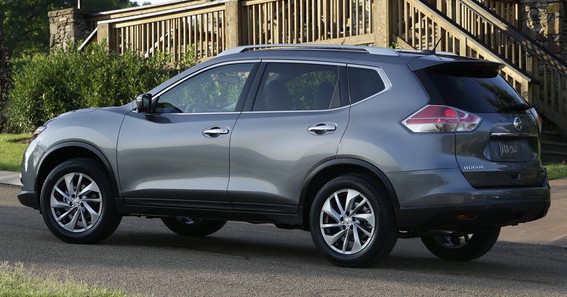 As it turns out, however, just being "there" in a class that's seen continual growth in recent years has clearly been enough. Rogue is Nissan's second-best seller behind the popular Altima sedan, with sales that have been climbing of late. And partly because of that, it's not being "replaced" so much as "joined" by the new generation, as a cut-price version of the original called Rogue Select will continue to be sold as a 2014 model starting at about $20,000. (This is made possible by the fact that the old Rogue is built in Japan, while the new one is built in Smyrna, Tennessee.)
At least at these price levels, that's a pretty far cry from the new version, which starts at $22,490 (plus $860 destination). But the added cost of the redesigned model carries a fair amount of justification besides just being "new."
Not much has changed in terms of size, though maximum 2nd-row legroom has grown by a good 2.5 inches to an impressive 37.9 inches. We say "maximum," because the 2nd-row seat can slide fore and aft about nine inches. While that's a handy aid that allows lengthening the cargo space behind it when the seat is moved forward, it's particularly helpful if the newly optional 3rd-row seat is ordered, because it helps balance legroom between the 2nd and 3rd rows. That addition makes Rogue one of only two entries in the compact-SUV segment to offer a 3rd-row seat, the other being the equally-new-for-2014 Mitsubishi Outlander.
There's plenty of adult room in the first two rows, with easy ingress and egress thanks to a low step-in height and large door openings. The 2nd-row seats slide forward for access to the optional 3rd row, which is really sized for teens or smaller folks. The 3rd row is optional only on the base S and mid-level SV, and includes run-flat tires, as the folded seat stows into what is otherwise the spare-tire well. Visibility is decent to the front corners and sides thanks to relatively thin roof pillars, and though the view to the rear corners is obscured by beefy rear pillars, that's at least partially compensated for by the standard rearview camera.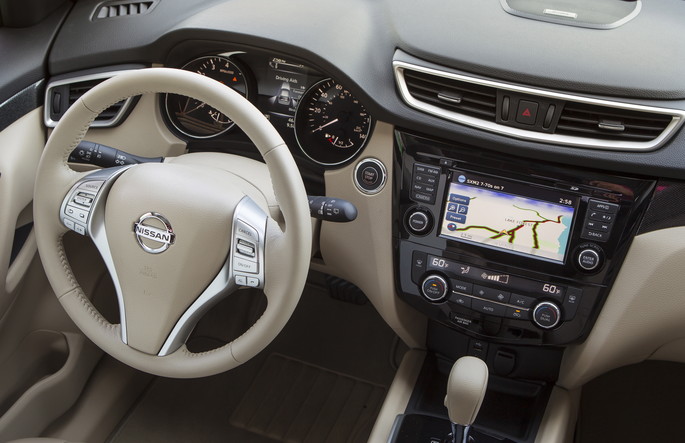 One area that has seen improvement is that of interior materials and design. While the old Rogue was at least competitive in these areas, the new one might well be at the top of the class. Trim levels range from base (but quite well equipped) S, through volume SV, to top-line SL. And while there were no S models at the preview, both the SV and SL featured nice-looking trim pieces, numerous padded surfaces (including the dash top, door tops, and armrests) and available two-tone color combinations, all of which made for a rather ritzy-looking interior. Furthermore, all controls are mounted high within easy reach, and are quite simple to adjust.
As has become the norm in recent years, each new generation of vehicles brings a longer list of standard and available features, and the Rogue is no exception. Even the base S comes standard with power windows/mirrors/remote locks, cruise control, rearview camera, height-adjustable driver seat, fold-back front passenger seat, sliding and reclining 2nd-row seat, USB and aux jack, wireless cell-phone link, and hands-free text messaging. Higher-line models offer—either as standard or optional—leather upholstery, heated front seats, sunroof, power liftgate, satellite radio, navigation system with voice recognition, NavTraffic and NavWeather, Around-View Monitor (360-degree camera), and NissanConnect Apps including Facebook, iHeartRadio, and Pandora. Also available are advanced safety features, including blind-spot warning, lane-departure warning, forward-collision warning, and Nissan's Moving Object Detection. In short, the new Rogue offers a lot of high-end features that weren't available in this segment just a few years ago.
But perhaps the greatest strength of the new Rogue is its cargo-carrying capability. Those who favor a sport-utility vehicle for its "utility" aspect will find that the rear cargo area is a study in versatility and functional design.
Local Color: Unusual Paint Hues at the 2019 Chicago Auto Show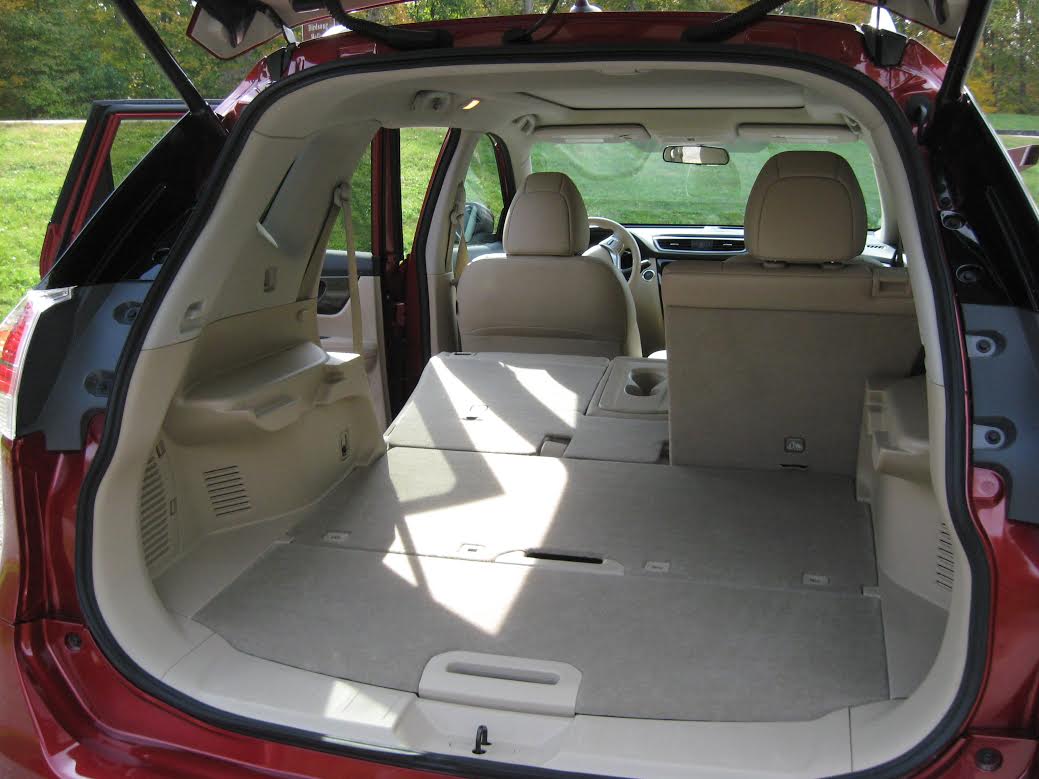 Not only do the 2nd– and 3rd-row seat backs fold flat and level, but the area behind them can be configured for multiple purposes. At least on two-row versions (the only ones we drove and had a chance to crawl through) the "floor" consists of two panels: one fore, one aft. The forward panel can be set at three levels. At its mid level, it's flush with the folded rear seats. Its lower setting allows about four more inches of cargo height. At its highest setting, it becomes a shelf that sits about a foot above the floor, allowing for two-tiered storage.
The aft panel can be set at two levels: essentially, low and mid. At mid level, it rests flush with the folded seat backs, and it pivots up to reveal a waterproof under-floor compartment for wet or dirty items; the panel can be held upright for tall wet or dirty items. The panel can also be lowered to gain about four inches of cargo height. In addition, the 2nd-row seat back has a pass-though and the front passenger seat leans back almost flat, which allows for carrying very long items. Cabin storage is reasonably good, with a couple of handy console bins augmenting the usual glovebox, console box, console cupholders, and door map pockets.
If the Rogue has a weakness, it's in power delivery. The engine is a modified version of the 2.5-liter four used previously, though it still delivers the same 170 horsepower as before. The CVT automatic transmission is likewise carried over with a few changes. In both cases, the "changes" help deliver EPA fuel-economy ratings that are up by about 15 percent; on front drive versions, they go from 23 city/28 highway to 26/33. All-wheel-drive versions go from 22/27 to 25/32.
What they don't deliver is exciting acceleration. Partly due to an increase in weight (up about 140 lbs.) and perhaps partly due to "tuning" the drivetrain for better economy, the new Rogue sometimes feels a bit sluggish—or at least, our fully loaded (including two people) test SL AWD did. In some cases, the CVT transmission didn't snap to the optimum ratio for best response, and other times, it seemed to make engine speed (and progress) vary more than is usual with a CVT. And since engine noise gets rather raucous at higher engine speeds, the sound isn't particularly pleasant, either. The Rogue isn't dangerously slow, by any means, but it really could use either a more powerful engine or a traditional automatic transmission, at least on the heavier versions. On the dynamically positive side, the ride is quite compliant, handling slightly cumbersome but agile enough, and road, wind, and bump noise are well controlled.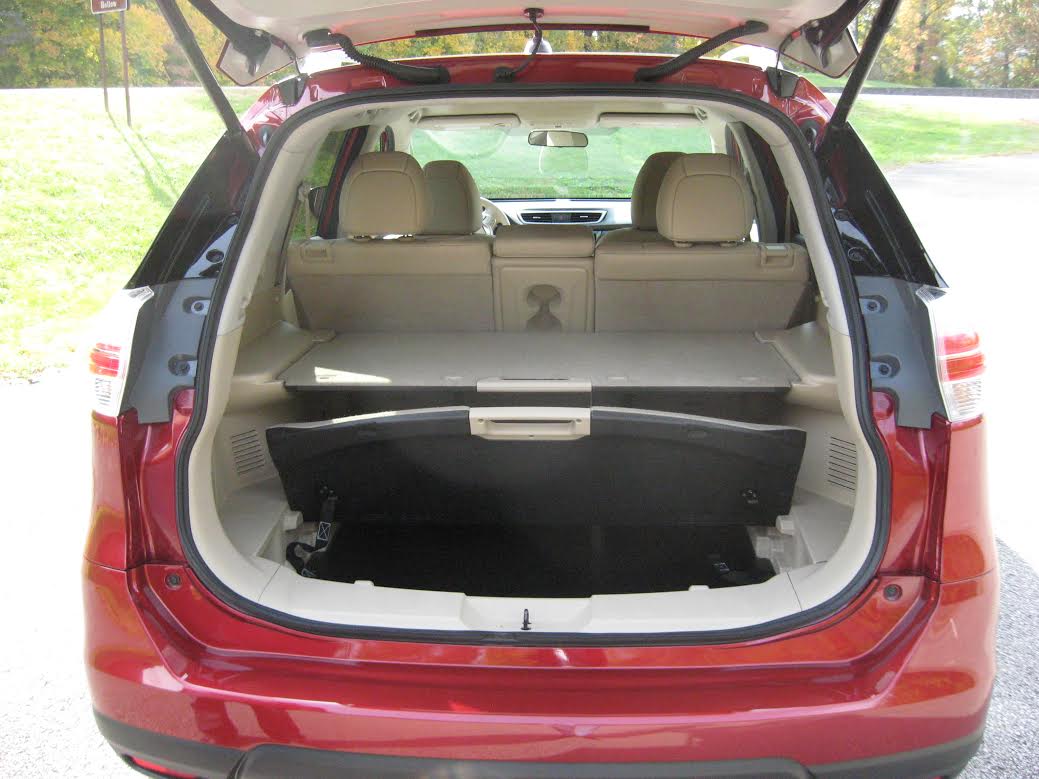 In recent years, one strong point in the Rogue's favor has been value—at least in lower-line models. For 2013, an AWD version with standard CVT automatic, air conditioning, power windows/mirrors/remote locks, and basic audio and connectivity features could be had starting at about $21,610. In the new version, that same combination (with a few more features) starts at $23,840. (Nissan says a fully loaded SL AWD tops out in the low $30,000 range.) That represents about a 10-percent increase, but it's still less than comparable rivals such as the Honda CR-V and Toyota RAV4, both of which have been redesigned within the past two years.
So Nissan is again somewhat of a Johnny-come-lately with an updated SUV, but this time, it's bringing quite a bit to the party. If you're in the market for a compact sport-utility—and particularly if your interests lean toward the "utility" side—the 2014 Nissan Rogue is definitely one to consider.
Test Drive: 2018.5 Nissan Rogue Sport SL
2014 Nissan Rogue