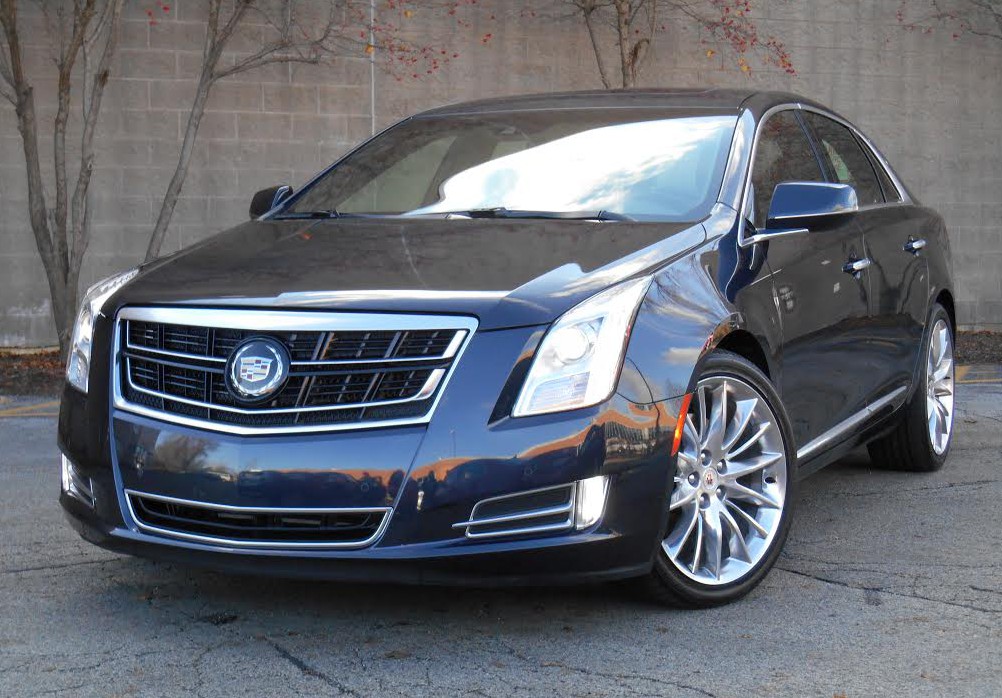 2014 Cadillac XTS Vsport Platinum
Miles Driven: 251
Fuel Used: 13.1 gallons
Real-world fuel economy: 19.2 mpg
Driving mix: 50% city, 50% highway
Base price: $69,095 (not including $925 destination charge)
Price as tested: $70,020
Quick Hits
The great: Gorgeous cabin, loads of power
The good: Quiet cabin, plenty of passenger space
The not so good: Complicated control system
Rick Cotta
In the automotive world, 410 horsepower and all-wheel drive can make up for a lot of ills. But in a $70,000 luxury sedan, it's rather a shame that they have to.
To be fair, the referenced Cadillac XTS Vsport doesn't really have "a lot" of ills; in fact, it really has just one. And it goes by the name of "CUE."
When the Cadillac XTS debuted for 2013, it took the place of the departed DTS as the company's flagship sedan. However, Cadillac was quick to point out that the XTS was not the DTS's replacement, but rather a "right-sized" sedan that would appeal to a younger audience. And to make sure it did (and in the process, scare off traditional DTS owners), the XTS included the company's CUE infotainment interface as standard equipment.
CUE (Cadillac User Experience) replaces traditional audio and climate knobs and buttons with smart-phone-based touch controls. In addition to the expected large dashboard touch-screen, there are some flat-panel touch-pad controls and also a metallic "slide bar" over which you run your finger to adjust radio volume. Many of the controls include haptic feedback, which means they "shimmy" a bit when you touch them.
It's all very high-tech … and all very senseless. Never mind the excruciating learning curve involved in figuring out what should be simple functions; even when you know how to do something, it invariably takes multiple steps and a long look from the road to accomplish, and sometimes there is a delay in response. Furthermore, some functions didn't work well, at least in our test car. A couple of our drivers noted that it always took at least a half-dozen pushes of a flat-panel touch pad to finally open the glovebox door (yes, even that process has gone high-tech), and resetting the trip odometer proved a challenge that may or may not have been aggravated by a malfunction. Granted, virtually every high-end vehicle suffers from similar complicated interfaces, but few are as frustrating to use.
What's more the shame is that CUE is a standard (and thus inescapable) blight on a car that otherwise has quite a bit going for it. The twin-turbo V6 and responsive automatic transmission give the Vsport strong acceleration both off the mark and in passing situations, and the all-wheel drive puts that power down even on slick streets. Moreover, while many vehicles of this performance caliber insist on augmenting their power with a stiff and unyielding suspension, the XTS Vsport rode very comfortably over our pockmarked Chicago thoroughfares while still providing capable if not quite sporty handling. This combination sets it apart from the norm for this type of vehicle, and is one of the car's more compelling arguments.
Future Collectibles: 2016-17 Cadillac ATS-V
Another is space. While three adults would be crowded in the rear seat, there's plenty of headroom and legroom for four full-size adults in the Caddy's roomy cabin. The trunk is also huge, and unlike in many cars of this ilk, the rear seat backs fold down to expand the cargo area; they lie nearly flat and just above the level of the trunk floor, with a built-in ramp bridging the slight height difference. Interior storage is also quite impressive. In addition to the decent-size glovebox, good-size console bin (which contains 12-volt and USB plugs as well as an SD-card slot), two covered console cupholders, and door map pockets, there's a small covered bin in front of the shifter and another drop-down bin left of the steering wheel. Furthermore, the climate-control panel powers open to uncover a hidden bin that includes a USB port to plug in your phone or music player. It all adds to a fine interior package that's augmented with a clean design and price-appropriate materials. However, some traditionalists may look askance at the instrument panel, which replaces the usual gauges with a video screen that's  configurable with numerous "virtual" gauge layouts.
Although both the base and as-tested price of our loaded XTS Vsport Platinum tester came in right at $70,000, the "entry level" Vsport Premium model starts at about $63,000. Both compete with performance-oriented all-wheel-drive midsize and full-size luxury sedans that range in price from the 310-horsepower Audi A6 3.0T Premium's $56,000, to the 445-hp BMW 750Li xDrive at $95,000. That puts this Caddy at the strong end of the power-to-price ratio among competing sedans, which—like the powertrain itself—can make up for more than a few ills.
Tom Appel
As a kid, I spent some time as a passenger in any number of Cadillac Devilles and Fleetwoods. My primary takeaway from those trips, mostly short and local, was that big Cadillacs were spacious, quiet, and super-well isolated from the road. They were also, as reported by adults who cared about such things, pretty expensive.
Fast-forward 35 years.
Cadillac's biggest sedan no longer bears a named of any recognizable stripe, but a trendy three-letter moniker: XTS. But, true to legacy, the reigning big Cadillac is still spacious, quiet, and rides very well. Not true to form, the XTS is also fast (in Vsport trim) and handles reasonably well, too. It's also pretty expensive.
Actually, the most startling change at the top of the Cadillac food chain is inside the car. A 1980 Sedan Deville sported one of autodom's most impressive "ten-foot" interiors. While festooned with wood-look trim and bright accents that impressed at first glance, the materials were frankly crappy, and mostly comprised of gilded hard plastic and sheets of poly-something tree-like inlays.
The 2014 XTS cabin, especially in Platinum guise, is an especially classy place in which to spend time. And though I've already described our test car as expensive, I suspect that most passengers, based on the interior alone, might guess the price even higher.
Something drivers will notice is that the XTS also feels expensive. The ride is impressively isolated, but in a modern, communicative way. The big Caddy is no Mercedes-Benz S-Class, but it isn't really that far off. The good news is that unlike big Cadillacs of yore, the XTS handles pretty well. No one would actually call the XTS sporty, not even in Vsport trim, but it steers, brakes, and handles with confidence-inspiring competence, which given all the power on tap, is much appreciated.
What power? Enough power to move this big American luxury car to 60 mph from a stop in about a third the time it took a 1980 Fleetwood to make the same trip. And that power is delivered with silky control and authoritative immediacy. In short, this is a quick and classy ride that seats four in comfort.
My single reservation when it comes to the XTS is Cadillac's CUE control interface system. While not as nerve-wracking as the atrocious MyTouch Lincoln system, the Caddy arrangement does combine voice, touch-screen, touch-pad, and real switch gear to no good effect. I found changing from the AM band to the FM so complicated on-screen that I always resorted to voice control. Sadly, the voice-control system interprets your commands correctly only about 60 percent of the time, and is so slow to respond that you're often left wondering if it works at all.
So, about that price. Our loaded Vsport Platinum tipped the cash register for nearly $70,000. At almost two and a half times the transaction price of your average new car, the XTS Vsport Platinum is pretty expensive for an American car. Still, I would argue, there is real value here if you appreciate the power, performance, and posh accommodations.
Personally, I prefer the tighter handling and firmer ride of Cadillac's sporty new CTS sedan, but cannot deny the XTS's successful execution. Real luxury costs money, and the XTS represents real luxury.
Cadillac Versus Hyundai: The $70,000 Battle No One Saw Coming