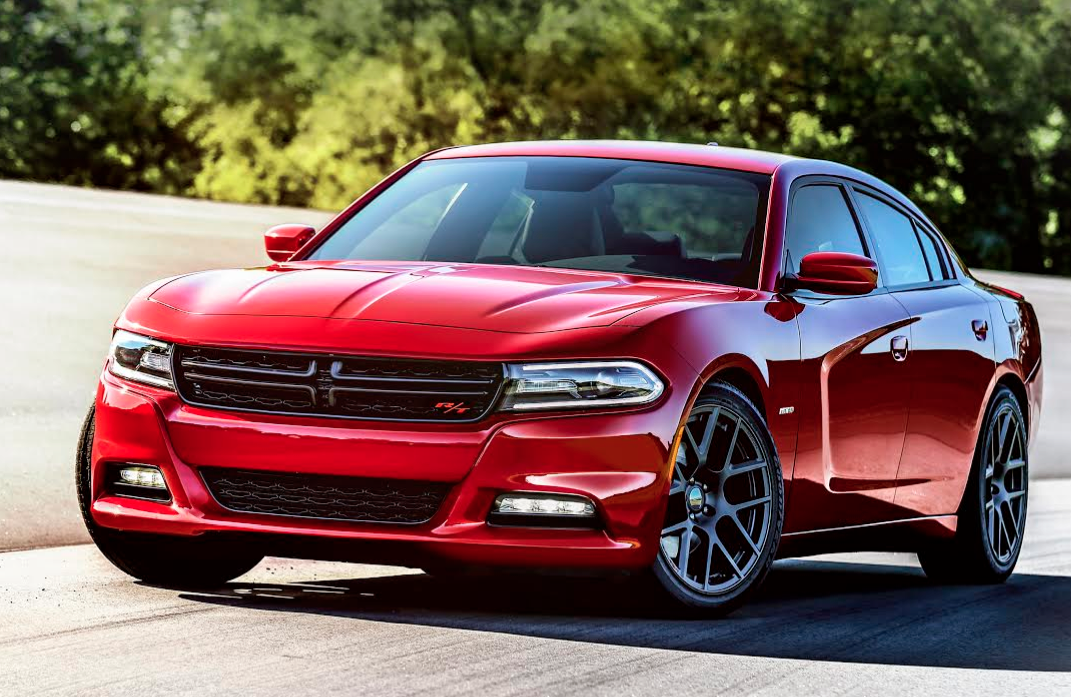 Dodge took a bit of heat when it revived the hallowed Charger name for its full-size four-door sedan back in 2006, as some purists felt the moniker should only rightfully be resurrected on a two-door. (Though perhaps not the front-drive Omni-based two-door that wore it in the '80s.) There were no such complaints, however, about the return of the car's Hemi V8. In base 5.7-liter form, it made a stout 340 horsepower, while a larger 6.1-liter version in the high-performance SRT8 made a rousing 425. (Which, perhaps not coincidentally, was identical to the factory rating of the famed 426 Hemi of the late '60s.)
The Charger turned out to be quite a success for Dodge. So did the restyled 2nd generation that arrived for 2011. Now a heavily updated version of that car is due to arrive later this year as a 2015 model, and we see no reason it won't continue the trend.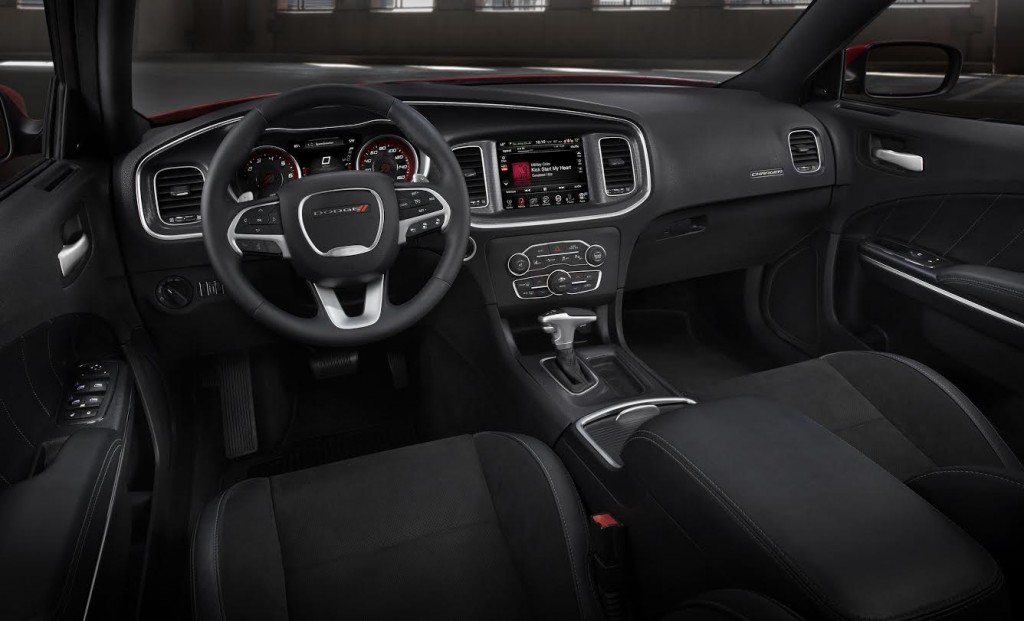 Although Dodge claims only the roof and rear doors have been carried over into the new body, the car retains a strong resemblance to its forbearer. Except, that is, in front. A new grille, lower facia, and headlight treatment replace the former menacing snarl with a look that's arguably less intimidating, but certainly more modern. Most notable are distinctive C-shaped LED running lights that signal the car's approach day or night. Dodge says the design is intended to accentuate the car's width, and that it certainly seems to do.
Less-obvious changes mark the flanks and rear end, the latter adopting LEDs for the "racetrack" lighting that now appear as a continuous flow rather than being made up of numerous individual elements. The same can be said for the interior, which gets a revised instrument panel along with an electronic shifter with a pattern and "detents" simulating a conventional mechanical one.
Thinking used? Check out Consumer Guides used Dodge Charger reviews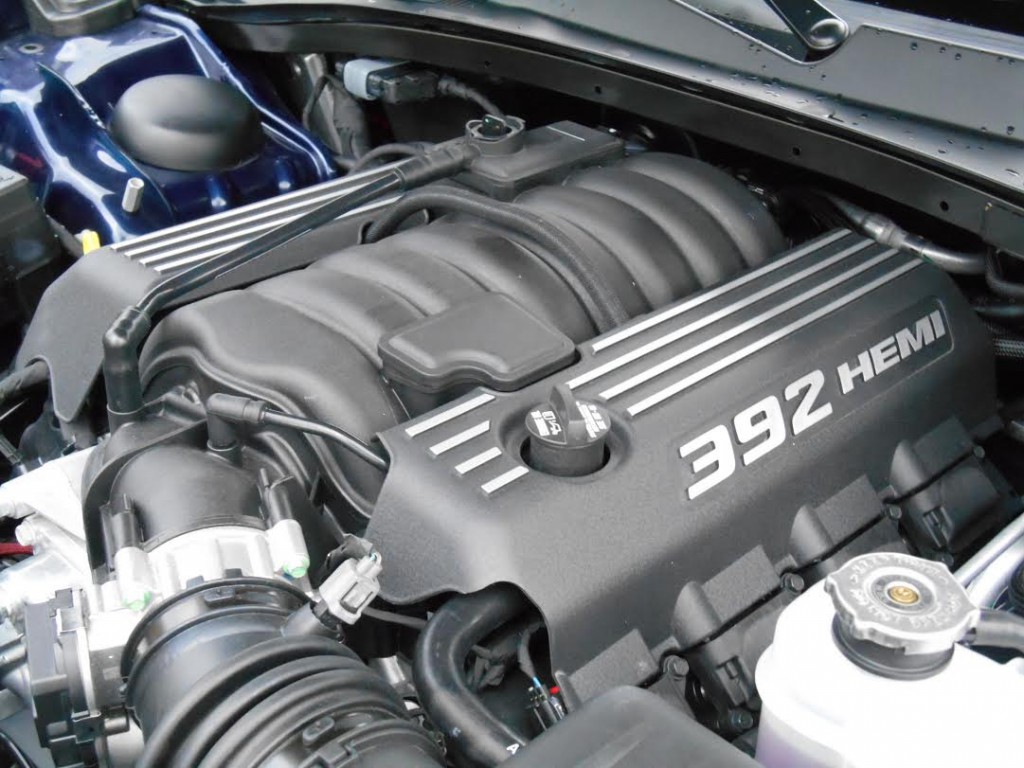 Likewise, powertrain choices are changed, but similar – with one exception. A 3.6-liter V6 offered in 292- and 300-horsepower versions remains standard, with the 5.7-liter 370-horsepower Hemi V8 continuing as the step-up option. However, for 2015, all engines are mated to an 8-speed automatic transmission, which was offered last year, but wasn't universal. Also, only the V6 is now available with all-wheel drive; previously, AWD was also available with the 5.7-liter Hemi.
But the horsepower parade doesn't end there. Last year, the top power option was a 470-horse 6.4-liter V8 offered in the performance-oriented SRT8. This year, the 6.4 is good for 485 horsepower, and it's found in two new models that replace the SRT8: the R/T Scat Pack, and the SRT 392.
Yet the real power story is a new SRT Hellcat model – or more specifically, the Hellcat's engine: a supercharged 6.2-liter V8 that stomps out 707 horsepower. Because this is such a specialized model, we'll cover it in more detail in a separate report, but just to whet your appetite (if the "707" figure didn't do that already), Dodge says it's the quickest, fastest, most powerful sedan sold in America.
Test Drive: 2015 Dodge Challenger
Among the "normal" Chargers, the model lineup consists of the base SE, step-up SXT (both with V6 and available AWD) R/T and R/T Road & Track (with the 5.7-liter Hemi), and the R/T Scat Pack and SRT 392 (both with the 6.4-liter Hemi).
No modern model revamp would be complete without the addition of new high-tech features, and the Charger is no exception. Changes occurring under the "Safety" heading include:
     * Forward collision warning now works at all speeds
     * Adaptive cruise control adds full-stop capability
     * Rearview camera adds dynamic path guidelines
     * New lane-departure warning with lane-keep assist
Other newly available features:
     * Keyless entry and starting are standard
     * Electric power steering allows varying assist in three stages: Normal, Comfort, and Sport
     * Adjustments can be made to gas-pedal response, engine and transmission calibration, and front/rear torque bias in AWD models
     * Performance Pages display more information on vehicle performance such as quarter-mile times and cornering Gs.
     * SRT models have three-mode Bilstein adaptive damping suspension
     * Launch control automatically maximizes off-the-line acceleration
     * Customizable 7-inch Driver Information Display
     * 3-D navigation and downloadable apps
As with other cars in the full-size class, the Charger offers plenty of interior space and cargo room; that's expected. What might not be is the number of luxury-league features available such as heated and ventilated front seats, heated steering wheel, heated rear seats, and power-adjustable pedals. Furthermore, all the above are offered on all models but the base SE.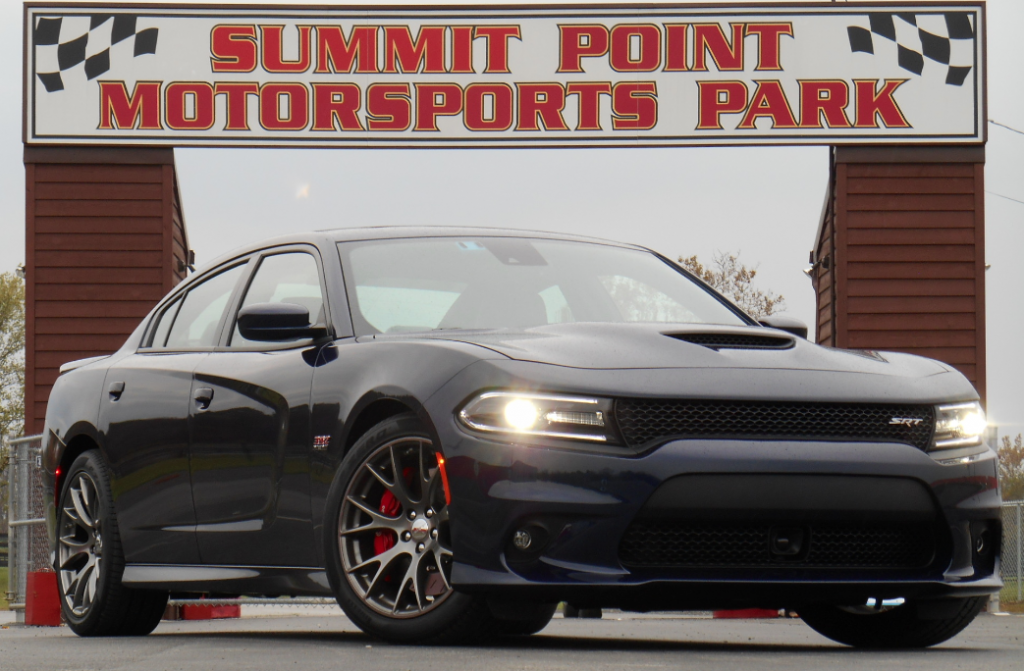 While we bemoan the loss of the 5.7-liter Hemi/AWD combination (Dodge says it was dropped because it made up only about 5% of sales), it's almost surprising how good the base 3.6-liter V6 feels. It provides a satisfyingly strong jump off the line, and the 8-speed automatic kicks down fairly quickly for passing. The engine also emits a sporty, refined note. Furthermore, the SXT AWD model we drove provided a very compliant ride, though the tires seemed to give up a bit early in spirited cornering. The chief draw here is fuel economy: In rear-drive form, it's EPA-rated at 19 city/31 highway; with AWD, it's 18/27. Prices start at about $29,000 with destination for RWD, $32,000 with AWD.
Moving up to the $34,000 R/T gets you the 5.7-liter Hemi V8. It also gets you a firmer suspension that trades a bit of ride comfort for sportier handling. Another trade-off is in fuel economy; despite cylinder deactivation, the EPA ratings drop to 16/25. And – as mentioned earlier – you forfeit the option of AWD.
What in Hades? Dodge Unleashes 707-Horsepower Hellcat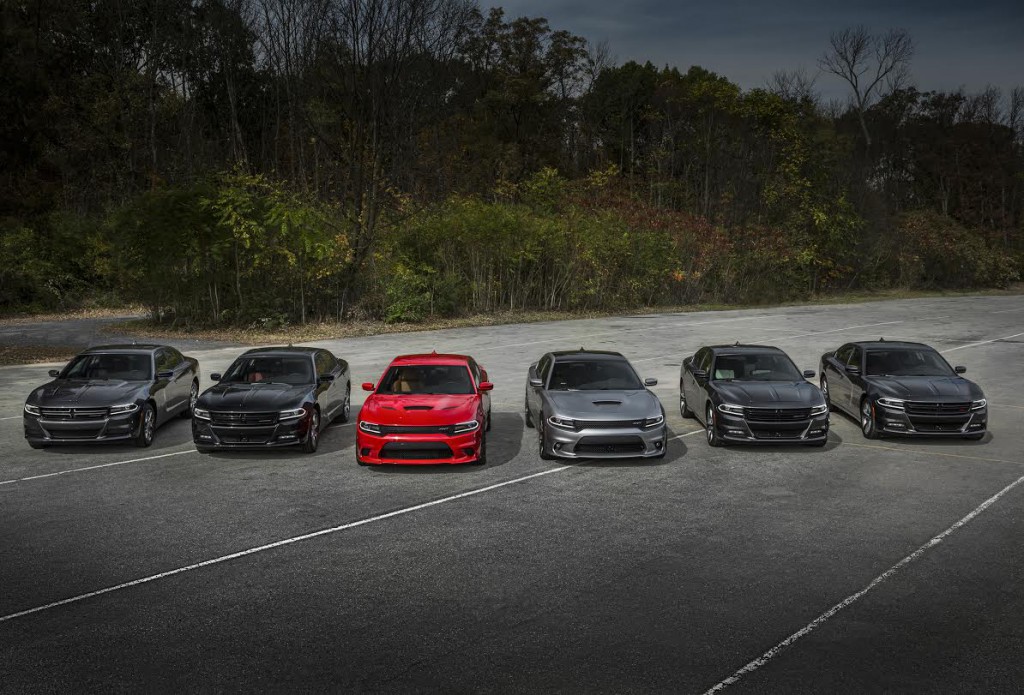 After that, prices go up significantly, but so does performance. Opt for the $41,000 R/T Scat Pack, and you instantly gain 115 horsepower. Dodge says this 485-hp beast shoots from 0-60 mph in the mid-4-second range, with a quarter-mile in the mid 12s. This is a muscle car in every sense of the word, including sound: it rumbles at idle and roars under acceleration, neither of them quietly. What we drove was the mechanically similar SRT 392, and though the ride was certainly stiffer than that of the SXT V6 mentioned earlier, it was nowhere near punishing, and handling was suitably sporty. We also drove the SRT Hellcat, but we'll cover that later.
In all models, interior storage is impressive, with a smallish 2-tiered glovebox, a couple of console bins, 2 covered cupholders, a large 2-tier console box, and map pockets with cupholders in the doors. The dashboard and door tops are all padded, and the aluminum dash panel can be ordered in a variety of patterns. Seat-color choices include red leather – sort of a retro touch.
Visibility isn't the best. Front and side pillars are quite thick, as are the rear pillars, though the last aren't as much of a problem on models with a rearview camera.
Test Drive: 2015 Dodge Challenger SXT
Although the volume and tuning knobs for the audio system are easy to reach, the touchscreen that contains the station-select buttons is a bit of a stretch. The same goes for the mode "switches" for the climate-control system, which are also on the touchscreen, though the rotary fan-speed knob and less-convenient repetitive-step temperature controls are handy.
Although full-size cars dominated the market when the Charger debuted in the 1960s, they are significantly less popular today. That's partly because midsize cars have grown so roomy and almost always offer better fuel economy – and a lower price. We count eight full-size contenders to the Charger, including its Chrysler 300 corporate twin along with such mainstays as the Chevrolet Impala, Ford Taurus, and Toyota Avalon. Of those eight, only half offer all-wheel drive, and the Charger is the least expensive of the bunch (though it's only a few hundred dollars less than the Ford Taurus). Furthermore, only two contenders offer a V8 engine, and none are as powerful as the Charger's available 485-horsepower 6.4 – to say nothing of the 707-horse Hellcat. Although anyone looking at a full-size car – or even a midsize one – would do well to consider Dodge's big sedan, it's that last factor, especially, that makes it fully worthy of its Charger badge.