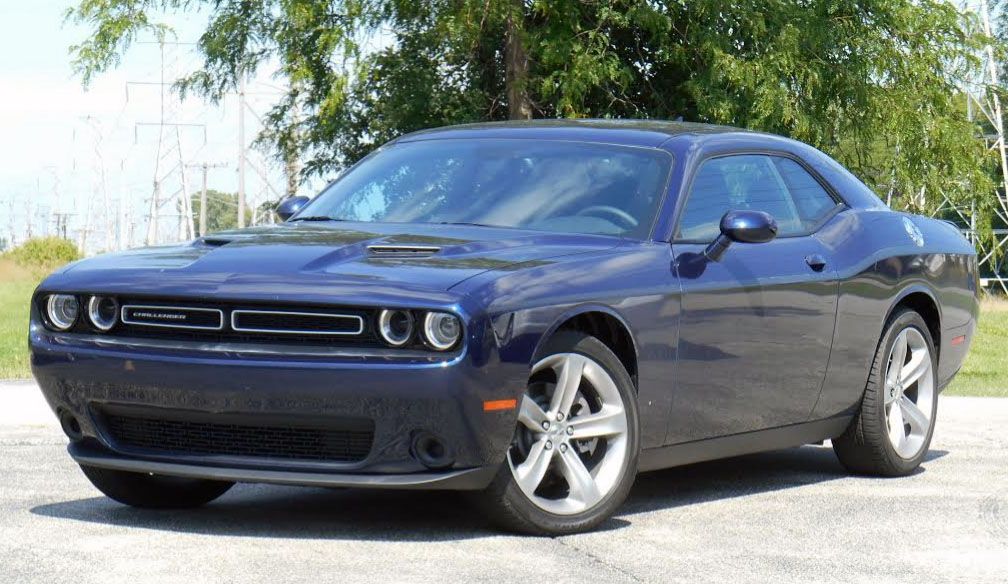 2015 Dodge Challenger SXT

Miles Driven: 307
Fuel Used: 15.2 gallons

Driving mix: 55% city, 45% highway
Real-world fuel economy: 20.2 mpg 
EPA-estimated fuel economy (city/highway/combined): 19/30/23
Base price: $26,995 (not including $995 destination charge)
Options on test car: Super Sport Group ($1400), navigation and connectivity package ($995), premium audio system ($495), exterior applique package ($395)

Price as tested: $31,275
Quick Hits
The great: Excellent front-seat room and comfort

The good: Plenty of power, sporty demeanor

The not so good: Limited rear-seat access, middling fuel economy

Click here for more Challenger prices and availability
John Biel
For a new car that, at first blush, looks an awful lot like the old one it replaces, the 2015 Dodge Challenger is doing a pretty good job of making some noise in the market. Sure, there's the thunderous roar from the debut 707-horsepower Hellcat model, but even the base V6 can generate some buzz.
The V6 Challenger SXT that Consumer Guide® tested had the 8-speed TorqueFlite automatic transmission, electric power steering, latest version of Chrysler's Uconnect infotainment system, 7-inch thin-film transistor (TFT) vehicle-information display, and selectable "Sport" mode that are new standards for Dodge's muscle coupe. These came in addition to the redesigned interior and the touched-up exterior with grille and taillight designs reminiscent of the 1971 Challenger "ponycar." Even for an entry-level job, CG's tester drew a fair amount of looks from other drivers. That counts as "buzz," right?
Check out Consumer Guide's sporty/performance Best Buys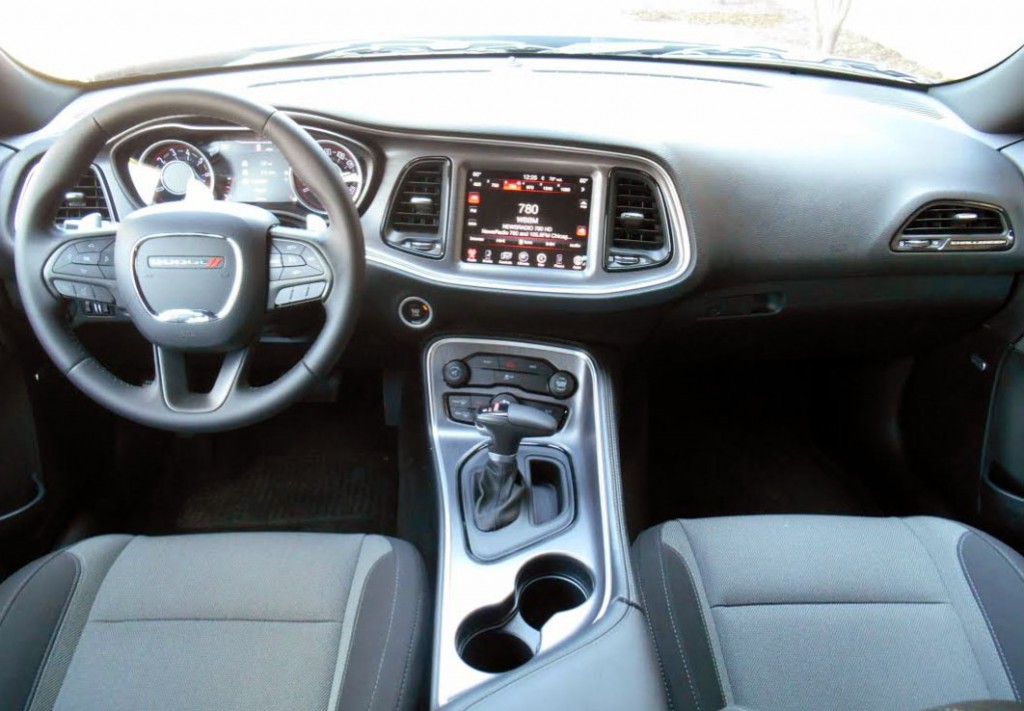 At $26,995 to start, the SXT also comes with 18-inch Satin Carbon-finish alloy wheels, dual bright exhaust tips, a hood with twin functional air intakes, a 5-inch Uconnect screen, AM/FM/Bluetooth-enabled audio, a new-design leather-wrapped 3-spoke steering wheel on a tilt and telescoping column, leather-wrapped shifter knob, cloth upholstery, dual-zone air conditioning, and 60/40 split-folding rear seats. Our test car rolled out at $31,275 with destination fee and option groups that added things like an 8.4-inch screen, additional audio choices, navigation, 9-1-1-call access, 20-inch wheels, paddle shifters, uprated brakes, a decklid spoiler, and more.
The SXT's 3.6-liter Pentastar V6 is a fairly refined engine that turns up in various Chrysler Group vehicles. In the Challenger, it makes 305 horsepower and 268 pound-feet of torque for decent scoot. The engine builds some noise during acceleration, but overall quietness is good. In base drive mode, the autotrans was a little slow to kick down and pick a gear to get us going in an on-street situation that required quick action. Selecting Sport mode, though, alters shift points and throttle responsiveness for palpably changed performance. It also tightens up steering resistance for a heightened sense of control—not that the base setting is particularly bad or sloppy. The test car's optional "Performance" brakes were pretty stout.
First Spin: Dodge Backs Better Challenger for 2015
The SXT should deliver hot-car looks and attitude with the added benefit of best-in-family fuel economy. EPA mileage ratings for the V6 are 19 mpg city and 30 highway. However, after 162.4 miles—57 percent in city driving conditions and mostly in the base mode—the car returned just 18.75 mpg for this driver.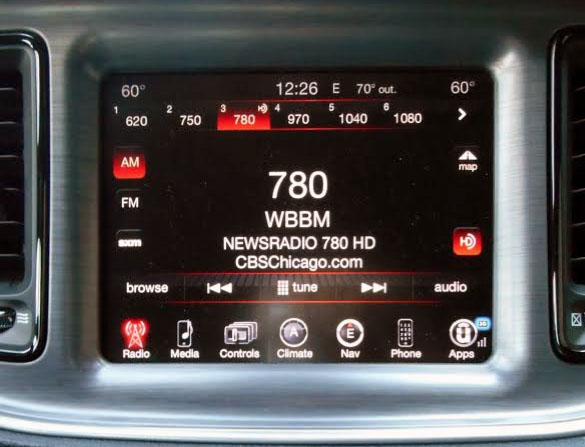 The 2015 Challenger has a more engaging interior than its predecessors. The tops of the doors and dash have the look of hard, grained plastic, but there's actually a little spongy "give" to the touch. Smooth vinyl on arm rests and leather on the center console also raise the tactile ante. The dark-gray ("Tungsten" Dodge calls it) seat-insert fabric was reprised at the center of the doors for a nicer look and feel there, too. Stamped-aluminum panels surround controls on the instrument panel and center console. Different finishes appear on these panels, depending on the model. The SXT features dark brushed aluminum.
The TFT info display between the speedometer and tachometer dials reads clearly. The enhanced audio system in the test car was easy to preset and access, and voice commands seemed to draw a quick and correct response. Separate climate controls with a dial for fan speed and buttons for other settings and function selections were easy to use, too.
The Challenger is wide, which makes for a roomy interior. Plus, there's acceptable space for 2 in back—surprisingly so for a car with sporty intentions. Even the base front seats are well bolstered for a cosseting grip.
What in Hades? Dodge Unleashes 707-Horsepower Challenger Hellcat (Test Drive)
Interior storage consists of a big glove box, a small open bin at the front of the console, 2 uncovered cup holders, a cubby box under the console arm rest, and door pockets with bottle holders. Rear passengers get pouches on the back of each front seat, plus a pull-down center arm rest with 2 cup holders.
There are some ergonomic shortcomings to the Challenger. To wit:
• While not as claustrophobia-inducing as a Chevrolet Camaro coupe, the Dodge's visibility still is not the greatest. The thick rear roof pillar presents a big over-the-shoulder obstruction.
• The circular tach and speedo dials have large-diameter hubs, radial numbering, and concave faces that recall the appearance of early '70s instruments, which is kind of cool, but the dials are a little small and the typeface for the radially numbered values is somewhat cramped.
• The toe of my shoe was bumping up against something under the dash when using the brake pedal, and it was easy to bump a leg into the protruding door-pocket bottle holder during cornering.
• Trunk liftover is quite high and the opening narrows between the taillights. The flat, wide trunk floor is not particularly long. Rear seats fold, but not with a smooth transition from the trunk floor.
In terms of cargo space, passenger capacity, and fuel consumption, the Challenger SXT isn't the 1-A choice for a V6 car in the $30,000 range. But not everybody needs or wants a family friendly vehicle. The V6 Challenger delivers a nice array of modern technological features in a fun retro-muscle wrapper, and if you're prudent with the options, it doesn't have to cost that much.
Tom Appel
Funny thing about any Challenger: You actually drop things down into the trunk, not slide them into the vehicle from behind. I mention this because there's a retro quality to this big Dodge coupe that I find very appealing.
As John noted above, it can be a hassle dealing with the high liftover height of the trunk, but it's refreshing to see a new car that actually has a trunk, and doesn't just look like a hatchback in profile.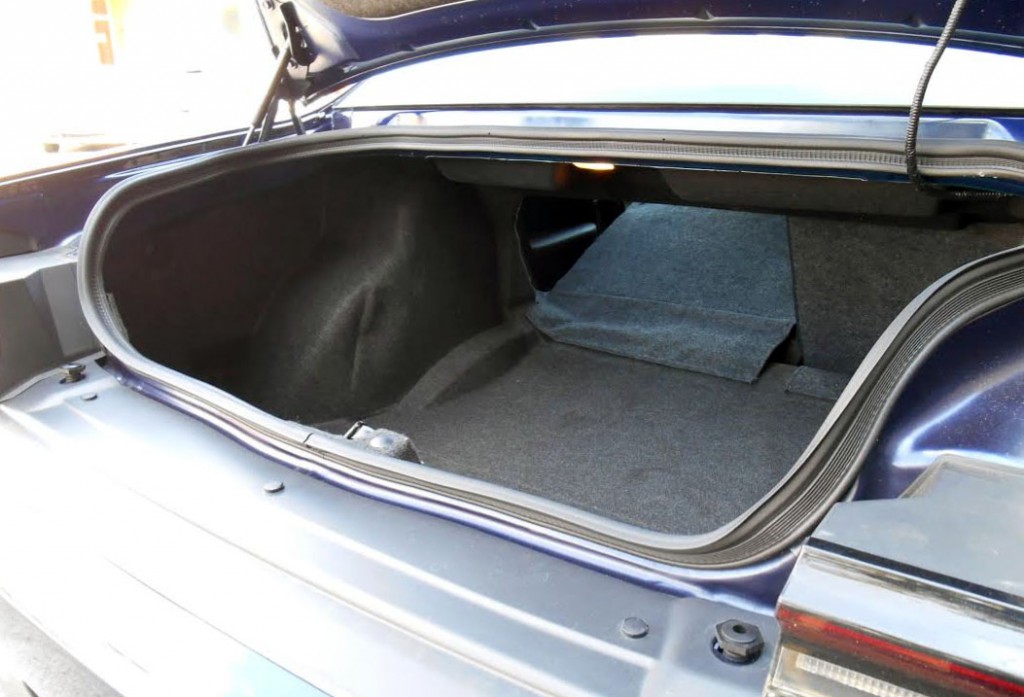 Unlike the Chevrolet Camaro and Ford Mustang, Challenger's natural enemies, this Dodge feels big, but that's not necessarily bad. In least-sporty V6-powered SXT trim Challenger boasts more than adequate power and a surprisingly compliant ride—a perfect combination of traits for casual cruising. And in doing just that, I had an epiphany. While higher trim levels of the Challenger boast the muscle and track chops to take on the feistier versions of the Camaro and Mustang, the SXT is more of a spiritual successor to the personal-luxury coupes of the Seventies and early Eighties.
2015 Mustang: A Fresh Take on a Classic Pony
Looking over the car's long hood, you appreciate the car's substance, while the Challenger's big doors allow for easy big-male access to the front seat. And, unlike the competition, there's real space for passengers in the rear seat.
I rather enjoyed thinking of the Challenger SXT as a sort of velour-free 1975 Chrysler Cordoba with vastly improved handling, better build quality, much more power, and about a 50% bump in fuel economy.
At just over $30,000, our Challenger seems like a solid value. Opt out of the $1400 Super Sport Group and you can get this car under 30 large, but I find the package's better brakes, big wheels, and sundry chrome bits pretty compelling.
 For the shopper looking for something sporty and just this side of a sedan, a modestly equipped Challenger like our test car might do the trick.