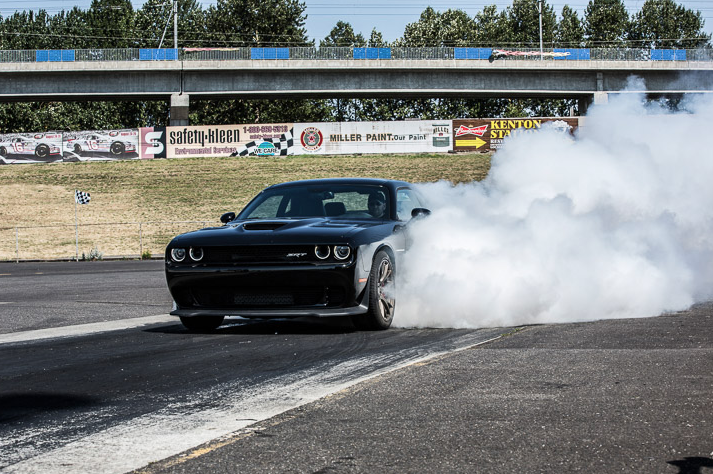 You have to feel a little sorry for the product-information specialists and executives at Dodge when the topic of the 2015 Challenger comes up. They've spent who knows how much time working up all kinds of explanatory material about revised styling this and new 8-speed automatic that—and it's all going in one ear and out the other because everybody in their audience is staring slack-jawed at the Hellcat.
That would be the brand-new Challenger SRT model with 707 horsepower and a $60,000 price tag. When those numbers sink in, it's hard to resist being mesmerized by the Hellcat as if it had just arrived from outer space and you're not yet sure if it comes in peace.
2015 Dodge Challenger Hellcat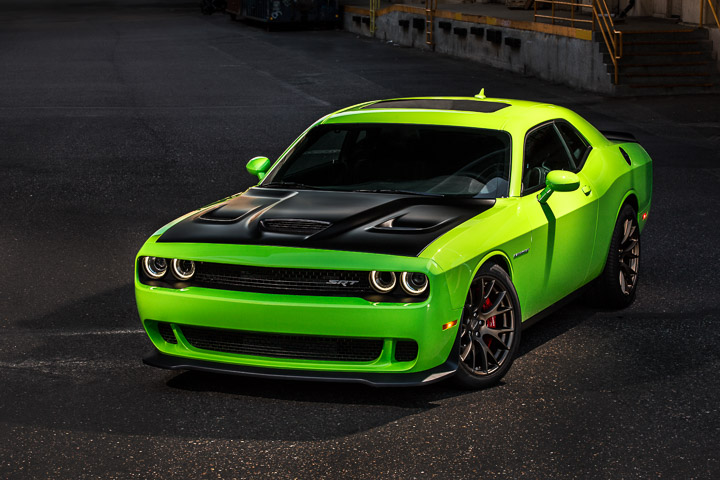 All the commotion comes from Chrysler Group's first-ever supercharged Hemi V8, a 6.2-liter engine that generates its maximum horsepower at 6000 rpm and 650 pound-feet of torque at 4000 revs. The Hellcat mill has the same cylinder bore as the 485-horsepower 6.4-liter SRT engine, but with a shorter stroke. In fact, says SRT Powertrain Engineering Director Chris Cowland, 91 percent of the Hellcat motor parts are different from the 6.4. The twin-screw supercharger can generate boost of up to 11.6 pounds per square inch. Other performance enhancers are a forged-steel crankshaft, a block with specific water jackets, larger fuel pump, a half-inch-diameter fuel line, and 2.75-inch-wide exhaust pipes with an electronically controlled exhaust valve that truly lets the Hellcat roar.
Big Update: Meet the 2015 Dodge Challenger and Charger
Transmission choices include a 6-speed manual with an internal cooling pump and external oil cooler or an 8-speed automatic that's new to all Challengers for '15. The autobox in the Hellcat has been engineered to withstand 30 percent more torque than any other 8-speed TorqueFlite. The rest of the driveline features a new driveshaft with high-strength constant-velocity joints and stiffened axle half shafts to tame hop under the kind of hard acceleration that is readily attainable with the Hellcat.
Hammering 8-speed Hellcats on the drag strip at Portland International Raceway during the media preview, we attained a best quarter-mile time of 12.2 seconds while using the standard Launch Control feature. However, Dodge says the car is capable of a National Hot Rod Association-certified 11.2 quarter on street tires—and a searing 10.8 with the aid of drag radials. Even with the factory-issue Pirelli 275/40ZR20 rubber, those times outdo "supercars" like the Lamborghini Aventador and Ferrari FF. In the more real-world-practical 0-60-mph run, we clocked a best 4.2 seconds.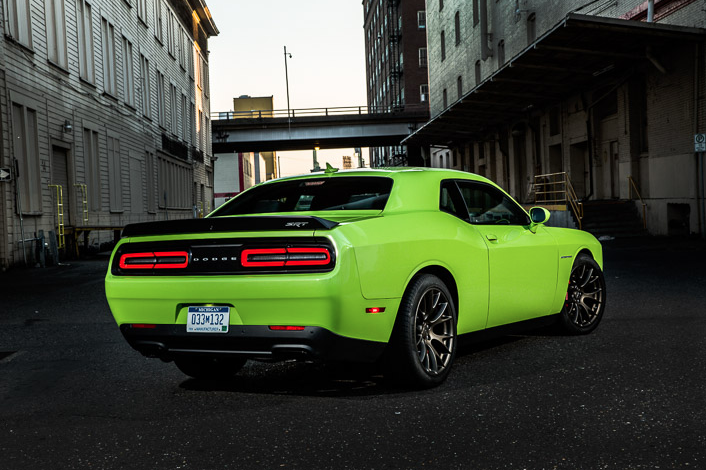 The Hellcat actually comes with 2 key fobs. The red one triggers the programming to the full 707 horsepower. If that seems like overkill for a run to the dry cleaners, the black key restrains horsepower to "only" 500. (A standard "valet mode" further reduces power and disables other performance features.)
Dodge folk take a winking approach to the subject of Hellcat fuel economy. On the one hand, to point up the engine's prodigious output, they'll volunteer the information that, if run consistently at full power, it could empty the 18.5-gallon fuel tank in about only 13 minutes. On the other, they take some pride in claiming that a Hellcat is capable of 20 mpg when set in the tamest of three selectable drive modes that govern vehicle dynamics and performance. Preview drives did not give us the opportunity to independently test for fuel mileage.
Dodge Scat Pack: More Power, Won't Void Warranty
The drive-modes feature, activated by an instrument-panel push button or through the standard Uconnect infotainment-system screen, comes in three flavors. In ascending levels of spice, they are "Default," "Sport," and "Track." (An additional "Custom" setting lets drivers mix characteristics from the other selections.) Highway test drives showed the SRT Hellcat to be commendably docile in Default, but a change to Sport clearly tightened up the steering and damping, and let the TorqueFlite linger a little longer in each gear. Clicking into Track summoned rapid-fire rump-thumping shifts at full exhaust growl and supercharger whine that could produce extralegal speeds faster than you can say "license points." Track also turns off the electronic stability control, which is why Dodge recommends the setting be reserved for "smooth, dry surfaces." Despite the Hellcat's fire-breathing nature, ride is surprisingly comfortable in Default and Sport modes, but develops something of a nervous up-and-down jiggle in the Track setting.
Test Drive: Dodge Backs Better Challenger for 2015
There's plenty of other high-performance equipment packed into the Hellcat, like a limited-slip differential and Brembo disc brakes. The front brakes are the largest ever offered in an SRT vehicle, 15.4-inch-diameter rotors with 6-piston calipers. When lapping the Portland International road course, the big binders served well, letting us get around that Oregon trail without appreciable fade—all the more important considering that the Hellcat weighs in at 4439 pounds with the automatic and 4449 with the manual trans. Dodge has made the Challenger faster, but it hasn't made it lighter, and it can still be something of a handful to handle.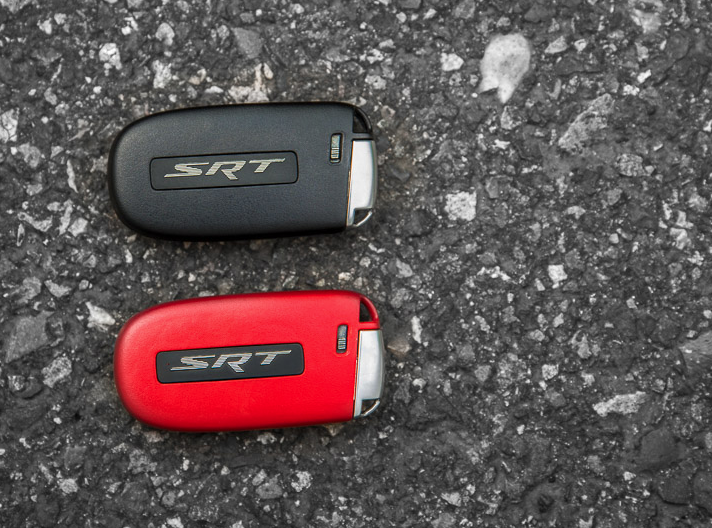 The 2015 redesign has allowed Dodge to incorporate the latest version of Chrysler's Uconnect system as standard equipment for all Challengers. The SRT models both come with the 8.4-inch-screen version that is optional in some lesser variants, and they incorporate the electronic Performance Pages that display timers (we used this to clock our drag strip runs); supplemental "gauges" for temperatures, pressures, etc.; and G-force readings.
Dodge wants Hellcat drivers to see red—the twin dials for the 7000-rpm tachometer and 200-mph speedometer cast a reddish glow when the car is started. (That speedo reading apparently is not wishful thinking; top speed is 199 mph, according to Russ Ruedisueli, head of SRT engineering.) The restyled interior features more soft-touch surfaces than previous Challengers. SRT seats are firmly bolstered to keep front-seat passengers in place. They're heated and ventilated, too. Nappa leather upholstery is standard, but leather-and-Alcantara-suede and premium leather are optional upgrades.
While the profile of the 2015 Challenger is unchanged, new taillights and grille detailing recall the 1971 Challenger—with one exception. The Hellcat has its own grille that does not use the retro twin-venturi look of its linemates. It also has a distinct lower fascia with a larger air splitter to direct the flow of cooling air, and a large lower intake that can be easily removed for track sessions when drivers will want even greater airflow. The aluminum SRT hood includes a functional scoop, but the Hellcat adds extractor vents to let engine-compartment heat escape and relieve underhood air turbulence. A "high-downforce" decklid spoiler is another Hellcat exclusive.
Other key Hellcat standard gear includes high-intensity-discharge headlights with integral "Air Catcher" to the supercharger; matte-black 7-spoke forged-aluminum wheels; air conditioning; front overhead console with universal garage-door opener; satellite radio; Bluetooth connectivity; 6-way power driver's seat; 60/40 split-folding rear bench seat; leather-wrapped shifter and new-design sport steering wheel; aluminum paddle shifters (with automatic); hill-start assist; hydraulically assisted power steering; and a Technology Group package with forward-collision alert, adaptive cruise control, rain-sensitive windshield wipers, and automatic high-beam headlight control. Among available options are a satin-black-finish hood, power sunroof, dark-bronze-finish wheels, enhanced Uconnect with navigation, an engine-block heater, and remote start (with automatic).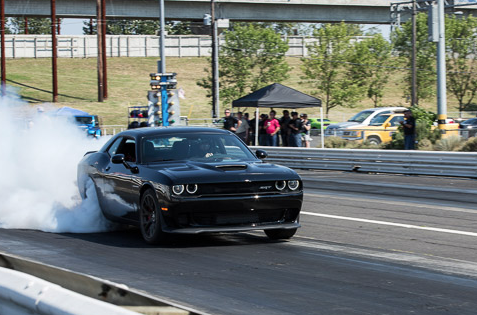 The most horsepower-happy muscle car ever built starts at $59,995, which includes Gas Guzzler tax. Another $995 covers the destination charge. The Hellcat, which goes on sale late in the 3rd quarter of 2014, isn't a limited edition in the traditional sense, with a target number imposed by the factory. But it shouldn't be especially common.
"It's not for everybody," said Dodge and SRT President and CEO Tim Kuniskis. "It's not for everybody out of personal choice."
Or at least that's what we think he said. Our attention may have been wandering to the Hellcat.
Naked Aggression: A Gallery of Stripped-Down Muscle Cars
2015 Dodge Challenger Hellcat
2015 Dodge Challenger Hellcat