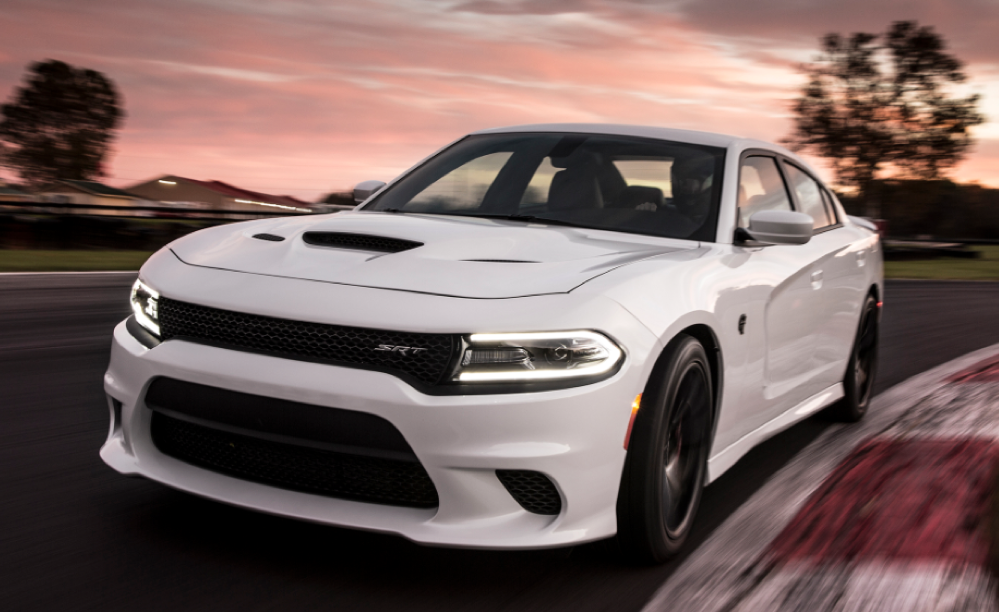 If someone had told me back in the dark years of the early '80s that I would one day be driving a 707-horsepower street-legal sedan – or street-legal anything – I wouldn't have given up my life-long car passion to go into the computer industry.
But, in the whole scheme of things, that computer foray amounted to a mere blip in time. Which is pretty much what can be said for how long it takes Dodge's 707-horsepower Charger SRT Hellcat to accelerate from any given speed to any other given speed – up to and beyond the reading on its 200-mph speedometer. Yep; Dodge says the Hellcat's two-way average on a top-speed run was 204.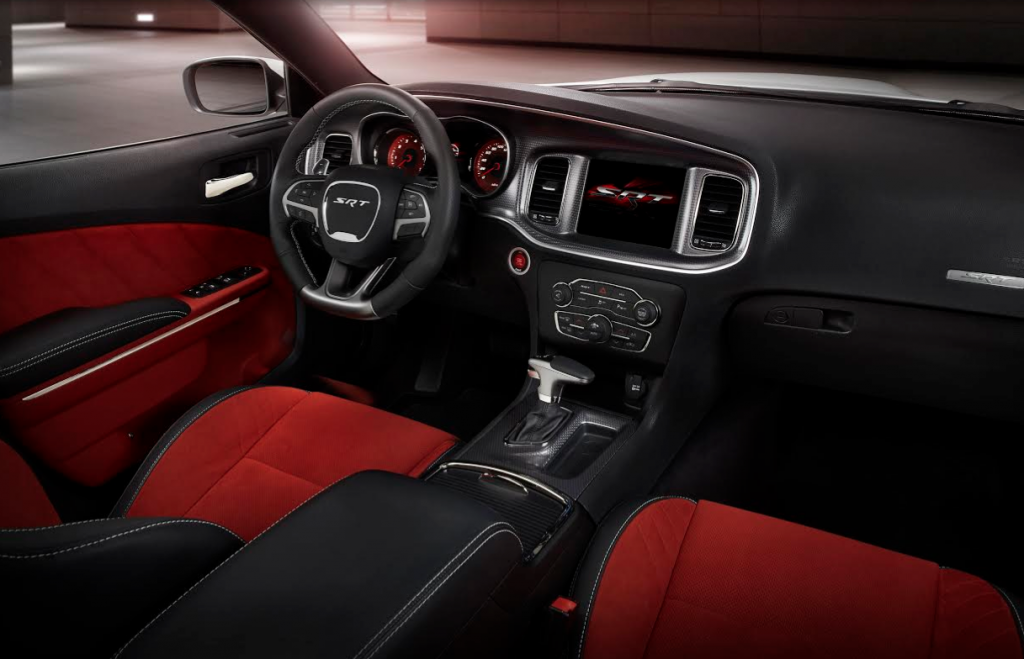 Not that I ever drove it that fast. Or even wanted to. But the fact that a street-legal sedan can run with the fastest cars in the world is a rather stunning achievement.
Here's another. Back in the '60s and '70s, earning the "muscle car" label meant being able to cut sub-15-second quarter-mile times. Most of the ilk were in the mid-to-low 14s; a few might dip into the high 13s. But according to Dodge, the Challenger Hellcat can do the quarter in an NHRA-certified 11 seconds flat. On street tires.
Those figures allow Dodge to claim the Charger Hellcat is the quickest, fastest, and most powerful sedan for sale in the U.S. And to think you can claim those bragging rights for a mere $64,000.
Sure that's a lot of bread. But in this age of $200,000 Bentley Continentals and Mercedes AMGs, spending a third of that amount to beat them all strikes me as a genuine performance bargain.
2015 Dodge Charger: Same Room, More Zoom
And the real kicker is, this 707-hp, 204-mph, 11-second, $64,000 sedan is a perfectly livable daily driver for up to five folks … who are in a really big hurry.
We've covered the new Charger in more depth elsewhere, so let's look at some elements specific to the Hellcat.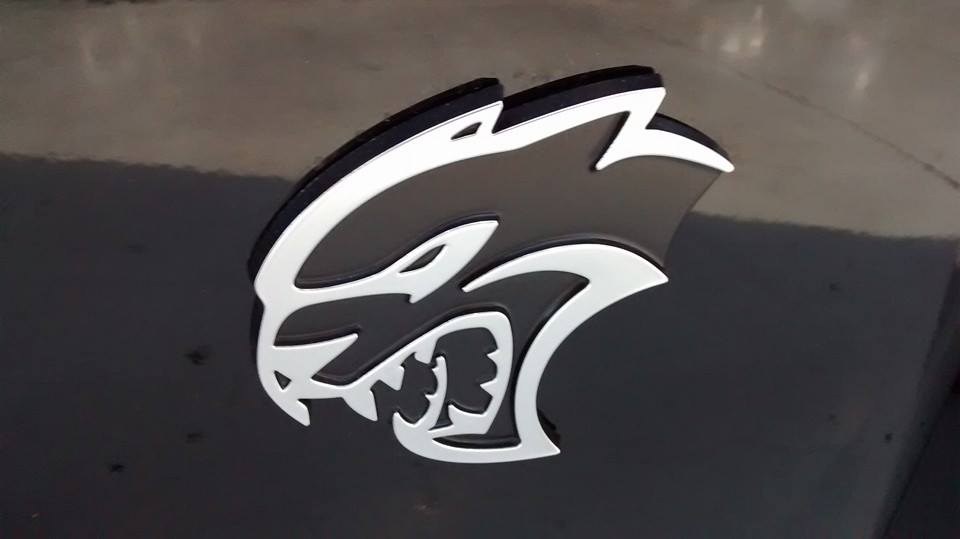 In the recent past, SRT was the "performance" brand under the Chrysler Corp. umbrella. It's been dissolved for 2015, with former members such as the Viper being rolled back into Dodge, but the SRT name carries on in the same vein as submodel nomenclature. In the Charger lineup, the top two entries are SRTs: the SRT 392, and the SRT Hellcat. The former has a 6.4-liter normally aspirated V8 with 485 horsepower and 475 lb-ft of torque, the latter a 6.2-liter supercharged V8 with 707 horsepower and 650 lb-ft of torque. Both versions (in fact, all Chargers) come only with an 8-speed automatic, which in this case includes paddle shifters for manual control.
SRTs are differentiated from other Charger models primarily in having standard performance equipment that's not offered elsewhere in the line. Chief among them are larger two-piece slotted rotors with 6-piston Brembo calipers, 3-mode Bilstein adjustable shocks, 3-mode electronic stability control, and wider wheels. Also unique to SRT models are a specific body-colored rear spoiler, flat-bottomed steering wheel, available gold-tone "Sepia" leather upholstery (with available matching child seat!), a 900-watt Harman Kardon sound system with 19 speakers and trunk-mounted subwoofer, and added data for the car's Performance Pages. Shared with the R/T Scat Pack model (which also carries the SRT 392's 485-hp 6.4-liter V8) are a tall hood scoop and a distinctive front facia with "gaping mouth" lower opening. Hellcat adds a boost gauge, the aforementioned 200-mph speedometer, dual key fobs (the red one allows the full 707 horsepower, the black one – supposedly for the uninitiated – "just" 500), large dual air extractors on the hood, and stylized badges on the front fenders (the last being an appreciated "red flag" if you line up next to one at a light).
What in Hades? Dodge Unleashed 707-Horsepower Challenger Hellcat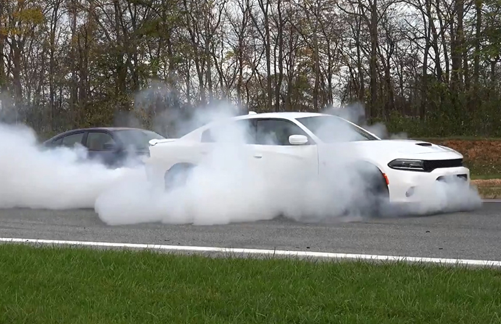 Unless you've spent some time tootling around in a Viper, it's difficult to describe the level of "instant on" power delivered by the Hellcat's supercharged engine, or the effect that stabbing the throttle at speed has on various parts of the human body. First the ears. If the pedal has been depressed far enough to coax a downshift out of the 8-speed automatic, it does so almost instantly, with the brief delay seemingly being used to kick in the supercharger. The end result of those two simultaneous events is a mighty roar coming from the exhaust, a whistling whine coming from the supercharger, and a giant sucking sound … which is coming from you. (In stereo if you have a passenger.)
And then there are the physical sensations. "Neck-snapping acceleration" is an over-used term that has rarely been as applicable. Virtually any time you stab the gas, your knuckles go pale as you instinctively put a death grip on the thickly padded steering wheel. Launch control is included to help maximize off-the-line traction by limiting tire spin (which can otherwise be prodigious … or at least that's what others tell me :-), so given the spurs from a stop, the Hellcat just hooks up and leaves. If you're in manual mode in a lower gear with the intent of upshifting to the next through the steering-wheel paddles, your fingers will likely miss the opportunity before the engine bounces off the rev limiter. After a couple of stutters they finally flick the lever … and then promptly miss it again. (With eight speeds and this much power, there's very little time gap between gears.)
Test Drive: Dodge Backs Better Challenger for 2015
Part of our preview event took place at a racetrack; specifically, Summit Point Motorsports Park in West Virginia, where we drove the 2.0-mile Summit Point Circuit. This 10-turn track has two straightaways, the longer of which allows speeds up to about 145 mph – if you're in a Hellcat. I say "up to," because I never got past 138. A certain level of survival instinct kicks in to force an early jump on the brakes when you know the upcoming corner is a 180-degree hairpin, and you really don't want to be the one who turns it into a 140. Especially for street cars, these kind of speeds are really tough on the ol' binders. Yet never did the giant Brembos on the Hellcat show any sign of fade.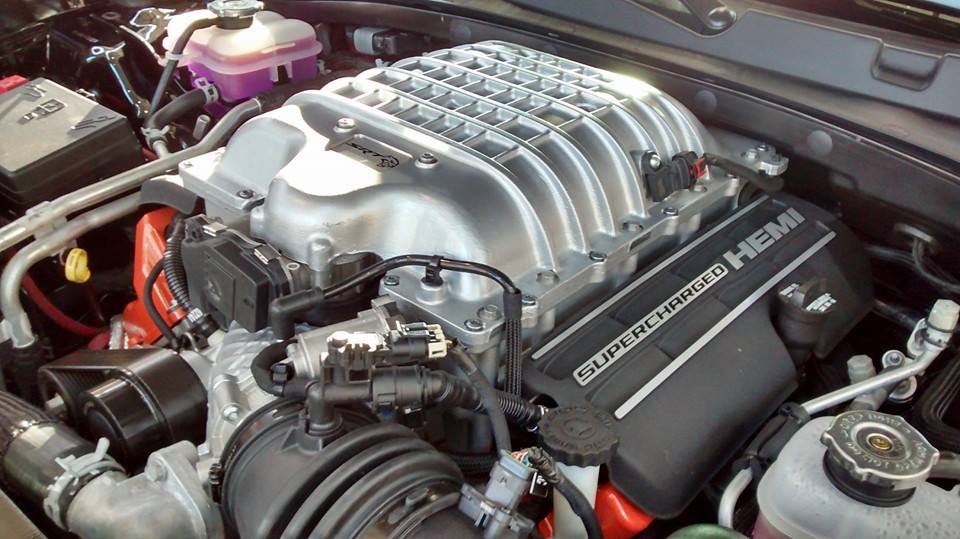 This is also a great place to test handling. While this two-ton sedan never quite feels "tossable," it carves through corners with little lean and a surprising amount of grip – probably more than I ever used. (See restraining limitation above.) And at low parking speeds, the new-for-2015 electric power steering provides easy turning with three levels of assist (Normal, Comfort, and Sport).
But the Hellcat had to be taken off the track to assess whether this beast was tame enough to endure the daily grind.
Although the rolling roads of West Virginia didn't offer up the kind of pockmarked thoroughfares that are indigenous to our Chicago-area headquarters, there were still some rough patches – if you searched them out.
Many cars with this kind of performance potential ride like a buckboard. Not so the Hellcat. It rode firmly, to be sure, but it was never harsh. As long as you don't have to contend with really bad streets, those realizing that performance cars are never going to ride as smooth as silk would probably find the Hellcat "livable."
Furthermore, the Hellcat's ferocious engine carried on like a pussycat in slow-moving traffic; no hiccups, no surging. Hellcat has a valve in its exhaust system that's closed in normal driving, only opening when the ponies need to be let out. Make no mistake about it; you will almost always hear some exhaust rumble, but the note is more melodious than annoying. However, a qualifier: We never had the Hellcat on the highway for long distances, and thus never had a chance to get tired of the sound. But that's why there's a 900-watt stereo available.
It's sort of a standing joke with car guys – especially those of us who were cognizant during the "original" muscle-car era – that when it comes to performance, these are the "Good ol' days." And unlike those dark times of the '80s, cars like the Hellcat come along to make us think they'll get nothing but better.