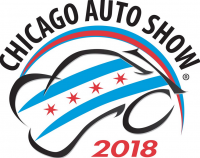 "… Let it snow, let it snow, let it snow."
The words to that famous song seem to be the backdrop for the 2018 Chicago Auto Show, and if the forecasted 20 inches of the white stuff materializes, Nissan is ready.
More from the Chicago Auto Show
With our snow-studded history here, Nissan felt Chicago would be the perfect place to unveil a couple of concepts designed to not just weather the storm, but enjoy it.
First in that regard is the 370Zki (pronouned, "370 Ski"), which is essentially a 370Z roadster modified to accept snowmobile-like modifications supplied by American Track Truck, Inc. To fit the rear track units, the Z's suspension was raised three inches, the wheelwells were carved out, and exhaust and brake line were rerouted. Similar changes were made up front to accommodate the included skis, and — a clever touch — the headlight lenses were tinted yellow to simulate ski goggles.
But since getting the 370Zki to a snow-covered playground might require traversing public roads, Nissan built the companion Armada Snow Patrol — which itself is exceptionally snow-capable — to tow it. Modifications include a 3-inch suspension lift and extreme off-road tires, along with a massive front bumper and light bar.
Although Chicago is pretty well prepared for snow, at some point, roads just become impassable. And that's when we'll make the call:
"Hello … Nissan?"
CG Says
Vehicles like the 370Zki might be dismissed as glorified playground toys, but think about it: If indeed you have a use for something of this nature — and the money to justify it (just drive around Vail sometime to see who this might include) — you need to start with a rear-wheel-drive vehicle that has the power needed to make use of the traction. And for that, the 370Z seems tailor made.
2018 Detroit Auto Show: Nissan Xmotion Concept