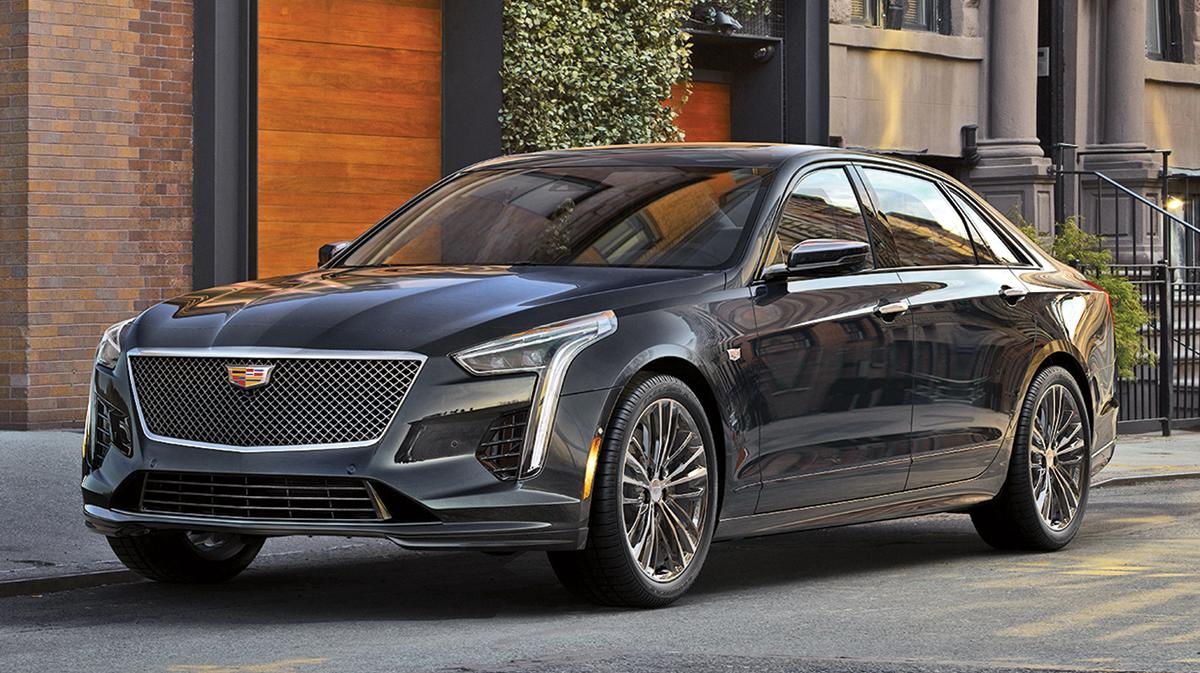 by Don Sikora

Note: The following story was excerpted from the June 2019 issue of Collectible Automobile magazine.
Cadillac's first high-performance "V" series offering was the 2004 CTS-V. The latest member of this tasty lineup of future collectibles is the full-size CT6-V sedan. It was announced in March 2018 at the New York Auto Show as the CT6 V-Sport, and the "Sport" suffix indicated it wasn't considered a full-fledged V-series model. By September 2018, the company reconsidered and said the production car would be the 2019 CT6-V.
CT6 was new for 2016, built on the model-exclusive General Motors "Omega" platform. Cadillac claimed this aluminum-intensive body structure allowed the CT6 to be one of the world's lightest full-sized luxury performance sedans. It ran a 122.4-inch wheelbase, was 204 inches long, and in base trim weighed less than 3700 pounds.
The CT6-V's heart is an all-new "Blackwing" 4.2-liter twin-turbocharged V8, a Cadillac exclusive engine hand-built in Bowling Green, Kentucky. The company declared it a clean-sheet design, and one interesting detail is the so-called "hot V" configuration. The short version is that the intake- and exhaust-system locations on the cylinder heads are reversed from normal V8 practice, allowing the turbochargers to be mounted atop the engine between the heads. Caddy claims this helps eliminate turbo lag and reduces the assembled engine's overall size. Cadillac estimates engine output of 550 hp and 627 pound-feet of torque.
CT6-V exclusively uses a 10-speed automatic transmission and all-wheel drive with model-specific tuning. Other hardware runs to Magnetic Ride Control, active rear steering, active exhaust, mechanical limited-slip rear differential, and 19-inch Brembo-brand four-wheel discs. It rolls on unique 20-inch alloys wrapped with sticky summer-only rubber.
2018 New York Auto Show: 2019 Cadillac CT6 V-Sport
All 2019 CT6 models receive new headlight and taillight designs said to be inspired by the Cadillac Escala concept. CT6-V is distinguished by a dark-finish mesh grille, lower-body "aero components," and shiny black trim around the side windows.
That's what the 2019 Cadillac CT6-V has got. Getting one for yourself could be a problem. In November 2018, General Motors announced the Detroit-Hamtramck plant that builds the CT6 would close and the car would end production on June 1, 2019. Then a January 14, 2019, Automotive News piece reported GM President Mark Reuss and Cadillac President Steve Carlisle said the "company is evaluating options to keep the brand's flagship sedan for sale in the U.S. following its scheduled end of production." Options included production at another assembly plant or possible importation from China, where it is also built—though Carlisle said imports "would be the least-preferred option." The same article reported that Reuss declined to comment on how many CT6s powered by the Blackwing engine the company expected to produce in 2019.
That same day, Cadillac announced a base price of $88,790 and opened a preorder program for the 275 American-market cars that would be available. Reports quickly followed that the CT6-V reservations were all spoken for before the day's close of business. (At the time of this writing, the Cadillac website says the CT6-V is sold out.) It's not clear if the company will produce more than 275 examples in 2019 or any subsequent model years.
More from Collectible Automobile
Pros:
An American entry in the high-performance full-size sedan market that's dominated by German luxury brands.
Total production could be only 275 cars.
Cons:
If you don't have a place in line for one now, who knows if you'll get another chance?
The CT6's well-hyped Super Cruise hands-free driver-assistance system is not available on CT6-V.
Final Drive:
The Cadillac CT6-V has not yet gone on sale, but it's already undergone a name change, an announced end of production, and advertised "sold-out" status. There are still many questions, but this Cadillac's uncertain future could prove very good for collectibility.
Review Flashback! 2006 Cadillac XLR
2019 Cadillac CT6-V