As vehicles become more technologically advanced, the list of features buyers expect from them continues to grow. Just a few years ago, a Bluetooth cell-phone link was something you'd typically find only in luxury vehicles. Now even the least-expensive cars have them, though admittedly some of that is out of necessity to comply with local and state regulations.
It might seem as though innovation is becoming scarce, but rest assured, dear readers, there is plenty of it happening, and it's coming in pleasant, yet unexpected ways.
Here are five examples of innovative engineering that can make your Daily Drive (see what I did there?) more pleasant.
Around View Monitor
Who Makes It: Nissan and Infiniti
Why You Want It: Many cars are available with a rearview camera to aid drivers in seeing what's behind them when backing up. Around View Monitor takes this concept a step further by using a series of cameras to project a top-down look at what's around you. This is immensely helpful when parallel parking or maneuvering around tight spaces, particularly if you're like me and don't have the world's best depth perception.
While Around View Monitor is available on several of Nissan's higher-end models, including premium vehicles from the company's Infiniti brand, the technology is beginning to make its way into more affordable products. This useful feature is also available on vehicles such as the Rogue compact SUV and the even less expensive 2014 Versa Note.
BMW and other premium manufacturers offer similar surround camera systems as well, but the fact that you can get such a feature on a car costing less than $20,000 (in the case of the Versa Note) is what's remarkable.
Built-in Booster Seats
Who Makes It: Dodge and Volvo
Why You Want It: If you have a family, installing and removing child safety/booster seats can be a royal pain in the backside. The Dodge Journey and Volvo XC70 alleviate this concern with optional boosters built right into the rear seatback cushion. It's such a simple thing that we wonder why such a feature is not available in more vehicles, especially minivans and crossover SUVs.
LaneWatch
Who Makes It: Honda
Why You Want It: As Nissan's Around View Monitor is the next evolution of the rearview camera, Honda's LaneWatch is the next step for blind-spot-alert systems. And as with Dodge's and Volvo's built-in child seats, LaneWatch represents a forehead smackingly simple solution to an issue that plagues many vehicles: rear corner visibility.
This system, available on an increasing number of Honda vehicles including the Accord Sedan and Coupe, Crosstour wagon, and freshened-for-2014 Odyssey minivan, consists of a camera mounted below the passenger-side exterior mirror. The camera activates via a pushbutton on the turn signal stalk or when the driver engages the right turn signal. When on, the camera broadcasts an 80-degree view of the vehicle's right side on the central dashboard screen. The typical view of the passenger-side mirror by itself is only about 20 degrees, give or take.
LaneWatch works superbly and gives drivers welcome peace of mind. The only way it could possibly be better is if a similar camera were placed under the driver-side mirror. Perhaps we'll see it with LaneWatch 2.0, or whatever Honda decides to call it.
MyLink/IntelliLink/CUE
Who Makes It: General Motors
Why You Want It: Just about every automaker and its dog offer some kind of in-vehicle connectivity for smartphones and MP3 players. Most of these systems are quite good, but the suites offered by General Motors—dubbed MyLink for Chevrolet, IntelliLink for Buick and GMC, and CUE for Cadillac—offer the best balance of features and usability.
While these three systems are largely similar in terms of overall functionality, there are some interesting differences worth noting. The MyLink interface in the entry-level Chevrolet Spark and Sonic does not include a CD player. Any music you want to listen to must come from an external device. Further, the available "BringGo" smartphone app brings full-size navigation to the MyLink screen for just $50 (as opposed to hundreds for a standard built-in nav system).
SKYACTIV
Who Makes It: Mazda
Why You Want It: Though this suite of technologies might be less "tangible" (for lack of a better word) than the above items, its benefits are readily apparent. SKYACTIV is Mazda's way of reworking engines, transmissions, and body structures to improve fuel economy without sacrificing the fun-to-drive character that's long been a hallmark of the brand.
The SKYACTIV engines and transmissions debuted in the 2012 Mazda 3, which is one of our favorite compact cars. Though not quick by any measure, our test examples were as fun as ever and returned solid fuel economy, even in all-city driving.
The 2013 Mazda CX-5 compact SUV was the first vehicle designed around the full set of SKYACTIV enhancements, and the results have been terrific. We tested one for a bit more than a year and achieved the best fuel economy we've ever seen in a non-hybrid SUV: 29.7 mpg.
This winning streak looks like it will continue with the arrival of the 2014 Mazda 6 midsize sedan. We've tested three examples so far, two with an automatic transmission and one with a manual; each has returned better than 30 mpg while exhibiting superb comfort and refinement. We can't wait for the upcoming diesel-powered model to arrive later this year.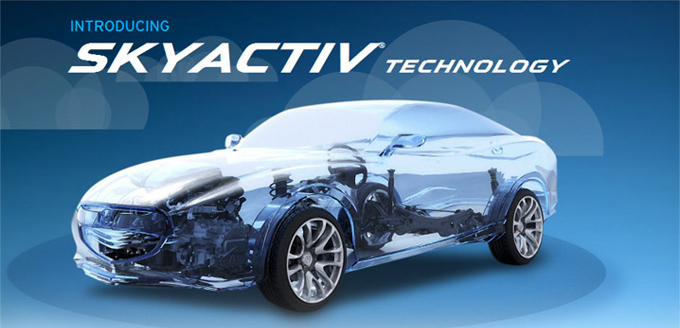 Fahrvergnügen (and 4 Other Obnoxious Automotive Marketing Terms)