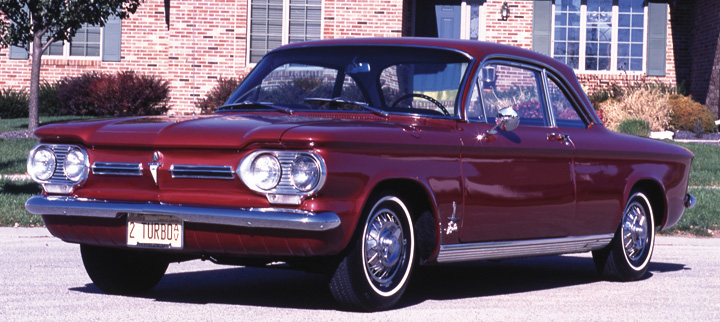 Events recently conspired to remind me that it's now 50 years since I started high school. With model-year 2012 having passed into history, I thought my minor golden anniversary was a good excuse for recalling a few "golden oldies" from model-year 1962. This is a personal list, so don't be offended if you don't see one of your favorites.

Chevrolet Corvair Monza Spyder
An early example of mass-market turbocharging, the ultimate version of Chevy's rear-engine compact seemed quite exotic in 1962, especially for a Detroit product. Offered as a coupe and convertible, the Spyder claimed only 150 horsepower, but that was sufficient, thanks to low weight. Worthwhile suspension upgrades were included. So were the regular Monza's de rigeur bucket seats and a handsome multi-gauge dashboard with tachometer. A four-on-the-floor manual transmission and special brake linings were "mandatory options." Though not cheap at $2,600 minimum, the Spyder was the next best thing to owning a Porsche 356. It was certainly just as tail-happy, as a certain Mr. Nader would soon loudly proclaim. Spyder sales were respectable at around 40,000 through 1964. Corvair was then redesigned, but the turbo engine continued as an option for the new top-line Corsa, though only through '66.
Senior-Year Lust: The Coolest Cars of 1975
Chevrolet Corvette
The last of the solid-axle C1 'Vettes is, in my view, the best of the bunch—other than the historic 1956-57, that is. The '62 is arguably the best-looking of the later "four-eye" models, being an even cleaner take on the deftly restyled "ducktail" '61. It was also the quickest 'Vette yet, thanks to a new 327 cubic-inch small-block V8 with up to 360 horsepower. No wonder it sold better than any previous Corvette with a record 14,531 units—a mark that was handily surpassed a year later.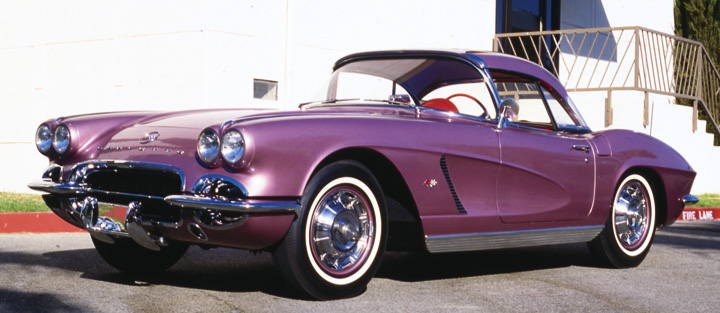 "Full-Size" Dodge and Plymouth
Whether due to bad intelligence, gullible management, or both, the decision to downsize the '62 "standard" Dodge and Plymouth was a disaster. By our count it cost Chrysler at least half-a-million sales—and that was based on lackluster '61 totals. Strange styling didn't help. On the other hand, these smaller, lighter cars could be stuffed with potent 413 V8s that made them virtually unbeatable in drag racing. Dodge, in fact, was the 1962 NHRA champion. In a sense, then, these were proto muscle cars, paving the way for the 1964 Pontiac GTO. The crowning glory came for 1966 with the awesome Street Hemi, based on the NASCAR-dominating powerhouse previously sold only to racers.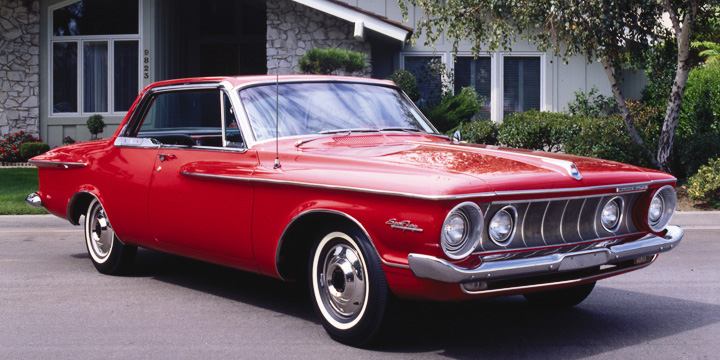 Ford Fairlane
Though the name had been used on standard Fords since 1955, the '62 Fairlane was something new: an "intermediate" car—basically a stretched, restyled version of the popular two-year-old Falcon compact. First-year sales were terrific at over 297,000, which may explain why Ford gets credit for establishing this market category. In truth, though, this was basically the same idea as the shrunken '62 Dodges and Plymouths (and, for that matter, the post-1957 Rambler Six/Rebel/Classic). So why did Ford succeed where Chrysler failed? Attractive prices, sturdy simplicity, continued availability of true full-size cars, and—this Fairlane's true significance—a brilliant new small-block V8 that would become legendary in Mustangs and Shelby-Cobras. There was an inevitable Mercury version, called Meteor, but it died after two years. Not so with the Fairlane, which remained a Dearborn staple through several redesigns and name changes into the 1970s.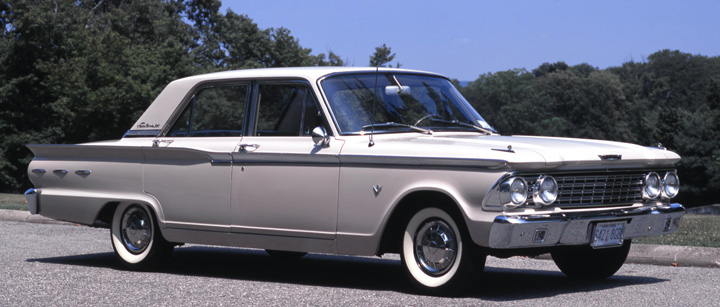 Oldsmobile F-85 Jetfire
This was another pioneer Detroit turbocar, only with a front-mounted V8 producing 215 horsepower from as many cubic inches. Sold only as a compact 2-door hardtop with extra exterior bling and the obligatory buckets-and-console interior, the Jetfire was quick for the day: 8.5 seconds 0-60 mph. Alas, the engine required water injection (actually a water/alcohol mix) to run on certain grades of fuel, and the system proved unreliable. That dampened sales as much as a steepish $3,049 base price. Unsurprisingly, the Jetfire didn't last long. Production totaled 3,765 for '62 and 5,842 for the restyled '63s.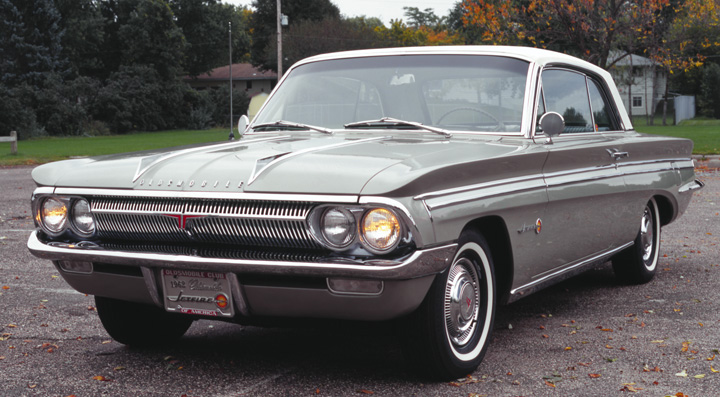 Pontiac Grand Prix
Europeans cringed at the name, but the first Grand Prix was an apt symbol of Pontiac's fast rise from middle-market also-ran to No. 3 in U.S.-industry sales and production, a position it held from 1962 through 1970. Capitalizing on the brand's new renown for some of the quickest, handsomest, most roadable big cars around, this $3,500 2-door hardtop gilded Pontiac's shorter, lighter Catalina platform with unique styling touches, a swanky bucket-seat interior (then all the rage), and a burly 303-horsepower 389 V8. Engine options ranged up to a 348-horsepower version with "Tri-Power" carburetion, already a legend among performance fans. As one of 1962's sportier yet more stylishly understated cars, the GP drew a respectable 30,195 sales. The rebodied '63s, arguably even prettier, attracted nearly 73,000.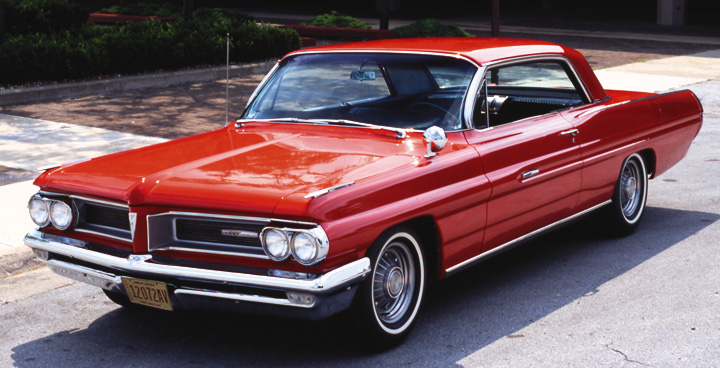 Senior-Year Lust: The Coolest Cars of 1983
Studebaker Gran Turismo Hawk
Sometimes termed South Bend's answer to the contemporary Ford Thunderbird, the new-for-'62 GT Hawk marked the second major restyle of the landmark 1953 coupe credited to Raymond Loewy. This time, though, independent designer Brooks Stevens did the honors. Despite a tight budget, reflecting Studebaker's fast-dimming prospects, he contributed a fashionably square roof line, cleaner lower-body styling, and a driver-centric cockpit. The result was a 10-year car that looked all-new. Despite a carryover pair of 289 V8s with 210 standard horsepower or 225 optional, sales more than doubled to 8,388 units. But Studebaker's days were numbered, and the GT Hawk expired in 1964 along with Loewy's striking Avanti sports coupe, new the previous year. Studebaker finally exited the vehicle-making business two years later, leaving the handsome GT Hawk as a collectible artifact of last-ditch survival efforts.