The year of Apollo 11, the "Amazin'" New York Mets, and Woodstock was also a pivotal year for U.S. automakers. A thorough retrospective of 1969 domestic cars published in Collectible Automobile® magazine, a companion to Consumer Guide® Automotive, has won an award from an international vehicle-history association.
Society of Automotive Historians Awards
The Society of Automotive Historians (SAH) presented its top magazine-writing honor, the Carl Benz Award, to "The Cars of 1969: A Rising Middle Class" by Kit Foster. With the rise of compacts, intermediates, "ponycars," and personal-luxury coupes during the Sixties, American automakers' historic reliance on a single type of car was swept away. Foster's article in the magazine's December 2016 issue summarized each of the cars on the market and assessed the shifting fortunes of the various vehicle classes as they stood at the end of the decade.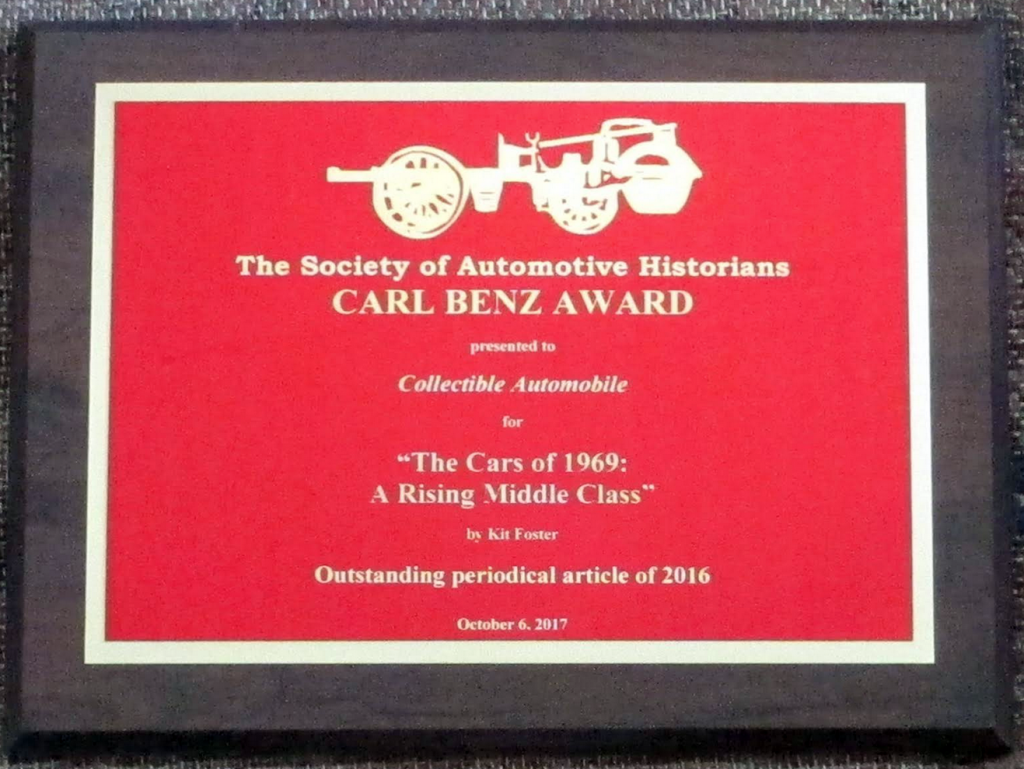 Awards Fall to Collectible Automobile® and Daily Drive
The SAH gives the Benz Award for excellence in the presentation of automotive history appearing in a periodical published in the previous calendar year. The award is made to both he author and the publication. Foster, a Connecticut resident, was a first-time Benz winner for his CA article. However, he is no stranger to the SAH awards podium. In 2005, his book The Stanley Steamer: America's Legendary Steam Car earned the society's Nicholas-Joseph Cugnot Award (English language) for best automotive-history book. In 2011, he was named the group's "Friend of Automotive History" for contributions to the automotive-history community and the historical record. The award for "The Cars of 1969" marked the fourth consecutive Benz Award won by an article published in Collectible Automobile®, and was the magazine's 11th overall since 2000.
The award was presented on October 6 during the SAH's annual meeting and awards dinner at the Hershey Country Club in Hershey, Pennsylvania. Founded in 1969, the not-for-profit organization claims a membership of more than 900 around the world. According to its website, the SAH exists to "support the compilation and preservation of papers, organizational records, print ephemera, and images" related to the history of motorized land transportation and to promote the publishing and teaching of automotive history.
Founded in 1984, Collectible Automobile® appears six times a year. It is published by Publications International, Ltd. of Morton Grove, Illinois.
Visit the Collectible Automobile website