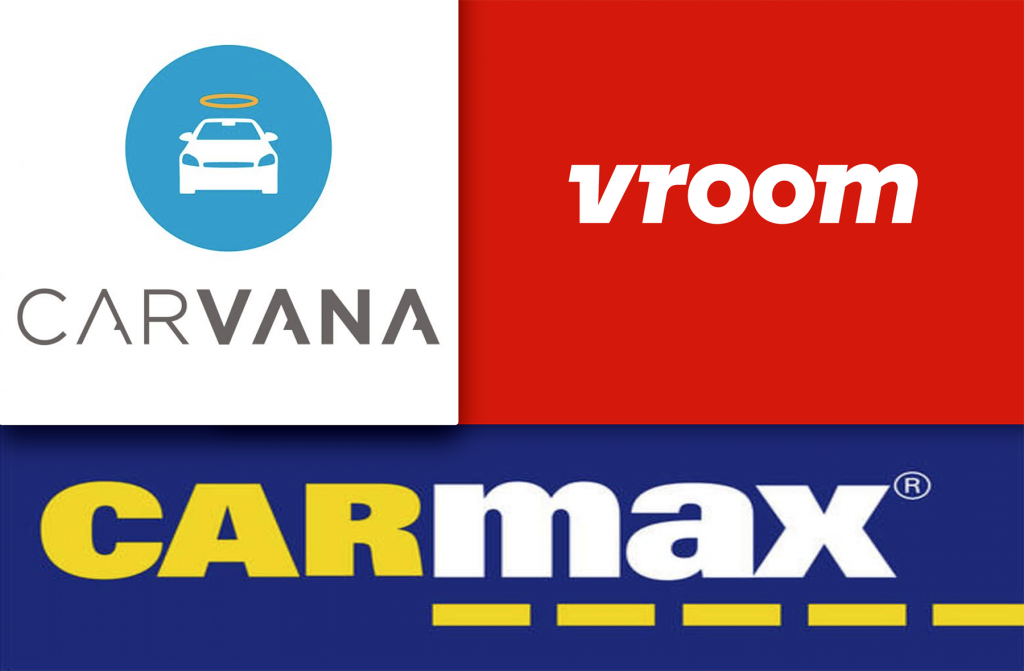 By Jim Flammang
Judging by the promotional efforts of online "software platforms," potential customers are eager to abandon traditional car dealerships and make their next vehicle purchase digitally. Instead of facing potentially pushy salespeople, younger shoppers in particular appear inclined to dash through the buying process hurriedly, using fingertips on a touchscreen.
Carvana vs Vroom vs CarMax
When the time comes for selling a car, too, online buying services are ready to make you an offer.
Of the three companies we're discussing here, CarMax is the old-timer of the trio – it was established way back in 1993. Vroom and Carvana entered the fray a little more recently, but demonstrate a strongly competitive presence.
As Chip Perry, CEO of A2ZSync and former head of AutoTrader, said of Vroom and Carvana: "They're taking dead aim" at the traditional dealership and its methods.
CarMax, Carvana, and Vroom all promote a "no-haggle" fixed-price policy for both buying and selling used vehicles. No negotiation is permitted. Intended to simplify and speed up the procedure, one-price targets folks who don't relish spending hours at a dealership dickering over prices.
Are those fixed prices higher than you might pay at a traditional dealership? Most likely, yes. Some consumers are aghast at the idea, while others rejoice, eager to steer clear of the dreaded down-to-the-last-dollar battle.
Selling your existing car to a buying service (or trading it in) is even simpler than purchasing one. Just don't expect to get anything close to the retail price found in used-car guidebooks.
Benefits to the shopper don't differ much between the three major buying services. Each vows to make buying (or selling) a used car an easy, stress-free, even enjoyable task.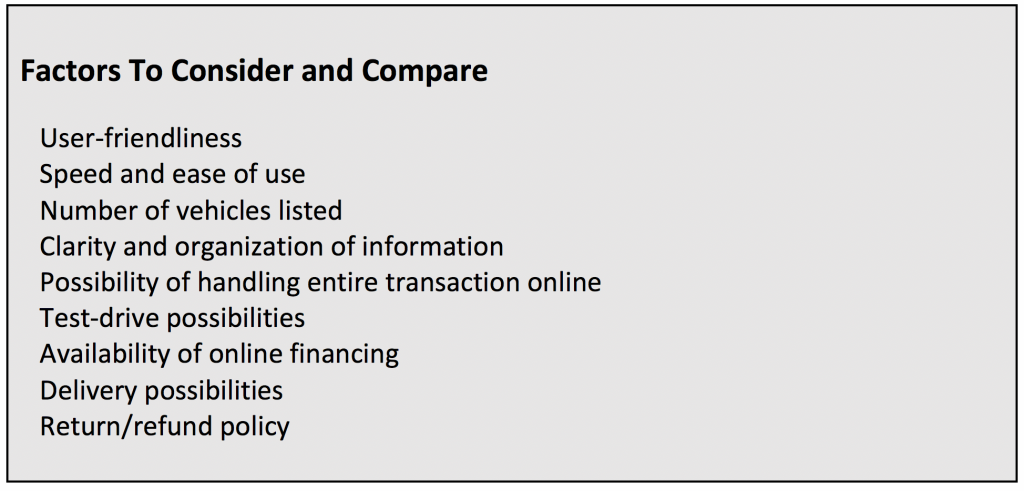 Plus, the factor that's hardest to compare: price.
Without a doubt, online shoppers get vastly more vehicles to choose from than most traditional dealerships – even those that are part of a chain – can offer. Whether by smartphone or laptop, they also benefit from quick, easy access to useful facts, specifications, and other details about each vehicle listed.
Vroom

Winner of the prize for liveliest brand name, Vroom was founded as AutoAmerica in 2013. A year later, the company transformed into a buy/sell used-car platform, under the new name. "We believe buying a car should be fun, easy, and affordable," the Vroom website proclaims.
A 2021 press release promoted more-personalized concierge service. "Customer advocates," it explained, "transport cars directly to a buyer's home on Vroom-branded trucks," then show the buyer how to use that vehicle—a final act in the buying process, dubbed the "Last Mile experience."
On the darker side, the Better Business Bureau revoked Vroom's accreditation, citing 325 "unresolved" complaints and a "pattern of complaints." Early in 2020, the BBB began to see troubling customer reviews and complaints, pertaining to vehicle condition, delivery, customer service, and communication, among other issues.
Essentially, the Vroom search procedure is similar to that of rivals. Shoppers may search with ease, to buy, sell, or trade-in a vehicle. Most cars are said to be low-mileage and less than three years old. Vehicles may have come from a dealer, an auction, or a private seller. Rather than enumerating the steps taken, Vroom simply claims its cars get "multiple inspections."
Searches by make, model, or body type can be filtered by mileage, price, or other factors, to narrow the possibilities. Each car includes a Carfax vehicle history report and a 90-day/6000-mile warranty.
When you've made a purchase choice, a $500 refundable deposit holds the car for 24 hours. Vital documents (driver's license, proof of insurance) must be uploaded. Vroom approves the contract (an e-signature is acceptable), then schedules the car for transport.
A $699 delivery fee is added to the total cost. Delivery to your home or a nearby location takes 10 to 14 days (possibly longer). The car may be driven for as much as a week or 250 miles, whichever comes first. If dissatisfied, you can return the vehicle to Vroom, but the delivery fee won't be refunded.
To sell a car to Vroom, or trade it in, you fill out an appraisal form online, including mileage, notable features, and the Vehicle Identification Number (VIN). If they want the car, Vroom sends you an offer, valid for 250 miles or two days. Price cannot be negotiated; you either accept or decline. After paperwork is finalized, Vroom will schedule free pickup of the car (except in Alaska and Hawaii), including an inspection.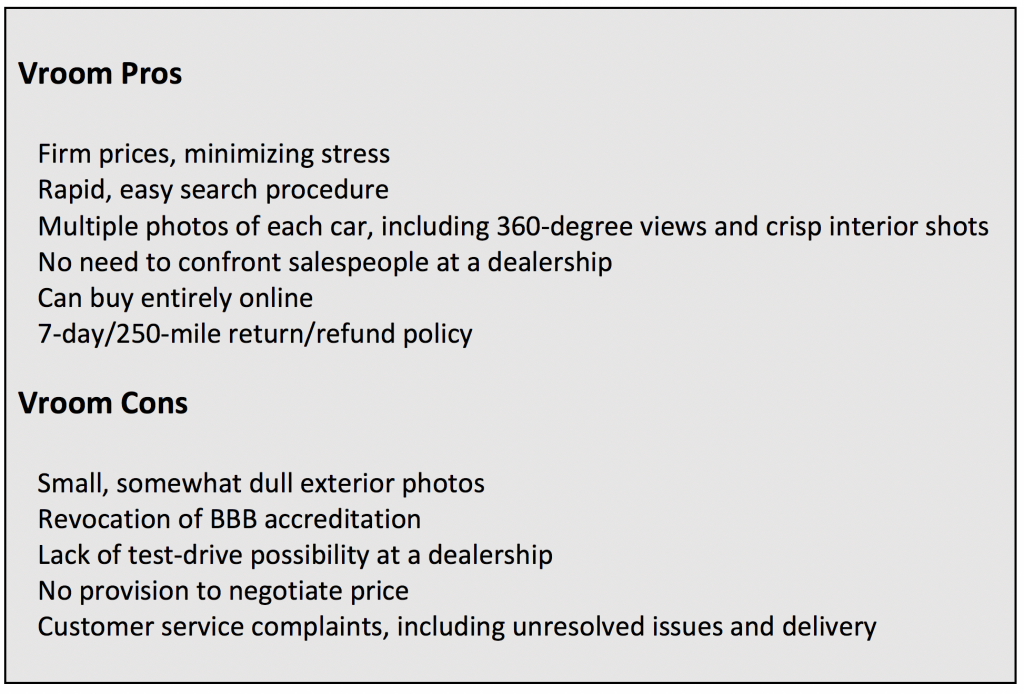 Carvana

Founded in 2012 as a subsidiary to Drive Time, Carvana is a totally online buying/selling service for used cars, promising a streamlined, fully digital experience. Rusty West, CEO of Market Scan, told a trade audience that Carvana really "took off with COVID." Currently, Carvana is able to deliver purchased vehicles to 279 markets. Shoppers can browse some 25,000 vehicles.
Carvana has had numerous negative reviews and complaints from disgruntled customers, mostly related to its BridgeCrest financing partner. The Better Business Bureau cites 1,618 complaints in the past three years, but Carvana has BBB accreditation. Lending Tree advises that Carvana reviews are "overwhelmingly positive."
To buy a car at Carvana.com, start by searching based upon such filtering factors as features, keywords, price, make, or model. Pick out a vehicle, then click to its listing page to view details and inspect the 360-degree photo views.
Click on "Cars That Fit Your Budget" to get some reasonably priced choices – in the opinion of Carvana, that is. Or, try "Car Finder" to let the system know which factors are most important to you: Value, Comfort, Safety, Fuel Efficiency, Performance, Features, Space, or Tow/Haul Capability.
You can specify a target price. Browsing can also be limited to Popular Models, Makes or Styles, or Locations (cities). Shopping tools also include a Loan Calculator and a Trade-in Estimator.
Listings feature one primary choice, plus a group of possible alternatives. Each includes a "typical price." Turntable-style 360-degree exterior images include handy zoom and "open doors" features, but they are virtual renderings – not photos of an actual vehicle. A "HotSpots" button highlights issues such as minor paint scratches or visible repairs.
When you've chosen a car to buy, click "Get Started" to create a Carvana account. Payment can be made using cash or in-house financing, including a trade-in (if you have one). You can apply on-site for pre-qualification to finance the purchase.
Unless you opt for home delivery, you might dash over to a nearby Carvana facility that contains a "Car Vending Machine." It's actually an eight- or nine-story tower, holding as many as 34 vehicles. There may not be a lever to pull, old Las Vegas style, but you do get to insert an oversize commemorative "coin" to release your vehicle. What some have branded a promotional gimmick turns each purchase into a veritable theatrical production.
If you've chosen delivery to your home, the vehicle should arrive within a few days.  If you don't like the car for any reason, return it within one week to get a full "No Questions Asked" refund.
To sell your existing car to Carvana, select "Get My Offer." Then, provide vehicle details, including the vehicle's condition, accident history, notable features, color, odometer mileage, and VIN. If the car qualifies, Carvana promises a "real" offer in just two minutes – and the offer is valid for seven days.
If you accept, you'll schedule an appointment for a Carvana representative to inspect the vehicle. Pass inspection, and the representative can pay you and take the car away.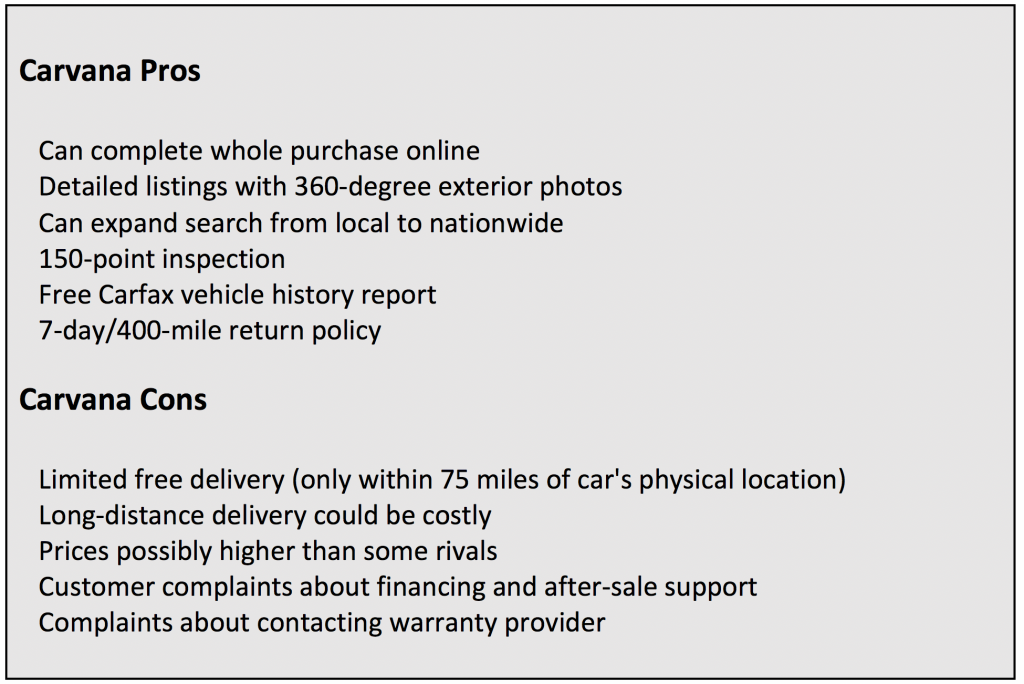 Car Shopping Tips: Test Drive Checklist
CarMax
Even in our rapidly changing world, with digitization taking over nearly every sort of transaction, some car shoppers feel more comfortable doing at least part of the procedure in-person. Those folks can hustle over to a CarMax store – which resembles a traditional dealership – for a more human-oriented experience.
Established back in 1993, CarMax might be considered the best-known pioneer of online car selling. Unlike its foremost competitors, CarMax is a blend of online and in-person transactions, with more than 200 dealerships – actual physical "brick and mortar" locations, scattered across the U.S.
Although customers can go through most of the steps in the buying (or selling) process online, they can complete part of the task at the nearest dealership. That gives CarMax one advantage over rivals: the possibility of a traditional test drive.
CarMax claims to have around 50,000 used cars to choose from. In addition to offering a 24-hour "take-home" test drive prior to the sale, the purchaser has 30 days (or up to 1,500 miles) to drive the car, to make sure it's satisfactory.
Start the buying process by clocking "Find Your Car" at CarMax.com, searching by make, model, or keyword. Or, you can specify a more general category, such as "Compact SUVs." Searching gives you access to CarMax's full inventory, from across the country. A search can be narrowed down by a variety of filtering options, including Year, Price, Mileage, Features, Size, Color (exterior and interior), Transmission, Engine Type, or MPG Highway.
Once you select a vehicle, its profile page appears. Interactive 360-degree views of the actual vehicle in stock are accompanied by numerous interior photos. Images are large, clear, and crisp. The Vehicle Identification Number (VIN) also is supplied.
When you've tentatively decided on a vehicle, you can schedule a test drive. If you're pleased, it can be purchased in the customary way, picked up at the appropriate CarMax location. As an alternative, it can be sent to the CarMax facility nearest your home; or, in some cases, shipped right to your driveway. Depending on distance, you may have to pay a transport fee.
After you buy, you have a generous 30 days (or 1,500 miles) to change your mind, without specifying a reason, and get a refund. If you decide to keep the car, a 90-day/4,000-mile warranty covers major systems.
Like rival online services, CarMax will buy your existing car if it meets their specifications. Start by filling out an online form, giving the car's make, model year, model, and mileage. If your vehicle is deemed eligible, you might get a price quote online. Either way, take it to a CarMax location for inspection. If it passes muster, you'll get a non-negotiable cash offer, good for seven days.
When selling your vehicle to CarMax, you're not obliged to buy another car from them. Buying and selling are considered separate transactions.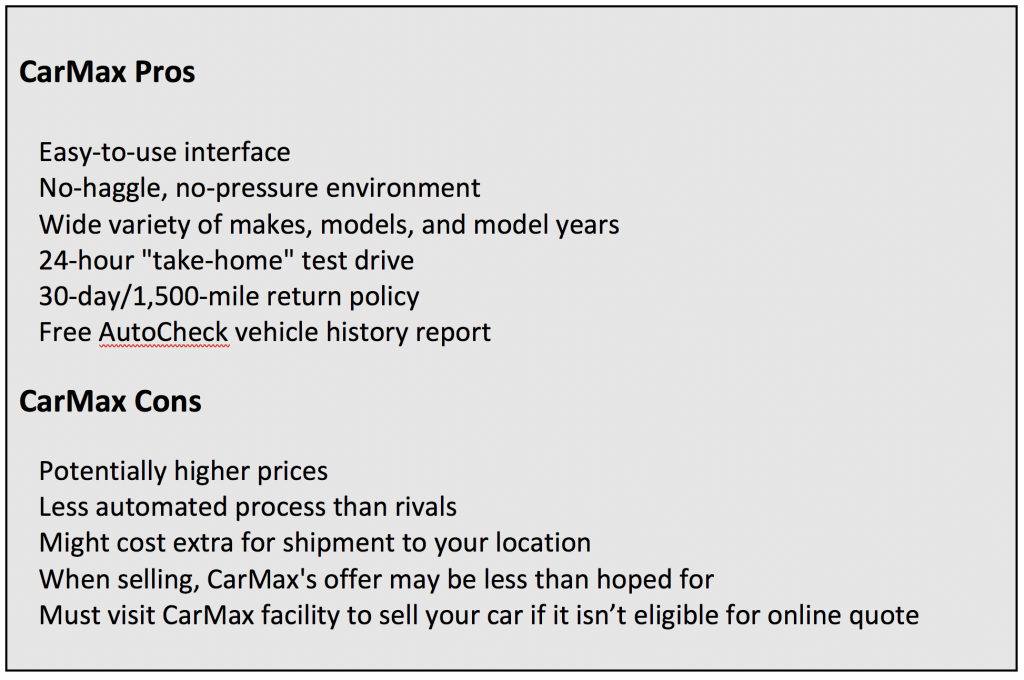 Should I Buy a Car From CarMax?
Online Competitors
"Nobody is very large in this market," said Ernie Garcia III, founder/CEO of Carvana during a Reuters media program. Carvana, he noted, captures only about 0.7 percent of the used-car market. Several new online buying/selling services have emerged, and more are likely to appear.
CarLotz is considered a consignment store for used cars. A customer can buy, sell, or trade-in a vehicle – online or in-person – or consign it to CarLotz for resale. Vehicles are detailed and photographed, with a 133-point inspection, then listed on the CarLotz website as well as major car-buying sites. Haggle-free "typically below retail" pricing is said to be based on real-time market data, vehicle condition, auction data, and trusted pricing sources. Most vehicles are sourced from consumers, businesses, credit unions, and fleet management companies – plus trade-ins.
Consignment sellers pay a $299 up-front listing fee. Once the vehicle sells, a $799 "success" fee is deducted from sale proceeds. Buyers pay a processing fee that varies by state.
CarGurus promises to "take the guesswork out" of car buying, providing such details as accident history, price reductions, and number of days the car has stood on the sales lot. With the vehicle essentially pre-qualified by CarGurus, the informed, presumably confident shopper can then go to a regular dealership to proceed with the transaction. CarGurus deals with new, used, and certified pre-owned (CPO) vehicles. Searching can be done by make, model, body style, price, or ZIP code. Some cars are identified as "For Sale By Owner."
Some online services provide a platform for use by dealers rather than consumers:
Shift purchases vehicles from consumers, called a "transparent alternative" to traditional methods. Sellers get an instant, no-obligation quote, then schedule an evaluation appointment. A Shift concierge will visit to evaluate the car and make a final offer.
CarOffer is for use by dealers in sourcing vehicles and selling them to other dealers.
Backlot Cars provides dealers with direct access to wholesale inventory, bypassing conventional auctions.
Ready To Buy?
Comparison shopping is always wise – especially when it comes to online buying. Some prices aren't so far apart between the three major sellers – Vroom, Carvana, and CarMax. Overall, though, CarMax tends to be highest.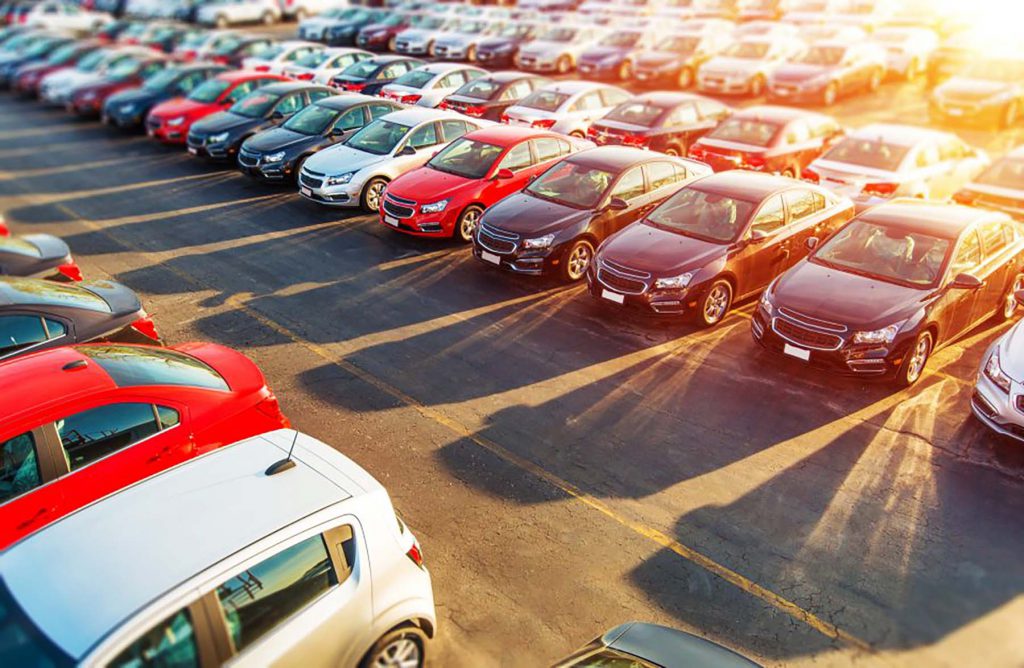 Buying services typically claim that their prices are lower than those asked by traditional dealerships, even though the latter are open to negotiation. Don't count on the validity of that claim.
Be sure to consider mileage, which affects price greatly. So do trim level, special optional features, and vehicle-history details. Remember, too, that every used car is different from all of the others, so totally direct comparisons are essentially impossible.
Is a test drive after delivery equivalent to visiting a showroom to sit in the car and take a quick spin? "Historically, a test drive has been part of the excitement of going to a dealership," said Ernie Garcia III, during a Reuters media program. You can see how the car fits you. "Rationally, a 7-day return policy is similar." Relatively few buyers return the car, Garcia added, and half of those take a different one home. In a survey cited by Rachel Richards of Sonic, 86 percent of shoppers insisted they would not buy without a test drive.
One-third of dealers offer all purchasing process steps online, said Isabella Helms of Cox Automotive, during the Auto Intelligence Summit. Just over three-fourths of shoppers are open to buying fully online. "This has given way to the Carvanas and Vrooms," she added.
Carvana vs Vroom vs CarMax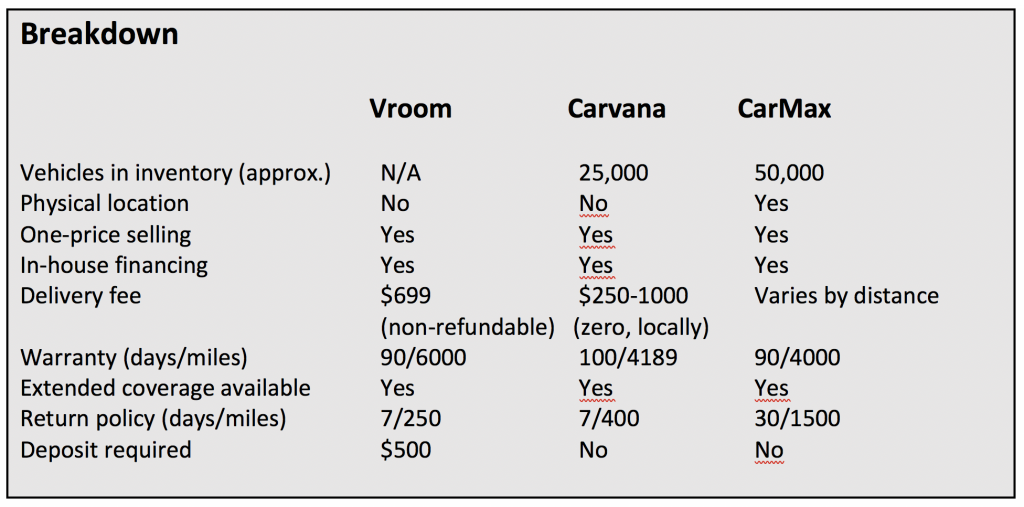 Check out the Consumer Guide Car Stuff Podcast
Carvana vs Vroom