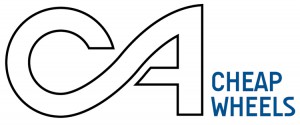 by Don Sikora II
Note: The following story was excerpted from the June 2015 issue of Collectible Automobile magazine.
Even before the first oil embargo, subcompacts like the Chevrolet Vega, Ford Pinto, and AMC Gremlin started to gain traction with American car buyers. Once gas prices spiked, smaller-still fuel-sipping imports increasingly caught buyers' attention.
So, could any of these mostly forgotten middle-aged half-pints make for an unexpected set of cheap wheels? The Datsun B-210 hatchback just might.
The B-210 was new for 1974 as a replacement for the Datsun 1200. In addition to the hatchback, two- and four- door sedans were also cataloged. Mechanically, the B-210 was conventional for a small Japanese car of the era. That meant unitized construction, an ohv four-cylinder engine, MacPherson-strut front suspension, and a live rear axle mounted on semielliptical leaf springs. Wheelbase was 92.1 inches and overall length 160. Curb weight was right around 2000 pounds, making it more than 200 pounds lighter than a contemporary Toyota Corolla.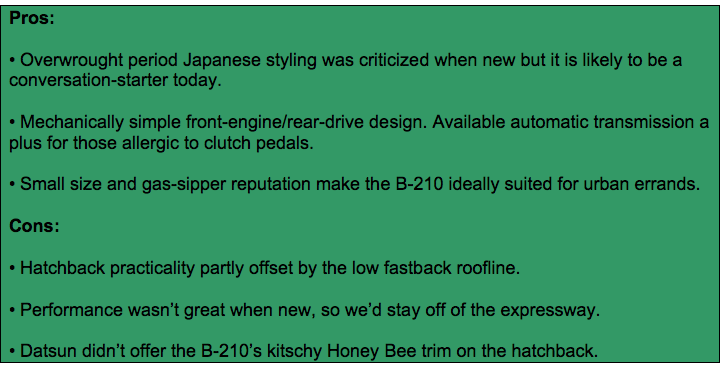 At introduction, the B-210's 1.3-liter four-cylinder was rated at 75 bhp. For 1975, it was replaced by a 1.4-liter unit that was good for 80 ponies. A four-speed manual transmission came standard but a three-speed automatic was an extra-cost option. Later, a five-speed stickshift joined the options list.
Reviews of the B-210 hatchback in Car and Driver and Motor Trend opined that the car was overstyled. Criticism centered on the high and uneven beltline, vented roof pillars, and strange detailing. The interior generated gripes including a lack of visibility caused by the short windows, uncomfortable bucket seats, and a cheap-looking steering wheel.
Performance fared a bit better. C/D pointed out the engine's outdated design, but gave it credit for generating about one horsepower per cubic inch. The publication also liked that the B-210 engine started easily and had good throttle response, neither of which could be taken for granted 40 years ago.
Acceleration was—how should we say this?—leisurely. Car and Driver saw a quarter-mile time of 19.4 seconds at 69 mph in '74. Motor Trend's '75 test car should have been quicker given the five extra horsepower, but it wasn't. Its drag strip dash took 20.8 seconds at 66 mph. Both times were with the four-speed.
The B-210's skinny 155-section 13-inch radials couldn't provide much grip for cornering or braking. Other shortcomings were a choppy ride and poor straight-line stability. Even so, MT called the car "borderline perky" and C/D liked the hatchback's versatility and economy.
When Motor Trend next looked at the B-210 hatch in January 1976, it was as part of a comparison with the newer Chevrolet Chevette and Renault R-5 (a.k.a LeCar). The Renault was judged most sophisticated and comfortable of the trio, but the Datsun topped the others for refinement and had the best low- and mid-speed performance. MT also praised the fit and finish. The as-tested price in 1976 was $3409, almost $800 more than the '74 tested by C/D.
The B-210 carried on through 1978. The hatchback model and EPA-estimated fuel economy featured regularly in the car's advertising. (Remember the "Datsun Saves" campaign?) Mileage claims ranged from 27 mpg city and 39 mpg highway in 1975 to a 1977 "Plus" model with the five-speed manual that boasted 37 city and 50 highway. Of course, results vary but Motor Trend did get a miserly 36.5 mpg that was tops in its 1976 test.

Easy to Park: 10 Shortest Cars of 1972