by Don Sikora II

Note: The following story was excerpted from the June 2015 issue of  Collectible Automobile magazine.
Conventional collector-car wisdom says that convertibles are preferred over closed body styles, and "firsts" or "lasts" of a line have some added cachet. There's a Pontiac G6 that is all of those things rolled into one.
Pontiac introduced the G6 in 2005 as a replacement for the Grand Am. Initially available as a four-door sedan, stylish coupes and convertibles were added the following year. Convertibles went on sale in April 2006 in GT and better-equipped GTP models. As things worked out, the GTP convertible was only offered for the short '06 model year, so it may prove more interesting to collectors.
The G6 was built on General Motors's front-drive Epsilon platform shared with corporate cousins including the Chevrolet Malibu and Saab 9-3. Wheelbase was 112.3 inches, and suspension was via MacPherson struts in front and an independent four-link design out back. Four-wheel-disc brakes with ABS provided the stopping power, and 18-inch alloy wheels were standard on the convertible.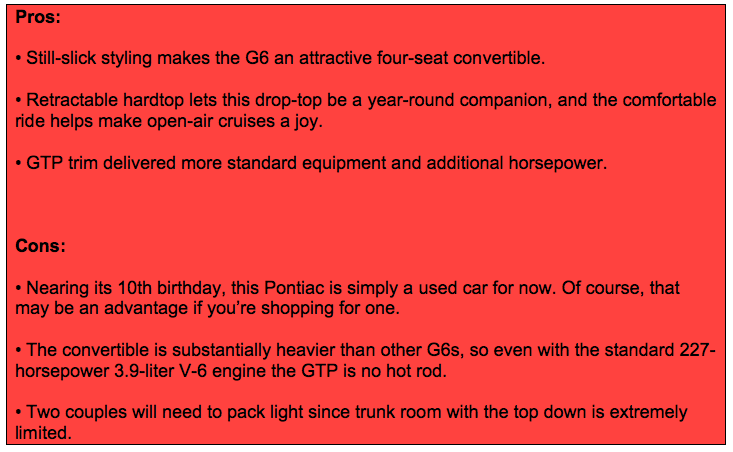 G6 convertibles used a retractable hardtop design and a stiffened body shell. The two-piece roof was engineered by convertible specialist Karmann, a firm best known for its work with Volkswagen. The top could be fully raised or lowered in about 30 seconds simply by pressing a button. When down, the top was completely housed in the trunk/storage compartment for a smooth deck appearance.
Cargo room with the top up was only 5.8 cubic feet, but with the top stored, this shrunk to a stingy 1.8 cubic feet. Pontiac claimed comfortable seating for four, with large doors and a sliding front passenger seat to aid entry to the rear.
All G6 convertibles used ohv V-6 engines mated to a four-speed automatic transmission. GT convertibles made due with a 201-bhp 3.5-liter powerplant, but GTPs came standard with a 3.9-liter job that added variable valve timing. In other G6s the 3.9 made 240 bhp but in convertibles it was good for 227 ponies and 235 pound-feet of torque at 3000 rpm.  
Other GTP upgrades included a heavy-duty 4T65E four-speed automatic, GM's StabiliTrack antiskid system, automatic climate control, six-way power-adjustable driver's seat, and satellite radio. 
Reviewers at Consumer Guide® and Car and Driver generally liked the '06 G6 convertible. The GTP convertible, which started at $29,990, was deemed a good value by both titles. CG also liked the reasonably quiet interior, especially with the top down. C/D judged handling predictable and competent, if not particularly exciting. There was plenty of body lean in turns, but ride quality was judged "lovely" in spite of hints of cowl and steering-column shake on bumpy roads. 
Car and Driver blamed the GTP convertible's hefty 3910-pound weight and its transmission for hindering acceleration. Its tests netted a 7.4-second 0-60-mph time and a run of 15.7 seconds at 89 mph in the quarter mile. By comparison, a trimmer G6 GTP sedan went 0-60 in 6.2 seconds and 14.9 seconds at 95 mph in the quarter. 
G6 GT convertibles remained available through 2009. With Pontiac having faded into history soon after, it's easy to overlook the one-year GTP convertible. It wasn't the game-changer Pontiac marketers thought but it was a good-looking car that did everything expected of a four-seat convertible quite well. 

Did the Pontiac Aztek get a Bum Rap?
Follow Collectible Automobile on Twitter