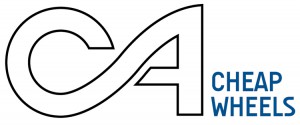 By Don Sikora II
Note: The following story was excerpted from the April 2015 issue of Collectible Automobile magazine.
When a small automaker comes up with a niche product, there's an excellent chance something unusual and unexpected will result. Or maybe something that is just plain odd. For this installment of Cheap Wheels, let us suggest such an automotive oddball, the 1996-98 Suzuki X-90.
The X-90 seemingly attempted to combine the best parts of a small sporty car and a tiny yet off-road-capable sport utility. The result was definitely quirky, and really unlike anything else. "It looks like a fat puppy, which is to say downright cute and cuddly," said Car and Driver in its January 1996 issue. "The X-90 is an attention getter that draws 'What the hell is that?' stares from pop-eyed passers-by. Perplexed smiles invariably follow."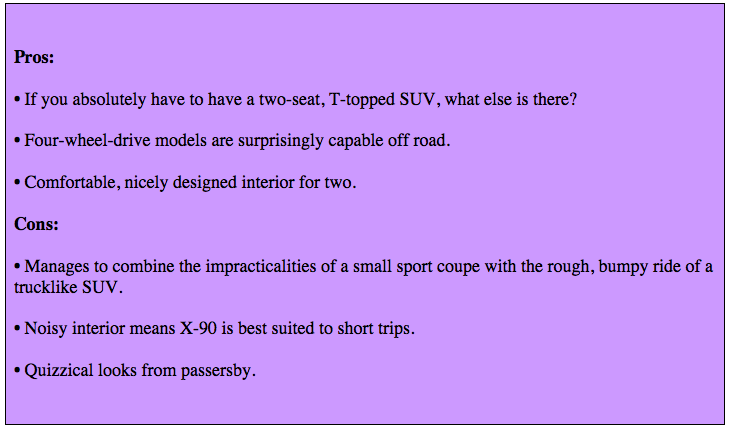 Like that preschooler favorite, the molded-plastic Little Tikes Cozy Coupe, X-90's appearance might be best described as unusually proportioned. Suzuki's stylists came up with a softly curved two-door notchback with a hint of classic long-hood/short-deck proportioning. But because of the vehicle's height, everything appeared too tall in relation to its length. Still, plenty of sporty styling cues were worked into the mix, including five-spoke alloy wheels, bulged fenders, removable T-top roof panels, and a rear spoiler. 
More from Collectible Automobile Magazine
Even discounting the proportion issues, taken as a whole, the X-90's exterior design wasn't particularly distinctive. In a strange way, the X-90 recalls the animated-vehicle characters in the old "Chevron Cars" gasoline commercials: instantly recognizable, yet immediately forgettable at the same time.
Inside, Suzuki continued carlike design cues. Seating was strictly for two on comfortable seats, and C/D praised the cabin as "Camryesque in execution." In general, the magazine liked how the controls were laid out, but felt the manual transmission's shifter was mounted too far forward. Interior cargo room behind the bucket seats was minimal, so luggage needed to be carried in X-90's small eight-cubic-foot trunk.
Suzuki mounted the cute-as-the-dickens body on the same underpinnings as the two-door version of the company's Sidekick sport utility. The Sidekick mechanicals meant X-90 had Suzuki's 95-bhp 1.6-liter ohc four-cylinder engine. A five-speed manual transmission was standard, with a four-speed automatic optional. Buyers also had the choice of rear drive or part-time four-wheel drive. The front suspension was independent struts, but out back there was a solid rear axle and coil springs. Curb weight barely topped 2500 pounds.
Car and Driver complained about a hard ride, saying the X-90's short 86.6-inch wheelbase didn't help matters. It did praise solid construction and said the X-90 was "nimble and surefooted" off road. Consumer Guide® found it loud and susceptible to crosswinds. "The X-90 feels like a tall, crude sports car from the 1960s that could use a semester or two of finishing school," CG said.
The '96 X-90 had a base price of $13,499 for a rear-drive model. Adding four-wheel drive raised the tab to $14,999. X-90 prices actually went down in 1997 to $13,199 and $14,599, respectively, but antilock brakes were optional rather than standard as they had been in '96. The final 1998 models were priced $200 more than the '97s.
While the X-90 was a pioneer as one of the first carlike small SUVs sold in the U.S., it's hard to argue it was a success. One source we found online claims that only about 7200 were sold in America over the three model years it was available. The problem might have been that instead of combining the best qualities of two very different vehicle types, the compromises that made it all work actually magnified the shortcomings of both.

Cheap Wheels: 1987-1988 Nissan Pulsar NX SportBak