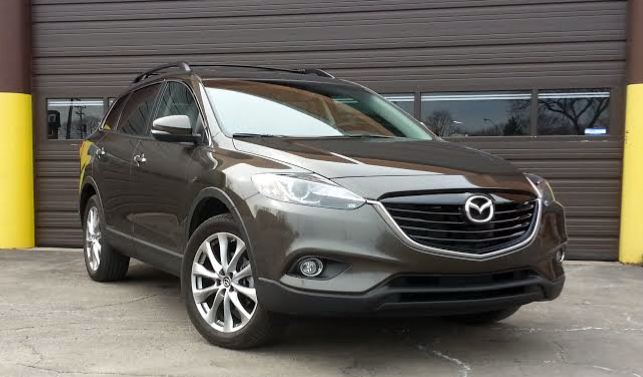 2015 Mazda CX-9 Grand Touring

 
Class: Midsize Crossover

Miles Driven: 439
Fuel Used: 28.9
Real-world fuel economy: 15.2 mpg
Driving mix: 65% city, 35% highway
EPA-estimated fuel economy: 16/22/18 (city, highway, combined)
Base price: $36,625 (not including $830 destination charge)
Options on test car: GT Tech Package ($2435), Recreational Accessory Package (no charge)

Price as tested: $39,890

Quick Hits
The great: Ample family space, strong and responsive drivetrain

The Good: Simple, uncomplicated controls

The not so good: Poor fuel economy

Check out the Consumer Guide Midsize Crossover Best Buys
John Biel
When Consumer Guide® tested a Mazda CX-9 last year, we couldn't avoid pointing out that this midsize crossover sport-utility vehicle was pretty old, with a design introduced in 2007. (There is absolutely no truth to the rumor that anthropologists recently discovered CX-9 engineering drawings painted on the walls of a cave.) Well, for 2015, we can unequivocally say. . . .
It's a year older.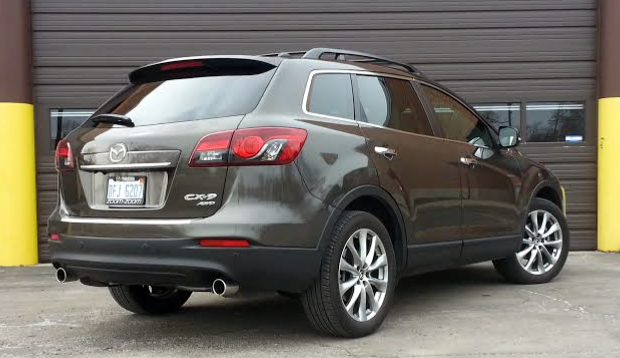 That hasn't gotten it any closer to adding some of the comfort and convenience features commonly made available in vehicles introduced in the intervening years. Nor has it allowed Mazda to employ its SKYACTIV powertrain and platform engineering to improve fuel mileage. On the plus side, at least Mazda isn't charging any more for the CX-9 in 2015 (in some ways it might even be a bit of a bargain relative to the '14 model), and the things that were admirable about it a year ago are still there—and still admirable.
Mazda-ing in a Winter Wonderland: 2019 CX-3, CX-5, and CX-9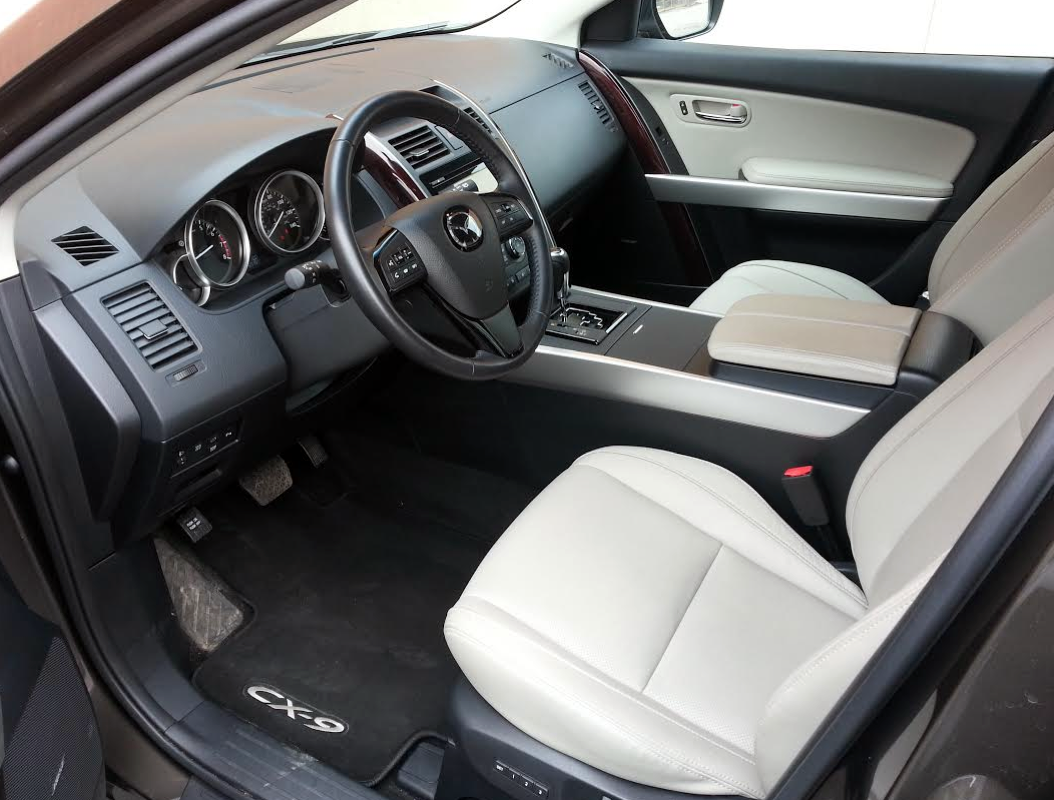 The CX-9 that CGers drove in 2014 was a top-end 7-passenger all-wheel-drive Grand Touring. So was the 2015 job, with the same 3.7-liter V6 and 6-speed automatic transmission, and the same standard technology features. With a starting price of $36,625, a $795 destination fee, a GT Tech Package option ($2435), and an added rear bumper guard ($150), our 2014 tester bottom-lined at $40,005. The '15 job listed the same base cost; a delivery charge nudged up to $830; the GT Tech option with no change in content or price; and a Recreational Accessory Package with cargo net, roof rails, and the rear bumper guard for a total of $39,890. The Rec group stickers at $650 but comes with a package discount of—well, what do you know?—$650. Listed standard equipment was an exact match between the two years' CX-9s, though our 2015 example had full-leather upholstery in the first 2 rows as indicated on the Monroney, while the '14 had cloth inserts in the cushions and back rests.
Output of the 273-horsepower V6 with 270 pound-feet of torque is unchanged. So is our impression of its performance: eager from a stop, and quick to react when called upon for more go on the highway. One thing that changed a little for this driver was fuel mileage. A year ago, he averaged 16.76 mpg in the CX-9. This time he had two stints in the vehicle. The first, of 122.7 miles with 68 percent city-style driving, yielded an unnervingly low 12.22 mpg. The second turn covered 158.8 miles, 57 percent of that as city driving, but came out to 18.05 mpg. That's obviously better but still hardly worthy of a parade.
The ride is still firmer than most vehicles in this class display, but not unpleasantly so. Steering and handling have a sportier edge to them, too.
Commendable room and comfort in the first 2 rows (with space for up to 3 adults in the 2nd row) are unaltered. Middle-row seats track fairly far forward to improve access to the folding 3rd-row "loveseat," but it's still not worth the trip for adults in this driver's estimation.
Test Drive: 2018 Mazda CX-9 Grand Touring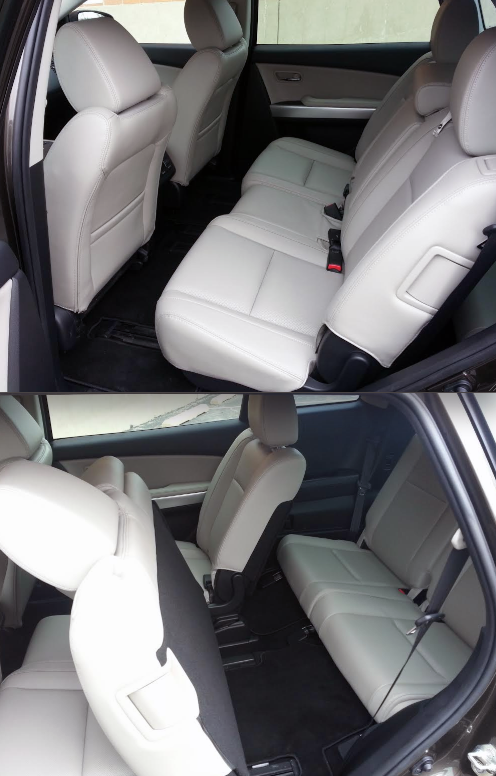 There's not quite the same amount or distribution of soft-touch materials on doors and instrument panel that have sprung up on vehicles launched since the CX-9's debut. Still, the overall effect is one of understated quality. Visibility is good all around, thanks to the size and placement of roof pillars. With 3rd-row headrests retracted, the straight-back view is expansive. Blind-spot monitors, rear cross-traffic alert, and a rearview camera help you to "see" what otherwise might not be seen.
Cargo space ahead of the power liftgate is pretty good and becomes outright expansive as rear and middle rows of split-folding seats are retracted. Cabin storage for passengers' personal "stuff" is not as good as it could be—or as convenient in the case of the console box with a split-top side-hinged lid that restricts view of the contents from either side and requires an awkward reach to fumble around for the contents.
The march of progress that has passed the CX-9 by in some areas has left the audio and climate systems uncomplicated by tap-and-twist remote controls and an all-encompassing video screen. There is a 5.8-inch screen that registers audio-system info, but it is as easy to set and use as practically any radio ever was. The climate system has its own easy-to-reach buttons and dials, and info shows up on its own digital display separate from the touchscreen. Middle-row passengers have access to their own climate controls. The GT Tech Package does add navigation that is not as advanced as newer systems.
If you have considered a Mazda CX-9 in recent years, you've seen much of this before. Eight years after the vehicle's arrival, if Mazda can no longer win support for it through innovation, it can at least try to buy it via value.
Quick Spin: 2019 Mazda CX-9 Signature
2015 Mazda CX-9 Grand Touring