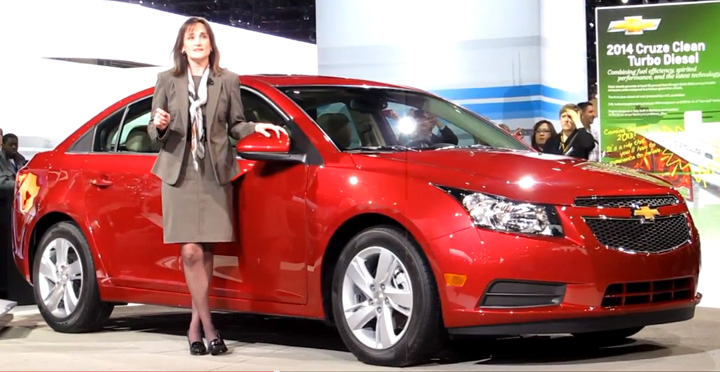 Just before the introduction of the Chevrolet Cruze Turbo Diesel at the 2013 Chicago Auto Show, Consumer Guide sat down with Chevy's marketing director for small cars, Cristi Landy, to talk about what's behind the brand's first U.S.-market diesel passenger car in more than three decades.
Branding Green: Meet the Chevrolet "Wave"
CG: So, why break the diesel ice with Cruze?
Landy: Well, we're leveraging our global capabilities. Last year, we sold over 33,000 Cruze Diesels around the world. So we have the engine, we have the capability, and it seemed like a good fit. We've also seen the success that Volkswagen is having in the compact-car market with their diesels. So it's the logical play to test the waters in the U.S.
CG: So, it's safe to say that this is sort of a test?
Landy: You could view it as such, though test is too strong a word. I would probably say that we're doing a slow ramp-up. We're not making an announcement today that every vehicle in our portfolio is going to have a diesel.
CG: You mentioned Volkswagen. It's been almost 30 years since every maker has tested the diesel waters. GM did, Volvo did, Nissan did, and even Peugeot did. It was a crazy time. And since that time, it seems like almost no one is willing to try diesel here except for Volkswagen and Mercedes. Jeep has had a hard time, and BMW has backed off. But Volkswagen can't make enough of them.
Landy: That's right.
CG: So there is a strange, interesting niche there. My question to you is: Is that a very specific Volkswagen thing, or is it an enthusiast thing? Are you going for that market—to capture those loyalists—or are you trying to expand the market?
Landy: We know it's a niche market, but we believe that we have a very strong entry here and that we can go head-to-head successfully with the Volkswagen TDI vehicles. So it's time to play our hand with this one.
So I do think it is an enthusiast, and it's somebody who's knowledgeable about diesel who's buying this [Cruze]. And I think we would expect, since we're starting out with a low volume, to capture some of those people who may be ready for something new, something different—some of the strengths that the Cruze brings along with the diesel.
Plus, a lot of our research indicates that people who have the passenger-car diesel have a diesel truck, and so we think there's a huge opportunity there, because Chevrolet does very well [selling diesel-powered heavy-duty pickups].
Once you embrace diesel or are a diesel enthusiast, you're very open to diesel because of all the benefits it gives you with the power, the fuel efficiency, the range, the reliability—all the great things that diesel offers. But you kind of have to be aware of that. We're not expecting to come out of the chute and start converting people who are coming in for a gas Cruze.
CG: How different will a Cruze Diesel shopper or buyer be than a Cruze buyer?
Landy: We expect them to be very different because we're expecting the first buyers will be diesel enthusiasts. What we know about diesel enthusiasts today is that they embrace the technology and, in fact, they are almost anti-eco or -hybrid movement, because their diesels offer a better solution with no compromise to power, with improved torque, and great real-world highway fuel economy and range. So we expect them to be a completely different customer.
CG: That's really the European mindset, then, anti-hybrid.
Landy: It is.
Test Drive: 2018 Chevrolet Cruze Diesel
CG: Do you have EPA fuel-economy numbers for the Cruze Diesel yet?
Landy: No, we are still testing. What we've said is we're expecting 42 mpg on the highway, but we're still testing. We're not announcing any numbers.
CG: What about pricing?
Landy: We're offering only one trim level, and it's very well contented. It's our 2LT Cruze, so it comes with leather, standard MyLink, standard 17-inch wheels—basically a loaded Cruze with a diesel in it for $25,695. That price also includes two years of free maintenance.
CG: The maintenance plan is exclusive to the diesel?
Landy: It is.
CG: What's not included at that price?
Landy: Just the sunroof and navigation system.
CG: Fully loaded, are we still under $30,000?
Landy: Yes.
CG: And that price point and trim level, is that consistent with the market that you're looking to attract?  
Landy: It is. VW does offer a lower trim-level diesel [Jetta], and that's something we'll consider later. For now, we're going to go with one trim level out of the chute, which is the higher trim level.
CG: You mentioned 42 mpg. So you are competing on the showroom mileage-wise with the Eco almost exactly?
Landy: Right. The difference is that the Eco [which achieves 42 mpg] has a manual transmission; the diesel is an automatic. Also, typically but not always with gas engines, it's kind of hard to achieve the label value, where on the diesel side, we expect to overperform. And from the performance aspect, the diesel has 258 foot-pounds of torque—significantly more than what's on the gas-engine Cruze.
CG: Can you talk about Cruze Diesel sales in the markets where it is already available?
Landy: Diesel engines account for about 40 percent of Cruze sales in Europe. But in Spain specifically, it's closer to 80 percent. We sold 33,000 Cruze Diesels last year worldwide.
CG: Do you have any sales predictions for the U.S.?
Landy: No, we don't. We're going to start out slow, and we think we can meet demand, and we're going to continue to watch how it goes.
CG: Just coming back around to the buyers you guys are expecting to look at Cruze Diesel, which you said were entirely different from the Eco guys, how do you reach out to them, especially a Volkswagen-style diesel enthusiast?
Landy: Well, we can reach out to owners of certain vehicles. We also know that diesel enthusiasts are aware of this vehicle. General Motors started talking about this car probably eight months ago or more, and the people who are diesel enthusiasts have been reading the articles, and are very excited. They're going to seek this out, because they're knowledgeable. I call them a type of vehicle enthusiast.
We're not talking about the same type of enthusiast who's buying a Camaro or Corvette. They're very much technical-vehicle enthusiasts, and they love the technology of the diesel. So those people will seek us out. But we'll too make sure that we'll increase our awareness of people who are already diesel customers in the U.S.
We've learned that a lot of the people who do own a diesel truck or have one in their garage or driveway are much more likely to have a diesel compact car as a garage mate, so we could reach out to those folks as well. And as we start promoting our new [2014] Silverado truck and talking about the HD version and its diesel engine, we can bring a Cruze Diesel along and showcase it there.
You're going to see a lot of us at least from a PR perspective partnering with the truck launch. You're going to see a Cruze Diesel there, whether or not it drove to the event, or is there as a side-by-side comparison.
CG: Will you be including Duramax products in the advertising?
Landy: It's an Ecotec engine.
CG: Will Cruze Diesel sales be limited to certain dealers?
Landy: We're not going to limit the dealers. We have 3,000 dealers at Chevrolet, so what we've done is looked at markets where diesel cars are strong and also where Silverado diesel sales are strong, and we've identified 13 markets we're going to launch in first. But we won't restrict. . . . Once we get past about three months, we'll be open. They can order them as they see fit.
CG: Are you training sales staff specifically for the diesel?
Landy: Yes. In fact, we're going to tag onto the Silverado training tour.
CG: It seems counterintuitive to me that mostly rural diesel pickup buyers would constitute a big market for an efficient small car. Wouldn't the market for a small-diesel vehicle be more urban?  
Landy: Well, yes and no. We took the top markets where the diesel compact cars are sold today, which is basically where Volkswagen has success, because they're the only non-luxury compact [diesel] car sold today. So we took those markets, laid them out, then what we did is overlaid them with where we do well with diesel trucks. You're right, it's not all the same, but there's a good amount of overlay. It's mostly Northwest, which is very strong. Washington, D.C., is definitely a big market, and Boston, those areas, but then the Northwest as well. Other opportunities for us are Denver, St. Louis, Milwaukee, and Dallas.
CG: Finally, the car is simply called Cruze Diesel?
Landy: It's Cruze Turbo Diesel. The back is badged 2.0TD.