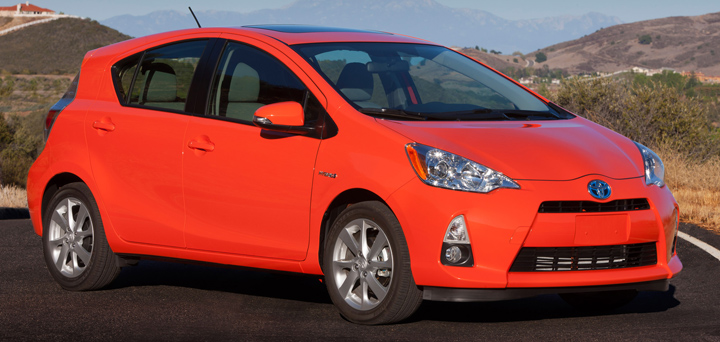 Note: This report supplements Consumer Guide Automotive's full report on the 2012 Toyota Prius c, a subcompact hybrid car that starts at $18,950.
Quick Spin: 2017 Toyota Prius Prime Advanced
Test car came equipped with: Alloy Wheel Package, which includes 16-inch aluminum rims (replacing base 15-inch steel wheels) as well as a power sunroof. The total MSRP including $760 destination = $25,140.
Powertrain: 1.5-liter 4-cylinder gasoline engine, electric motor with 0.9 kWh battery pack, and continuously variable automatic transmission (CVT).
Acceleration: As the main report notes, Toyota claims 0-60 mph acceleration of 11.5 seconds. That seems about right to me—maybe a tad optimistic. No matter. The Prius c is dreadfully slow versus conventional compact cars of comparable price, and it feels underpowered in most every situation except stop-and-go work in dense city traffic. Getting any sense of "speed" requires mashing the throttle, so there goes your fuel economy. The CVT doesn't help, as it lags slightly behind throttle inputs. The Eco mode makes the car feel even slower, as it only dulls throttle and transmission responses. I tried using all-electric EV mode on several occasions, but most of the time the function was "temporarily not available," even with the propulsion-battery charge at an indicated two-thirds "full." This car will likely cause some sweaty palms in fast-moving freeway traffic, where even routine lane changes can require planning. It's much more at home as an urban runabout, though even then it's somewhat tedious to drive.
Fuel Economy: I logged 43.3 mpg for about 105 miles of Phoenix-area driving split roughly 50/50 city/freeway. That's a long way from the EPA ratings of 53 mpg city, 46 highway and 50 combined, and it betrays the fact that the Prius c doesn't have enough power to move its weight (about 2,500 pounds) all that efficiently.
Ride Quality: My colleagues note that a Prius c similar to this tester rode "rather harshly," and I agree. In fairness, the Prius c won't beat you to death, but the Four's firmer suspension and 16-inch tires (all-season P195/50R16-93V Bridgestone Turanza EL400 in this case) notice most every crack, bump, and divot. Lesser models with 15-inch tires might be a bit smoother and more absorbent, but this is still a fairly light car with a short wheelbase, so they'll be little less choppy.
Test Drive: 2015 Toyota Prius v
Steering/handling/braking: To paraphrase my colleagues a bit, the steering is quick but numb as well as light, and there's too little power on tap to encourage even mildly exuberant direction changes. In short, the Prius c, even this top-line version, drives like an ordinary front-drive economy compact—of about seven years ago. It's safe and predictable within its low cornering limits, but also unrewarding if pushed. As on many hybrids, this test car's brakes had unprogressive pedal action that could make for somewhat lurch-y stops, but they felt more than strong enough for the low-level performance.
Quietness: The main report rates the Prius c a "4" in this category, and I think that's being kind. This is a pretty noisy rig except in the gentlest of driving. And with all due respect to my colleagues, I think the engine does get rather gruff at higher rpm—also a little 4-cylinder boomy.
Controls: I had no issues with the climate controls, unlike my colleagues, but I do have several gripes about this car's ergonomics. First, the test car's navigation/audio touchscreen is almost impossible to read even in moderately strong daylight. Moreover, the 3.5-inch upper-level dashboard screen displays more fuel-economy graphics than I care to deal with. Toyota may be trying to promote thriftier driving, but most of these readouts look like gimmicks for obsessive-compulsive types. Note that some of the mileage-minders can be displayed on the upper-level screen or on the larger main screen, which I find a bit confusing. I also don't like the "DISPlay" button on the steering wheel's right-hand control pad, as it must be cycled through the entire roster of options if you happen to go past the one you want.
Details: I agree that the interior doesn't look cheap, at least with the test car's two-toning, but it still comes off as low-rent. You have to remember that the Prius c is based on Toyota's built-to-a-price Yaris subcompact, a fact that explains many aspects of this baby hybrid. The tester's upholstery and dash were laced with curving thin white lines with no discernible pattern; they made the interior look almost as if someone had taken a knife to it.
Room/comfort (front): The report cites low-set seats and mediocre rear visibility as drawbacks, and I concur. Rearward seat travel was adequate for this long-legged six-footer, but no more.
Room/comfort (rear): My colleagues imply that the Prius c has adult-size space in back, but I wouldn't want to ride there for more than half an hour. Let's also note the narrow seat cushion that more or less forces a knees-up posture that some passengers may find none too comfy.
Cargo Room: As the report mentions, there's not a lot of space behind the rear seat, and the stepped cargo deck created with the seatbacks dropped is a nuisance. The abundance of small-item storage is a plus, and I was pleased to note that someone had the good sense to put a power point within the tray above the glovebox, making that the perfect place to park a phone or music player (which, of course, can be Bluetoothed for operation through the car's audio system).
CP Says . . . Call me a grump, but I can't agree with the main report's conclusions. In the first place, my experience suggests that the Prius c is not that much more fuel-efficient than many conventionally powered rivals, regardless of what the EPA says. Second, I'd guess that many people would not be pleased with the plodding "performance" or the bumpy ride and overall noise levels. Third, even the top-line Four tested here is not lavishly equipped or particularly posh, yet it costs as much as any number of other small cars, including a good many larger compacts with more room and superior refinement, not to mention more go-power. Sure, prices start under $19K, but you'd probably hate yourself for buying one of the lesser models. Again, the Prius c is basically a hybridized Yaris, a Prius designed to meet a lower price point. That it does, but it sacrifices a lot of practicality and pleasantness in the process, and that makes no sense to me in value terms when there are so many better small-car choices available.
Test Drive: 2015 Toyota Prius c