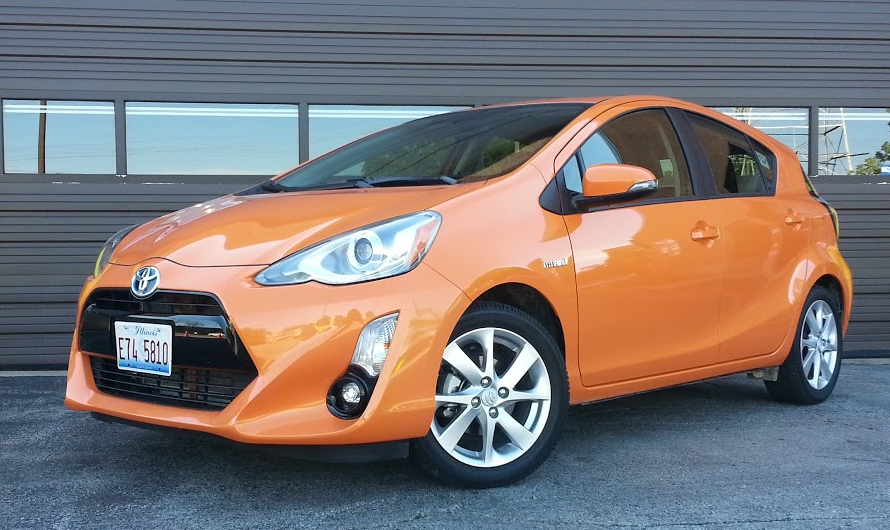 Class: Subcompact Car

Miles Driven: 405
Fuel Used: 8.1 gallons
Real-world fuel economy: 50.0 mpg
Driving mix: 85% city, 15% highway
EPA-estimated fuel economy: 53/46/50 (city, highway, combined)
Base price: $24,745 (not including $825 destination charge)
Options on test car: 18-inch aluminum wheels ($300), Special paint ($395), Floor and trunk mats ($225), Security system ($359)
CG Report Card
Report-card grades are derived from a consensus of test-driver evaluations. All grades are versus other vehicles in the same class. Value grade is for specific trim level evaluated, and may not reflect Consumer Guide's impressions of the entire model lineup.
Room and Comfort
B-
Power and Performance
C
Fit and Finish
C
Fuel Economy
A+
Value
B
Price as tested: $26,579
Quick Hits
The great: Outstanding fuel economy
The Good: Decent on-road performance and good cargo room for a hybrid
The not so good: Interior materials
Check out Consumer Guide's Subcompact Car Best Buys
John Biel

If exceptional fuel economy is the factor that you value most in a new car, especially one that can carry a few people and some of their stuff, then the hybrid Toyota Prius c is an absolute must-see as you shop. If things like overall roominess and/or lively performance rate higher, there are alternatives for around the same money.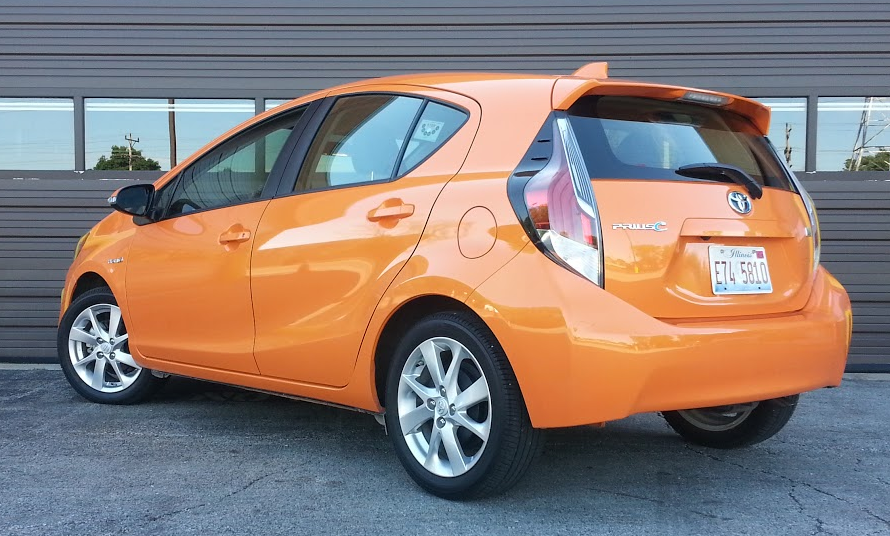 Let's talk about that fuel economy first because the Prius c's is hard to ignore regardless of how much weight any single shopper might place on gas mileage. The EPA rates the junior partner of the 3-vehicle Prius "minibrand" at 53 mpg in the city, 46 mpg on the highway, and 50 mpg combined. Those are big numbers—big and believable. This driver saw 51.25 mpg from a 162.1-mile turn in Consumer Guide®'s test car, with 44 percent of that distance in city-type motoring. Driving varying distances, and with city-miles loads that ranged from 50 to 100 percent, three other CG editors recorded from 42.7 to 58.2 mpg.
Attribute that to the c being the lone hybrid in the subcompact class, where it's a 2015 Consumer Guide® "Best Buy." It is powered by a 1.5-liter 4-cylinder gas engine and electric motor that combine for 99 horsepower. This powerplant is joined to a continuously variable transmission that acts like an automatic.
While excellent for squeezing distance out of every drop of gasoline, the pairing doesn't make for the greatest performer, especially on the highway. The Prius c is never dangerously slow—it keeps up with traffic well enough—but acceleration builds rather than charges ahead, and it does so with a fair amount of noise. Aside from the standard operating mode, drivers can select "EV" or "ECO" modes from console buttons that are partially hidden by the parking-brake handle. In some conditions, EV lets the car run solely on battery power for up to .5 mile. In pursuit of improved economy, ECO limits the operation of the climate control, and it tempers throttle response enough for drivers to notice under determined acceleration.
CG's tester was a Prius c Four. It was wearing the revised front fascia and taillights that are new for 2015. As the highest available trim level, Four standard equipment includes heated power external mirrors with integral turn signals, 6-speaker Entune premium audio system with navigation and app suite, 6.1-inch touchscreen, back-up camera, Bluetooth connectivity, thin-film-transistor multi-information display, SofTex-trimmed seats (heated in front), SofTex-covered steering wheel, and a cargo-area cover.
Seating is essentially for 4, and it would especially help the rear-seat passengers if all were sub-6-footers. Head room is pretty good—even with the moonroof—but rear leg room gets crimped if front-seaters need a lot of seat travel. Seats are comfortable and attractive. The car CG tested featured a subtle tone-on-tone wavy-lines pattern in the center panel of the seat cushions and backs for some visual interest.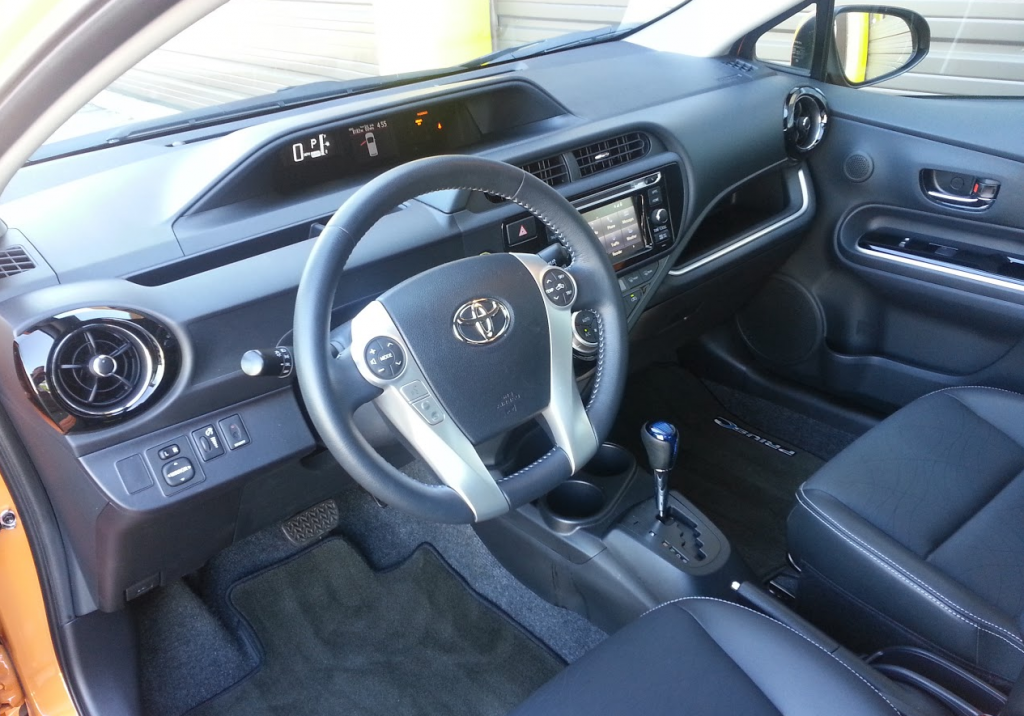 There's not much in the way of soft surfaces elsewhere in the cabin. Textured plastic covers the instrument panel and the door panels, but there's no flexibility to it. Navigation and easy-to-program audio displays register on the central touchscreen. Driving controls like the digital speedometer readout, fuel gauge, and multi-information display appear on a deeply hooded oblong screen at the top center of the instrument panel.
In-cabin storage is virtually confined to the front-seat area. Above the glove box is an exposed tray that includes auxiliary-jack and USB plug-ins. The console contains a small open bin under the dash; 2 open cup holders ahead of the shift lever; and a small, narrow covered console cubby. Large door pockets incorporate bottle holders. Rear storage consists of a pouch attached to the back of the front-passenger seat.
Cargo space is limited—probably a couple of small pieces of luggage will fit. Flipping down the 60/40 rear seats will open up lots more space. The seats fold flat, but they are at a level a few inches above the cargo floor, and there is a small gap between the floor and the retracted seats.
This is a pretty small car, so ride can hop a bit over pavement imperfections. Tire noise intrudes somewhat at highway speeds, too. The upside of being small is good maneuverability in parking lots and other tight areas.  
Prius c base prices start at $19,540 for a One model, which fits amid the range of some members of the subcompact class. However, the starting tab for the Four is $24,475, and the delivered price of the one CGers drove hit $26,579 with options like 18-inch alloy wheels (in place of standard 15s), deluxe paint, floor and trunk mats, and a security system. That kind of money will put you up a segment into the compact class, where roomier and more entertaining cars like a Subaru Impreza or Volkswagen Golf reside. By their nature, hybrids cost a bit more than purely gas-engine cars of similar size, and the Prius c is no different. If gas mileage is your number one reason for buying, you'll have to make up the difference at the gas pump that you won't be visiting quite as often.
Test Drive: Subaru XV Crosstrek Hybrid
Rick Cotta

When I stopped for gas this morning, Regular was selling for $2.66 a gallon; in other parts of the country, it's much less. Furthermore, a recent news report quoted "experts" as saying fuel prices are likely to remain low for at least the next several years.

That's not the best news for makers of hybrids, which are — quite ironically — at least partially to blame for this "dire" situation. But let's do some math.
If you drive 10,000 miles per year on $2.66/gallon gas, the average 30-mpg subcompact will swill 333 gallons of the stuff, removing $886 from your pocket. By comparison, the 50-mpg Prius c will use but 200 gallons at a cost of $532. So you're going to save $354 each and every year you drive it.
Granted, that means it will take quite a while to make back the Prius c's higher price, but if the experts are wrong (which of course, never happens) you're going to look like a visionary — particularly if you bought your car at a discount due to the lower demand.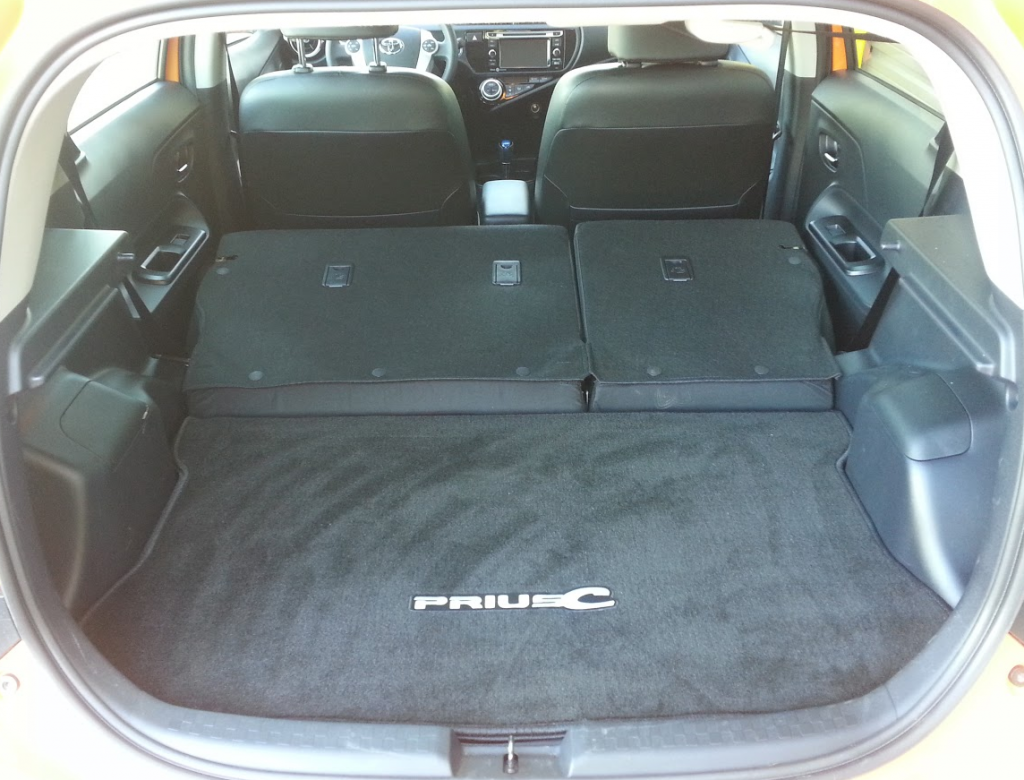 But while fuel economy is certainly the Prius c's primary reason for being (and there's still a certain satisfaction in filling up the tank after going 56 miles and having the pump ask for only $3 in return), after I got out of it, I realized something else: I rather liked driving it. It's no rocket, but it accelerates well enough; it responds quickly (if not terribly strongly) to throttle inputs at speed; and it dances gently over (at least smaller) bumps while still feeling nimble and almost sporty in the corners. On the down side, it's not the quietest thing around (or even the quietest subcompact), I wish the rear seat backs folded level with the cargo area (it makes it easier to slide in the long items I often carry), and much of the interior looks as though it's made from recycled notebook covers (which just brings back bad childhood memories).
As a kid, I learned the Scout Motto of "Be prepared." While that phrase probably wasn't formed with the thought of a sudden spike in fuel prices in mind, history has taught us that at any given moment, we could be just one refinery shutdown away from $5 a gallon. And if that happens with a Prius c in your garage, you're about as prepared as you could possibly be.
Test Drive: Mitsubishi Mirage ES