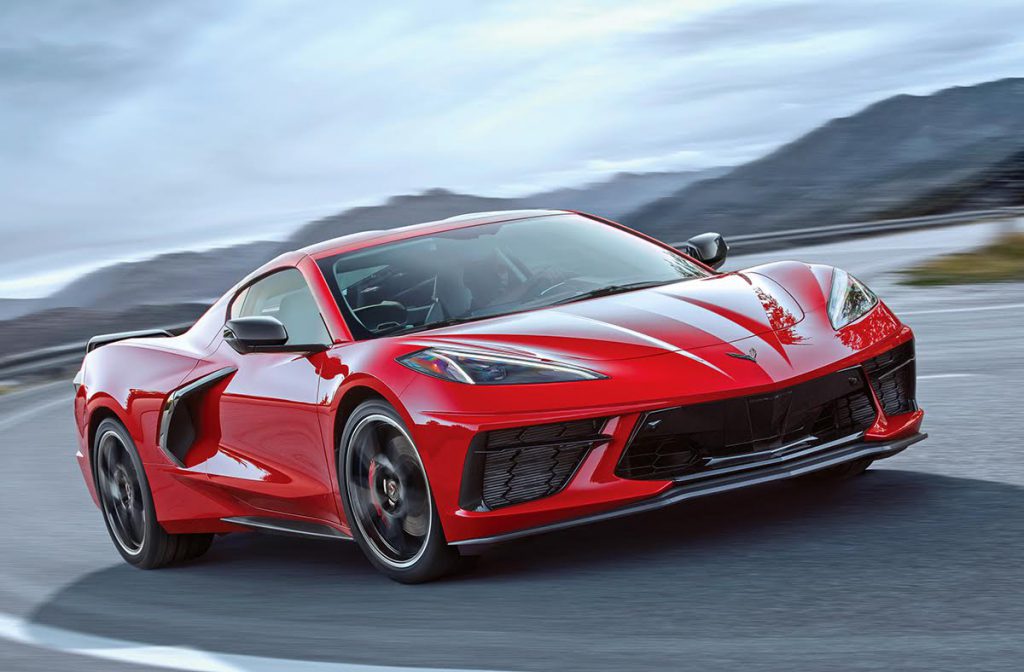 Note: The following story was excerpted from the June 2020 issue of Collectible Automobile magazine.

Legendary Corvette chief engineer Zora Arkus-Duntov was working on the idea of a midengine car by 1960. For years he poked and prodded management to let him turn "America's Sports Car" into an American exotic, to no avail. Now his fervent dream is finally reality with the introduction of the eighth-generation "C8" Corvette, the 2020 Stingray.

Collectible Corvette
More Corvette news, reviews and fun
The midships 'Vette had been expected for a few years but Chevrolet finally revealed it as a coupe on July 18, 2019. Though abandoning Corvette's 60-odd years of front-engine design brings with it a change in proportions, exterior styling includes recognizable appearance cues. Perhaps most notably, the front "hood" is dramatically shorter and the passenger compartment has been moved forward a reported 16.5 inches. Also new are the prominent bodyside air-intake scoops aft of each door. 
Designers retained the familiar one-piece lift-off roof panel. It can be stored in the car's rear trunk, and there's a second luggage compartment up front. The engine is showcased under the hatchback's window, and the company claims the powerplant and all visible accessories have been carefully designed for a "jewel-like setting." Twelve exterior colors are available.
The C8 convertible made its debut in October 2019. The roof switches to a retractable-hardtop design. Significantly, only the top panel actually stows away, leaving the rear roof pillars in place. The shape of these pillars and the vertical rear window recall the classic 1968 Corvette coupe "scoop" design. In the open-top car the engine is hidden under a body-color panel.
Chevy calls the engine a "next-generation" 6.2-liter LT2 V8, and it has dry-sump oiling. Expect 495 horsepower and 470 pound-feet of torque. It mates to a new eight-speed dual-clutch transmission that replaces both the old manual and automatic transmissions. The main chassis structure is a "backbone" design, and it's constructed from six diecast aluminum parts.
Inside, the dashboard features a 12-inch instrument cluster with customizable graphics that take into account which of the six drive modes the pilot selects. The interior is available in six color schemes, there are six colors of seatbelts, and there is optional red or yellow contrast stitching, so everyone should be able to find a likeable combination. Buyers can further choose from three seat designs: standard GT1, racy GT2, or track-focused Competition Sport. The last two include heating, ventilation, and carbon-fiber trim. For the first time, Corvette will be built in left- and right-drive variants.
Chevy asserts it's the quickest "entry" Corvette ever. We take entry to mean a Vette powered by the base engine. In the process that led to naming Stingray its 2020 "Car of the Year," Motor Trend went zero to 60 mph in 2.8 seconds and covered the quarter mile in 11.2 seconds at 123 mph. Meanwhile, stopping from 60 took just 97 feet—supercar performance available for less than $70,000.
Test Drive: 2020 Chevrolet Corvette Stingray Coupe
Pros: 
• Chevrolet has announced 2020 Corvette coupe pricing starts at an attainable
$59,995. Convertibles begin at $67,495.
• Early buff-book reviews hail supercar performance with surprising day-to-day
practicality.
Cons:
• If recent history is any guide, this Stingray will be topped by an even-more-
tempting Z06 in a year or two.
• Will the rear-pillars-in-place convertible's added complexity and cost premium
be justified by a significantly different open-air experience compared to a coupe
with the roof panel off?
Final Drive:
The first production midengine Corvette is a huge turning point in this iconic American car's nearly seven-decade history. But we can't help wonder when speculation will start about Chevy bringing back the "classic" front-engine 'Vette.
Subscribe to Collectible Automobile
Collectible Corvette
Collectible Corvette