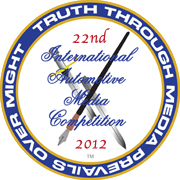 The authors of a Consumer Guide online article and a feature article in CG's companion automotive-history magazine Collectible Automobile earned gold medallions when the 22nd International Automotive Media Awards (IAMA) were announced July 29.
Consumer Guide Automotive (CGA) Publisher Tom Appel struck gold in the Internet Interview category for "Challenges on the Front Line: Selling Cars During a Recession," a talk with Chicago-area multibrand dealer Colin Wickstrom. It was the fourth Consumer Guide Automotive article to win IAMA gold in five years and the second such award for Appel.
Meanwhile, in the History: Single Marque or Manufacturer category for magazine writing, freelance writer Gary Witzenburg carried off his second consecutive gold medallion for a CA-published story. This time it was for "Black Ops: The Story of the 1982-87 Buick Grand National and GNX," which appeared in the August 2012 issue. Overall, it was the third year in a row that a Collectible Automobile feature article won gold in the awards competition.
In addition to these honors, silver medals were presented to another CGA writer and to the bimonthly magazine. Senior Auto Editor Damon Bell earned his in the Internet New-Model Introduction category for "First Spin: 2012 Chevrolet Camaro ZL1," making him an IAMA medalist for the third straight year. The October 2012 Collectible Automobile garnered its award in single-issue judging within its circulation class, the publication's 10th medal in the category since 2002.
The IAMAs recognize entered works on automotive topics produced for print, broadcast, video, multimedia, and the Internet. This year's awards were open to work published or broadcast in 2012. The IAMA program is administered by the Arizona-based nonprofit International Society for Vehicle Preservation.
You can read Tom's interview with Colin Wickstrom here.
Challenges on the Front Line: Selling Cars During the Great Recession