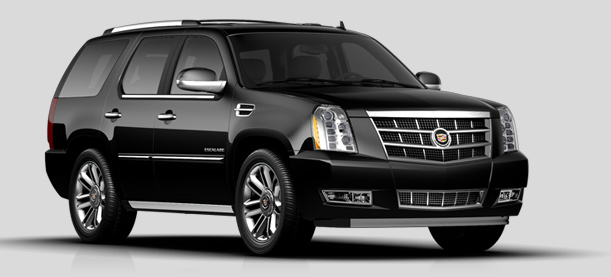 By Jim Gorzelany
2015 Cadillac Escalade Review and Prices
The large and luxurious Cadillac Escalade full-size SUV, along with its stretched equivalent, the Escalade ESV, are expected to undergo their first major revision in eight years for release in spring 2014 for the 2015 model year. Both will continue to be based on the full-size Chevrolet Silverado pickup truck, as will its less-posh equivalents, the Chevrolet Tahoe and Suburban, and the GMC Yukon and Yukon XL. The previous gas-electric Hybrid version and the pickup-like Escalade EXT were discontinued from the lineup for 2014 and should not return with the redesign. We expect the standard-length Escalade will come powered by a new 5.3-liter EcoTec3 V-8 engine with a stronger 6.2-liter V-8 optional there and likely to be standard on the extended Escalade ESV for heavier duty use; both should come mated to a six-speed automatic transmission with pavement-friendly all-wheel-drive optional. Styling changes should be more evolutionary than revolutionary – this will likely remain a large and boxy chrome bedecked vehicle in the old-school tradition. Expect the vehicle's leather-clad interior to receive a total makeover with extensive use of wood and chrome trim to distinguish the Escalade from its lesser relations at Chevy and GMC.
What It Is
The Cadillac Escalade is a full-size luxury SUV in the old school tradition. It's large and in charge, with its imposing squared-off exterior and massive egg-crate chrome bedecked grille announcing its arrival with authority. The Escalade was originally intended to compete with the then-growing number of luxury-branded big SUVs that were hitting the highways when it debuted for the 1999 model year, particularly the Lincoln Navigator. In its first generation it was little more than a rebranded version of the GMC Yukon's luxury minded Denali, though it received specific styling inside and out with its first revision for the 2002 model year.
It's difficult to write about the Cadillac Escalade without at least once using the term "bling." Popularized in rap and hip-hop music, the word is used to describe expensive jewelry or other accoutrements, and is derived from the visual effect of light reflecting off said personal accessories. Continuing a long-standing tradition for Cadillac as the brand of choice among the "Hollywood" set, the Escalade was almost immediately embraced by the hip-hop culture following its 1997 debut as the vehicular equivalent of a massive gold neck-chain and medallion. It's been a common mention in hip-hop song lyrics and over the years has been the upscale prop of choice in myriad music videos.
The current generation, originally released for the 2007 model year, comes adequately powered by a 6.2-liter 403-horsepower V8 engine and six-speed automatic transmission. The 2014 Escalade features a maximum towing rating of 8,300 pounds when properly equipped.
Thanks to a rigid frame with a relatively low (for such a large truck) center of gravity and General Motor's adjustable Magnetic Ride Control suspension, the Escalade handles better than its sheer size might indicate, though it can be a handful to parallel park in tight urban environments. Rear-drive is standard with all-wheel-drive available for added traction on wet or snowy roads (note that this differs from four-wheel-drive, which typically includes low-range gearing for off-roading and other extreme needs).
The Escalade rides on a traditional rear-drive body-on-frame truck platform, as opposed to the one-piece "unibody" construction used in cars and crossover SUVs. The ESV rides on a wheelbase that's stretched by about 14 inches than the standard version (it's about 20 inches longer overall), with most of the added length used to augment third-row seat legroom and behind-the-seats cargo space.
Already offering ample amenities that include a Bluetooth hands-free mobile phone interface, power adjustable steering wheel, and blind spot warning system, the top Escalade Platinum version piles on the luxury features and treats its occupants to a richer interior treatment with hand-stitched leather on the dashboard, and genuine wood and aluminum trim.
Test Drive: 2017 Cadillac Escalade
Where It Fits
The Cadillac Escalade competes with an eclectic assortment of luxury truck-based SUVs in the $50,000-$100,000 range that include the Infiniti QX, Mercedes-Benz GL-Class, Lexus LX, Lincoln Navigator, and the Land Rover Range Rover, as well as its corporate cousins, the Denali versions of the GMC Yukon and Yukon XL.
Though Escalade sales remain sufficient enough for Cadillac to extend its run to a fourth generation for 2015, demand for the over-the-top luxury SUV remains pale compared to its high water mark during the mid-2000s, when sales peaked at 62,250 units in 2004. The debilitating combination punch of high gas prices, a crashing economy, and changing consumer tastes caused Escalade sales to plummet from 60,991 units in 2007 to just 25,884 in 2009, which represents a 58 percent skid over a two-year period. Demand has since leveled off, with Cadillac selling 22,632 Escalades of all varieties during calendar year 2012, with more than half (12,615) being the standard wheelbase version.
Engineering, Powertrains, and Features
Completely redesigned for the 2015 model year and a spring 2004 release, the Cadillac Escalade will again share platforms, powertrains, and many components with the Chevrolet Silverado full-size pickup truck, which itself received a major makeover for the 2014 model year.  It will again exist as the luxury alternative to the mechanically similar Chevrolet Tahoe and Suburban and the GMC Yukon and Yukon XL full-size SUVs.
Though the new model will retain the same basic size and shape as the prior generation Escalade, the 2015 vintage will ride on a new chassis and feature a revamped powertrain lineup with added features and fresh – though instantly recognizable – styling. It should continue to be distinguished by a big and bold chrome trimmed trapezoidal-shaped egg crate-patterned front grille that's bisected by the front bumper and flanked by tall vertical headlamps; a large tailgate will likewise feature vertical LED taillights. Expect to see several chrome accents running across the bodywork, with oversized chrome wheels at all four corners, and a pair of chrome-trimmed exhausts at the rear.
The 2015 Cadillac Escalade will certainly come powered by a brawny V-8 engine, though it's uncertain from this perspective whether the only powerplant offered will be the Silverado's top EcoTec3 6.2-liter V-8 with 420 horsepower and 450 pound-feet of torque, or whether the 6.2 will be optional on the standard Escalade and perhaps included with the extended ESV version. It's possible the pickup's mid-level 5.3-liter EcoTec3 V-8 with 355 horsepower and 383 pound-feet of torque could be standard on the base version. Both engines are expected to include the latest powertrain technology, including direct fuel injection, variable valve timing, and automatic cylinder deactivation to help maximize the truck's fuel economy.
A six-speed automatic will likely be the only available transmission, though it could be swapped for a smoother more fuel-efficient eight-speed gearbox as soon as the 2016 model year. All-wheel-drive should again be optional, but note that this should be a full-time system that shifts engine power between the front and rear axles as necessary to maintain optimal traction on wet or snowy roads, and is not a traditional four-wheel-drive system with low-range gearing for off-road use. The automaker's advanced Magnetic Ride Control Suspension should again be included to help this large and otherwise ungainly vehicle maximize its ride and handling characteristics. It uses a unique damper design to govern wheel and body motion via according to the driving situation and road surface by adding a charge to "magneto-rheological" fluid in each of the car's shock absorbers.
The 2015 Cadillac Escalade's interior should see a major redesign that follows the improvements made to the Silverado pickup and dials it all up by several notches with extensive (and expensive) use of leather, wood and aluminum trim, with the top Platimum editions receiving the richest interiors in the line. Expect a full array of the latest high-tech safety features including front and rear collision warning, blind-spot monitoring, and lane-departure warning systems, with Cadillac's Safety Alert Seat giving feedback to the driver from the aforementioned systems via a vibrating seat cushion, in tandem with other alerts.
Cadillac's CUE (for Cadillac User Experience) multimedia control system with Bluetooth smartphone connectivity should come standard and will likely employ a large display that responds to both touch and gestures, along with odd "touchpoints" on the dashboard instead of buttons and knobs. While it provides some tactile haptic feedback when executing operations, we found CUE to be difficult – and distracting – to operate while driving in other Cadillacs we've driven. Fortunately it should also include a sophisticated hands-free mode that allows users to place hands-free calls, program the navigation system, play music and operate other functions via natural language voice-commands.
As before, a long list of comfort and convenience features will be standard or optional depending on the version, including heated/ventilated front seats, a heated steering wheel, power folding second-and third-row seats, and an ultra-high-end audio upgrade.
Why It's Being Built
Though Cadillac Escalade sales are nowhere near the stratospheric levels the vehicle enjoyed in its mid-2000s heyday, with over 20,000 units being sold annually and development costs largely spread across all of General Motors' full-size pickup and SUV offerings, there remains a strong business case for continuing its production. This is especially since the Escalade is sure to boast the largest profit margin among any consumer-oriented GM vehicle.
What's more, there remains a solid, though not necessarily huge market for large and luxurious SUVs among affluent owners who require stalwart towing abilities to pull a boat or horse trailer, but who don't otherwise want to own and drive a pickup truck.
What It Might Cost
We expect the 2015 Cadillac Escalade to range from just over $65,000 to nearly $90,000.
The base rear-drive standard–length version should start at around $65,500, including the manufacturer's destination charge, which will likely be at about $1,000. The Luxury version should start at around $70,000, the Premium at about $76,500, and the top Platinum at about $82.500.
The base extended length 2015 Cadillac Escalade ESV should start at around $68,000, with the Luxury version at about $72,000, the Premium edition at about $77,000, and the Platinum at around $85,000.
Expect to pay around an additional $2,500 for all-wheel drive across the line.
CG Says
The SUV-crazed 1990s and 2000s may be long gone, but the big and bountiful Cadillac Escalade lives on. It will be interesting to see how Cadillac treats the introduction and marketing of the next-generation model, specifically whether the company bets the vehicle will continue to have its upscale urban street cred appeal or if GM decides to paint it as an affluent suburban chic ride for the yacht and horsey set. We'd bet the former, as the automaker isn't otherwise expected to make drastic changes in size or styling, nor is it changing the vehicle's name to take the next-generation vehicle in a new direction.
Hey, profits are profits, and if Cadillac can still sell over 20,000 Escalades a year at an average transaction price of, say, $70,000 each with at least $20,000 per vehicle added to the division's bottom line, so much the better. Besides, Caddy is expected to eventually add its own version of the seven-passenger Buick Enclave/Chevrolet Traverse/GMC Acadia to the line which we assume would be better targeted to well-heeled soccer moms and those with larger families than the original King of Bling.