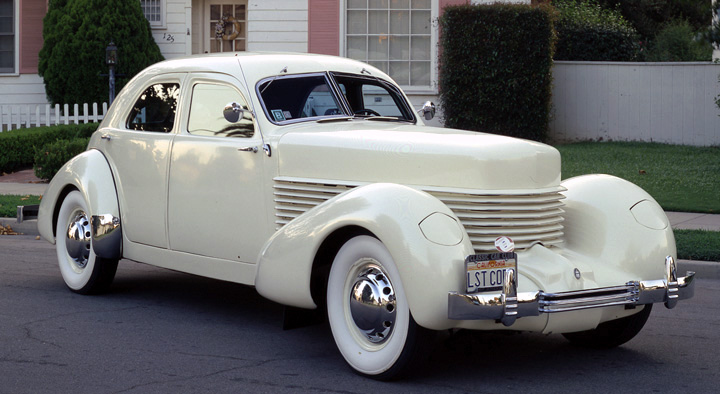 Perhaps it's my absurdist bent or fondness for underdogs, but Tom Appel's recent blog on good-looking "middle-age" coupes somehow got me thinking about stylish sedans. No such thing, you say? Then allow me to present seven fab four-doors that can turn heads anywhere. Not only that, but each is a bona fide collectible automobile. (See magazine of the same name. Better yet, subscribe. It helps pay the freight around here.)
Note that we're covering only the "post sedan" body style (fixed center roof pillars), which most always outsells all others where there's a choice and is arguably the toughest to make sexy. We've purposely excluded the glamour-puss post-free hardtop sedans of old, as well as custom-coachbuilt designs. Note, too, that we've limited selections to the 1930-70 era, mainly to give us an excuse for considering newer models some other time.
1936-37 Cord 810/812 Beverly and Westchester (see photo above)

The inspired creation of hard times, the "coffin-nose" Cord is a car for the ages—"rolling sculpture," as chief designer Gordon Buehrig later described it. Front-wheel drive allowed a ground-hugging stance with no need for running boards. There was a lively Lycoming V8 (supercharged on the 1937-only 812), and styling summoned the future with a louvered face (versus traditional upright radiator) and even hidden headlamps (albeit crank-operated). These two standard sedans, which differed mainly in seat design, also benefited from close-coupled proportions, despite a rangy wheelbase, and a formal-yet-sporty roofline. All these Cords are a rare sight today (about 2,500 built, including convertibles and long sedans), but what a sight they are. Honorable mention to the 1939-40 Hupmobile Skylark and Graham Hollywood that combined Cord tooling with a different "face" and rear drive, but were even less successful.
1938-41 Cadillac Sixty Special
As big as a modern SUV, yet graceful and jaunty, the first Sixty Special was conceived by a young William L. Mitchell some 20 years before he replaced the legendary Harley Earl as General Motors design chief. As on the Cord sedans, abbreviated rear doors conferred a coupe-like sportiness, abetted by predictive thin-frame side-window brightwork and ribbed sills sans running boards. Our favorite is the restyled '41 with its modernized squared-up fenderlines, rear-wheel skirts, and a pointy front with the first of Cadillac's signature eggcrate grilles.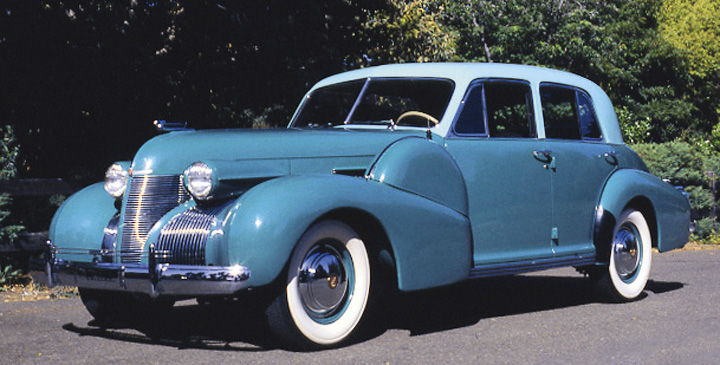 1951-53 Kaiser
After penning 1947-50 styling for postwar upstart Kaiser-Frazer, the redoubtable "Dutch" Darrin conceived "Anatomic" design with the greatest glass area of any U.S. car to that time. A "sweetheart dip" atop the windshield and rear window was debatable, but Kaiser's overall '51 package was sensationally low, sleek, and curvy. More importantly, it sold well, though not for long. It would have looked great as a convertible or hardtop coupe, but K-F had no money for those, nor for a V8 engine, all of which it needed to compete with the Big Three. Instead, it had to get by on minor yearly styling changes and new color and trim options (many quite unusual) spread among coupes, sedans, and the proto-hatchback Traveler sedan, a station wagon stand-in. A 1954 restyle added unnecessary tinsel and couldn't stop a downward sales spiral, though that car continued in Argentina for several years after Kaiser's 1955 exit from the U.S. market.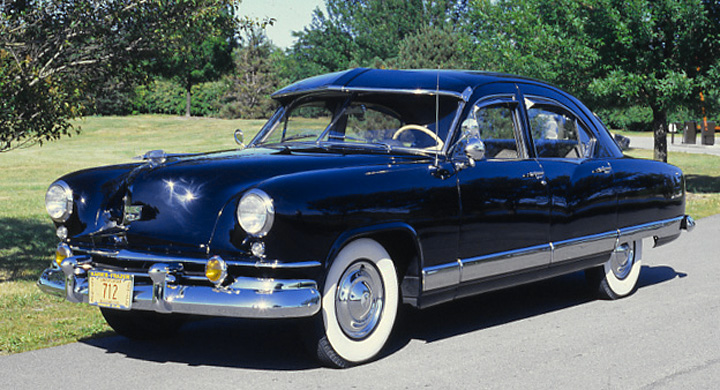 1955-65 Bentley S-Type Flying Spur
A semi-custom "catalog" model, this elegant four-door created by longtime Rolls-Royce/Bentley coachbuilder H. J. Mulliner could have inspired today's Mercedes CLS-Class "4-door coupe." Formal enough for weekends with the Windsors and raffish enough for James Bond, it was available with either "six-light" or blind-quarter roof styling as a 1955-59 S1 (4.9-liter straight six), 1959-62 S2 (new and troublesome 4.3-liter V8), and 1962-65 S3 (more-reliable V8, but also a dubious four-lamp face). A Rolls grille could be specified toward the end, but only rock stars likely did. Though long overshadowed by the companion Continental coupes, this S-Type Bentley was no less attractive, and that's saying something.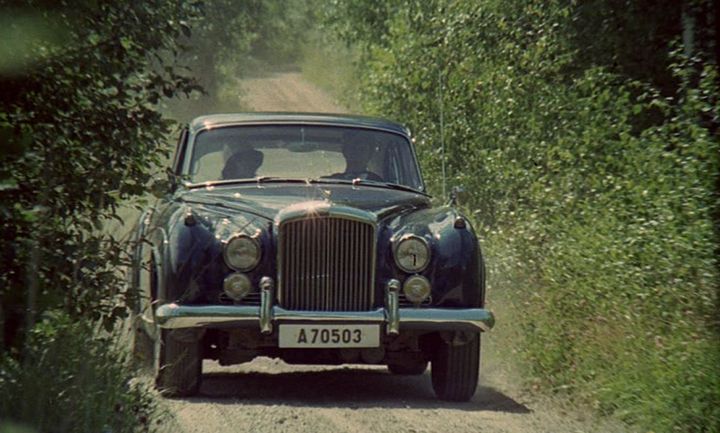 1957-59 Imperial
This is arguably the purest expression of Chrysler Corporation's knockout 1957 "Forward Look" styling. It stems mostly from a roofline shared with no other model in the fleet, a simple, airy "six-window" treatment retained virtually intact from the program's full-scale theme model along with curved side glass—a world production-car first. The result was control-tower visibility abetted by a huge windshield and low beltline. And unlike later years, the soaring fins cradling "gunsight" taillamps were tastefully handled. I fell in love with all these cars as a 10-year-old, and they still look great to me.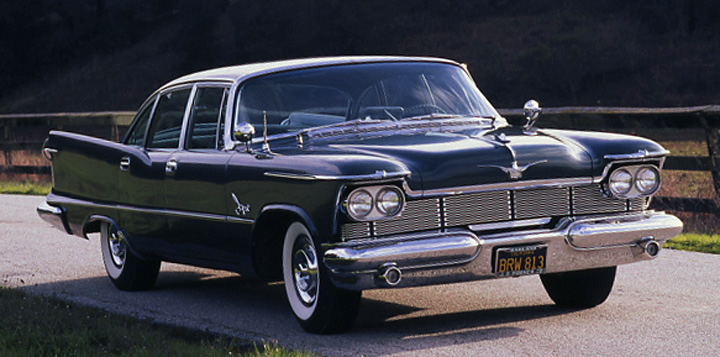 1961 Lincoln Continental
After three years of overstyled mastadons that couldn't sell in the Eisenhower Recession, Lincoln returned to timeless simplicity with radically downsized '61 models that set Ford's flagship brand on the path to undreamed-of success. Curved side glass is featured here too, but also classically square body lines, restrained chrome embellishment, a tidy tail a la 1956-57 Continental Mark II, and the first "suicide" rear doors in a generation. Lincoln also dared revive the four-door convertible, but the companion post sedan had the same "personal" vibe as the Cord and Bentley, even though it meant another cozy back seat. We single out the '61 because we like its unique sunken headlamps, but the little-changed 1962-63 is no less handsome. The car then became larger and a bit stuffier, and the sedan lost its B-posts, yet sales kept heading up. Lincoln stayed with this basic look for some 25 years, then lost its way when Dearborn embraced "aero" styling in the 1980s (a.k.a. "the jellybean look"). In 2002, however, Lincoln showed a "Continental concept" that reinterpreted the sheer-surfaced '61 for a new generation of luxury-class buyers. I'm still convinced that had it been built for sale, Lincoln would be in far better shape than it is now.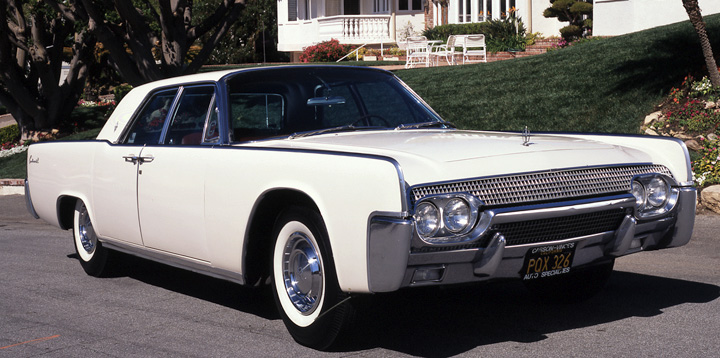 1963-69 Maserati Quattroporte
Though not the prettiest Maser ever offered—there's some fussy detailing fore and aft—the trident brand's first "Four Door" (as Quattroporte translates from Italian) was appropriately sporty, nicely proportioned, and high-roof glassy in the contemporary style of its designer, Pietro Frua. A full-size car by today's standards, it was a fast and comfortable mile-eater, thanks to a racing-derived four-cam V8—a 4.2-liter through 1968, a 4.7 thereafter—though I understand it was a bit trucky to drive. Oddly, it started out with a sophisticated de Dion rear suspension that was later replaced by a bog-simple leaf-sprung live axle. Rarity was assured by an ambitious $15,000 U.S. price and Maserati's village-smithy size and processes, so only 759 were built. A Bertone-styled "QP II" saw only five copies in 1974-77. A heavy-looking third-generation design, also by Bertone, bowed in 1979 and continued well into the 1990s, but that's another story.