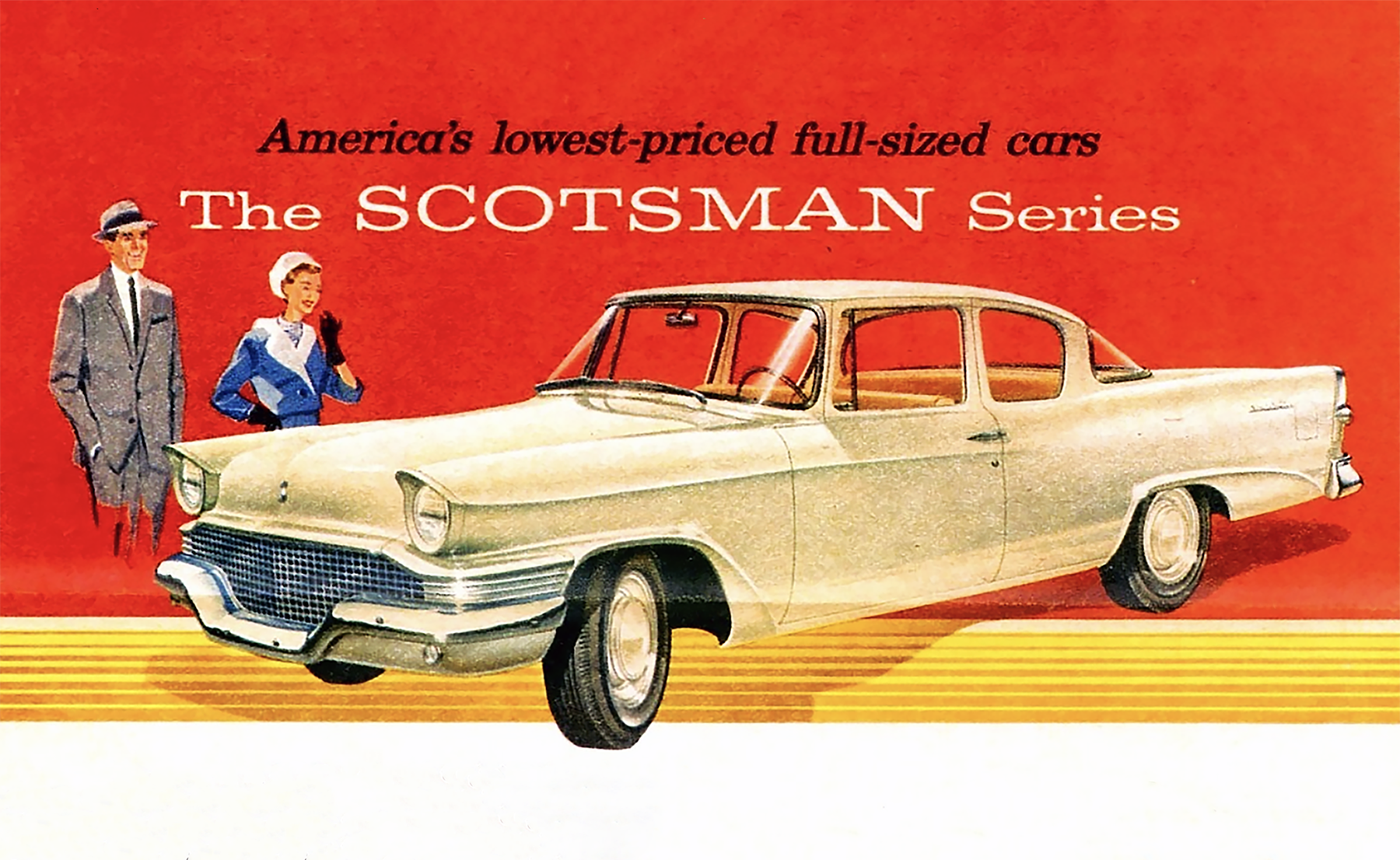 Referred to by Catholics as sins of omission, they are wrongful acts committed–not by doing something wrong–but by failing to do something at all. For example, failing to act with generosity in the presence of human need might be considered a sin of omission. In the case of automotive advertising, failing to list equipment removed from a car in order to reach a tempting base price might also count as such a sin. In the case of this print ad from 1958, some folks at Studebaker probably needed to spend some time in a confessional. Here's the deal:
For 1958 and 1959, Studebaker launched an entry-level line of standard-size cars which handily underpriced the most-afford cars from Chevrolet, Ford, and Plymouth—the famous "Low Cost Three." How did Studebaker do this? Mostly by removing a lot of equipment from the car, but you won't learn that from the ad seen here.
The Scotsman, so named because of the Scottish peoples' reputation for thriftiness*, arrived for 1958 with a base price of just $1795, that for the 2-dr sedan. A 4-door sedan and wagon were also offered in the Scotsman series, as was a pickup trunk. In 2022 dollars, that's just a little over $17,000—a heck of a deal for a full-size car. The cheapest 1958 models from Chevy (Utility Sedan, $2013), Ford (Business Sedan, $2132), and Plymouth (Plaza Business Coupe, $2028) didn't come close to matching the Scotsman's base price.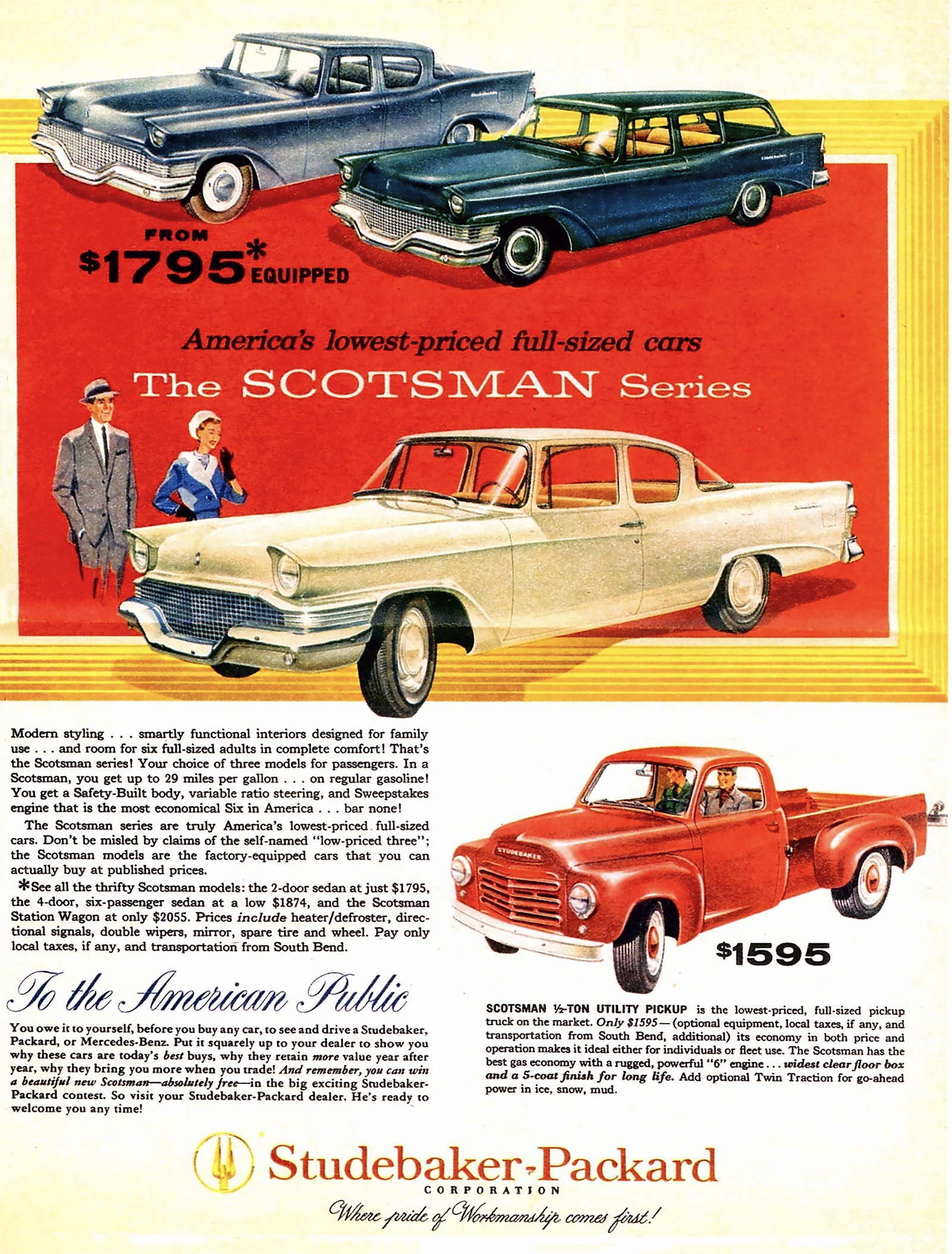 So, to hit that compelling base price, here's what did not come as standard on the 1958 Studebaker Scotsman:
Radio
Arm rests
Passenger-side sun visor
Cigarette lighter
Dome light
Power brakes
Sound insulations
Chrome
Contemporary powertrain
Worse, most of these items were not available even as options.
Photo Feature: 1954 Studebaker Commander DeLuxe Conestoga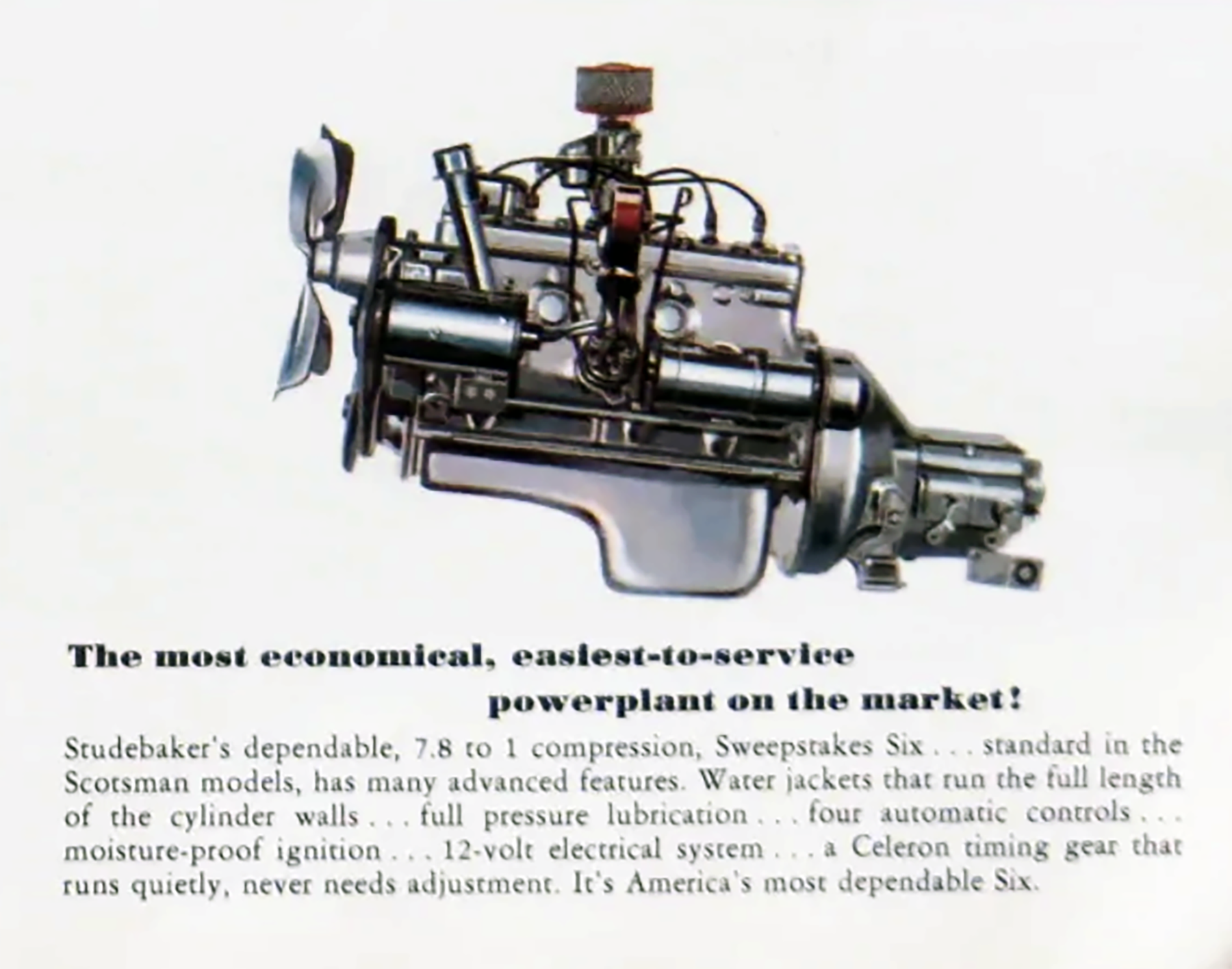 Of all of these "omissions," I am most offended by the Chrome. Instead, the Scotsman featured silver-painted accents, including a stamped single-piece grille. Look at the ad, however, and you'll see light reflecting off the grille trim of the 2-door model. That detail is less an omission, and more like actual fraud.
The Studebaker "Sweepstake Six," standard in the Scotsman models, featured dated flat-head design and was good for just 101 horsepower. The engine did enjoy a reputation for reliability, however, and was easy on the gas, something Scotsman buyers probably appreciated. A V8 engine was available for extra cost.
As things worked out, the Scotsman line lasted for just two models years, with a substantial base-price increase for 1959 to $1925. Roughly 30,000 Scotsman models were sold over the lineup's two-year stint, not a bad showing, but it's unlikely Studebaker made much money on the budget-priced vehicles.
The Scotsman pickup was replaced by the Studebaker Champ for 1960. The new truck enjoyed continued value pricing, a thing which truck buyers—then mostly farmers and commercial operators—were likely drawn to. Also, as trucks of the era were famously bereft of features, advertising the Champ was likely less a sin of omission.
*We apologize for our role in perpetuating this stereotype. Besides, if my dad is any indication, it's the Germans that are the real misers.
Listen to the Consumer Guide Car Stuff Podcast
1958 Studebaker Scotsman Gallery
(Click below for enlarged images)
Economy-Car Madness! 10 Classic Ads Featuring Affordable Rides