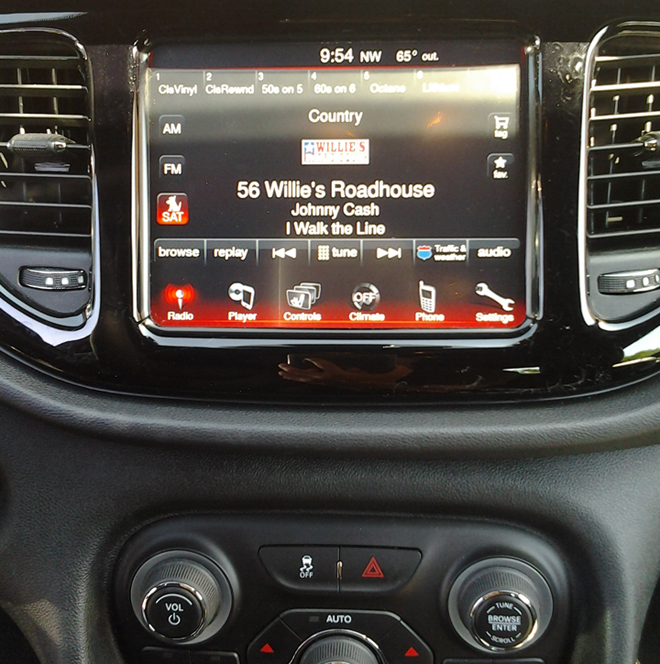 To me, satellite radio is the greatest car feature since the stereo. After a lifetime of listening to the same old same-old on terrestrial radio, including the seven Fleetwood Mac Rumours songs that are played daily on every rock, oldies, and "light FM" station (am I right or am I right?), it's liberating to have more than a hundred channels to choose from.
Unfortunately, almost every satellite radio-equipped car we've tested at Consumer Guide has had issues with satellite radio. Among them:
After pressing the "on" button, there's a long delay until the radio actually turns on.

The screen is too small to fully accommodate the names of the station, artist, and song.

You turn the tuner knob and have to wait a long while for the system to go up one channel. God forbid if you want to go up 40 channels, in which case you are almost obliged to fuss around with presets or "categories."

The tuner knob is small or, worse, you have to channel surf using small buttons or the "virtual" buttons on the touchscreen. (That's not distracting. . . .)
Those cover most but not all of the problems. And it doesn't matter if the car is a Mitsubishi or a Bentley. Seriously, when we evaluated the 2014 Bentley Continental GTC Speed, one editor complained about the radio's "extremely slow operation."
Affordable Performance: The Future of Dodge
After enduring all of this agony, I finally settled into a car with a problem-free satellite radio configuration. With the 2013 Dart, when configured with the available 8.4-inch touchscreen, Dodge got it just right. The Dart is one of multiple Chrysler vehicles to include a Uconnect 8.4 infotainment system. With the Dart . . .
When you press the "on" button, satellite radio goes on immediately.

The huge screen fully and largely displays the names of each station, artist, and song.

You can change channels using a big, fat knob. Yeayyyyy!

When you go up by one channel, or even 30 channels, response time is almost immediate.
We have plenty of issues with the powertrain of the 2013 Dart, but its satellite radio is one smooth operation. Check it out for yourself in our short and highly amateur video:
Convoy Madness! 12 Classic CB-Radio Ads