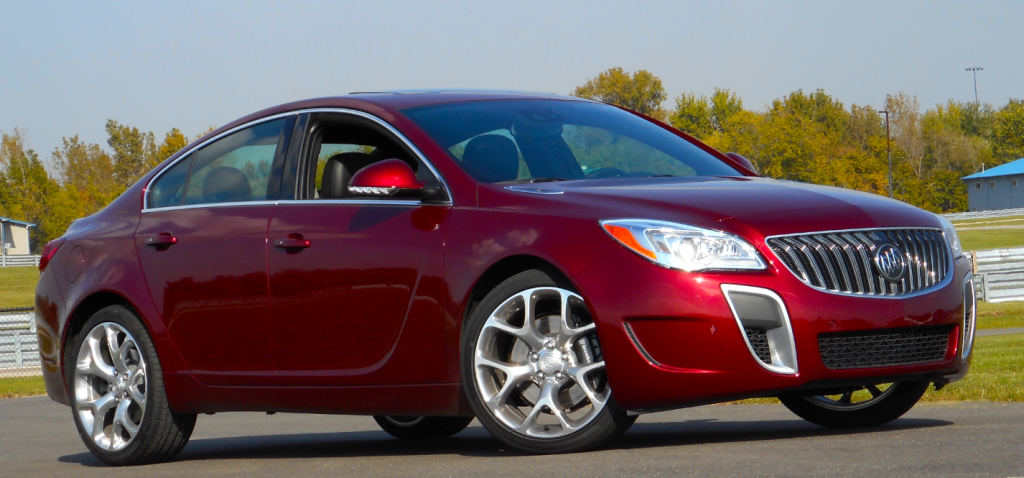 If any vehicle in Buick showrooms seems out of place, it's the midsize Regal. Based on the German-market Opel Insignia, its sport-sedan flavor puts it at odds with the decidedly non-sporty Buick image.
But that's exactly its mission: to appeal to a group of buyers that wouldn't normally be thinking "Buick." To that end, it offers a turbocharged engine and all-wheel drive, a combination not found in any other Buick car.
Heir to the Estate: 2018 Buick Regal Returns as Wagon
2016 Buick Regal GS
As with most Buicks, Regal sort of straddles the line between "regular" and "premium" classes (much the same as Volkswagen does), though the company mostly lists members of the latter as direct competitors. Some of that is due to traditional brand placement, but some is also due to a higher level of standard and available feature offerings along with dressier trim—though most "regular" midsize rivals are moving in the premium direction, at least with upper-line models.
The 2016 Regal lineup consists of a base model in three versions (1SV, base, and Premium II) and the line-topping GS, which is the sportiest Regal and the model driven at the preview. The GS is visually set apart with a unique front facia hosting prominent vertical side vents (vs. horizontal on other models), deeper rocker-panel moldings, rectangular dual exhaust outlets, distinct 19-inch wheels, and a rear spoiler.
Regal's powertrain choices have been shuffled significantly over the past few years, with no fewer than six being offered at one time or another. These once included a "mild hybrid" powertrain and even a manual transmission, though neither is offered for 2016—at least, not to the general public. (Fleets can order the mild-hybrid eAssist powertrain, which at one time was standard.) This year, the base Regal trim level comes with a 182-horsepower 2.4-liter 4-cylinder engine, while all others get a 259-horsepower 2.0-liter turbocharged four. Both engines come only with a 6-speed automatic transmission. Front-wheel drive is standard on all models, but turbocharged versions can also be ordered with all-wheel drive.
First Spin: 2016 Volvo S60 Cross Country and S60 Inscription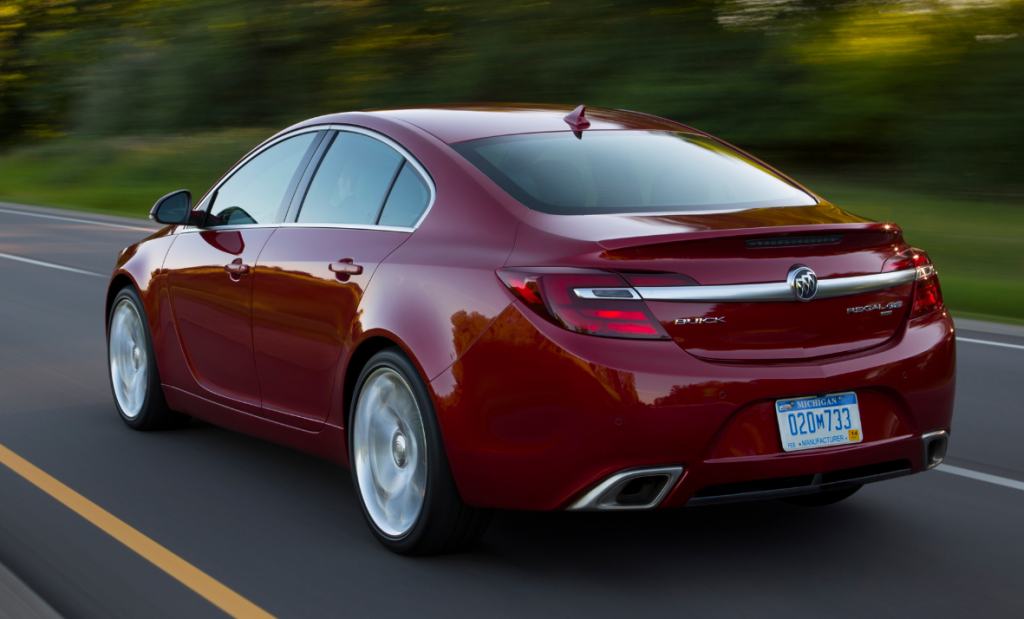 Including destination, the base Regal starts at $27,990 – well north of "regular" midsize competitors, but equally far south of premium rivals such as the Acura TLX. Upscale standard features include Buick's IntelliLink system with 8-inch touchscreen and phone-integration technology (hands-free text messaging/navigation/entertainment apps) that is compatible with Apple CarPlay, satellite radio, 4G LTE WiFi hotspot, rearview camera, air filtration system, dual-zone automatic climate control, leather upholstery, heated front seats, power driver seat with lumbar adjustment, and GM's OnStar assistance system. A turbocharged version can be had for just under $30,000, and it adds availability of all-wheel drive, a navigation system, and a power sunroof as options.
Higher trim levels are available with rear side airbags, power front passenger seat with lumbar adjustment, heated steering wheel, memory driver seat, keyless access and starting, remote start, and a universal garage-door opener. Also available on these models is a suite of high-tech safety and convenience features that includes front and rear park assist, blind-spot alert, rear cross-traffic alert, lane-departure warning, forward collision alert and mitigation, and adaptive cruise control.
Tested was the top-line GS that starts at just under $35,000 in front-drive form, about $37,500 with AWD. As the sportiest Regal, it sets itself apart with a lower ride height, bigger brakes clamped by Brembo calipers, larger wheels and tires (19s standard vs. 18s elsewhere, with 20s optional), and Interactive Drive Control, which allows adjusting suspension, steering effort, and transmission shifts for a sportier driving experience.
That all came into play on the Autobahn racetrack where the preview event was held. If you think it odd that a Buick – of any stripe – was on a racetrack, you're not alone. But the all-wheel-drive Regal GS tested acquitted itself quite well, with the sport suspension and especially the brakes making it feel very un-Buick-like under what amounted to near-racing conditions. (Hauling down repeatedly from high speeds is where normal passenger-car brakes quickly reveal their limitations.)
On the road, the Regal GS rides quite well considering its performance-oriented mission, and the turbocharged engine exhibits very little turbo lag (a delay in power delivery as the turbo spins up) even in off-the-line acceleration, which is usually where a turbo engine seems weakest. Once underway, the only complaint is that the transmission is often slow to kick down to a lower gear when the throttle is stabbed.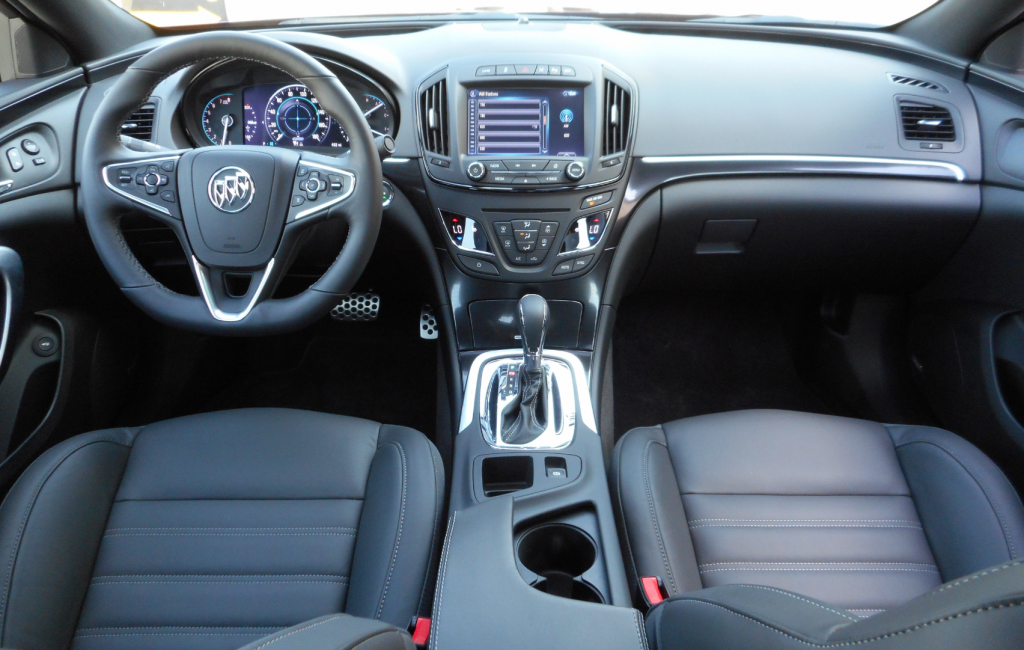 For a midsize car, the Regal falls a bit short in terms of expected passenger room. In front it's fine, but rear-seat legroom disappears if the front seat is moved all the way back, and 6-footers probably wouldn't have enough headroom.
Trunk space is just okay. The area is wide at the rear and there's a fair amount of storage beneath the floor in the spare-tire well (there's no spare tire in the GS, but rather a sealing kit and pump), but sickle-shaped hinges dip down into the load area (though they're covered to prevent cargo damage) and the floor isn't flat toward the front. Furthermore, folding the rear seat back leaves a 4-inch floor hump that must be cleared if sliding long items forward, and the seat back rests an inch below the level of the trunk floor.
Inside, visibility is decent to the front, not so good to the sides due to thick pillars, and good to the rear. The dash top, door tops, and armrests are padded, and the GS cockpit trim – carbon-fiber look with satin chrome accents – fits the price, and includes racy-looking aluminum pedals. The test cars had all-black interiors that came off as being just a bit staid, but two-tones are available on other models that brighten things up.
Interior storage is quite good. A decent-sized glovebox is augmented with a small covered dash bin, a small console bin, two cupholders, a small console box with Aux/USB/12-volt plugs, a left-side dash bin, and map pockets in the doors.
The audio system includes volume and tuning knobs, with station election being done on the large dashboard screen; all are a surprisingly long reach away. Climate controls are handier, with mode selection done with individual buttons while temperature and fan speed are adjusted with repetitive-step pushbuttons that can be rather tedious to use.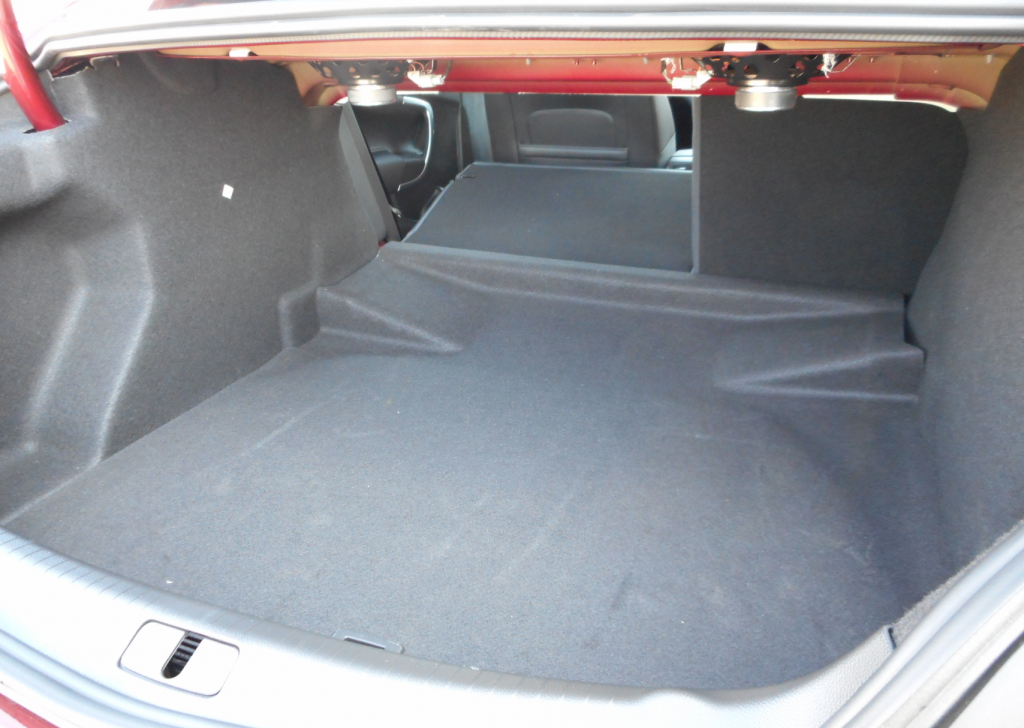 While the GS best fits the "sport sedan" image Buick is shooting for with the Regal, lesser models may be more to most people's liking – or at least their pocket book's liking. Those looking for features not commonly offered in regular midsize cars while undercutting the price of premium ones might lean toward an all-wheel-drive Premium II, as it and the GS are the only models that offer all the high-tech safety hardware as options. Adding those features brings an AWD Premium II to about $38,000 (figure about $41,000 for a similar GS), which is the jumping-off point for many premium midsize sedans.
Many middle-aged folks, especially, think of Buick as an "Old man's car." That's an image the company has long been trying to change, and today's younger generations probably don't look at it that way. But the Regal is a car that might even attract Baby Boomers who used to discount the brand entirely, as it's really just a European sports sedan hiding behind a Buick Badge.
Buick Avenir Concept: What's Classic is Future Again
Listen to the very funny Car Stuff Podcast

2016 Buick Regal GS