The 2016 Chevrolet Camaro is smaller, lighter, plusher, and more technologically advanced than its predecessor. At first blush, it's a bit livelier to drive, too.
Mounted on a new rear-wheel-drive platform, the corporate Alpha setup that underpins the Cadillac ATS and CTS, the 6th-generation Camaro makes abundant use of pound-paring aluminum components in its body and suspension. All body panels are new even as the overall styling theme maintains a kinship to the 2010-15 5th-generation car. The roster of engines sports 3 new choices—including the first 4-cylinder found in a Camaro since 1986—and 8-speed automatic transmissions replace the 6-speed autoboxes used previously.
Though it might not be blatantly apparent by looking at it, the 2016 Camaro is shorter (by 2.3 inches), lower (1.1 inch), and narrower (.8 inch) than the car it replaces. Wheelbase shrinks to 110.7 inches from 112.3, and front and rear wheel tracks are narrowed slightly too.
Early Risers: A Gallery of 1960s Camaros
The reason these changes might be hard to detect, especially without a 2015 model hard by, is that styling takes its cues from the 5th-generation Camaro. Though execution has been altered on every surface, there's still a large trapezoidal lower grille opening and the same thin strip of upper grille just tall enough to accommodate a bowtie badge. On the sides, the line of the front fender makes the same downturn at the front of the car, and flat-faced fender flares still hover over the tires. The rear-quarter panels continue the crisply creased "haunches" of the outgoing model, and the slope of the roof is fairly familiar, too.
For '16, slitlike headlights adopt a more menacing "snake eyes" appearance, especially on SS and RS-option cars, with their high-intensity-discharge projector-beam lamps and LED daytime running lights. Gone from the rear quarters are the vertical "gill" stampings that the 5th-gen car sported as an homage to the 1969 Camaro. The rear-quarter window has been reshaped—it's now more quadrilateral than triangular—and the sheetmetal around it is subtly beveled instead of flush with the glass.
Chevrolet Camaro Z/28: A History in Photographs
Was any thought given to doing a design that moved away from referencing past Camaros, particularly the 2010 generation? Only briefly at best, and not very seriously, according to styling personnel with whom Consumer Guide® spoke at the 2016 Camaro's unveiling. They said owner feedback that expressed a lot of satisfaction with the generation-5 design made it clear the existing theme needed to be enhanced, not discarded. Chevy Division folk point to a 5-year run of sales leadership in the performance-car segment and a half-million U.S. sales of 5th-generation cars, so radical change—if it's ever deemed necessary—will wait for another day.
Of course, leaving the Camaro's overall packaging fairly intact means retaining some of its shortcomings. The edge of the all-new instrument panel is a little lower, which improves forward visibility somewhat, but the over-the-shoulder and straight-back views in the coupe (the only body style initially available) are still abysmal. Even long-limbed front-seat occupants will find enough leg room to get comfortable, and entry and exit under the low roof isn't a head-banging chore. However, the Camaro is essentially a 2-passenger car; even when sub-6-footers (your author qualifies) slide their seats forward to get closer to the steering wheel and instruments, there's still only stick-figure leg room in back. The back seat will better serve as additional cargo space (the undivided seat back folds down) for the smallish trunk that's difficult to fill because liftover remains very high. Items basically have to be dropped into this "top-loader" cargo hatch.

2015 Ford Mustang: A New Take on a Classic Pony
The 2016 models shed 200 pounds or more, depending on the model, compared to the 5th-gen car. The hood is now made of aluminum, as are the instrument-panel frame and front suspension links. Steel suspension links in the rear are drilled out to reduce weight, too. Aside from holding out the promise of improved fuel economy, banishing bulk improves the driving experience. Reporters at the reveal event for the new car drove V6 examples of the 5th– and 6th-generation Camaros back-to-back. Lapping the street course laid out for the Detroit Belle Isle IndyCar race in product-development "mules" of the new model showed them to be a little more nimble than the '15 Camaro, with easier turn-in and quicker recovery of their equilibrium coming out of corners. Chevy claims a 28-percent increase in structural rigidity for the 2016 Camaro, and says that its tests of the new SS are recording faster lap times than 5th-generation SSes with the track-oriented 1LE suspension option package.
 The powertrain story starts with a new base engine for the Camaro LT, GM's turbocharged 2.0-liter 4-cylinder. It's the first four in a Camaro in 30 years, when the 88-horsepower 2.5-liter naturally aspirated "Iron Duke" was found under the hoods of some 3rd-generation models. The modern turbo four generates 275 horsepower, and 295 lb-ft of torque that peaks between 3000 and 4500 rpm. It's an engine that CG has liked in other GM cars that it has tested in recent years.
Camaro's big market rival, the Ford Mustang, now has a turbo four as well, which will no doubt invite comparisons, but Ford's 2.3-liter EcoBoost mill is actually a performance upgrade from Mustang's base V6. At Chevy the roles are reversed: the 3.6-liter V6 is the step-up engine from the four. For 2016, the Camaro V6 adds cylinder deactivation for improved economy even as it gets a 13-horsepower hike to 335.
The Camaro SS counts on a 6.2-liter LT1 V8 picked up from the Corvette Stingray, but modified to fit the Camaro platform. It, too, employs cylinder deactivation (with automatic transmission). Output ratings are 455 horsepower and 455 lb-ft of torque. It replaces a similarly sized engine that made 400 horsepower with automatic transmission or 426 with the manual gearbox.
All engines are available with a choice of 6-speed manual or new 8-speed Hydra-Matic automatic transmissions. The Tremec stickshift with the SS V8 features Active Rev Matching that blips the throttle to aid downshifts. The clutch and shifter worked smoothly for us in a couple test laps, but our exposure was too brief to make a definitive evaluation of the behavior of either transmission.
Engineers made some "sound decisions" regarding the respective rackets of the 3 powerplants. The V6 and V8 feature resonators that direct induction noise into the cabin for drivers to whom that is music to their ears. (The V6s we drove sounded pretty potent.) Plus, dual-mode exhaust is available for both engines; it allows drivers to tailor the exhaust note. Meanwhile, 4-cylinder cars come with active noise cancellation to filter out unwanted sounds—but the available Bose audio system allows for the amplification of the turbo engine's sounds if desired.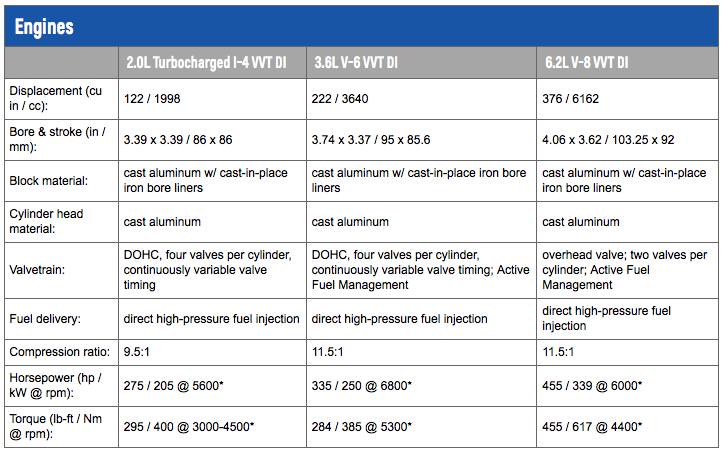 Test Drive: 2017 Chevrolet Camaro 1LE V6
Interiors feature increased areas of soft-touch materials for a slightly more sumptuous feel. An electronic parking brake with a small lift-up lever replaces a mechanical brake with a long handle. As a result, cup holders are repositioned, creating more space for drivers to work the manual shifter. A new available LED ambient lighting system offers a choice of 24 colors to glow in various spots around the cabin, and a "car show mode" can be set to let the entire spectrum cycle randomly while the car is parked.
The main driving gauges reside in a dual-hood cluster reminiscent of the 5th-gen design. An available 8-inch-diagonal screen between the dials offers drivers the chance to summon infotainment-system and performance information including lap times. Two central ventilation ducts have been moved low on the center stack. Their bright-metal outer rings aren't just decorative; rotating them sets the temperature and fan speed for the climate system. A new Driver Mode Selector lets drivers pick "Snow/Ice," "Tour," "Sport," or—in SSes only—"Track" settings that impact up to 8 functions from things like throttle response and automatic shift mapping down to ambient lighting.
A pared-down lineup consists of 1LT/2LT and 1SS/2SS coupes for now. LTs feature the choice of turbo-4 or V6 power, and 18-inch wheels (with 20-inchers available). The RS package with SS-style headlights, added brightwork on the grille, and a distinct taillight design is available for LTs. Camaro SSes sport the V8, a distinct front fascia with integral brake-cooling ducts, functional hood vents to relieve front lift, standard 4-piston-caliper Brembo disc brakes, and 20-inch wheels. GM's automatically adjustable Magnetic Ride Control suspension damping is a first-time SS option. Prices were not announced at the debut of the 2016 Camaros, which will go on sale in fall 2015.  
Pony Car Milestone: Ford Rolls Out 50th-Anniversary Mustang