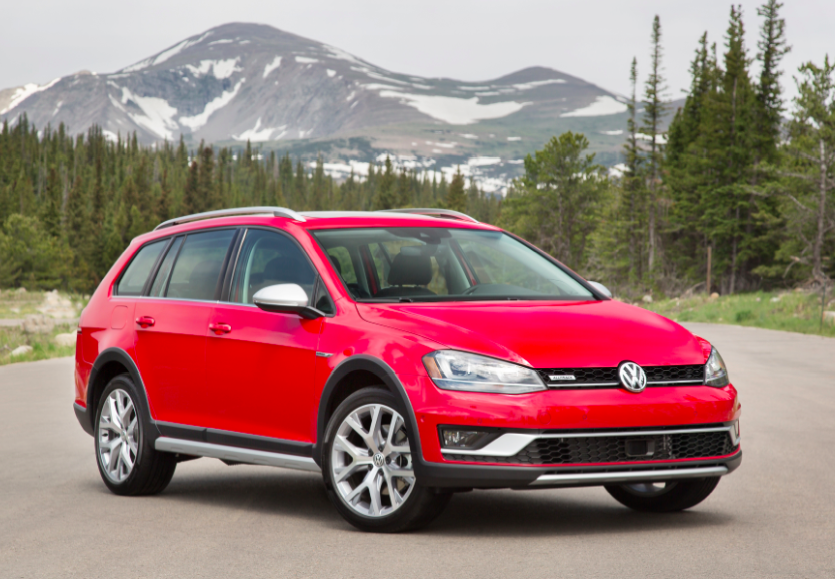 Frankly, it's a bit surprising it's taken Volkswagen this long.
2017 Volkswagen Alltrack
Back in the mid '90s, Subaru introduced the Outback, essentially its all-wheel-drive Legacy wagon with a raised ride height and SUV styling cues. It was a nearly instant success and quickly became the make's best-selling model.
But Subaru had an advantage: It had a wagon to start with. Most other manufacturers had abandoned car-based wagons due to lack of sales, with intenders likely defecting to SUVs. Volvo was an exception, and it wasn't long before it applied the same formula to its midsize wagon, with similar – if not quite as spectacular – results.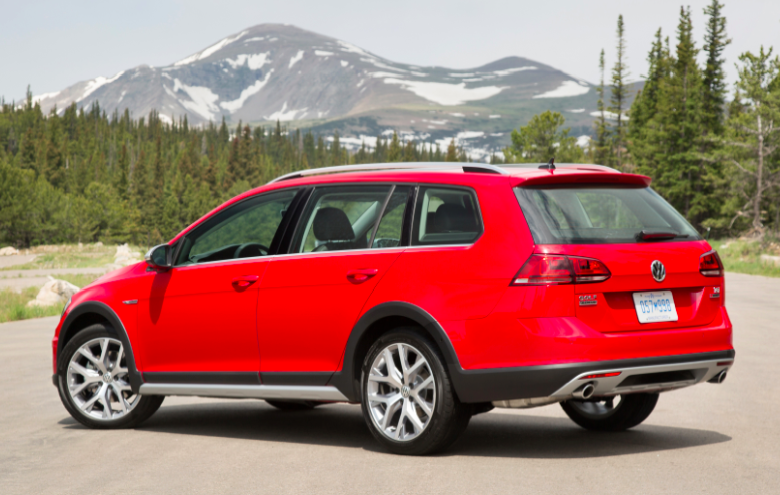 One of the few other manufacturers with a wagon was … Volkswagen. In fact, the company long had two: one in the midsize Passat line, one based on the compact Jetta. The former dropped out a while back, while the latter has carried on, most recently under the Golf moniker. As one of the few wagons still available, this model – of late carrying the "SportWagen" suffix – has been quite successful in its own right, the commendably spacious, practical, nicely trimmed, dynamically capable, bargain-priced little car winning numerous automotive accolades, including recent placement on Consumer Guide's Best Buy list.
Test Drive: 2015 Volkswagen Golf SportWagon
Despite the SportWagen's success, there was always a question as to why Volkswagen never followed the Outback formula with a jacked-up all-wheel-drive derivative. (While AWD was never offered in "regular" Golfs, it was in the performance-oriented Golf R, so it could be done.) Perhaps it had to do with production capacity; if you're already selling every one you can build, there's little incentive to expand the lineup.
And then came Volkswagen's infamous diesel fiasco.
One reason folks bought all those SportWagens (including two of our editors) was that it was offered with VW's excellent little diesel engine, which combined great fuel economy with surprisingly spunky performance. And then … it wasn't.
So perhaps that's what has finally spurred VW into building the new Alltrack. That's not the official line, of course, but it certainly stands to reason.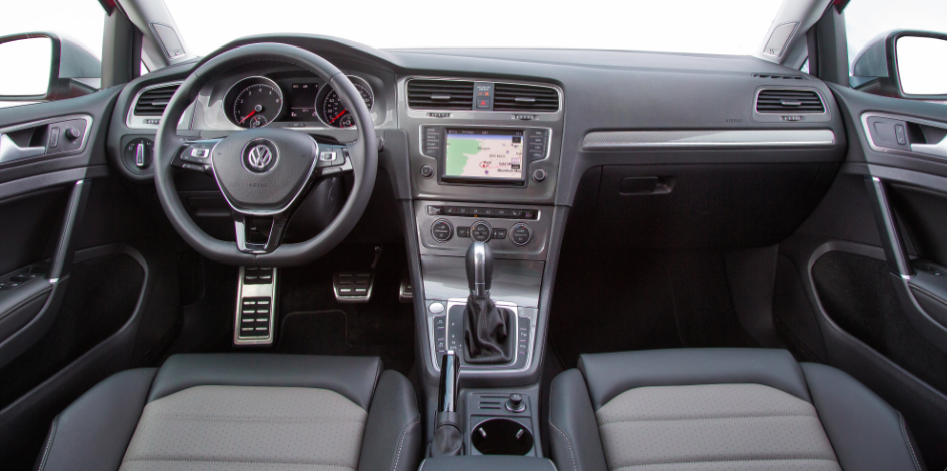 Clearly the Alltrack's most direct competitor is the aforementioned Subaru Outback, but it also has compact SUVs in its sights – VW's own Tiguan being an unintended target, so to a degree, this may be a "robbing Peter to pay Paul" scenario. However, the Alltrack plays at a lower price point, so it very well might bring in customers the Tiguan couldn't. But perhaps more relevant is the Honda CR-V, the most popular of the compact SUVs.
So let's do some statistical comparisons.
In terms of length, Alltrack's 180.2 measurement makes it 9.4 inches shorter than the Outback, less than one inch longer than the CR-V's. At 66.5 cu. ft., Alltrack's cargo capacity (with rear seat back folded) is 6.8 cu. ft. less than Outback's, 4.4 less than CR-V's. Some of that cargo capacity is lost to the Alltrack's lower roof height (something that might be an advantage to those who have to hoist something up there), where its 59.7 inches makes it 6.4 inches lower than an Outback, 5.3 inches lower than a CR-V.
Then there's price. At $27,770 including destination, the base Alltrack tops the base $26,520 Outback by $1250 and the base $26,045 CR-V by $1725 (for the 2016 model). But the Alltrack includes features the others don't, so the difference is mostly relevant only if you're looking at the rock-bottom price. And if so, VW has added an all-wheel-drive version of the base SportWagen for 2017, which forfeits the Alltrack's 1.4-inch higher ground clearance, SUV styling cues, and several features in return for a $25,750 base sticker, making it the least expensive of the bunch. (All prices quoted with automatic transmission. The SportWagen starts at $24,640 with a manual transmission, which the Alltrack will add later.)
Test Drive: 2015 Subaru Outback 2.5i Limited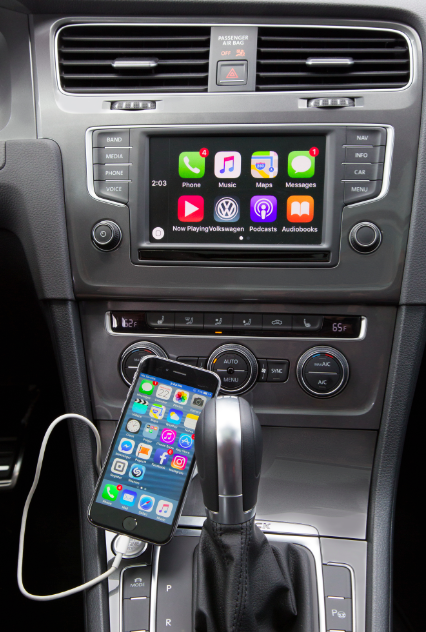 The all-wheel-drive SportWagen and Alltrack come with the same 170-horsepower 1.8-liter 4-cylinder turbo as other Golfs, but their automatic transmission is VW's DSG 6-speed dual-clutch automated manual rather than a conventional 6-speed automatic. Alltrack adds a number of off-road features, including a front skid plate and hill descent control. It also rides on larger tires: SportWagen S has 16s, while the Alltrack S and SE have 17s, and the SEL has 18s.
Even the base Alltrack S comes quite well equipped, including such niceties as rearview camera, heated front seats and mirrors, 6.5-inch touchscreen, Apple CarPlay/Android Auto/MirrorLink, and leatherette (leather-like vinyl) upholstery. To that the SE adds such items as panoramic sunroof, keyless access and starting, rain-sensing wipers, and upscale audio system. Both the S and SE can be optioned with the Driver Assistance Package, which brings forward collision warning and mitigation, front and rear obstacle detection, adaptive cruise control, and park assist for $845 – a bona fide bargain. The top-line SEL gets power front seats with lumbar adjustment, automatic climate control, and navigation system. Exclusively optional on the SEL is the $1995 Driver Assistance and Lighting Package, which includes the features of the Driver Assistance Package plus lane-departure warning and mitigation, automatic high beams, and adaptive headlights.
Test Drive: 2015 Honda CR-V Touring AWD
For all practical purposes, the Alltrack mirrors the goodness of the SportWagen, but adds easier ingress and egress (thanks to its raised ride height), added ground clearance and off-road capability, a slightly larger fuel tank (14.5 gallons vs. 13.2), and that all-important SUV flavor. Like the SportWagen, interior materials are a cut above the compact-class norm, visibility is very good, there's a decent amount of interior storage and adequate room front and rear for four good-size adults, and it has a commendably easy-to-use control layout featuring real knobs and buttons.
Test Drive: 2016 Volkswagen Tiguan S FWD
Alltrack rides a little more firmly than the AWD SportWagen (which offers a great combination of suppleness and control), and provides capable if not quite sporty handling. The turbo engine does a fine job of getting it up to speed, with only a slight hint of turbo lag when you nail the throttle from a stop. Hit the gas while underway, and the transmission kicks down fairly quickly for more passing power.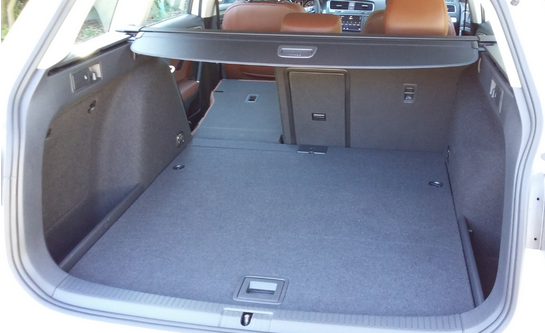 Where the Alltrack shines is exactly where the SportWagen does: it comes off as a well thought out, supremely practical, dynamically capable, and near-premium-level vehicle at a very reasonable price. Add in the all-wheel drive and moderate off-road capability, and it makes for a very attractive proposition … even if it doesn't offer a diesel engine.

Listen to the Consumer Guide Car Stuff Podcast
2017 Volkswagen Alltrack
2017 Volkswagen Alltrack