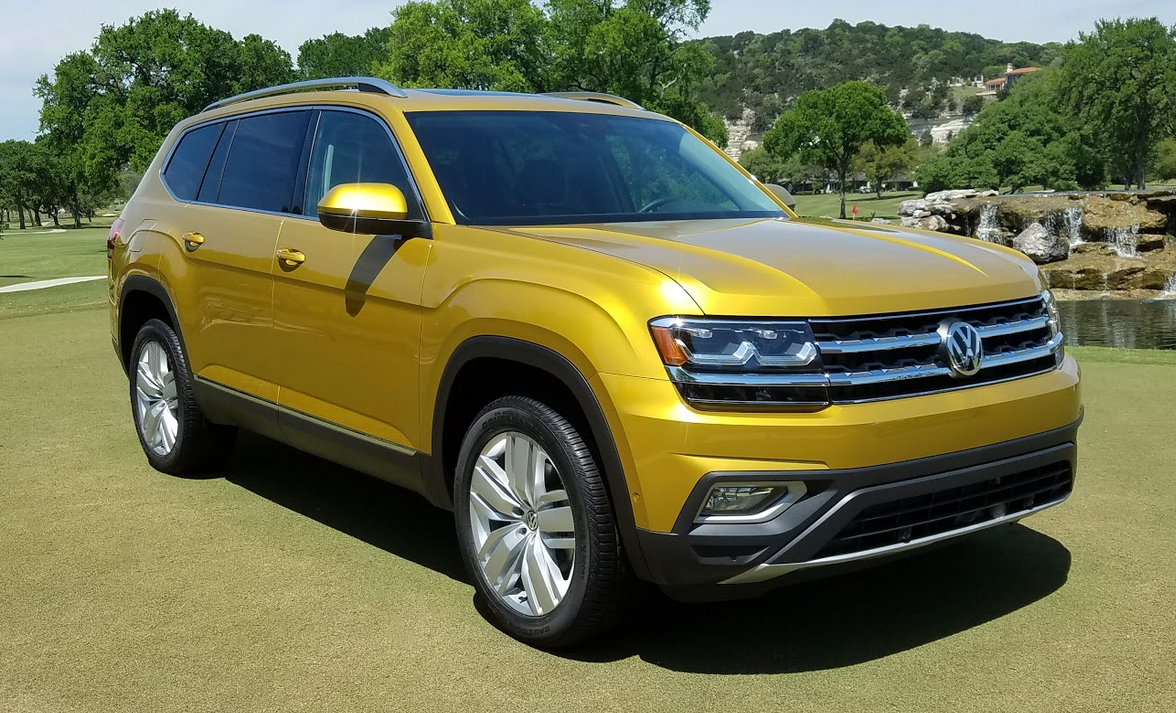 Over the past few years, the compact and midsize crossover SUV segments have grown hotter than ever, but Volkswagen's two entries in those categories have fallen a bit behind the pack as they've aged. While it's a perfectly capable and pleasant compact SUV, the current VW Tiguan is seriously long in the tooth—it has soldiered on for a full nine seasons with no major changes to its 2009-model-year platform. Likewise, the current Touareg—VW's pricey, luxuriously trimmed midsize SUV contender—dates back to 2011, and hasn't seen any significant architectural updates since.
That's all about to change for the 2018 model year. A redesigned 2018 Tiguan is set to hit showrooms sometime this summer, and we just got back from our preview test drive of the all-new 2018 Volkswagen Atlas, a plus-sized three-row midsize SUV that's beginning to arrive in dealerships now.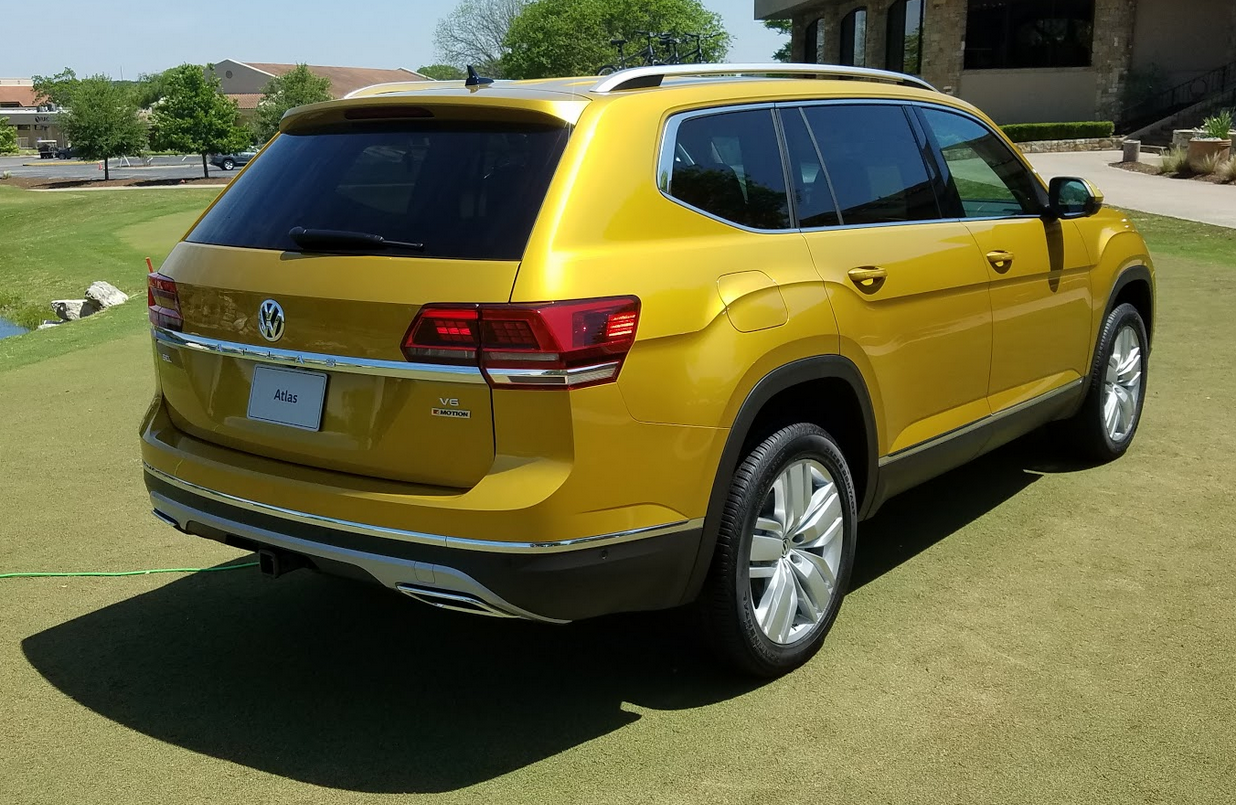 And when we say plus-sized, we mean it. The Atlas is one of the largest vehicles Volkswagen has ever sold in the U.S., and one of the biggest entrants in the midsize-SUV class—it's 198.3 inches long and 78.3 inches wide, stretched out over a 117.3-inch wheelbase. Its curb weight is a substantial 4336 pounds with front-wheel drive and 4502 with 4Motion all-wheel drive. For comparison, the Honda Pilot is 194.5 inches long and 78.6 inches wide, on a 111-inch wheelbase, and the Ford Explorer measures 198 inches, 79 inches, and 112.8 inches respectively. The Atlas utilizes Volkswagen's modular "MQB" platform and is built alongside the Passat midsize sedan at VW's Chattanooga, Tennessee, assembly plant. Versions of the MQB platform also underpin the VW Golf compact hatchback and the forthcoming Tiguan.
Test Drive: 2017 Hyundai Santa Fe Limited Ultimate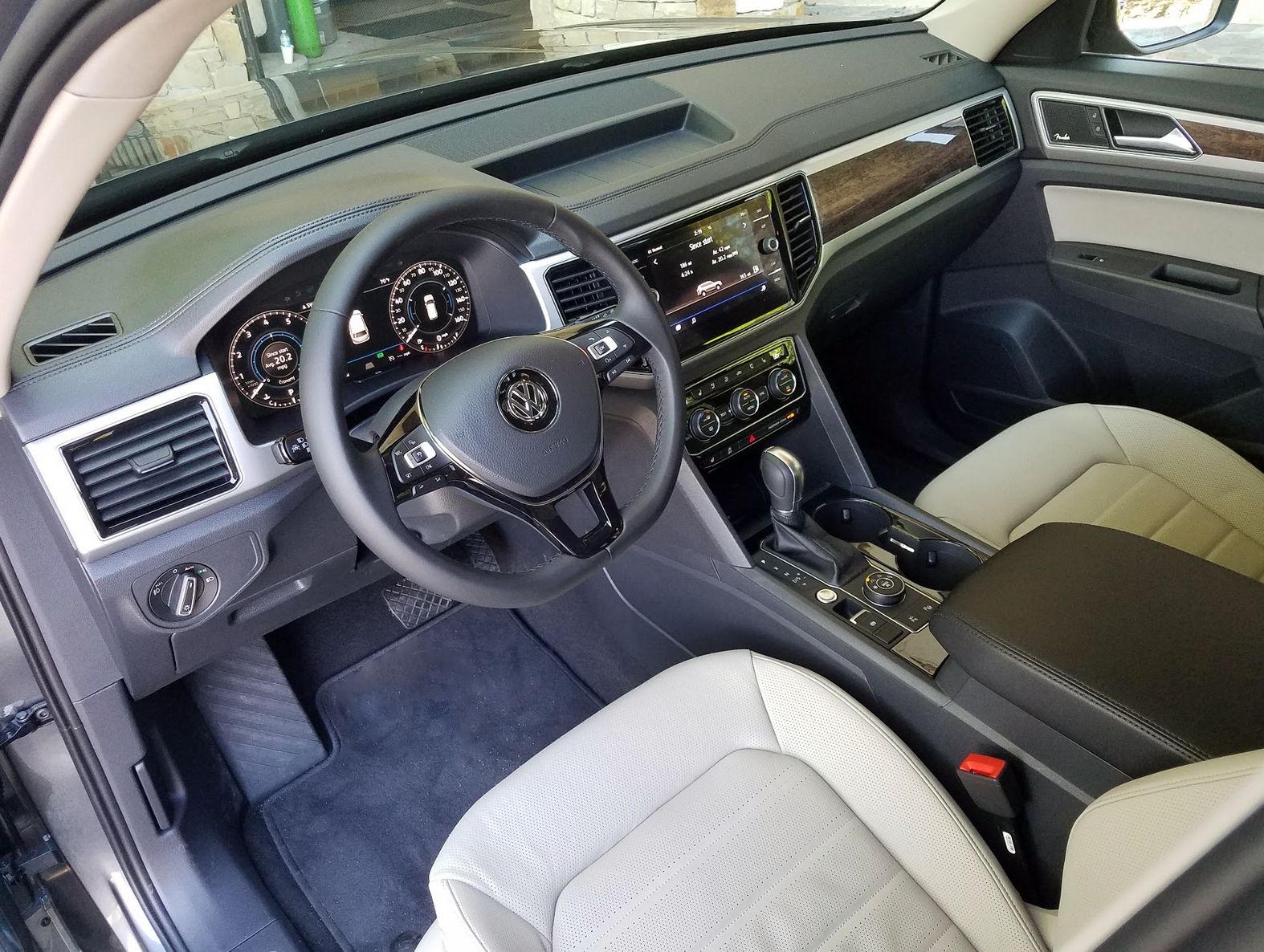 At launch, the Atlas offers one engine choice: Volkswagen's 3.6-liter VR6 V6, which is rated at 276 horsepower and 266 lb-ft of torque. Later in the model year, the V6 will be joined by a turbocharged 2.0-liter 4-cylinder that makes 235 hp and 258 lb-ft of torque. Both engines are paired with an 8-speed automatic transmission; V6 models are available with front-wheel drive or all-wheel drive, while 4-cylinders are front-drive only.
The model lineup ascends through S, SE, SEL, and SEL Premium trim levels, with V6 starting prices of $31,900, $34,990, $40,890, and $48,490 respectively (plus a $925 destination charge). There is also a $37,090 SE with Technology package (which adds to the basic SE a power liftgate, remote start, adaptive cruise control with stop-and-go functionality, lane keep assist, and forward collision warning with autonomous emergency braking and pedestrian detection) and a limited-edition $33,500 S Launch Model (V6 only), which adds a panoramic sunroof and an 8-inch touchscreen (in place of a 6.5-inch screen) to the base S. The forthcoming 4-cylinder models will be priced about $1400 less than their V6 counterparts.
S models come standard with 18-inch wheels; LED headlights and daytime running lamps; a rearview camera; an Automatic Post-Collision Braking System that applies the brakes in the event of an impact; and Volkswagen's App-Connect system, which includes Android Auto, Apple CarPlay, and MirrorLink functionality. SEs add leatherette upholstery, a 10-way power driver seat, a blind-spot monitor, 8-inch touchscreen, and keyless entry and starting.
In addition to the SE w/Technology's equipment, SELs get a panoramic sunroof, memory driver seat, towing package, Park Distance Control, and an Easy Open liftgate that opens with a swipe of the key-holder's foot under the rear bumper. The top-line SEL Premium adds 20-inch wheels, LED taillights, leather seats, VW's Digital Cockpit 12.3-inch virtual gauge cluster, 12-speaker Fender Premium Audio sound system, and a Parking Steering Assistant that autonomously operates the steering for parallel and forward/reverse perpendicular parking.
Black-finished 20-inch wheels are optional for $995 on the SEL and $235 on the SEL Premium. For an additional $625, all but the S models offer second-row captain's chairs in place of the 60/40 split-folding bench seat (the captain's chairs reduce seating capacity from seven to six). A $1960 R-Line Package—which includes sporty design elements such as 20-inch twin-spoke alloy wheels—will be available on SE w/Technology and SEL models. The available VW Car-Net subscription-based remote services include Family Guardian, a feature similar to GM's Teen Driver monitoring system; it includes a speed alert and "geo-fencing" boundary alert.

Only V6 Atlases were available for our test drives—we spent the bulk of our drive time in a front-wheel-drive SE with the Technology package and also sampled an SEL Premium. The V6 supplies fairly robust power off the line, and the alert, smooth-shifting 8-speed transmission kicks down fairly quickly to provide a boost for confident passing on the highway.
A fuel-saving engine stop/start feature is standard in all Atlases. We weren't able to measure fuel economy on our preview test drive, but the V6's mpg numbers don't appear to be particularly impressive—Volkswagen's preliminary estimates are 18 city/25 highway/20 combined with FWD, and 17/23/19 with AWD. These figures trail most similarly sized class competitors by an mpg or two—the rival Honda Pilot is EPA rated at 20/27/23 with FWD and 19/26/22 with AWD in topline Touring trim with the 9-speed automatic transmission. Volkswagen hasn't yet released fuel-economy estimates for the forthcoming 4-cylinder models. We're anxious to see if they will offer notably improved fuel economy, and if there will be a significant penalty in all-around power.
First Spin: 2018 Chevrolet Equinox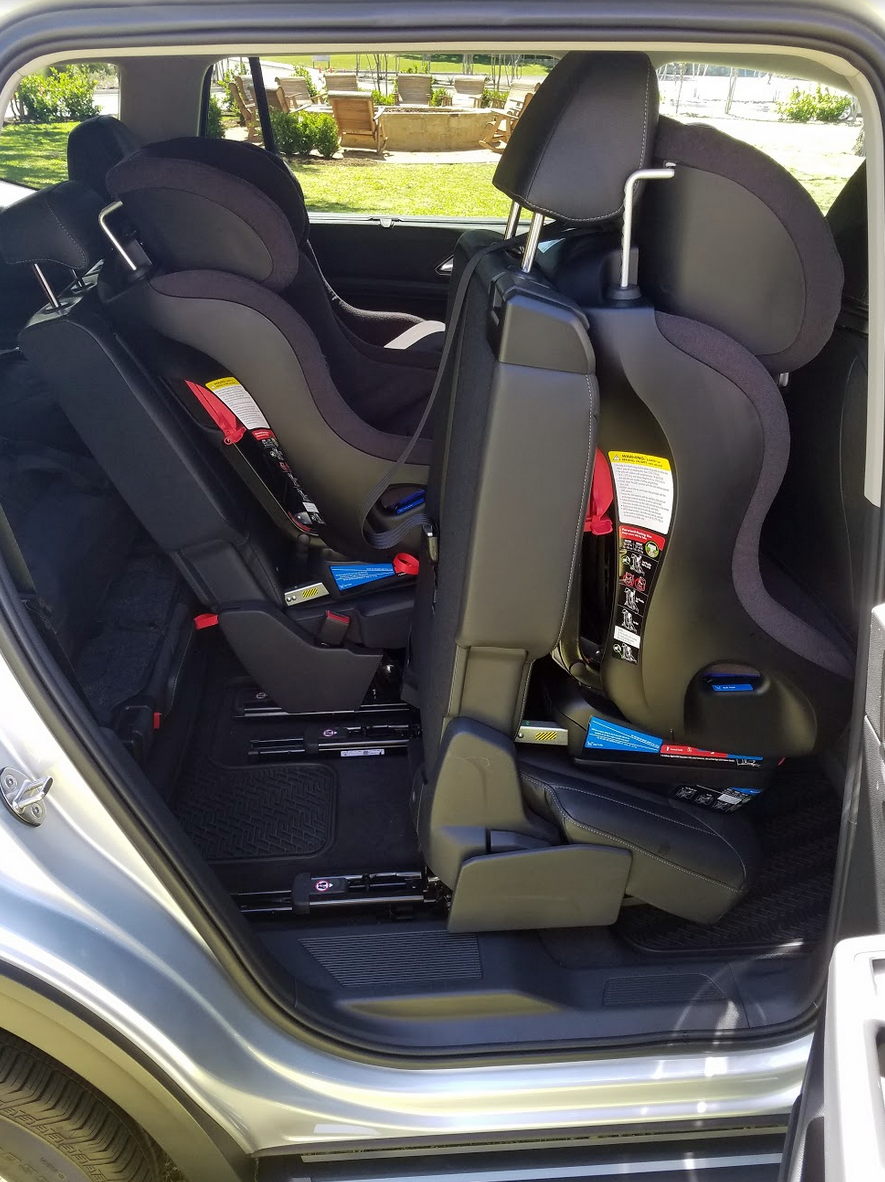 The 4Motion all-wheel-drive system drives only the front wheels to save fuel until sensors detect wheelspin—then it can send up to 50 percent of the engine's torque to the rear wheels. The system includes four selectable drive-mode settings—Onroad, Snow, Offroad, and Custom Offroad—and four selectable modes within the Onroad setting—Eco, Normal, Sport, and Individual. The Onroad settings alter engine, transmission, steering, and adaptive cruise control parameters.
On the SE models' 18-inch wheels, the Atlas has a mostly smooth, absorbent ride that strikes a nice balance between comfort and cornering capability. The 20-inch wheels that come standard on SEL and SEL Premium models exact a very small penalty in ride quality—primarily more pronounced pattering over rough pavement. Quick corners will definitely make it clear that the Atlas is a large, hefty vehicle, but its handling is stable and predictable. Some drivers may find the steering's on-center feel to be a bit too vague, but we prefer a relaxed feel in a vehicle as big as this one—it makes for fewer steering corrections in straight-line highway cruising.
Generously sized door openings and a manageable step-in height make for easy entry and exit in both the front and second rows, and the tall seating position provides a commanding view of the road. The Atlas's sizable exterior dimensions can make it a chore to park in tight quarters. Though you'll have to step all the way up to the SEL Premium model to get it, the Parking Steering Assistant is a welcome feature—it takes care of all the steering calculations (even in forward perpendicular-parking situations), so all you need to do is work the gear selector and the brake pedal.
The Atlas's cavernous cabin is a real strong point. Front-seat headroom and legroom are both outstanding; your tester is 6'6" tall, and my first step when entering most vehicles is to adjust the driver's seat all the way to the back. In the Atlas, I actually had to move the seat forward a few inches to comfortably reach the steering wheel, and I still had headroom to spare and more-than-adequate legroom as well.
The second row is similarly excellent in both headroom and legroom. The bench seat adjusts fore and aft a full 7.7 inches, which makes it easy to dial in an ideal balance of second-row legroom and third-row legroom/cargo space. The second row also tilts and slides forward (even with a child seat installed) for easier access to the third row. The third row is much cozier, but it's still big enough to be comfortable for average-sized adults, especially if the second-row passengers cooperate a bit on seat positioning.
The cabin ambiance is very "VW-esque"—a clean, understated European layout that manages to feel fairly upscale even in midline SE trim, despite some so-so-looking plastics hiding out in the lower regions of the interior. SEL models naturally up the ante with some handsome gloss-finish wood trim, classier upholstery, and other luxurious touches. Choosing a lighter upholstery color gives this interior a bit more visual pizzazz.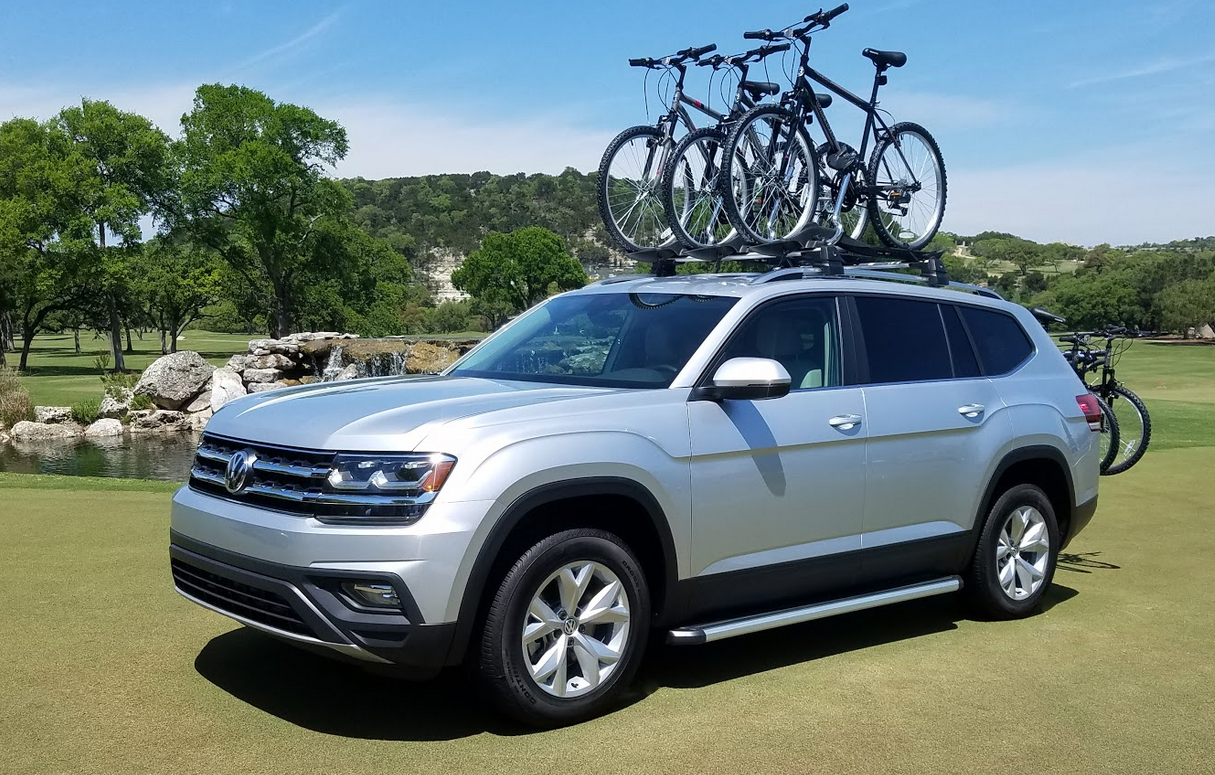 A well-sorted infotainment interface is another strong point. The Atlas uses the second generation of VW's MIB II infotainment system—it boasts an excellent suite of handy features and driving aids, such as a "Think Blue" fuel-economy trainer with efficient-driving tips and a trailer-assist overview camera display with digital guidelines. The touchscreen also exhibits quicker response times and better viewing angles than some systems we've tested—i.e., you're not stuck wondering whether your tap or finger swipe registered, and the screen display isn't as prone to "washing out" in certain lighting conditions. And, despite the touchscreen's full smartphone-style tap, pinch, swipe, and scroll functionality, Volkswagen thankfully saw fit to retain good ol' fashioned physical power/volume and tuning knobs, which we find infinitely easier to operate when the vehicle is in motion. Bravo.
In the Atlas, Volkswagen finally has a true contender in the heart of the U.S. midsize SUV market. Though its size puts it at the large end of the class, its price points line it up to square off directly with several long-running rivals that have an established history in the midsize SUV segment. That's a real challenge in a market as competitive as this one, but we think the Atlas has enough going for it—most notably a wonderfully spacious interior, a just-announced six-year/72,000-mile bumper-to-bumper transferrable warrantee, and a distinctive VW feel—to win over a sizable share of buyers.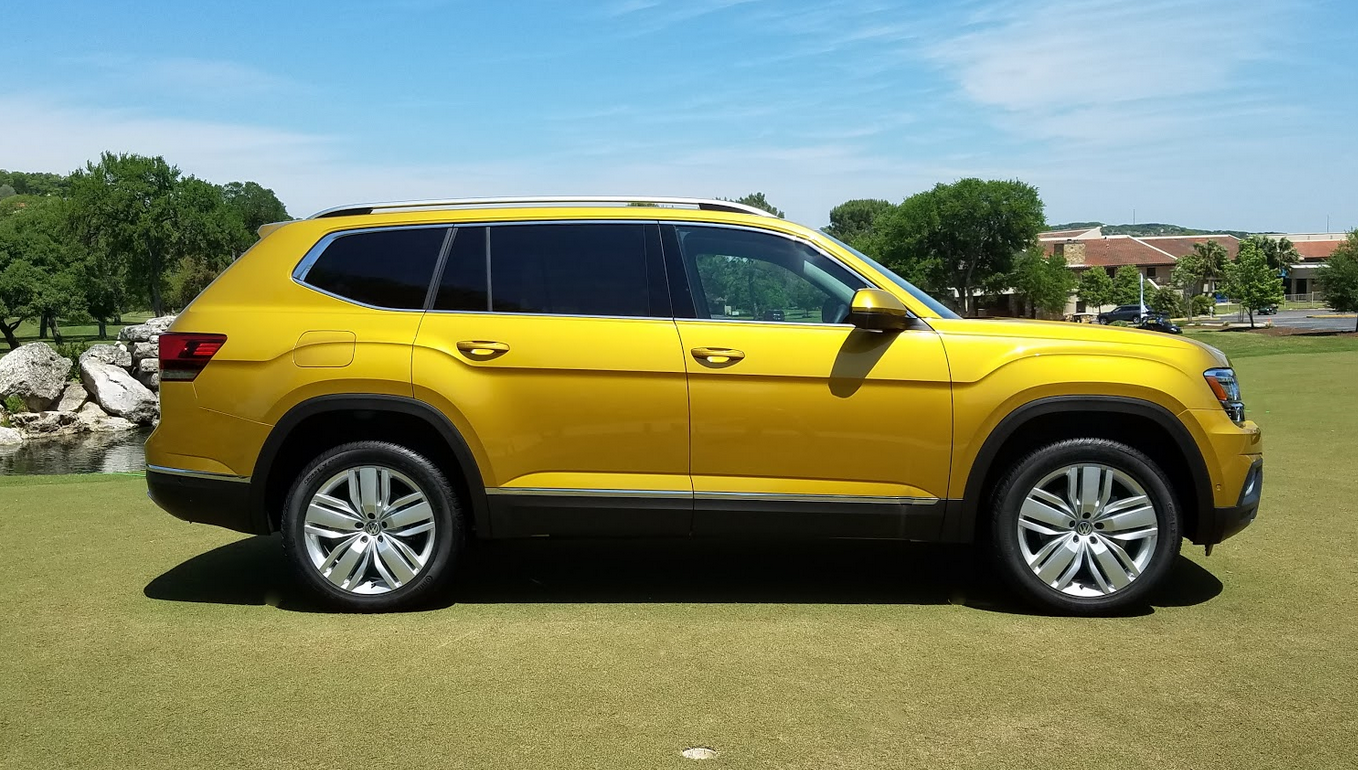 Quick Spin: 2016 Toyota Highlander XLE