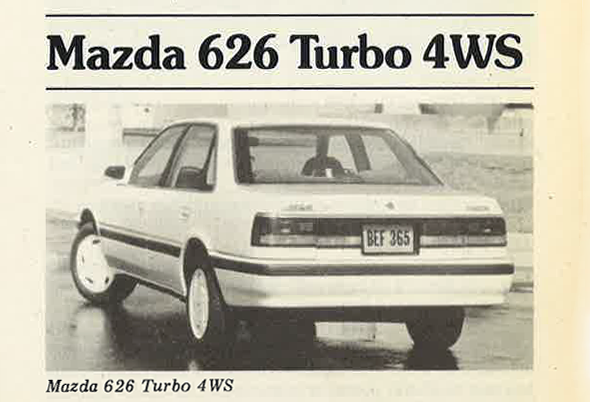 As far as automotive fads go, four-wheel steering (4WS) is one of the more technically sophisticated examples. Beginning with the 1988 model year, four American-market Japanese models were available with 4WS: the Honda Prelude Si, Mitsubishi Galant VR-4, Mazda 626 Turbo, and Mazda MX-6 GT Turbo.
Of the four, it's the 626 that strikes us as the most obscure. By most accounts, the 626 Turbo 4WS was available only for 1988, though some enthusiast message boards report that several 1989 examples were imported to the U.S.
The MX-6, a coupe companion to the 626, would be offered with 4WS through 1990—always only in topline GT form with the turbocharged engine.
We were unable to track down any production numbers for 4WS examples of the 626 or MX-6, but virtually none seem to exist today. Both cars are described as "extremely rare" by Mazda lovers, and are much sought after. Interestingly, the system itself, which incorporated a separate steering rack for the rear axle, is understood to be robust and reliable.
For folks not in the know, 4WS systems typically operate in three modes: low speed, moderate speed, and high speed. At low speeds, (typically below 10 mph) the rear wheels turn opposite the front wheels to reduce the vehicle's turning radius.
At moderate speeds, the rear wheels remain fixed for normal handling. At high speeds, the rear wheels turn in the same direction as the front wheels, for quick, more-secure lane changes.
Note that the rear wheels don't turn much. Most 4WS systems only allowed for three degrees of rotation in either direction.
Presented here is Consumer Guide's original 1988 review of the Mazda 626 Turbo 4WS. Take note of the added cost of 4WS, which did not include ABS—another pricey feature. Given the expense, it's easy to see why most consumers didn't give 4WS a chance.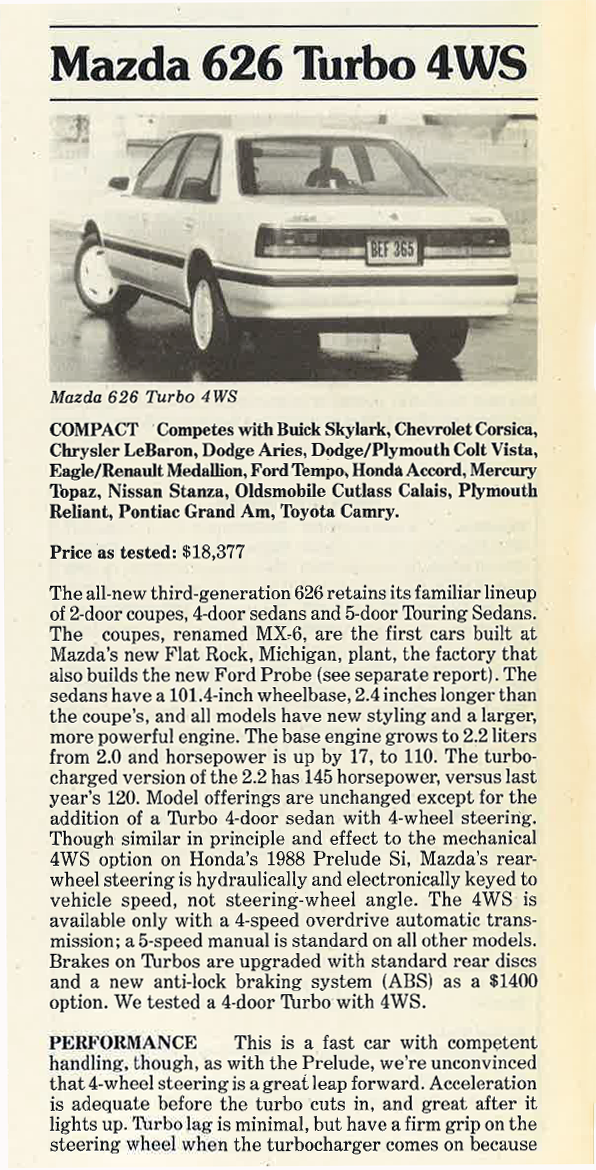 Review Flashback! 1993 Volkswagen Corrado

Review Flashback! 1990 Mitsubishi Sigma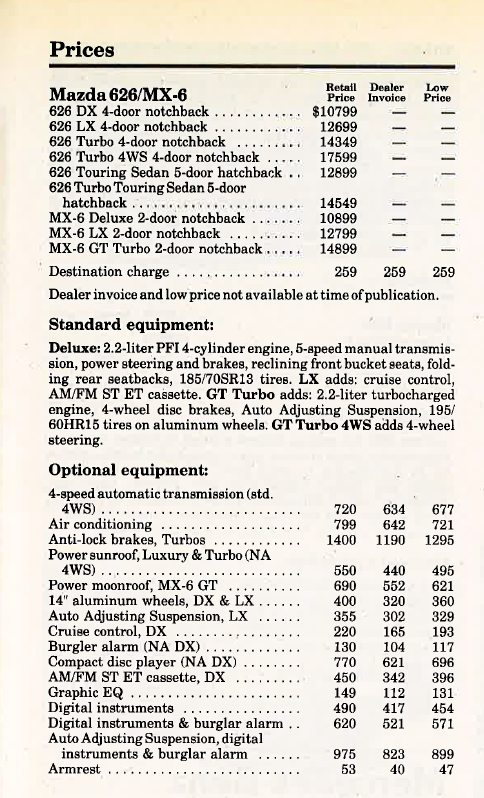 Review Flashback! 1984 Saab 900