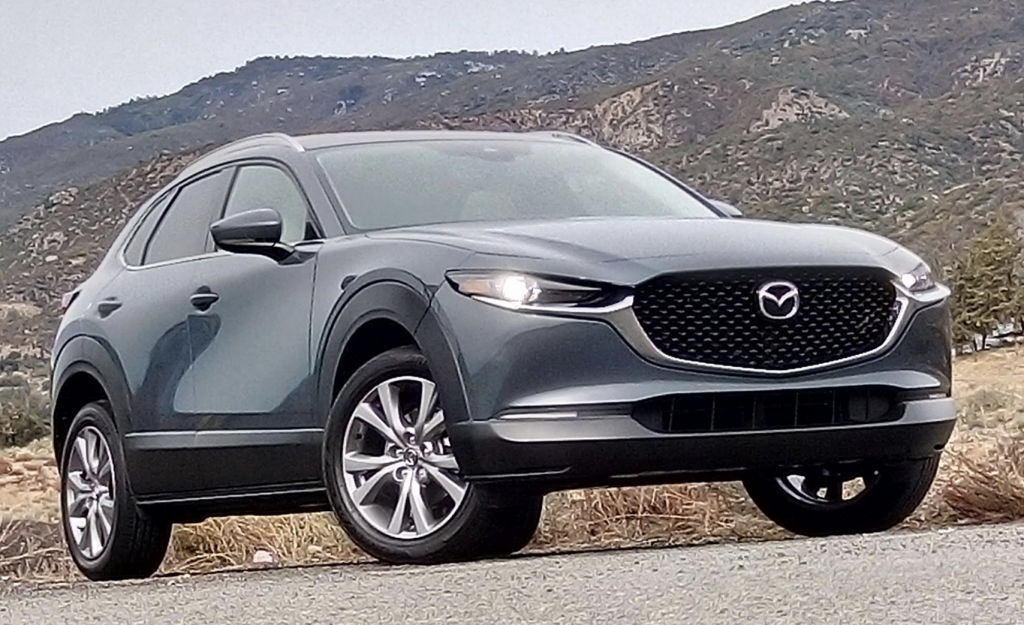 This is a vehicle Goldilocks may have influenced.
While the burgeoning popularity of crossovers has caused some hair-splitting additions to model lineups of late, the new Mazda CX-30 fills a surprisingly large gap between the company's CX-3 subcompact and CX-5 compact. And it fills that gap nearly dead-center, as its 173-inch length falls almost midway between the 168- and 179-inch spans, respectively, of its stablemates.
It also fills a gap in price.
While the smaller CX-3 starts at $21,435 including destination and the larger CX-5 at $26,135 — a whopping $4700 difference — the CX-30 starts at $22,945, or just $1510 more than the CX-3.
A notable element to the CX-30 is that it's fitted with the same engine that's standard in the larger CX-5: a 186-horsepower 2.5-liter four mated to a 6-speed automatic transmission. By contrast, the CX-3 has a 148-horsepower 2.0. The EPA rates the CX-30 at 25 city/33 highway/28 combined.
The CX-30 also has significantly more passenger and cargo space than the CX-3. Four six-footers should be able to sit in comfort, and the cargo area is not only larger, but it has a much taller floor-to-ceiling height, fixing a huge CX-3 demerit.
Test Drive: 2019 Subaru Forester Touring
Like all Mazdas of late, the CX-30 shoots a little above its mainstream pay grade. There are lots of padded surfaces inside, tri-tone color combinations are offered, and the overall look – at least on top-line models – is decidedly upscale. There are also some rare-for-the-class features available, another nod toward the company's near-luxury goal.
But with the CX-30, that's not really reflected in pricing.
Four trim levels are offered, all available with front-wheel drive or all-wheel drive. The base model starts at $22,945 with front-wheel drive, $24,345 (+$1400) with all-wheel drive; both prices include the $1045 destination charge. Standard are the expected features plus many that aren't: rain-sensing wipers, push-button start, 16-inch alloy wheels, Mazda Connected Services telematics with Wi-Fi hotspot, and 8.8-inch dash screen. Also standard is Mazda's iActivsense suite of high-tech safety features, which include forward collision warning and automatic emergency braking, lane-departure warning with lane-keep assist, driver-attention alert, adaptive cruise control with stop-and-go function, and automatic high beams.
The uplevel Select — at $24,945 with front-drive, $26,345 with AWD — adds blind-spot and rear-cross-traffic alert plus Apple CarPlay/Android Auto compatibility, keyless access, leatherette upholstery, dual-zone climate control, rear-seat vents, and 18-inch alloy wheels.
Moving up to the Preferred trim level ($27,245/$28,645) gets you a Bose audio system, heated front seats, 8-way power driver seat with lumbar adjustment and memory, and satellite radio.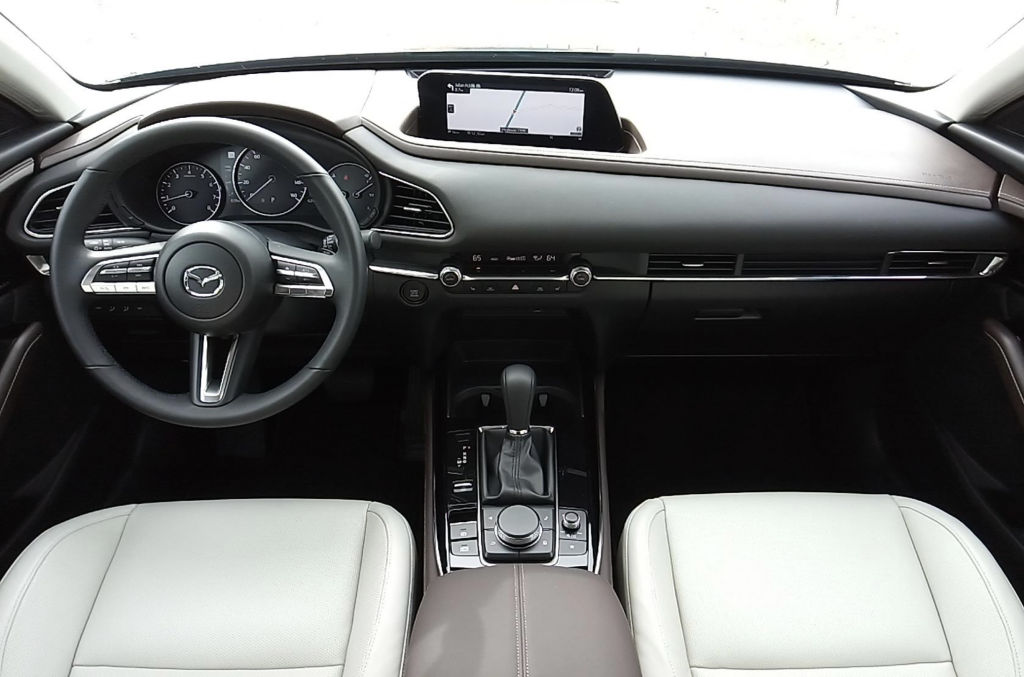 Topping the lineup is the Premium ($29,245/$30,645) that brings a head-up display, leather upholstery, power liftgate, power moonroof, and adaptive headlights.
Although Mazda considers the CX-30 a subcompact, we've parked it in our compact-crossover category. That puts its rivals at a higher price point, but the CX-30's numbers look good either way.
So the CX-30 offers a great combination of satisfying dynamics, fine cargo and passenger room, upscale trim and features, all at a very competitive price. So what's the catch?
Well, the same one suffered by all Mazdas.
As much as the company tries to justify its console-knob/non-touchscreen control layout, it's really not making the sale. Perhaps someone looked at premium-level cars, saw most had a similar system, and decided that was something that would give their vehicles an upscale ambiance. But it's really the wrong thing to copy.
In fact, that's one of our almost universal complaints about premium-level cars – besides the fact that "regular" ones are getting so close in almost every physical regard. And Mazda is the only mainstream manufacturer to use this type of system.
Quick Spin: 2019 Nissan Rogue SL
Mazda makes the argument that once an owner sets all their preferences and becomes accustomed to using it, the workings of the system aren't as much of a drawback, particularly since some basic adjustments can be made through steering-wheel buttons. And that's true. But the initial setup (and any changes thereafter) used to be eased by the fact you could use the screen as a touchscreen when the vehicle was stopped. No more. Now everything has to be done through the control knobs. And regardless of how good you get at using it, the real problem is the time spent looking at the screen while making adjustments that should be spent looking at the road. It's really hard to beat just reaching over and touching something when it comes to expediency.
Other interior elements are better.
The real star inside is the selection of materials. Although padding on the door tops is thin, everywhere else it's very thick, with most surfaces on the top-line model tested covered in nice-looking leather and other materials, with equally nice-looking trim. Adding to the ambiance are available tri-tone color combinations.
Quick Spin: 2019 Nissan Rogue Sport SL AWD
Visibility is fairly good to the left front, even better to the right front – which is rare. It's fair to the sides but poor to the rear corners, though a rearview camera helps when backing. Considering the CX-30's upscale character, it's a bit odd that a 360-degree camera isn't offered.
As mentioned earlier, passenger room is a plus point, particularly for a vehicle with such compact dimensions. Even really tall folks should find plenty of headroom and legroom in front, and my 5'9 frame managed to squeeze into the rear seat even with the front seat pushed far back, with headroom to spare – though a center-seater would have to contend with a tall, wide floor hump. And until the seat ahead was pushed far rearward, egress was a breeze, with a comfortable step-in height. Bonus points go to the power driver seat with tilt cushion, lumbar adjustment (both real comfort pluses) and memory.
Cabin storage space is only mediocre. The glovebox is small, but the console box is bigger and contains 12-volt and USB plugs under a sliding, flip-up cover. The only other spaces are the rather typical two cupholders, forward console bin under a USB plug, and map pockets with cupholders in the doors.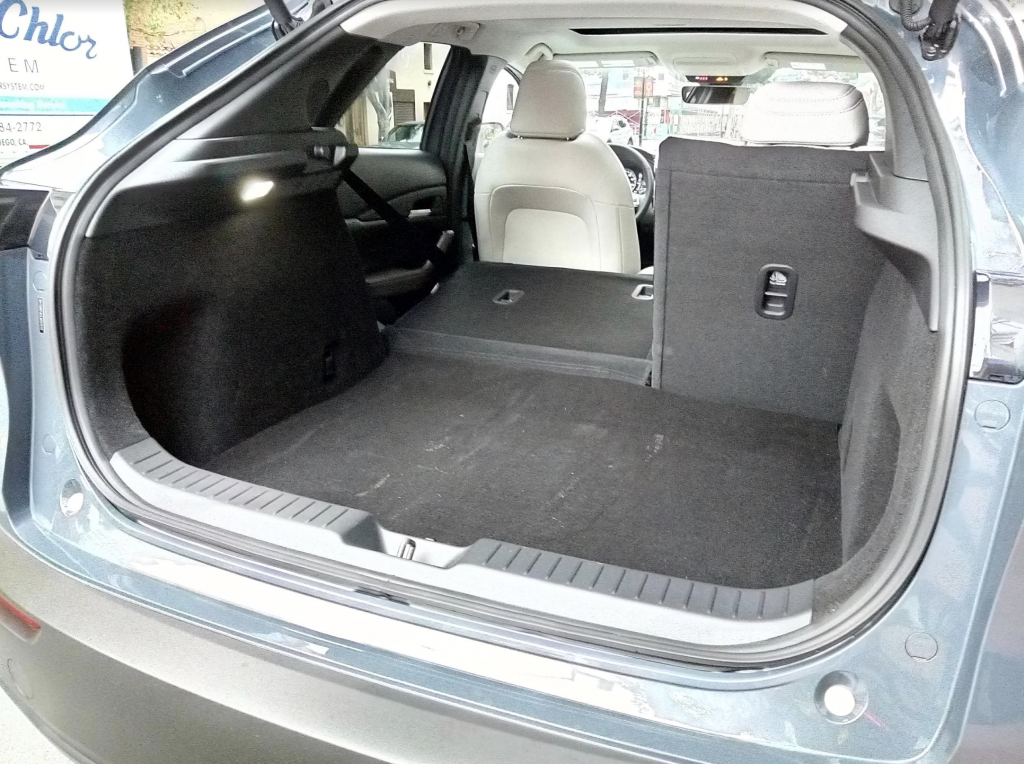 Cargo space in back is likewise good but not great. The area is taller and more cubic than in the CX-3, about on par with most small crossovers. There are pockets in the sidewalls to allow golf clubs to lay sideways, but there's no space under the floor. Folded rear seatbacks leave a bit of a ramp for long items to climb, though only heavy ones are likely to get caught on it.
Although the large 2.5-liter engine should be another strength of the CX-30, it wasn't evident in our "seat-of-the-pants" acceleration tests. But that may be because we were driving at an altitude of roughly 5000 feet, where we would have sacrificed about 15 percent of our power to "thin" air. But that doesn't affect transmission downshifts, which were about as quick as they get. We'll have a better feel for this after local testing in sea-level Chicago.
Mazdas have long resided on the sporty side of any segment in which they compete, and that doesn't change with the CX-30. Much of our preview drive in California was on twisty mountain roads, where the Mazda showed its stuff with little body lean, fairly quick turn-in, and a tendency to want to dive toward the inside of the corner in fast turns, which gives it a satisfyingly "eager" feel. Ride comfort was more difficult to assess on the smooth pavement, and that, too, will become more evident over Chicago's rougher roads.
Although the CX-3 is an impressively sporty small crossover, there's just too much emphasis on the "small" to attract buyers looking to that segment for utility. And while the much larger CX-5 takes care of that problem, it could be a bit too big (and a bit too expensive) for those looking for something tidier for city parking. So Mazda covered the difference with the CX-30, which for many may be juuuuuuust right.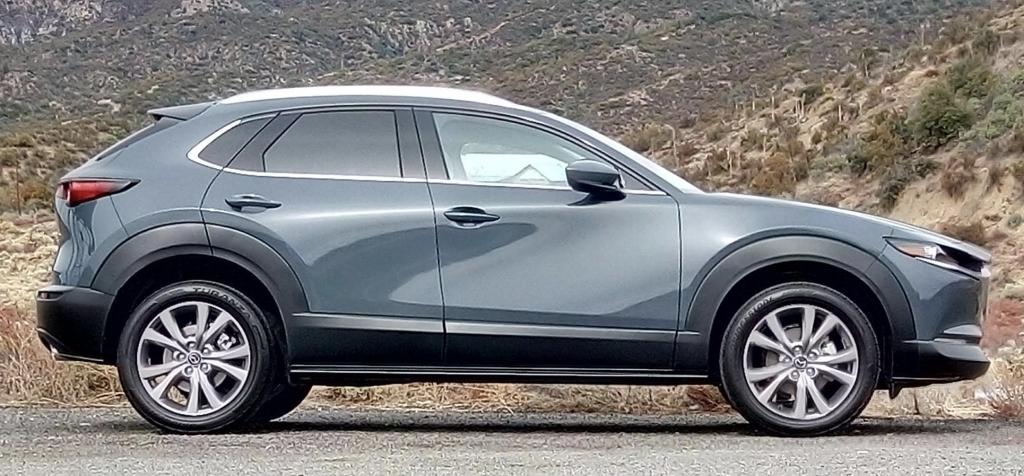 Check out our Compact Crossover Best Buys
Click here for a complete index of Consumer Guide Car Stuff Podcast episodes