As American new-vehicle buyers continue to choose SUVs in significantly greater numbers than traditional passenger cars, affordable cars of any type are less prevalent than they were as recently as five years ago. Enthusiast-friendly examples are a rarer breed still. When you sharpen the search to affordable, track-ready, rear-wheel-drive sports cars, you quickly determine they are approaching unicorn status.
So, it's a bit of a pleasant surprise that Toyota is introducing the 2022 GR 86 as the second-generation of its small rear-drive sports car—especially since the first generation didn't exactly set sales records. Toyota sold only 2476 examples of the 86 in the United States during 2020—the same year they moved 237,178 Corolla compact sedans and 430,387 RAV4 compact SUVs. The company says they hope to see U.S.-market sales of around 13,000 for the 2022-model-year GR 86, at the same time acknowledging that in the sports-coupe market, sales tend to wane quickly as the newness factor fades.
The GR 86 is not a clean-sheet redesign—it builds off the first-generation car's basic engineering, and once again Toyota has collaborated with Subaru on the design, development, and manufacturing. Subaru sells its version as the nearly identical BRZ (which is also redesigned for 2022 in the same fashion as the GR 86). The BRZ and Mazda's MX-5 Miata are the GR 86's main competitors.
When the inaugural version of 86 went on sale in the summer of 2012 as a 2013 model, Toyota marketed it to Americans as the Scion FR-S. When Toyota's youth-friendly Scion division was shuttered after the 2016 model year, the car moved to the Toyota brand, where it picked up the "86" name it already used in other markets.
2021 Chicago Auto Show: 2022 Volkswagen Golf GTI and Golf R
The 86 moniker pays tribute to Toyota's now-legendary "AE86" Corolla coupes and hatchbacks of the mid-1980s—aftermarket-tuner darlings that delivered affordable and highly entertaining rear-drive performance. The "GR" part of the new car's name refers to Gazoo Racing, Toyota's European in-house motorsports operation. Toyota uses GR globally to identify its sports cars.
Quick Spin: 2020 Mini Cooper SE Hardtop
For GR 86 duty, the existing 86 chassis has been upgraded with new diagonal crossmembers that strengthen the front suspension mounts, and a "full-ring" frame addition between the rear wheel wells improves the body's rigidity. The engineers have also added more high-strength steel and expanded the use of structural adhesives to further improve rigidity.
The exterior's overall shape is familiar, but there are many styling changes, such as grille mesh made up of G-shaped elements, pronounced side sills under the doors, and more smoothly shaped headlight and taillight lenses. Interesting aerodynamic details include functional pressure-relieving front-fender vents and small spoiler lips at the trailing edge of each rear wheel opening—Toyota says both of those features improve handling and stability.
Like the first-generation car, the hood is made from weight-saving aluminum, and now the front fenders and roof panel are stamped from aluminum as well. Curb weight increases a modest 35 pounds from the previous 86, to 2811 pounds for a base model with manual transmission (the automatic transmission adds 40 pounds). Wheelbase is up fractionally to 101.4 inches, overall length stretches an inch to 167.9, and the overall height drops 0.4 inches to 51.6.
Under the hood, the Subaru-sourced flat-4 engine gets bored out to increase the displacement from 2.0 to 2.4 liters. The new mill is good for 228 horsepower, which is an increase of about 18 percent from the previous 205-hp rating. Torque increases from 156 lb-ft to 184 lb-ft. More significantly, peak torque is now available at 3700 RPM compared to the sky-high 6400 RPM of the previous engine. A 6-speed manual transmission remains standard, with a 6-speed automatic optional. Estimated fuel economy with the manual is 19 mpg city, 26 mpg highway, and 21 combined; with the automatic the figures are 20/30/24.
Test Drive: 2020 Ford Mustang EcoBoost
Two trim levels are offered. The base GR 86 rolls on 17-inch alloy wheels with Michelin Primacy HP tires, and its standard features include dual-zone automatic climate control, black fabric seats, keyless entry, push-button start, LED headlamps, and a 6-speaker audio system with Apple CarPlay/Android Auto connectivity. The GR 86 Premium gets 18-inch black-finished wheels, Michelin Pilot Sport 4 rubber, leather-and-Alcantara seat trim with contrast-stitch detailing, heated front seats, 8-speaker audio system, metal-trimmed pedals, and a rear ducktail spoiler.
On the safety front, Premium models also get blind-spot monitoring and rear cross-traffic alert.  All automatic-transmission GR 86s are equipped with a suite of active safety features that includes active cruise control, a pre-collision system, lane departure warning, sway warning (which monitors driver drowsiness), lead vehicle start alert (which notifies a distracted driver that the vehicle ahead in traffic has pulled away), and automatic high-beam headlamps. Premium automatics also get parking sensors with reverse automatic braking. Here's a disheartening footnote for the "Save the Manuals!" crowd: Toyota expects 70 percent of GR 86 buyers to choose the automatic transmission.
The first-generation 86 proved popular with the aftermarket-tuner set, so for the 2022 model Toyota will catalog a GR-branded line of dealer-installed performance accessories. These pieces include a cat-back exhaust system, cold-air intake, strut tie brace, quick shifter kit, and upgraded brake pads. There will also be 17-inch bronze-finished wheels and a set of forged 18-inch wheels available.
Toyota has not yet released the GR 86's pricing, only saying the base car will start under $30,000. Expect prices to be announced closer to when the GR 86 starts arriving at dealers this November.
At the GR 86 media preview event at Monticello Motor Club in New York state, we sampled several different GR 86s on the facility's road-course circuit. We got seat time in both trim levels, with the manual and automatic transmissions. We were also able to refresh our memory of the first-generation 86—Toyota provided manual and automatic examples for us to drive on the track. Our on-road drives were limited to base GR 86s with the manual and the automatic.
The 2.4-liter flat four revs quickly. Power builds smoothly and steadily, and since this is a naturally aspirated engine there's no waiting for a turbo to kick in. We were very pleasantly surprised with the new engine—it feels gutsier than its 228-horsepower rating implies.
Toyota quotes a 0-60 MPH time of 6.1 seconds with the manual and 6.6 seconds with the automatic—dramatic improvements over the previous 86's respective times of 7.0 and 8.0 seconds. Even discounting the 0-60 sprints, GR 86 feels noticeably livelier all around compared to the 2.0-liter 86. The 2.4's flatter and more accessible torque curve plays an important role here. The GR 86's exhaust note is a sporty bark, but it's subdued enough that we don't think it will become bothersome on a long drive—at least not for the enthusiast drivers this car will attract.
The 6-speed manual has well-spaced gears, and the shifter feels good and delivers positive action with reasonably short throws. The clutch pedal has a short range of travel and engages close to the floor; we needed a few minutes to acclimate, but it quickly became second nature and very satisfying to use. The 6-speed automatic is smooth and alert—it did a fine job of picking the correct gear without us using the steering-wheel paddle shifters, both on our track drives and on the street.
Test Drive: 2021 Toyota Corolla SE Apex Edition
During street drives on semi-rural two-lane roads, we appreciated GR 86's balance of fun-in-the-twisties handling and ride comfort. Ride quality is firm, but it's damped enough that smaller bumps are smothered. Overall, it's sufficiently relaxed to avoid the annoyingly nervous and unsettled ride some performance cars are saddled with as a trade-off for their sharp handling. The crisp, accurate steering feels great—it's easy to point the car exactly where you want it to go.
On the track, Premium's 18-inch Michelin Pilots have noticeably more grip than the base 17s. In back-to-back drives with a 2020 86 (the car skipped the 2021 model year), the new car's retuned suspension feels sharper and more planted. The differences were most apparent in a fast right-hand sweeper, where the new car's front end held the line better and the rear felt more stable.
As is typical with 2-door coupes, the GR 86's doors are long—we needed to open them wide to get enough space to swing our size-13 feet in and out. The car sits sports-car low, and you drop down into the comfortably supportive bucket seat. The interior layout closely follows the previous 86's, and we found plenty of space for our 6'2" frame behind the wheel. Headroom is decent for a small coupe, but while wearing a helmet for our track drives, we needed to lower the seat height and recline a bit to find enough space so our helmet didn't press into the headliner. That's not a concern for everyone, but it will be for tall buyers of this car.
The new dash looks modern—the easy-to-read configurable instrument cluster and larger 8-inch touchscreen infotainment help bring the visuals up-to-date. Secondary controls are easy to understand and use. We liked the digital temperature displays at the center of the climate-control knobs, and the low-mounted window and side mirror controls on the door panel fall right where you'd want them. The steering wheel looks sporty and its leather wrap feels good, but the rim is a bit thinner than we'd have liked. Materials quality is up to par, and the dynamic, let's-get-to-business appearance is entirely appropriate for this car's mission. There's a bit of small-item storage scattered about, but we would have appreciated if the open space in front of the shifter was better defined as a small tray that could hold the key fob or our smartphone.
First Spin: 2021 Mazda 3 2.5 Turbo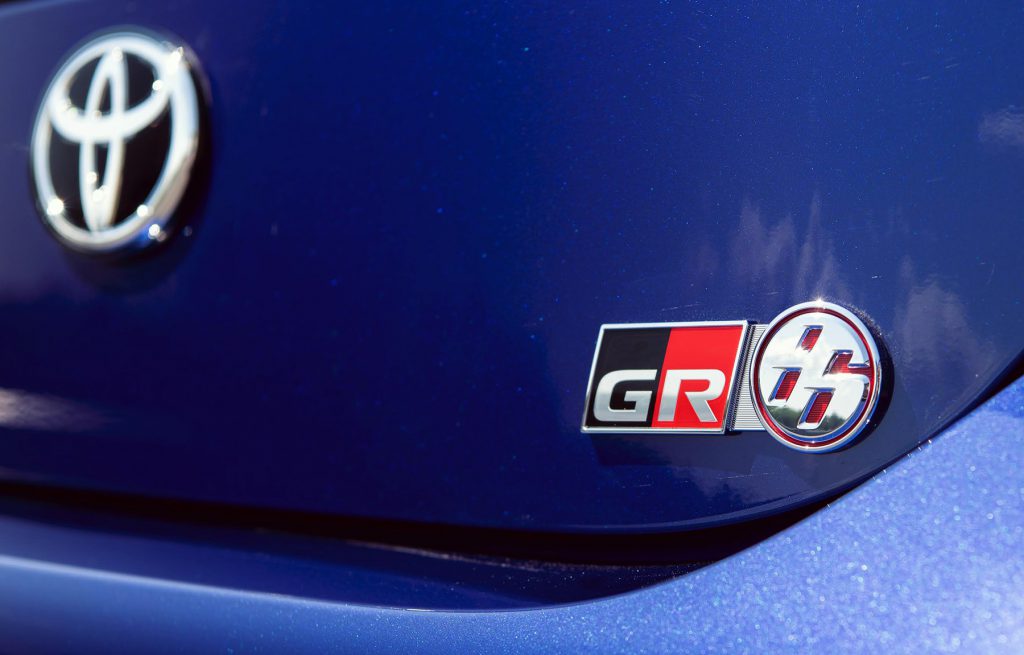 The GR 86 is technically a 2+2 coupe, but the emphasis is definitely on the front seats. The passenger-side seat slides forward to open up access to the rear seat, which wears cloth upholstery on the base car and Alcantara on the Premium. We were able to climb into the back seat a bit easier than expected, but once seated, the headroom was barely adequate—our noggin was brushing against the rear window. And the legroom was worse—we were able to squeeze behind the passenger's front seat, but only with it pushed far forward so it was uncomfortably close to the dash. With the driver's seat set for our normal driving position, the front seatback was up against the leading edge of the rear-seat cushion, leaving literally no leg room. Kids and smaller folks may fit in back with some cooperation on front-seat placement, but the GR 86 is best considered a two-seater with a surprisingly roomy cargo area behind the front seats.
Speaking of cargo space, the trunk is moderately sized and not particularly deep, but the lid opens wide enough that the room that's there should be very useable. In addition, the rear seat backs fold down to extend the space into the passenger compartment. Toyota says that combined cargo area is large enough to carry a set of four mounted tires if you remove the available subwoofer housing. This capability should prove handy for track days, and for owners in wintery climates, it helps make it easier to have your snow tires swapped at a shop.
Realistically, the rear-drive GR 86 isn't going to be as day-to-day practical as a front-wheel-drive hot hatch like a Volkswagen GTI. However, for a small sports coupe, the overall package is surprisingly functional… enough so that we can envision it as a daily driver for one or two people (who don't need to haul much else).
On paper, the evolution to the GR 86 from the first-generation model sounds modest, but the carefully considered fine-tuning here has made an already good car appreciably better. While we don't know prices yet, the car promises to offer a great fun-per-dollar ratio as well. When a friend of ours heard we just drove the GR 86, he asked why we thought the old car didn't sell better. Then he recognized that it's a true driver's car, and lamented that maybe there just aren't that many drivers left. If you're a driver that appreciates what the GR 86 offers, we'd give it a serious look, because unfortunately there aren't many cars like it left.
Quick Spin: 2021 Toyota Supra 2.0
Check out the Consumer Guide Car Stuff Podcast
2022 Toyota GR 86 Gallery
(Click below for enlarged images)
2022 Toyota GR 86
2022 Toyota GR 86