Ford officially unveiled its all-new pure-electric sporty crossover—the 2021 Mustang Mach E—Sunday night in Los Angeles, less than a week before the kick-off of the 2019 L.A. Auto Show. It's remarkable enough that this genre-smashing new vehicle is Ford's first purpose-built, regular-production, pure-electric vehicle (with no equivalent gasoline-engine version). What's almost as noteworthy is that Ford has elected to use the name of its beloved pony car, and make this new EV part of the Mustang "family."
2021 Ford Mustang Mach-E
Even the "Mach-E" suffix has Mustang roots—it's close to the Mach 1 Mustang performance model that debuted for 1969 and has appeared periodically in the Mustang lineup since then. Ford's press release officially calls the Mach-E an SUV, and claims the vehicle will fit five adults comfortably and offer ample cargo space. The listed cargo specs are quite good: The rear cargo area has 29 cubic feet of cargo space, which grows to 59.6 cu ft. with the rear seats folded down. There's also a drainable front-trunk storage unit with 4.8 cubic feet of cargo space.
The Mustang Mach-E will be built on Ford's all-new electric-car architecture; the battery is located on the floor between the front and rear axles. Standard-range models are equipped with a 75.7-kWh lithium-ion battery, while extended-range models get a 98.8-kWh battery; both offer a choice of rear-wheel drive or all-wheel drive. Ford is targeting a driving range of at least 300 miles with the extended-range battery and rear-wheel drive.
Targeted horsepower and torque ratings on extended-range AWD versions are 332 hp and 417 pound-feet. That's more than respectable, but there will also be GT and GT Performance Edition models that offer an estimated 459 horsepower and 612 lb-ft of torque. Ford is targeting 0-60-mph times of under 4 seconds in GT models, and in the mid-3-second range for the GT Performance Edition.
The Mach-E will also features Whisper, Engage, and Unbridled drive modes that Ford says offer "finely tuned driving dynamics packaged with a distinct sensory experience." Sportier steering, ambient lighting, and "sounds tuned for an authentic all-electric experience" are among the drive-mode parameters; we're guessing that last one means exciting (but artificial) powertrain sounds piped in through the stereo system.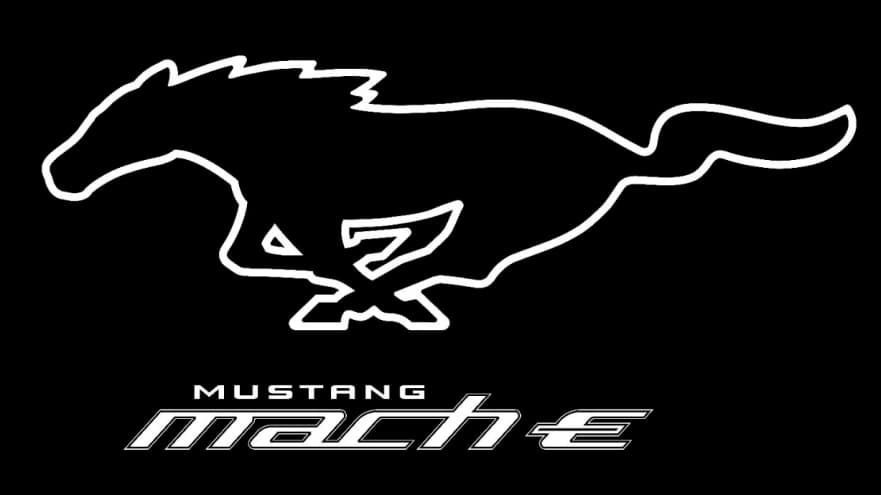 The Mach-E's interior has a large, vertically oriented 15.5-inch central touchscreen that appears similar to the one in the Tesla Model 3. A next-generation SYNC infotainment system will offer smartphone-linked user profiles, over-the-air software updates for future upgradability, and features such as machine learning to adapt to individual driver preferences.
Available features include the Ford Co-Pilot360 2.0 suite of driver-assist features, Ford's Magneride adaptive suspension system, premium Bang & Olufsen stereo, fixed panoramic sunroof, and Ford's Phone As A Key technology, which enables vehicle entry and starting via a user's smartphone.
The Mustang Mach-E is slated to go on sale late in the 2020 calendar year, with GT models set to follow in spring 2021.
Test Drive: 2019 Jaguar I-Pace
CG Says:
Wow. There's a lot to process here. First, there will be a Mustang SUV;  second, it will be a pure-electric vehicle; and third, there's a performance version that will be about as quick to 60 mph as a Porsche 911 GTS. We've known since early 2018 that this vehicle was coming, and that it was going to take its overall design inspiration from the Mustang, but we're a bit surprised that Ford is officially calling it a Mustang.
The strategy makes sense on many levels, however. The very rationally minded Chevrolet Bolt EV and Nissan Leaf, to name a couple current mainstream-brand EVs, are fine vehicles… but they don't really set anyone's heart afire, and they haven't exactly been roaring successes in the marketplace. Ford is clearly aiming for the Mach-E to have emotional, enthusiast driver appeal in addition to the requisite green-car credentials, and the company has put an exclamation point on that by naming the Mach-E after one of the most emotionally appealing vehicles it has ever made.
Quick Spin: 2019 Volvo XC60 Plug-in Hybrid
Check out the Consumer Guide Car Stuff Podcast