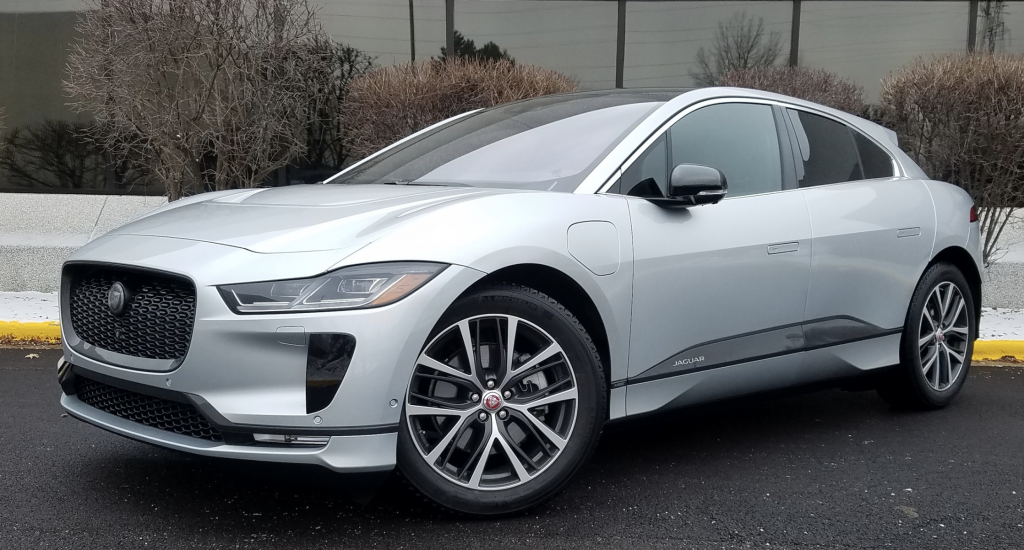 2019 Jaguar I-Pace EV400 HSE
Class: Electric Vehicle
Miles Driven: 152

Fuel Used: NA
Real-world fuel economy: NA

Driving mix: 50% city, 50% highway
CG Report Card
Room and Comfort
B-
Power and Performance
A
Fit and Finish
B-
Fuel Economy
A
Value
C+
Report-card grades are derived from a consensus of test-driver evaluations. All grades are versus other vehicles in the same class. Value grade is for specific trim level evaluated, and may not reflect Consumer Guide's impressions of the entire model lineup.
Big & Tall Comfort
Big Guy
B
Tall Guy
B
Big & Tall comfort ratings are for front seats only. "Big" rating based on male tester weighing approximately 350 pounds, "Tall" rating based on 6'6"-tall male tester.
Drivetrain
Engine Specs
394 hp
Engine Type
Electric motors
Transmission
Automatic
Drive Wheels
All-wheel drive
EPA-estimated fuel economy: 80 MPGe city/72 highway/76 combined

Fuel type: Electric

Base price: $80,500 (not including $995 destination charge)

Options on test car: Carbon Fiber Exterior Pack ($4390), Premium Textile Pack (n/c), 22-inch 5-spoke wheels ($1700), Aluminum Weave Carbon Fiber Trim Finisher ($1300), head-up display ($970), ebony suedecloth headlining ($900), four-zone climate control ($800), Adaptive Dynamics ($700), Indus Silver Metallic paint ($575), Premium Interior Protection Pack ($549), configurable ambient interior lighting ($250), chrome wheel lock pack ($249), basic rear seat convenience pack ($229), Activity Key ($200), Adaptive Surface Response ($150), front fog lights ($100), cabin air ionization ($100)

Price as tested: $94,657

Quick Hits
The great: Throttle response, acceleration

The good: Ride/handling combination, passenger room

The not so good: Control layout, visibility

Rick Cotta
Jaguar's I-Pace debuted to great fanfare this year, being the first "brand-name" all-electric all-wheel-drive crossover to rival the Tesla Model X for power and range. Touted for those and its undeniable character, it won a few coveted "Best of the Year" awards from auto reviewers around the world.
While our view isn't quite that rosy, let's start with the positive.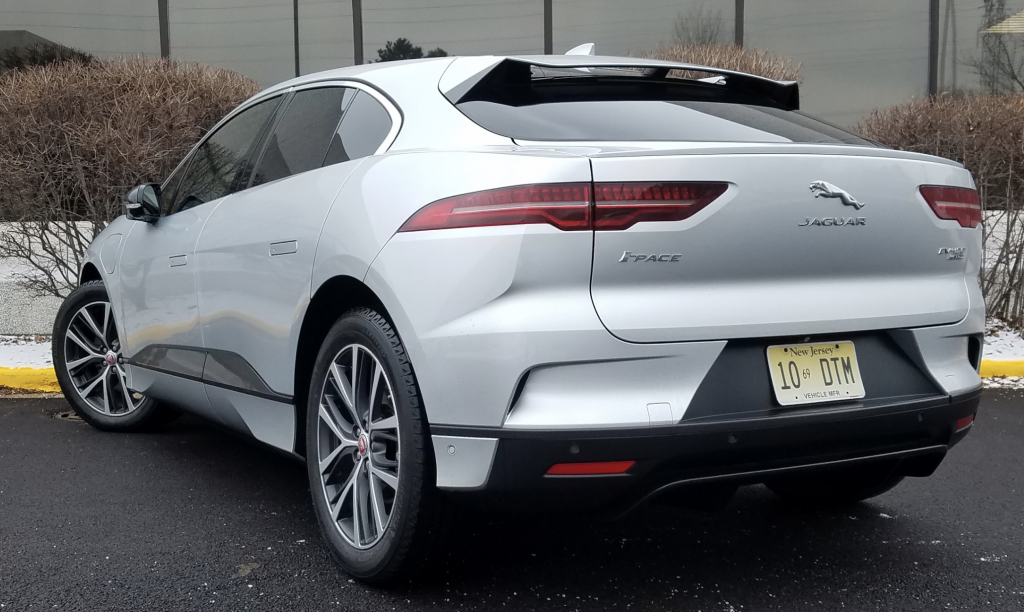 Where the I-Pace really shines is in dynamics. As the factory's impressive 4.5-second 0-60 mph claim suggests, this is one quick vehicle. As with most electrics, hitting the throttle produces an instant response, but it's an unusually strong one here, even at highway speeds. And when you let off the gas, the I-Pace slows to nearly a stop without having to hit the brake pedal (at least in normal driving) thanks to its electric motors' "regen" capability. The suspension supplies a firmly compliant if not actually cushy ride – about what you'd expect from a sportish vehicle – with a nimble feel in corners. And according to the EPA figures, the I-Pace's 90 kilowatt-hour lithium-ion battery gives it a range of 234 miles. Our only complaint here was in highway tracking, as keeping the I-Pace going straight seemed to take nearly constant tiny steering corrections.
In terms of interior space, the I-Pace is quite accommodating. There's good headroom and legroom in front, though some seat adjustments – which are normally easily done with buttons – have to be set through the touchscreen, a more tedious procedure. There's also good adult room in back, with fairly easy access.
From there things go downhill.
Guide to Electric Vehicle Charging

While the interior is nicely trimmed, one might expect more than just "nicely" for this kind of money. The seats, for instance, were upholstered in what the company calls Luxtec – "cloth" to anyone else – and the trim on our tester – some of which cost extra – didn't come off as being lavishly upscale. Storage space wasn't great, either, limited to a small glovebox, moderate-size console box with awkward-to-reach 12-volt and USB plugs, small center and larger forward console bins, two cupholders that wouldn't even hold a medium-size bottle, and small map pockets in the doors. Visibility was only fair to the front corners, bad to the sides and rear. There was a rearview camera, but it displayed on a split screen (rear and 360-degree views) that limited its scope to the sides.
Test Drive: 2019 Volvo S60 T8 Polestar

Then there's the control layout. While those on premium-level vehicles are almost universally complex – seemingly something those manufacturers thinks makes them look opulently "upscale" (News Flash: It doesn't) – the I-Pace's sits with the worst of them. There's a radio volume knob positioned out of easy reach to the far right, but everything else from an infotainment perspective has to be adjusted through the touchscreen, and few of those actions seem intuitive. Even the climate system takes way more study than it should, with one knob controlling too many functions. And while we rather liked the handy transmission-gear selector buttons on an angled console panel, the sequence went exactly opposite of what it's commonly been for 50 years, starting with Drive at the top and dropping down through Neutral, Reverse, and Park at the bottom. Why? Even the light switch was a pain to use, as it spring-loaded to the center position, so you couldn't see where it was currently set. The lone bright spot in this regard was that buttons to raise and lower the vehicle on its suspension (low for better aerodynamics, high for better ground clearance) are conveniently mounted on the console. Suffice it to say that a thorough study of the owners manual – probably accompanied by lots of trial and error – should be a buyer's Job 1.
2019 Detroit Auto Show: Cadillac EV
Although the I-Pace is pushed as a "crossover," the cargo area is smaller than what that might imply. The low styling means the ceiling isn't very high, the sloped roofline cuts cubic volume at the back, and the area is also quite narrow, with only enough under-floor space to hold the charging cable. There's an additional cargo hold in the front under the hood, but it's less than one cubic foot in size.
When we got our test vehicle, we were notified that it was an early pre-production vehicle, and that the software controlling battery management, charging functionality, and key infotainment features was essentially in "beta mode"–still in the process of being updated and refined. That would seem to explain a problem we encountered about midway through our test: After successfully charging the I-Pace a couple times on the Level 2 charging station at our office, an error with the vehicle's charging system occurred and the vehicle failed to take a charge. We attempted to charge the I-Pace on both a Level 3 charging station and our Level 2 station, and in both cases the vehicle would get stuck in the "initializing" phase and never begin charging. Naturally, this limited the miles we could drive. We trust that further revisions to the I-Pace's software have corrected this issue.
Even as premium electric vehicles go, the I-Pace doesn't come off as much of a value. Although the base model starts at about $70,000, our test HSE started at $80,500 – which grew to a sobering $94,657 with a long list of options, and though many were cosmetic, some didn't seem as though they should be optional at this price.
At first blush, the I-Pace looks like a winner. Great performance and great range combine with stunning looks and all-wheel-drive capability to make for a terrific first impression. But it's less inviting as an everyday driver, thus relegating it to more of a high-tech conversation piece than a useful premium crossover.
9 Electric Car Companies To Watch
Tom Appel
I agree with Rick–there is some degree of "tech for the sake of tech" to the I-Pace's control interface, but I didn't mind it nearly as much as Rick did. I was fortunate in that the problem charging our test vehicle didn't crop up until my turn in it was complete.
In nutshell, the I-Pace is a thrill to drive. Not only is it turbo-rocket-catapult fast, it handles surprisingly well for a crossover, and the firm, nicely weighted steering adds to the fun. Yeah, this car comes close to $100,000, but that's less than most Tesla Model Xs sell for, and in the ballpark of what the Audi e-Tron and Mercedes-Benz EQC will be priced at when comparably equipped.
For this kind of fossil-fuel-free fun, I am prepared to deal with a little gee-whiz gadgetry.
2018 Los Angeles Auto Show: Rivian R1T Pickup and R1S SUV Electric Concepts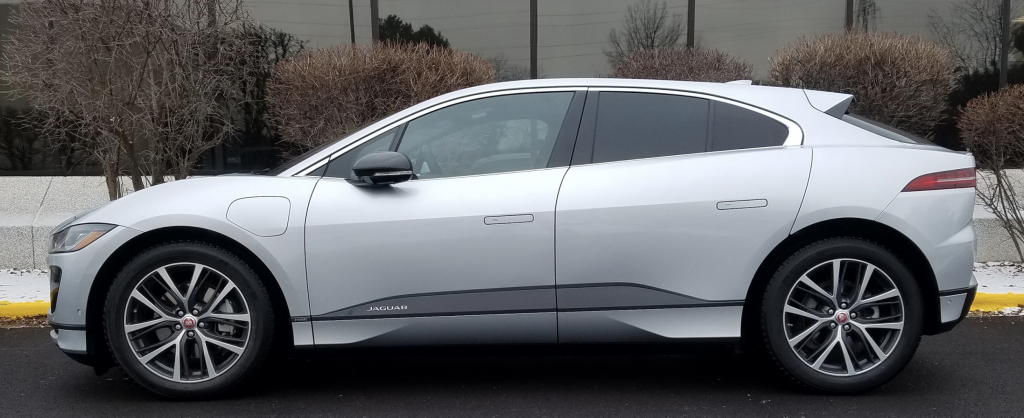 Check out our Electric Vehicle Best Buys
Listen to the very entertaining Consumer Guide Car Stuff Podcast
2019 Jaguar I-Pace