I'm an absolute sucker for car chases, so of course I sat through all two hours of the season finale of the FOX TV series Alcatraz last night just so I could watch about two and a half minutes of the heavily hyped Mustang-on-Charger action. Ford and FOX teamed up to feature the freshly introduced 2013 Mustang GT in a new-age homage to the classic Steve McQueen chase in the 1968 movie Bullitt. (However, the official press releases and promo materials are careful to never actually mention Bullitt or Steve McQueen—licensing costs or something, I'd imagine. Ford must have already paid a pretty penny for such prominent product placement.)
2018 Detroit Auto Show: 2019 Ford Mustang Bullitt
Bullitt Car Chase
You can watch the "tribute" chase at legendsofalcatraz.com. McQueen's modified Highland Green '68 Mustang fastback is replaced with the 2013 GT (in Deep Impact Blue this time), while the bad guys' '68 Dodge Charger is replaced by a lone baddie in a black 2006-10 Charger.  Anyone familiar with the original chase will recognize many "hat tips": the shot of the stalking Mustang in the Charger's rear-view mirror; the somber clicking of the seat belt just before the chase starts; the Mustang overshooting a corner and smoking the tires while backing up; the slow-moving VW Beetle (a '60s Beetle, not a new one) passed by both cars; and a few bone-crunching leaps over San Francisco's hilly streets. The Mustang driver even wears a turtleneck, and the Charger seems to "lose" its hubcaps before the chase in an intentional continuity glitch to match the multiple hubcaps that flew off the '68 Charger in the original chase.
However, there's plenty missing, too: no tension-building cat-and-mouse maneuvering set to a Lalo Schifrin score; no high-speed highway jousting; no gun play; no Charger flying off the road and careening into gas pumps. And, this being product placement, the new Mustang does more than its share of smoky burnouts and apparently has the ability to smash into the side of the Charger multiple times while sustaining no visible damage.
All in all, the tribute chase is a mildly entertaining diversion, but for me it mostly serves as a reminder that the original will probably never be topped.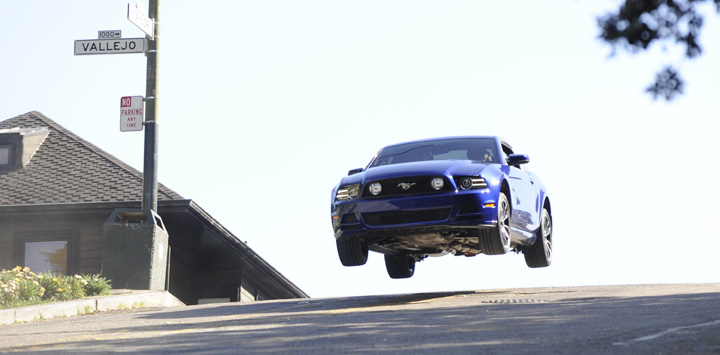 6 Coolest Police Vehicles of 2018
Bullitt Car Chase
Eight Things I Learned About Cars and Life While Watching The Blues Brothers
Bullitt Car Chase
Bullitt Car Chase