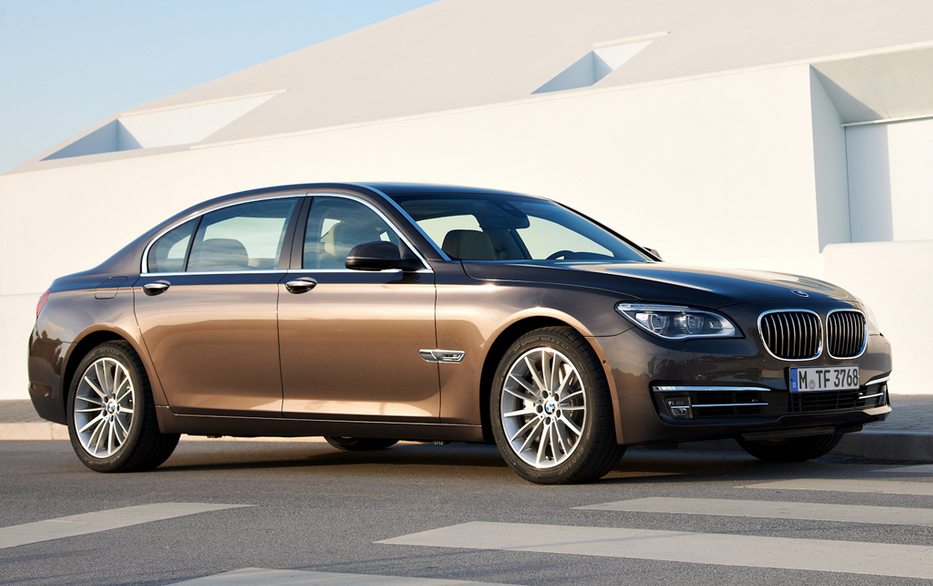 By Jim Gorzelany
2016 BMW 7 Series Review and Prices
The full-size BMW 7 Series luxury sedan is expected to receive a major redesign for the 2016 model year. Likely to continue in standard- and extended-wheelbase models, the automaker's flagships sedan will reportedly leverage carbon reinforced plastics and aluminum materials for the sake of what could be significant weight reduction, which should translate into improvements in ride and handling qualities, acceleration and fuel economy. The engine lineup will likely consist of a turbocharged six-cylinder, one or more V8s, and perhaps even a turbocharged four-cylinder as a price and fuel-economy leader. It's uncertain whether the next-generation would offer a V12 engine, though a first-ever high-performance M Performance version and a plug-in hybrid model are possibilities. Expect the car to offer a full range of cutting-edge chassis control, safety, convenience, and connectivity features. The next-generation 7 Series should be unveiled at the Frankfurt Motor Show in September 2015 and go on sale by year's end as a 2016 model.
Future Car: 2021 Nissan Xterra
What It Is
The BMW 7 Series sedan is the German luxury automaker's top model and is considered the ultimate expression of "the ultimate driving machine," to paraphrase the company's longtime ad tagline. It was introduced in 1977 and is currently in its fifth generation, which dates back to the 2009 model year. The largest BMW delivers ample of luxury with energetic overall performance and an exhaustive array of high-tech features in a wide assortment of model variations.
The current model's base 740i model is reasonably fuel efficient, though not particularly quick, with a 3.0-liter 315-horsepower inline six-cylinder engine. The car is more amenably paired with either the lustier, though less efficient, 443-horsepower twin-turbo V8 in the 750i, or a 536-horsepower V12 that goes to extremes in both price and performance in the top 760i. The six- and eight cylinder engines include fuel-saving stop-start technology. A gas-electric powered ActiveHybrid 740 version is alternately available with a 315-horsepower inline-six-cylinder engine, though it's a costly way to go "green" and only posts modest fuel economy gains. An eight-speed automatic transmission is standard. Top-priced Alpina B7 versions are hand-finished and built in limited numbers with added performance and luxury.
Regular ("i") and extended-wheelbase ("Li") versions are offered on most versions, with the latter adding rear-seat legroom, essentially for use as an "executive car" for the chauffeured set. The 7 Series models can accommodate four or five passengers (the former with rear buckets, the latter with a bench) with either rear- or all-wheel-drive, depending on the model. Various operating characteristics can be "dialed in" to accentuate aggressive acceleration, ride comfort or grippy cornering abilities as desired. Interior accommodations are first rate, with what are among the most comfortable front seats in the industry.
 Where It Fits
The BMW 7-Series competes with a small but stalwart segment of top-shelf luxury sedans that include the Audi A8 and Mercedes-Benz S-Class. Though the BMW was modestly refreshed for 2013, it underwent its last full redesign for the 2009 model year, meaning it's playing catch-up to the Audi and Mercedes entries that were recast for the 2011 and 2014 model years, respectively (with the A8 expected to receive a major makeover for 2015).
The 2014 Mercedes-Benz S-Class in particular has been garnering considerable attention, even several months before its release. Moving the vehicle farther upscale at the high end of the line to help the automaker fill the market gap left with the demise of its Maybach ultra-luxury division, the 2014 S-Class is predictably posh and powerful. Perhaps more noteworthy is that Mercedes engineers have managed to pack an impressive list of bleeding-edge high-tech features into the latest S-Class.
For starters, the 2014 S-Class is the first production vehicle that can nearly drive itself under certain circumstances. Equipped with a stereoscopic video camera at the front of the vehicle, the car can literally "see" the road ahead and react accordingly to help avoid collisions, adjust the suspension in anticipation of bumps and pavement imperfections in its path and automatically keep the car centered between highway lane markers. The car's Distronic Plus cruise control affords the closest thing yet to autonomous driving, particularly in slow stop-and-go traffic situations. The car's gorgeous interior coddles its occupants with an insane list of available over-the-top amenities that include rear seats that mimic a hot stone massage, heated armrests and an ionizing and perfuming feature for the climate control system.
It will be interesting to see how BMW counters with the redesigned 2016 7 Series in what's sure to be a high-tech features war among high-end sedans.
Engineering, Powertrains, and Features
Published sources indicate that the 2016 BMW 7 Series – which reportedly uses the internal designation "G11" — will be redesigned with significant weight reduction as a goal. Using construction techniques gleaned from developing the coming i3 and i8 electric cars, the next-generation 7 Series will likely make extensive use of lightweight materials like aluminum and carbon fiber-reinforced plastics. The British publication Autocar says the redesigned models could weigh less than the current midsize 5-Series. Tipping the scales in its lightest version for 2013 at around 4,300 pounds, the 2016 7 Series would have to lose about 600 pounds – which is no small feat – in order to approach the 5 Series, which starts at close to 3,700 pounds.
While we don't expect the car's exterior dimensions will change significantly, carrying less bulk should help improve the car's fuel economy and, in turn, boast reduced emissions, both to help the automaker meet stricter vehicle standard being implemented in the U.S. and Europe over the coming years. As a bonus, a lighter-weight 7 Series will probably also be quicker and treat a motorist to improved driving dynamics. It will almost certainly remain a rear-drive car in its base form, with the latest rendition of BMW's "xDrive" all-wheel-drive system available in most (if not all) versions.
Power could come from an assortment of engines. An entry-level 728i model is being rumored with a turbocharged 2.0-liter four-cylinder engine that could produce around 260 horsepower, though at this point it's not certain whether that version would find its way into the U.S. market, at least initially. Otherwise, we would probably see updated versions of the car's 3.0-liter inline-six-cylinder powerplant with around 340 horsepower, and the 4.4-liter twin-turbo V-8 with about 460 horses. These should all come with the latest fuel-saving technology including direct fuel injection, variable valve timing, and a stop-start function that automatically depowers the engine while at idle. A nine-speed ZF-engineered automatic could be the only available transmission.
Some reports suggest the 2016 BMW 7 Series might cease to offer a V-12 engine at the top of the range, but we suspect an improved 12-banger would continue in the line for well-heeled buyers, albeit likely in sales numbers that aren't likely to unduly affect the automaker's corporate average fuel economy. A six-cylinder diesel engine offering is also a possibility.
While a gas-electric ActiveHybrid740 version is likely to continue, some sources indicate the next-generation BMW 7 Series might be offered in a plug-in hybrid model at some point, with technology borrowed from Toyota. A first-ever M Performance version (though not a full-blown M7) could also be added to the lineup with a more-powerful twin-turbo V-8 and assorted steering, suspension, and braking upgrades for wealthy enthusiasts. Plusher and more powerful Alpina models will likely follow the standard 7 Series entries, though perhaps not until the 2017 model year.
Based on heavily camouflaged spy shots circulating the Internet, the car's styling updates should be more evolutionary than revolutionary in nature, with the 7 Series maintaining its basic size and shape, albeit with a lower hood line and revised version of the signature "Hofmeister kink" at the rear window pillar. Given the criticism BMW endured with the fourth-generation's 7 Series controversial exterior treatment for the 2002 model year (including the infamous "Bangle butt," derisively named after the car's chief designer Chris Bangle), we expect the automaker to play things relatively safe here.
Expect BMW to counter the redesigned Mercedes-Benz S-Class with an assortment of new convenience and chassis control technology. We'll probably see a self-parking function and some measure of autonomous driving from advanced adaptive cruise control that works in stop-and-go traffic, and a self-steering function that helps keep the car centered within lane markers. Expect the car to offer a wide range of customizable performance parameters that can transform the 7 Series driving characteristics from being plush and passive to reasonably stiff and sporty at the twist of a dial. Massaging seats are probable, as is a full "executive package" with a desk-like center console and assorted added amenities for rear-seat riders. The 2016 7 Series will almost certainly come with an updated version of BMW's iDrive multimedia system with perhaps the ability to recognize fingertip handwriting to enter navigation locations and perform other tasks. Instrumentation should be digital and readily configurable. The car will probably also offer full Wi-Fi hot spot Internet capability and advanced connectivity functions that could include the ability to download maps, apps and receive real-time traffic and travel data, among other functions.
Why It's Being Built
Though BMW sells far more compact 3 Series sedans and X3 crossover SUVs, the full-size 7 Series is its top-range flagship model. As such it exists for both bragging rights and hefty profit margins, particularly in higher-end versions that can easily surpass the $100,000 mark.  With the economy improving, new models entering the market, and wealthy buyers less concerned about their financial fortunes, analysts expect the luxury-car market to heat up in the coming months and years.
Mercedes-Benz raised the proverbial bar several notches with its redesigned 2014 S-Class, and we expect BMW to likewise pack the next-generation 7 Series with fresh technology to help the car keep pace with its chief rival.
What It Might Cost
We expect BMW will continue to keep the price of the redesigned 2016 7 Series positioned below that of its chief rival, the Mercedes-Benz S-Class, especially as the latter will be reaching higher into the price spectrum at the top of its line to help fill the gap in the automaker's lineup caused by the shuttering of the uber-upscale Maybach division at the end of the 2012 model year.
We'd expect base prices for a six-cylinder-powered 740i to range from around $75,000 for a standard-wheelbase rear-drive sedan to about to $85,000 for a long wheelbase version with all-wheel-drive. If a turbocharged four-cylinder model is in fact offered with the car's redesign, we anticipate it would come only in standard length and with rear drive, starting at around $73,000.
Base prices for a V-8-powered 750i will likely range from around $90,000 for a standard-wheelbase rear-drive version to about $97,000 for a long-wheelbase model with all-wheel-drive. Assuming the V-12 engine is still a part of the 2016 BMW 7 Series lineup, base prices might start at about $150,000 for the long wheelbase rear-drive 760iL.
If the gas/electric-powered ActiveHybrid740 remains a part of the lineup, it should start at around $87,000 for a long wheelbase rear-drive sedan. We can only guess at this point, but if a plug-in hybrid 7 Series does in fact come to market it might start at around $95,000.
CG Says
Even months before its release, the redesigned 2014 Mercedes-Benz S-Class caught the media's attention as the model to beat for car of the year, with its combination of handsome styling and whiz-bang auto technology. In the interim BMW is left to leverage whatever clever initiatives its marketing and public relations departments can come up with counter the spotlight glow of its prime competitor and prevent its flagship model from becoming an afterthought in a limited and lucrative auto segment.
Perhaps we exaggerate a bit, but BMW definitely can't afford to rest on its proverbial laurels with the upcoming 2016 redesign to maintain the 7 Series' status as being among one of the best sedans in the world. We expect BMW to emphasize the car's lively performance over sheer gimmickry, though we have no doubt the new 7 Series will introduce its own array of dazzling technology to help the car keep up with the competition.
The 2016 BMW 7 Series should continue to please affluent buyers with a wide range of model choices, a sporty attitude that belies its status as a top-range executive car, and sufficiently dazzling comfort, convenience, and safety features to impress one's fellow country club members.