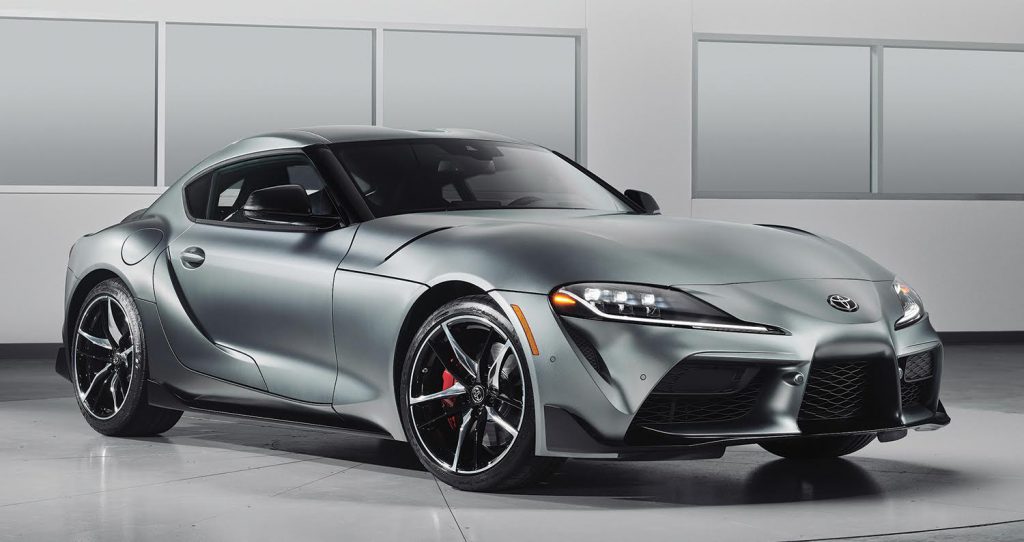 Note: The following story was excerpted from the February 2021 issue of Collectible Automobile magazine.


Toyota's sport-coupe history traces back to the 1967 2000GT, a handbuilt legend that sold only 62 copies in America. Then four generations of increasingly capable Supras were available in the States between 1979 and 1998. Reports of Supra's return surfaced way back in 2012 when Toyota and BMW announced they would jointly develop a sports vehicle. Toyota's result of the collaboration was indeed a renewed Supra that came out for 2020 and continues with some important changes for its second season. 

More sporty/performance-car news, reviews and fun
The current Supra, a two-seat hatchback, is based on the same rear-drive platform that made its debut under the 2019 BMW Z4 roadster. Styling was inspired by the 2014 Toyota FT-1 Concept drawn in the company's Calty studio in California. The designers were said to draw inspiration from the last-generation Supra and the 2000 GT, but it's thoroughly modern—and looks nothing like the Z4. Supras are assembled under contract by Magna-Steyr in Graz, Austria. 
Supras traditionally ran inline six-cylinder engines, so BMW's turbocharged 3.0-liter good for 335 horsepoweer and 365 pound-feet of torque seemed somewhat at home under the Japanese coupe's bonnet. Surprisingly, though, the only available transmission was an eight-speed automatic. Other greasy bits included an adaptive suspension and an active rear differential. 
Base Supras were called 3.0. Buyers were also offered the step-up 3.0 Premium model with heated leather seats, touchscreen navigation, 12-speaker JBL audio, and head-up display.
The first 1500 American-market Supras were Launch Editions based on the 3.0 Premium. Three colors were available: Absolute Zero White, Nocturnal Black, and Renaissance Red 2.0. All included red door-mirror caps and matte-black forged 19-inch wheels. White and black Launch Editions had red trim on the seats, steering wheel, and console, but the same areas were finished in black on cars with the red exterior. All received an individually numbered badge on the dash. 
For 2021, Toyota has added a less-expensive four-cylinder Supra 2.0 with a turbocharged 2.0-liter engine rated at 255 horsepower. Torque peaks at 295 pound-feet. Again, the only transmission is the eight-speed autobox. Supra 2.0 runs smaller front brakes, along with a traditional "passive" suspension and rear differential. It also gets a simpler four-speaker stereo and manually adjustable seats. However, weight is down by more than 200 pounds, and Supra 2.0 sprints from standing to 60 mph in five seconds.
The '21 six-cylinder Supras benefit from a strengthened engine rated at 382 horsepower and 368 pound-feet of twist. Claimed 0-60-mph acceleration of 3.9 seconds is an improvement of 0.2 second. The cars also get a retuned suspension, and revised programming for the power steering, adaptive suspension, stability control, and rear differential.
Also new is an A91 Edition based on the 3.0 Premium. Production is limited to 1000 examples, available in Nocturnal (black) and model-exclusive Refraction (white). A91s sport a carbon-fiber rear spoiler and mirror caps, C-pillar graphics, and matte-black wheels. The blue-trimmed black interior is an A91 exclusive, too. 
Supra base prices for 2020 were $49,990 for the 3.0; $53,990 for 3.0 Premium; and $55,250 for the Launch Edition. Supra's '21 pricing starts at $42,990 for the 2.0. Among six-cylinder models, the 3.0 costs $50,990; the 3.0 Premium goes for $54,490, and the A91 Edition asks $55,990. 
More from Collectible Automobile magazine
Pros:
BMW-sourced engines are highlights

Steering and handling are terrific
Cons:
Focus on performance limits the car's everyday usefulness

Unfortunately the eight-speed automatic isn't always a smooth shifter
Final Drive:
It might surprise some, but we think the 2021 Supra 2.0 could be the best choice. Simple and light often combine for memorably great sports cars, and the $8000 price advantage over the more-powerful 3.0 can't be overlooked.
Subscribe to Collectible Automobile
Follow Collectible Automobile on Twitter
2021 Toyota Supra
2021 Toyota Supra
2021 Toyota Supra