When you think about ¾- and 1-ton pickups, you probably think diesel engines. Any why wouldn't you? Even the most casual industry observer is aware of the Cummins, Duramax, and Power Stroke brands.
Mountain of Torque: Remembering the Short-Lived "Big-Block" Chevrolet Avalanche
The statistics vary somewhat based on who is reporting them, but the diesel take rate on heavy-duty pickups ranges from around 70 percent for the Chevrolet Silverado to about 80 percent for the big Rams. High as these numbers seem, they are even more remarkable when you realize the optional diesel engines on heavy-duty pickups typically add around $8000 to the sticker price.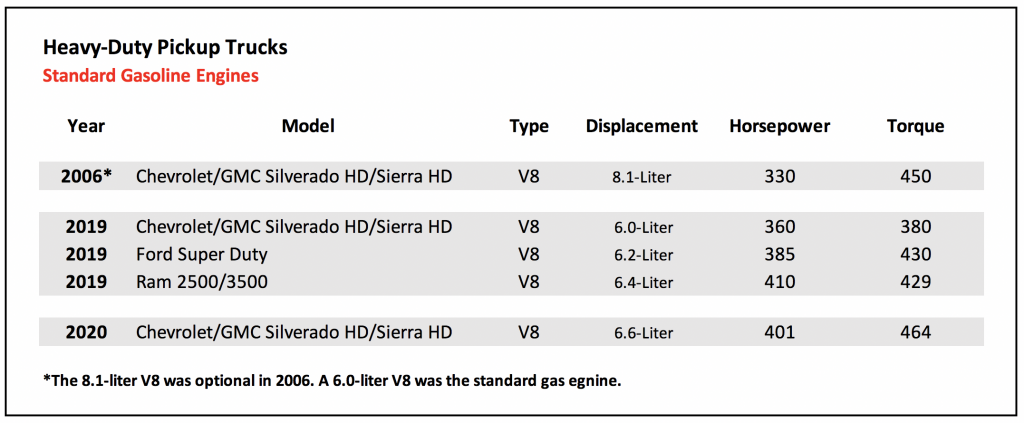 All that said, that still leaves a fair number of HD-pickup consumers who opt not to go with a diesel engine. For those shoppers, each of the Detroit Three makers offers a burly standard gasoline-fueled V8.
For the Chevrolet Silverado HD and GMC Sierra HD, that engine is a 6.0-liter mill that produces 360 horsepower. With almost 400 lb-ft of torque on tap, the engine (dubbed L96 by GM) should provide sufficient grunt for all but the most serious work.
However, GM is upping the gasoline-engine ante for 2020, replacing the L96 with the all-new 6.6-liter L8T V8. A fifth-generation small block per GM's marketing folks, the new engine features a stout cast-iron block fitted with lightweight aluminum heads. The new mill retains the 6.0-liter engine's overhead-valve/pushrod design, but now boasts direct injection.
General Motors hasn't provided the L8T's exact displacement, but based on the V8's 4.06-inch bore and 3.96-inch stroke, we should be looking at almost exactly 400 cubic inches.
The L8T will be the largest-displacement gasoline engine found under the hood of a Silverado or Sierra since the monster 8.1-liter L18 engine was dropped from the pickup roster after 2007. The new engine will likely pair only with a 6-speed automatic transmission.
It's worth noting that the L8T is not equipped with GM's Active Fuel Management system, which allows the engine to operate on as few as two cylinders if load demands allow, nor is it equipped with an engine stop/start system.
What is Dynamic Fuel Management?
The L8T engine is scheduled to appear first in the 2020 Chevrolet Silverado HD and 2020 GMC Sierra HD. GM is mum on further applications, but we wouldn't be surprised to see the engine made available in Chevrolet's new line of medium-duty chassis cabs, which include 4500-, 5500-, and 6500-Series models. The medium-duty Chevy trucks are currently offered only with a 6.6-liter Duramax diesel V8.
One last note: Word is out that Ford will be introducing a new gasoline V8 engine for its heavy-duty pickups for 2020 as well. Said to displace 7.3 liters, the new powerplant may be offered alongside the base 5.2-liter gasoline V8 currently standard on Ford heavies.
General Motors L8T V8