Even if you're only casually interested in automotive technology, there's a good chance you've heard of Cadillac's ill-fated V8-6-4 engine, which became available for the 1981 model year.
As its name suggests, the V8-6-4 engine could operate on all 8 cylinders, but shut down 2 or 4 cylinders as load demands allowed for improved fuel efficiency.
The engine worked well in theory, but in practice proved problematic, as its computer management system proved unable to effectively process the data necessary to keep the cylinder-deactivation system in sync with power demands.
The result was an unpleasant driving experience that fell far short of consumer expectations.
Technology has come a long way since the V8-6-4's debut. In the last decade or so, several automakers have introduced powertrains with smoothly integrated cylinder-deactivation systems.
Chrysler offers its Multi-Displacement System (MDS) for its Hemi V8 engines, which allows the powerplants to operate on 4 or 8 cylinders as power demands warrant. Honda's Variable Cylinder Management System (VCM) allows some Honda V6 engines to operate on 6, 4, or as few as 3 cylinders. And, Mazda introduced a system for 2018 that enables the 2.5-liter 4-cylinder engine in the brand's popular CX-5 compact SUV to operate on just 2 cylinders.
New for 2019 is a General Motors system dubbed Dynamic Fuel Management (DFM). This system differs from those mentioned above by allowing the engine to run on as many or as few cylinders as necessary—even just 2, if conditions permit.
The system—dubbed Dynamic Skip Fire by supplier Delphi, which developed the technology with GM—will be seen first on V8 engines installed in the all-new 2019 Chevrolet Silverado 1500 and 2019 GMC Sierra 1500.
What follows is Chevy's press release announcing the availability of DFM in the new pickups:
–
DETROIT — The all-new 2019 Chevrolet Silverado 1500 will offer the most advanced gasoline V-8 engines in the brand's history: updated versions of the proven 5.3L and 6.2L V-8s with Dynamic Fuel Management. This industry-first cylinder deactivation technology enables the engines to operate in 17 different cylinder patterns to optimize power delivery and efficiency.
"Chevrolet first introduced its Active Fuel Management cylinder deactivation system in 2005, and Dynamic Fuel Management is a natural progression of the technology," said Jordan Lee, Small Block chief engineer. "Dynamic Fuel Management enables only the cylinders needed to deliver the power you want, seamlessly delivering the best balance of power and fuel economy."
Compared to Active Fuel Management, which alternates between eight- and four-cylinder modes, DFM features 17 cylinder patterns. That greater authority mixes cylinder patterns constantly to optimize efficiency and power delivery at all speeds.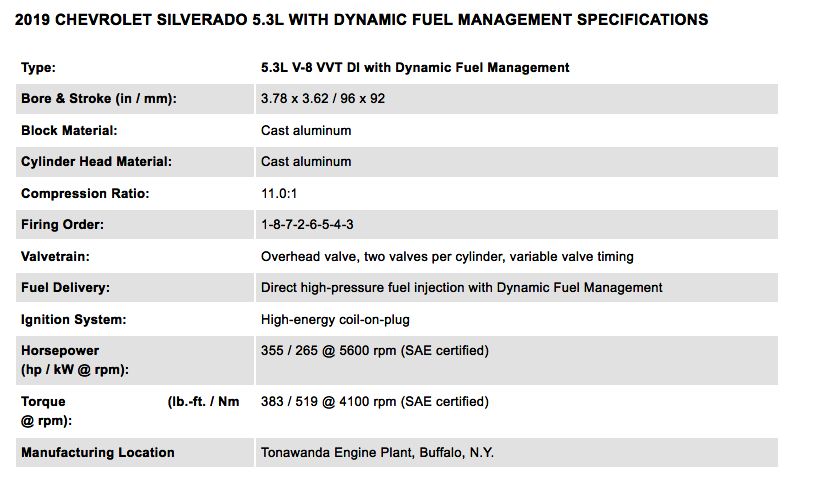 During an industry-standard test schedule, the 2019 Silverado 2WD with the 5.3L and DFM operated with fewer than eight active cylinders more than 60 percent of the time, 9 percent more than a comparably equipped 2018 model with AFM.
DFM is powered by a sophisticated controller that continuously monitors every movement of the accelerator pedal and runs a complex sequence of calculations to determine how many cylinders are required to meet the driver's requested torque. It can make this determination 80 times per second.
An electromechanical system deactivates and reactivates all 16 of the engine's hydraulic valve lifters, controlling valve actuation. The system uses solenoids to deliver oil pressure to control ports in the lifters, which activate and deactivate the lifters' latching mechanisms. When a cylinder is deactivated, the two-piece lifters effectively collapse on themselves to prevent them from opening the valves. When the cylinder is reactivated, solenoids send an oil pressure signal to the control ports on the lifters and the latching mechanism restores normal function, allowing the valves to open and close.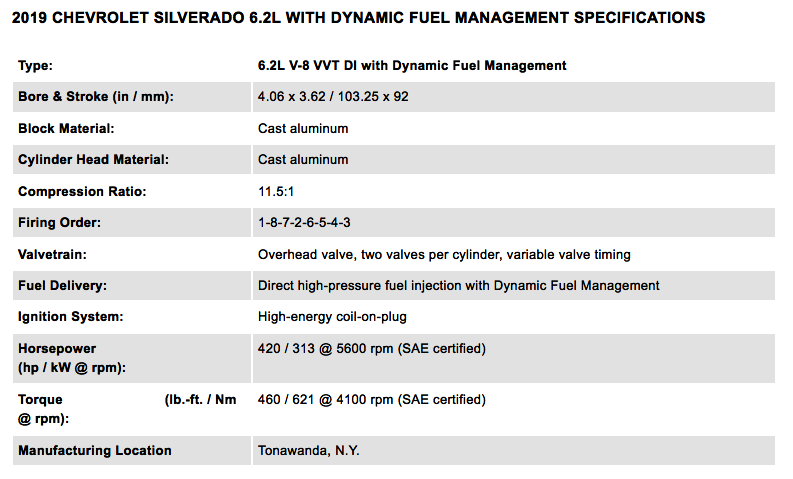 Mountain of Torque: Remembering the Short-Lived "Big-Block" Chevrolet Avalanche
"The increased variability of Dynamic Fuel Management means the engine will operate more often with a reduced number of cylinders, which saves fuel across the board," said Lee. "Better yet, the transitions are transparent, and because the system is torque-based, you've always got that satisfying feeling of power on demand that comes from Chevy's Gen V Small Block V-8 engines."
The 5.3L V-8 with DFM is SAE-certified at 355 horsepower (265 kW) and 383 lb-ft of torque (519 Nm) and is matched with a Hydra-Matic eight-speed automatic transmission.
The 6.2Lwith DFM — the largest and most powerful gas V-8 in the segment — is SAE-certified at 420 horsepower (313 kW) and 460 lb-ft of torque (623 Nm) and is paired with a Hydra-Matic 10-speed automatic transmission.
Both transmissions feature enhancements designed to improve shift quality, as well as a new centrifugal pendulum absorber torque converter that reduces vibrations to improve smoothness, particularly during cylinder deactivation events.
The engines also feature driver-selectable stop/start technology that helps save fuel in stop-and-go traffic. The 5.3L version is standard in LTZ and High Country models and available on LT, RST and Trail Boss. The 6.2L is available in LTZ and High Country. Both engines will be built at General Motors' Tonawanda Engine Plant in Buffalo, New York.
Active Fuel Management also is employed on the Silverado's standard 4.3L V-6 and E-85-capable 5.3L V-8.
The 2019 Silverado goes on sale this fall. EPA fuel economy estimates and towing/payload capacities are not yet available will be announced closer to launch.
Tons of Torque: A Guide to Pickup Truck Diesels