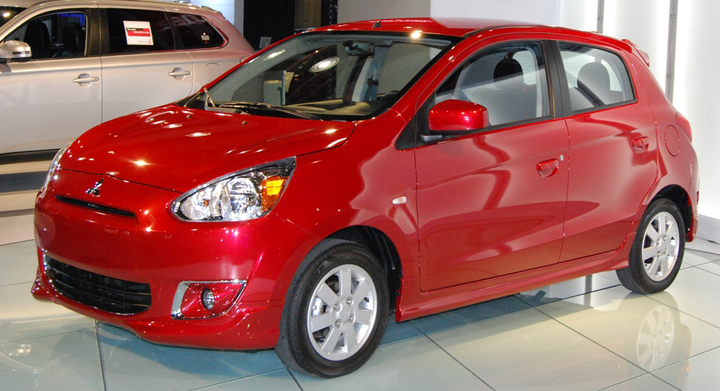 Mitsubishi is following its former corporate partner, Chrysler, in resurrecting a name from the past to power a new-generation small car. Dodge has the 2013 Dart; Mitsubishi has the 2014 Mirage.
I Broke the 50-MPG Barrier Driving Through Wisconsin. It Was Hell.
The Mirage name has a long and convoluted history. Part of the complication comes from Mitsubishi's ties with Chrysler. A car based on the Mirage was sold through Dodge and Plymouth dealers as the Colt and through the short-lived Eagle brand as the Summit. From 2002 to 2012, a car that was technically a Mirage was sold in markets outside the U.S. as the Colt. Confused yet?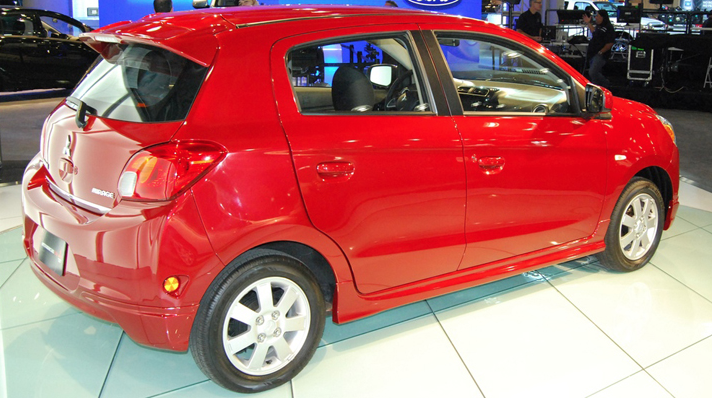 The 2014 model that will be offered for sale in the U.S. is a 4-door subcompact hatchback that slots between the Chevrolet Spark and Honda Fit in size. It derives some of its basic design from a car manufactured in Thailand and sold to that market, Japan, and Australia.
Powering the U.S.-spec Mirage is a 74-horsepower 1.2-liter 3-cylinder engine paired with a 5-speed manual or continuously variable transmission (CVT). The company is projecting fuel economy of 37 mpg city/44 mpg highway.
Trim levels will include base DE and top-line ES. The former will include automatic climate control, power windows/locks/mirrors, and remote keyless entry. The ES adds alloy wheels, fog lamps, keyless entry with pushbutton engine start, cruise control, and Bluetooth. A navigation system, rearview camera, and front- and rear-obstacle detection will be optional.
The 2014 Mitsubishi Mirage will go on sale this fall.
Test Drive: 2017 Mitsubishi Mirage SE
CG Says: We admit we didn't see this one coming. The revamped 2014 Outlander will be hitting dealers this summer, and the company has more plans to refine the smaller Outlander Sport. With the midsize Galant sedan and sporty Eclipse coupe and convertible now history, we would have expected an announcement about a redesigned or at least significantly freshened Lancer. While that has to be in the cards, New York was not the time to announce it. In any case, it's interesting to see some additional niches opening up among subcompact cars. You have the ultra-tiny ones, such as the Chevy Spark and Scion iQ, and "traditional" models such as the Ford Fiesta and Honda Fit. Mitsubishi hopes to split the difference with the Mirage. We'll soon find out if this strategy, along with the use of a 3-cylinder engine, ultimately pays off for the struggling Japanese automaker.
More from the New York Auto Show