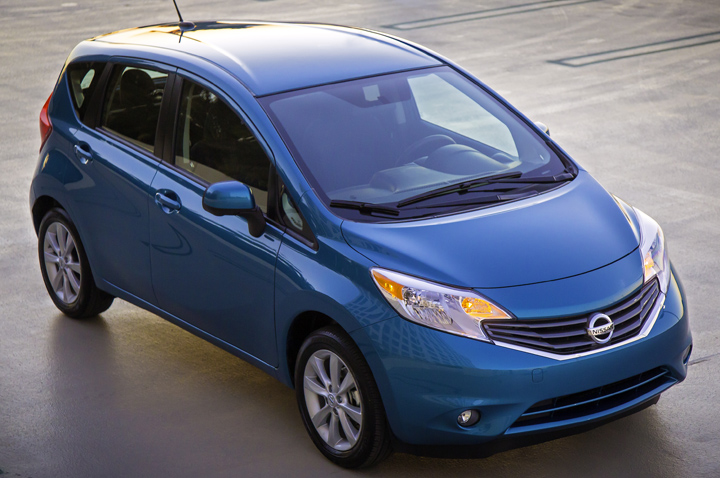 Nissan pulled the wraps off the hatchback companion to its popular Versa sedan at the 2013 Detroit Auto Show. Also on display was a concept vehicle that could be a harbinger of the next-generation Murano midsize SUV.
Test Drive: 2014 Nissan Versa Note SL
Let's start with a car that will be reaching dealerships this summer. The 2014 Nissan Versa Note (don't ask us where the Note part of the name comes from) will be one of the least-expensive hatchbacks sold in the U.S. with a starting price of $13,990.
Trim levels include S, S Plus, and SV. There will also be an SL variant, but Nissan calls it a package rather than a separate model. All will have a 109-horsepower 1.6-liter 4-cylinder engine. A 5-speed manual transmission is standard on the S. Optional on it and standard on the rest of the line is a continuously variable transmission (CVT) that behaves like an automatic. Nissan is projecting fuel economy for CVT-equipped Versa Notes at 31 mpg city/40 mpg highway.
Though a complete breakdown of feature availability was not available, Nissan officials say the Versa Note will be available with some items that belie its low price. These include a navigation system, heated front seats, and the company's Around View Monitor, which uses several onboard cameras to project a 360-degree look around the vehicle.
Also at Nissan's Detroit Auto Show stand was the Resonance Concept. Though purely a design exercise at this point, the company claims that this 5-seat SUV "signals the future direction of Nissan crossovers with smart, edgy design." We'll say you're probably going to see several elements of this vehicle in the next-generation Murano.
Powertrain details were scarce, but the all-wheel-drive Resonance uses a small internal combustion engine with a battery-powered electric motor, mated to a CVT.
The interior design, according to Nissan, was inspired by "what the future of first-class space travel might be." The control panel in the middle of the dashboard certainly has a futuristic, sort of Star Trek look to it. The roof is made entirely of glass, so occupants can see in just about any direction.
Though no production details were announced, we do know that Nissan plans to move production of the next-generation Murano to the U.S. from its current home in Japan. Model-year 2013 is the fifth for the current Murano, so it's approaching the end of its lifecycle. We would expect a redesigned version to be available in calendar 2014 for either that model year or 2015.
Test Drive: 2018 Chevrolet Cruze Diesel
CG Says: The last several model years have been kind of up and down for Nissan. The 2012 Versa sedan and 2013 Sentra were, overall, a step back from their respective predecessors. The 2013 Altima and Pathfinder are excellent choices in their respective segments. Where the 2014 Versa Note will fall is anyone's guess at this point. If it manages to get the added dose of refinement that the sedan lacks, it could prove to be a surprise hit.
As far as the Resonance goes, its exterior styling seems a bit on the generic side. From the front roof pillar back, it looks like a regular Murano whose roof has been squished by a car compactor. The interior, though, is terrific. Its clean lines flow seamlessly around the cabin, and the high-tech dashboard is a delight to look at. Hopefully, the next-generation Murano will be a bit more daring in its exterior appearance while retaining the style of the Resonance's interior.