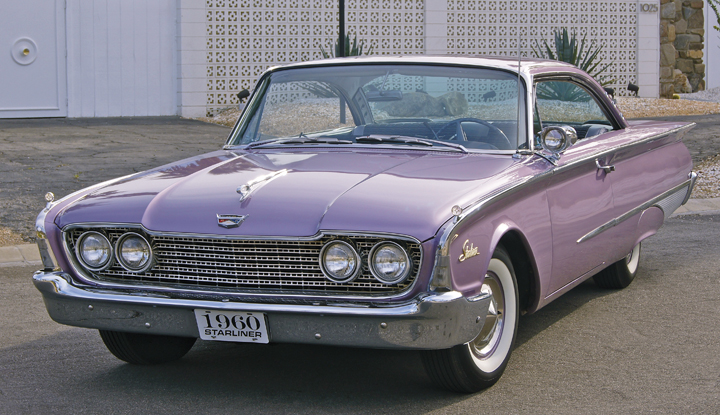 Note: This article is reprinted from the October 2014 issue of Collectible Automobile
Say this for the 1960 Ford: It was big and it certainly was bold. 
Ford's all-new "standards"—a qualifier that was especially necessary now that the division was also making the personal-luxury Thunderbird and the compact Falcon—dropped every comfortably familiar marque styling cue of recent years. Instead, Ford went to a low, wide design topped off by trendy horizontal tailfins.
A broad grille that newly incorporated the quad headlights clearly demonstrated that the Fifties were over. The usual circular taillights were abandoned for roughly semicircular lenses set at either end of a concave body cove. Closed cars were topped by glassy "greenhouses" that Ford said had up to 31 percent more glass area than before. Reverse-slant "dogleg" windshield pillars, a faddish but not particularly convenient feature of recent years, were replaced by forward-leaning pillars that eased entry and exit.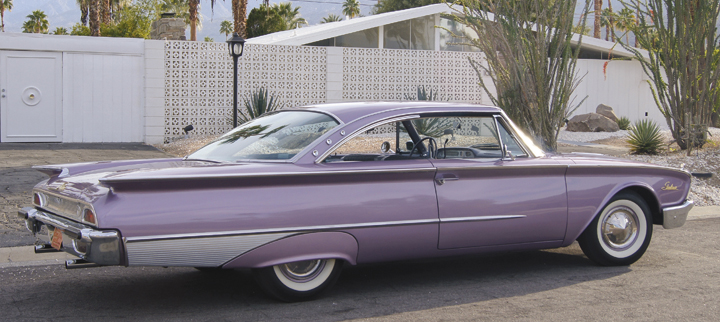 The look had originated as an advanced-design project dubbed "Quicksilver." When influential company chieftains warmed to it—by some accounts after being tipped off that rival Chevrolet was going to sweeping "batwing" fins for '59—the concept was ticketed to be the 1960 Ford.
More Collectible Automobile Photo Features
The result was a car that was 5.6 inches longer and 4.9 inches wider than the popular 1959 Ford. Meanwhile, the '60 two-door hardtop sat an inch lower at 55 inches tall. Though the Quicksilver had been expected to ride an all-new chassis, the production 1960 Ford actually used a modified version of the marque's existing platform, albeit with the wheelbase nudged up one inch to 119.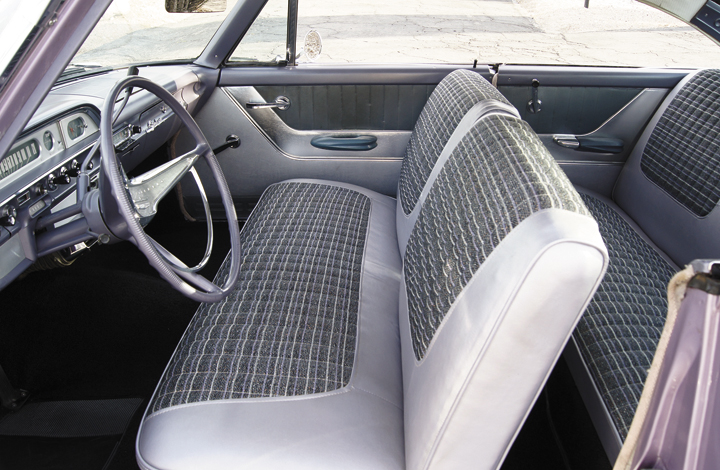 If anything stayed the same, it was the series names. The Galaxie, which had just been introduced in '59, remained Ford's top line. It included two- and four-door sedans, a four-door hardtop, the Sunliner convertible, and a two-door hardtop newly known as the Starliner.
While other closed Galaxies kept their Thunderbird-inspired roofs with wide sail panels, the Starliner changed to thin, arcing pillars and a huge backlight, a style that was popular in America then. However, Ford customers didn't seem to like it as much, and it was dropped after 1961.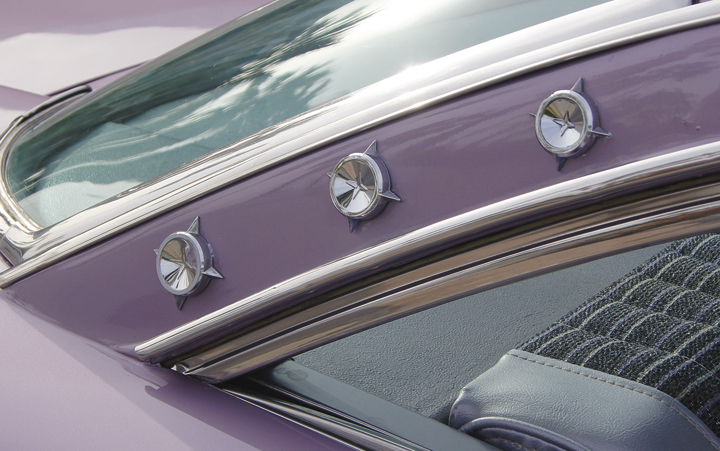 Here's another thing that can be said for the 1960 Fords: Some of them were lavender, or—to be exact—Orchid Gray. In fact, that is a reason why Andy Linsky, of Palm Springs, California, owns the Starliner featured here.
"My mother had a 1960 Ford Sunliner in Orchid Gray with white top and orchid interior. How could I resist?" he told us.
Subject to a restoration done by a previous owner, Linsky's Starliner comes with that year's base V-8 engine offering, a 292-cid powerplant. Designed to run on regular fuel, it used a two-barrel carburetor and generated 185 bhp. Other extra-cost features of the car that would have inflated the $2610 starting price are its Fordomatic automatic transmission, dual exhausts, power steering, premium push-button radio, "Select-Aire" air conditioner, chrome hood ornament, spotlight, fender skirts, back-up lights, and rubber-tipped rear bumper guards.    
Smaller Still: The Personal Luxury Cars of 1980