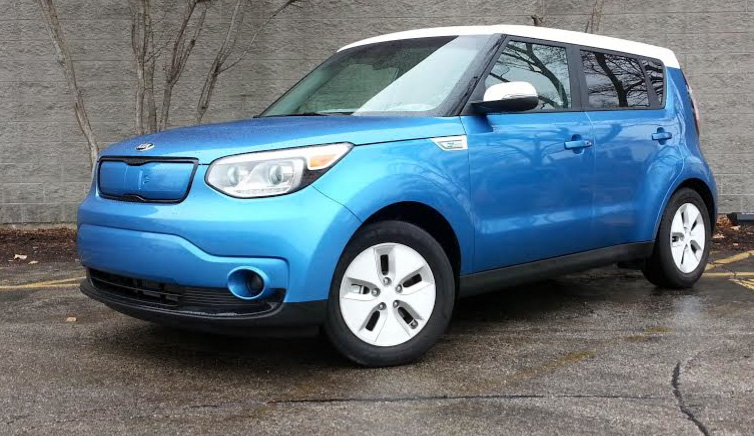 2015 Kia Soul EV

Class: Electric Vehicle
Dates tested: 12/22/2014 – 1/05/2015
Miles Driven: 244
Fuel Used: N/A

Real-world fuel economy: N/A
Driving mix: 70% city, 30% highway
Base price: $33,700 (not including $800 destination charge)
Options on test car: Floor mats ($125)

Price as tested: $34,625
Quick Hits
The great: Roomy cabin, smooth power delivery

The good: Spacious cargo area for the class, simple controls, quiet cabin

The not so good: Limited driving range, cold-weather hiccups

Expanded Soul price and availability information
Tom Appel
According to electric-vehicle fan site insideevs.com, Americans purchased almost 120,000 "plug-in" vehicles in 2014. That figure is up about 20 percent from the year prior, and includes pure-electric vehicles such as the Nissan Leaf, and plug-in hybrid vehicles such as the Ford C-Max Energi.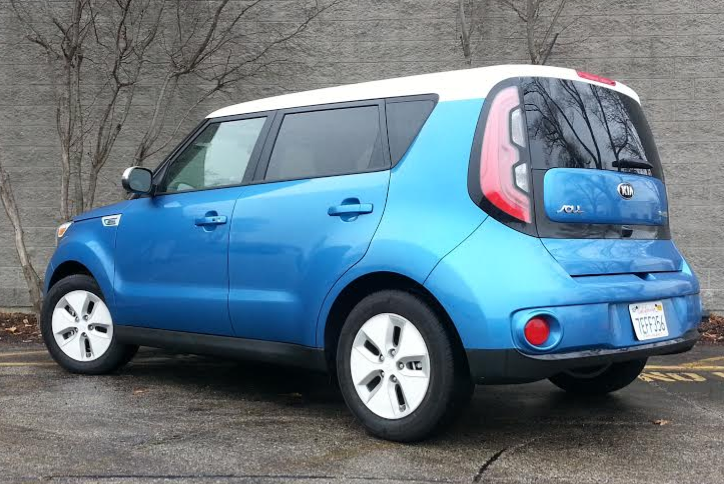 Eliminate the hybrids, and pure electric vehicles accounted for fewer than 85,000 sales, or about one five-hundredth of the 16.3 million new vehicles sold in '14.
Yet, despite the limited sales potential, electric-vehicle (EV) shoppers will have 10 vehicles to choose from in 2015, one of which is the new Kia Soul EV.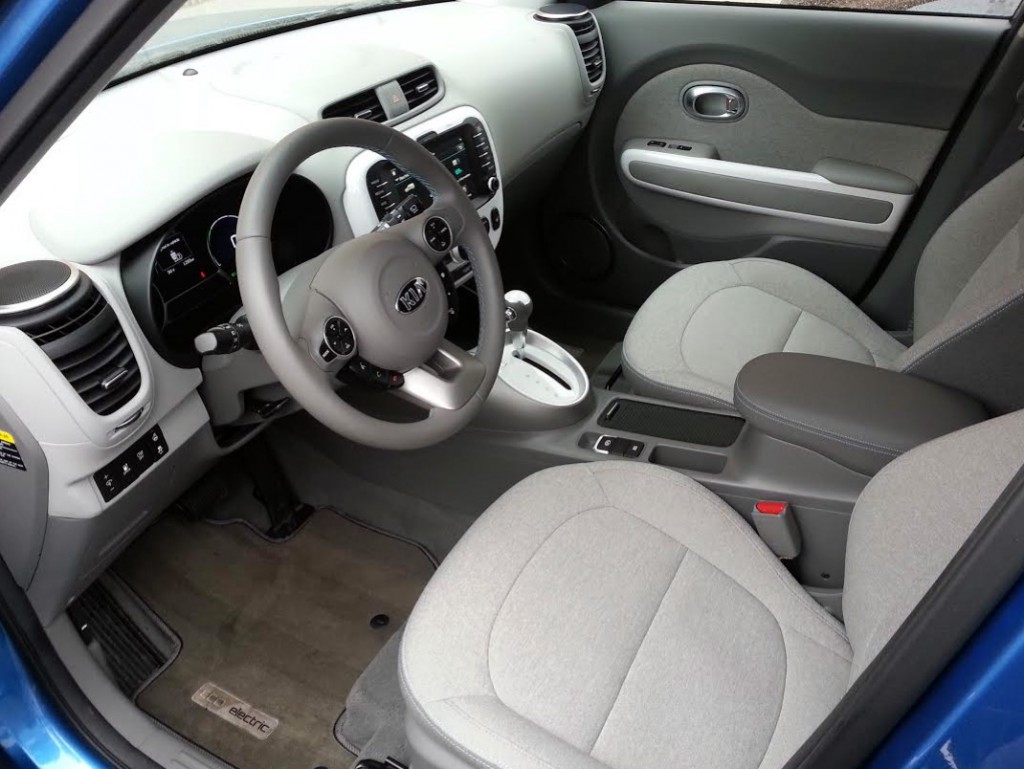 Like most EVs, Soul will only be available in California, Oregon, and a few northeast "green" states. This is something of a shame, as the Soul EV is an especially likable electric car.
Kia has kept the Soul EV lineup simple; there's just one model, and only a handful of minor options available. Including destination charge, the electric Soul (which must have been the name of at least a dozen bands in the Seventies) comes to $34,500. At its website, Kia reminds potential shoppers that the Soul EV qualifies for the $7500 federal electric-car tax credit, effective lowering the price to $27,000, should your financial circumstances allow you to fully exploit that incentive.
But, you may ask, what is the Soul EV like to drive? Very nice, thanks for asking.
A 2015 Consumer Guide Best Buy in conventional gas-powered guise, the Soul proves every to be every bit as rewarding to drive in electric-powered form.
The Soul EV rides and handles much like the gas-powered Soul, which is to say very nicely. And though no rocket, the Soul EV pulls away from stoplights with silky authority, in a fashion far quieter and smoother than its gas-powered sibling.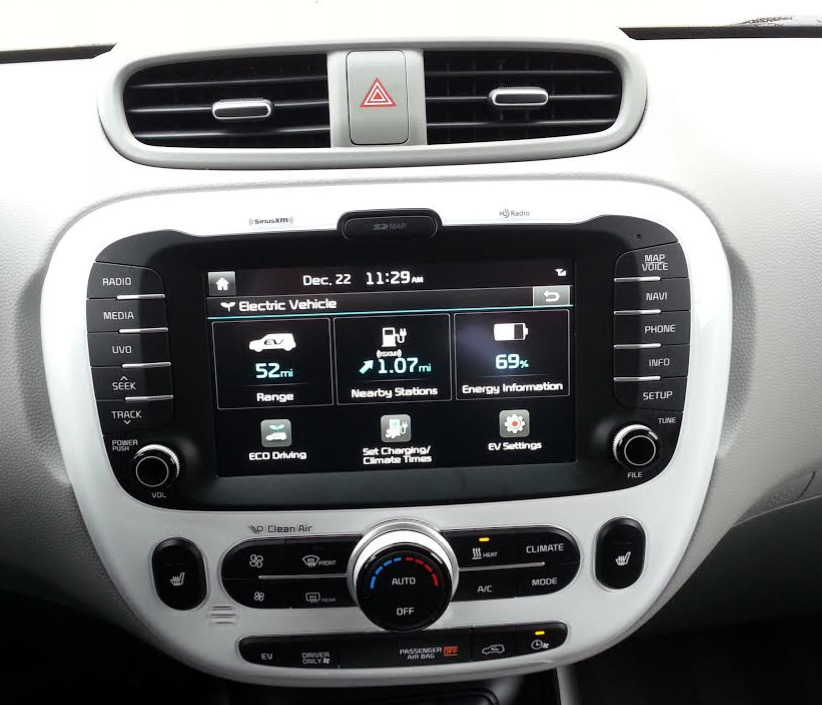 Though lacking the sound-cancelling effect of a running engine, the Soul is surprisingly quiet at low speeds. Typically, rolling away from a stop in an electric car means listening to tire and road noise that is typically masked by the engine hum—this is the case in Chevrolet Volt and Nissan Leaf, for example.
The Soul is quieter overall than those electric-car pioneers, though wind noise can be an issue on windy days at highway speeds.
Soul's primary charm is its overall sense of normality. Soul EV doesn't look or feel much different than gas-powered Souls on the inside, which we consider a blessing. The instrument panel replaces a fuel gauge with a battery meter, and a concentric power-usage readout alerts drivers when their driving style is in conflict with battery-power preservation. Otherwise, the dashboard appears decidedly conventional.
Tech geeks (such as us) and hypermiling types will find plenty of EV operating information available on the center-console touchscreen. Folks disinterested in their kWh-per-mile consumption performance (and other such data) can simply choose to avoid this stuff.
Confessions of an Electric-Car Fan: Why I Love the Nissan Leaf
In most other ways, the Soul EV is like every other Soul. As such, it accommodates large adults up front and in the back seat. The cargo hold is reasonably large and usefully shaped, and the 2nd-row seats fold flush with the floor, extending the load area as needed.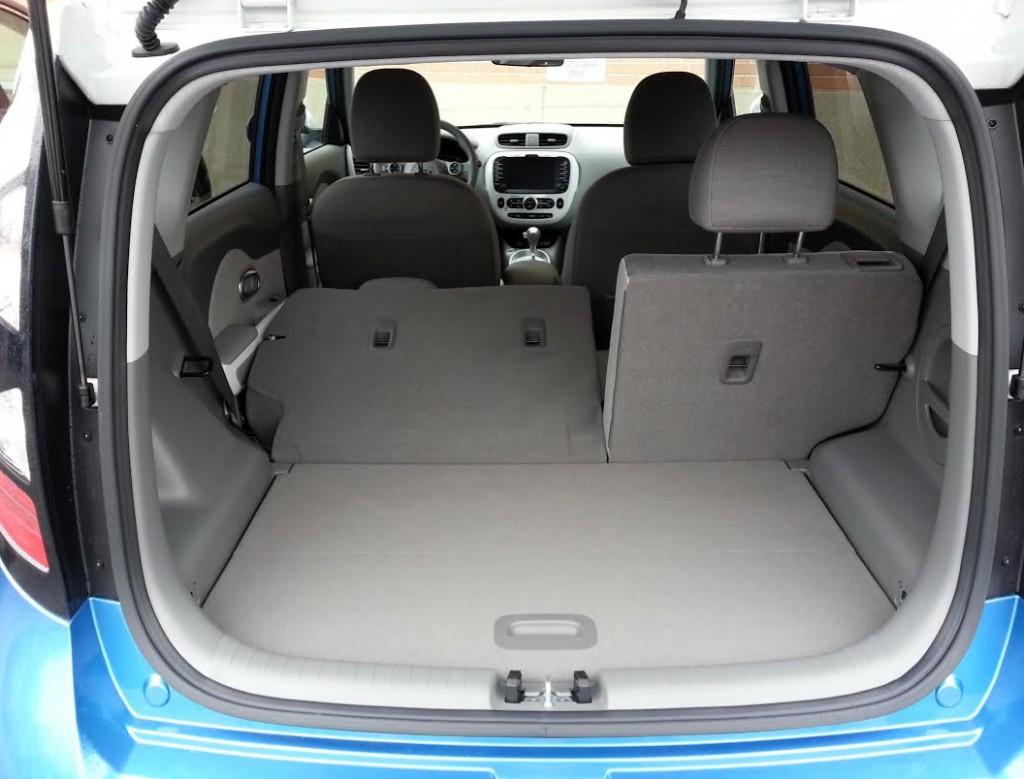 Sadly, the Soul EV is not like the standard Soul in one important category: cold-weather driving. The Soul EV, like every-other U.S.-market electric vehicle, stores energy in a lithium-ion (Li-ion) battery pack. Li-ion batteries are good at packing a lot of energy into a small space, but are sensitive to temperature. Most Li-ion batteries perform best at mild temperatures, and operate at reduced efficiency when things get too hot, or too cold. It got very cold during our time with the Soul EV.
Our first full charge of the Soul EV at the Consumer Guide level 2 charging station (located in an unheated warehouse bay) completed with the Soul's on-board readout showing a range of 77 miles–this on a day with temperatures in the mid-forties. As temperatures dropped during the week, so did our promised range.
A subsequent full charge with temperatures hovering in the low teens netted a projected range of just 55 miles, a 30-percent drop from our first charge—and a hefty 40-percent off the EPA's 93-mile range estimate for the Soul EV.
Test Drive: 2014 Chevrolet Volt
Complicating matters was the Soul EV's front "grille" charge access port. Protected by a novel pop-out and swing-to-the-side door, the port is located in the same place as a conventional Soul's grille.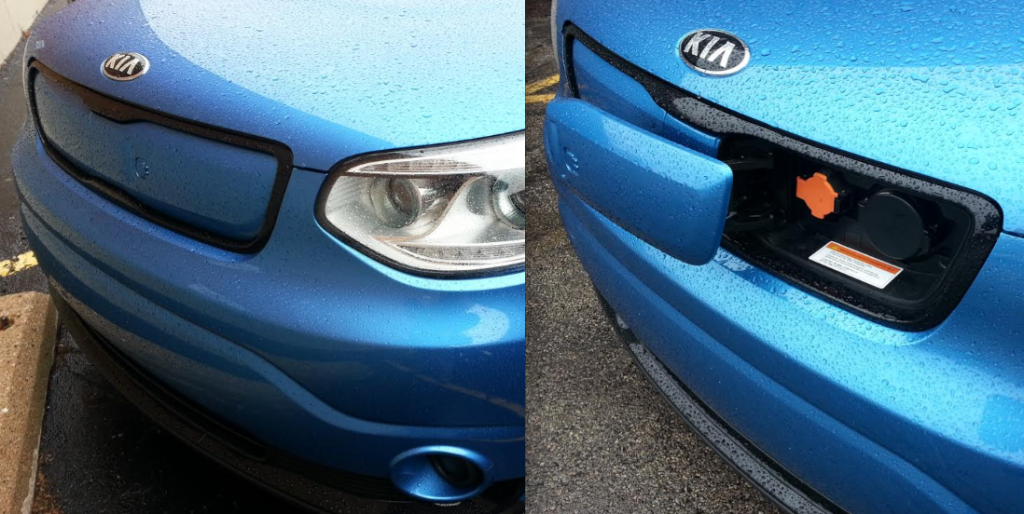 Along with the cold snap that compromised our test Soul's range came a healthy dose of sleet and snow. While the Soul performed admirably in the challenging conditions, the access port cover glazed over with ice, freezing it shut.  
When attempting to charge the Soul at a public outdoor station, it became necessary to douse the front of the car with warm windshield solvent to melt away the ice shield. Once it was cleared, charging commenced normally.
I remain as big a fan of electric vehicles as I have ever been, and find the Soul EV to advance the art by decent margin. The electric Soul is fun to drive, efficient, and very well equipped at its single price point. Consumer Guide's cold-weather experience with the Soul EV only underscores how far the technology still needs to come for EVs to become viable transportation for the general public, especially those in Snowbelt areas. If you can make an EV work for you, absolutely put the Soul on your shopping list–it deserves a test drive. 
Damon Bell
The Kia Soul is one of my favorite subcompact cars. It boasts excellent passenger and cargo room for its size; a nicely finished interior; a refined driving personality; and fun, expressive styling—all at very competitive prices. The new-for-2015 all-electric Soul EV retains all those traits while adding the benefits—and compromises—of a pure-electric vehicle.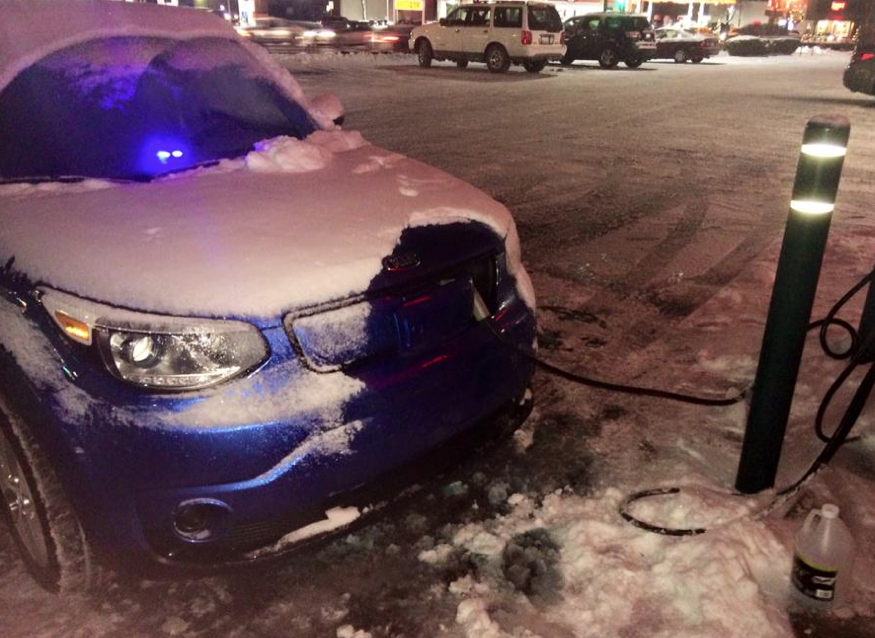 My daily round-trip commute is less than 20 miles, so I had no issues with the Soul EV's range—unlike Tom's experience. The good news is that the Soul EV's driving character is not compromised by the conversion from a gasoline engine to an electric motor. If anything, it's improved, at least in around-town driving. Throttle response is smooth and direct, and acceleration is decently peppy in the city. The Soul EV is quiet too… "engine" noise is reduced to a slight whirr from the electric motor when accelerating. 
In addition to some exterior styling tweaks, the Soul EV gets a few unique interior features, such as the expected EV-system readouts/driving aids and upholstery looks and feels like material from a pair of cozy, industrial-strength sweatpants. Happily, the battery pack does not compromise the passenger- or cargo space.
Even taking state and federal tax credits into account, you'll pay a significant premium for the Soul EV. Though it doesn't trump any of its affordable electric-vehicle brethren in terms of driving range or charge time, it's still a compelling choice in its specialized class.