A bad rap can go a long way toward messing your legacy. Take the poor, ill-remembered Edsel. Rendered largely unsellable by a recession and some dubious marketing, the car is now recalled as a lemon, which is certainly not the case.
So it is with the cars listed here. Lemons, bombs, or just unglamorous transportation fodder for the masses, these plain-Jane rides never got full credit for being fine-looking rides—and that's a shame. So, put away your preconceived notions about these work-a-day cars and look again. I say they're pretty nice looking.
Why Don't Teens Want to Drive? Blame the iPhone
Chevrolet Vega (1971-1973)
If you don't see a little German and Italian influence in these clean, sporty lines, then your heart has been hardened beyond redemption. I am especially smitten with the thin bumpers. You have to admit that in red, this car looks decidedly (and deceptively) racy.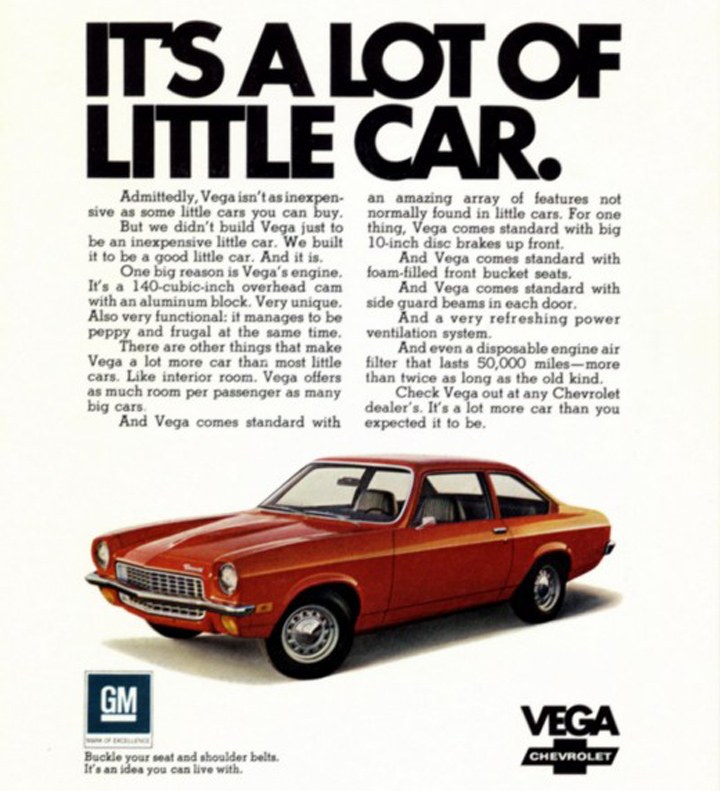 Chevrolet Nova (1968-1972)
I know people who HATE the way this car looks. Philistines. The clean, pinch-waisted "Coke-bottle" profile is both clean and taut—and completely devoid of the flabby organic vagueness that would soon plague most American cars. The Rally in this ad is absurdly cool. I want it.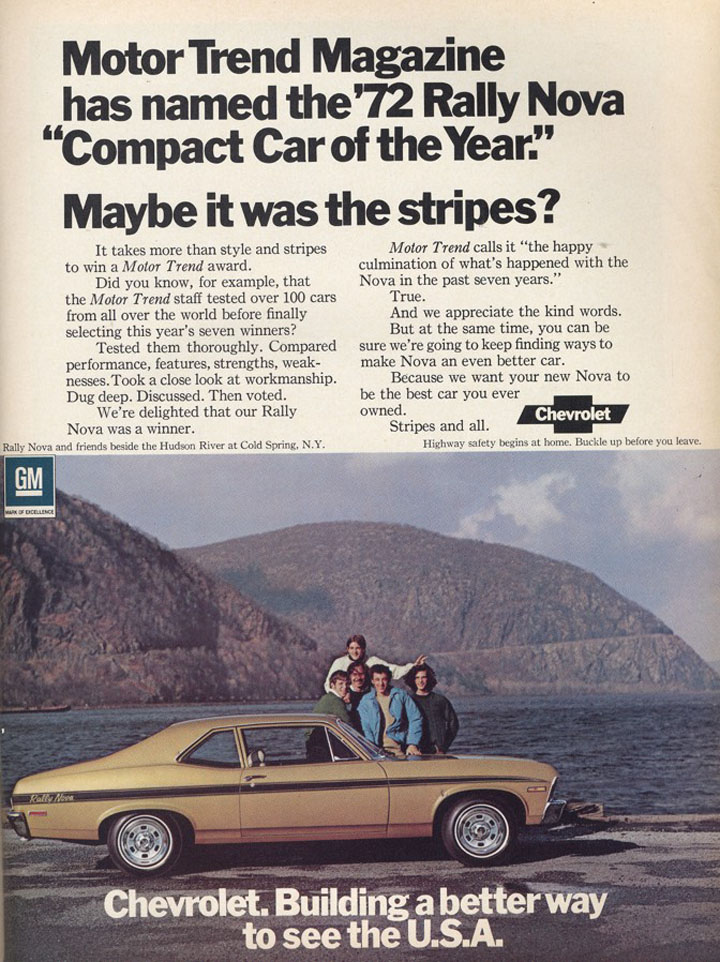 Isuzu Impulse (1983-1989)
I never drove an Impulse, though I knew folks who owned them. I don't recall anyone saying much good about these cars. In fact, I recall Car and Driver referring to the Impulse's standard 1.9-liter engine as the "Torqueless Wonder." Still, this generation Impluse has an undeniable exotic-car quality to it, and in the Eighties the body-color wheel thing was très chic.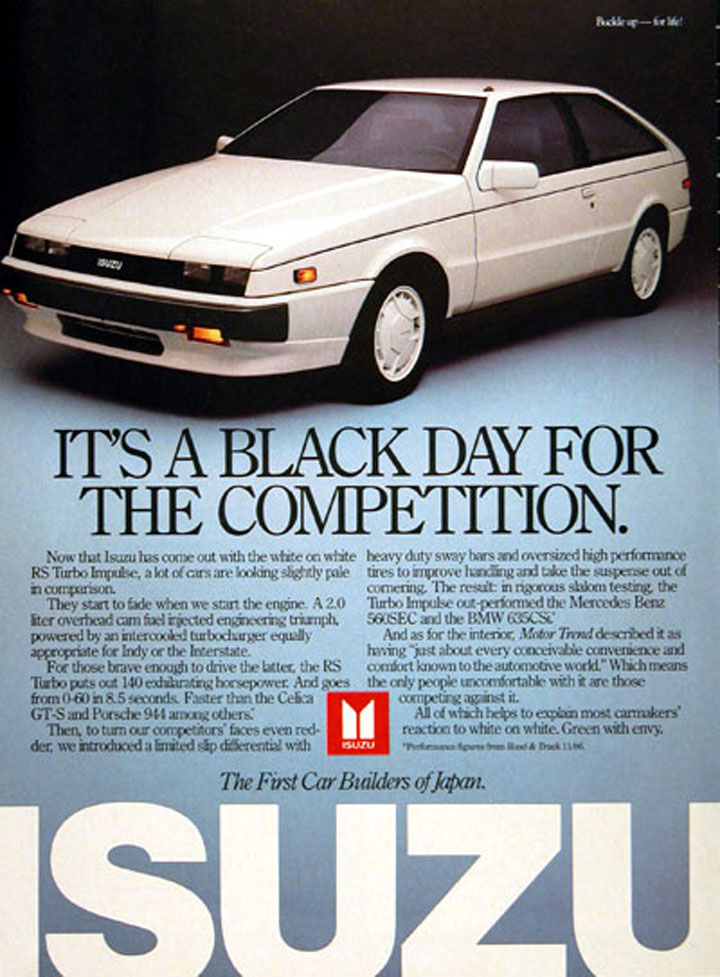 Ford LTD II (1977-1979)
Never mind that this car rode on a Torino frame and was really just a decontented Thunderbird. Never mind because it looked really good. Ford had a great handle on what sporty luxury should look like in the late Seventies, and the two-door versions of the "II" oozed ersatz cool with a dash of athleticism.
Consumer Guide Picks the 15 Best-Looking Cars of All Time*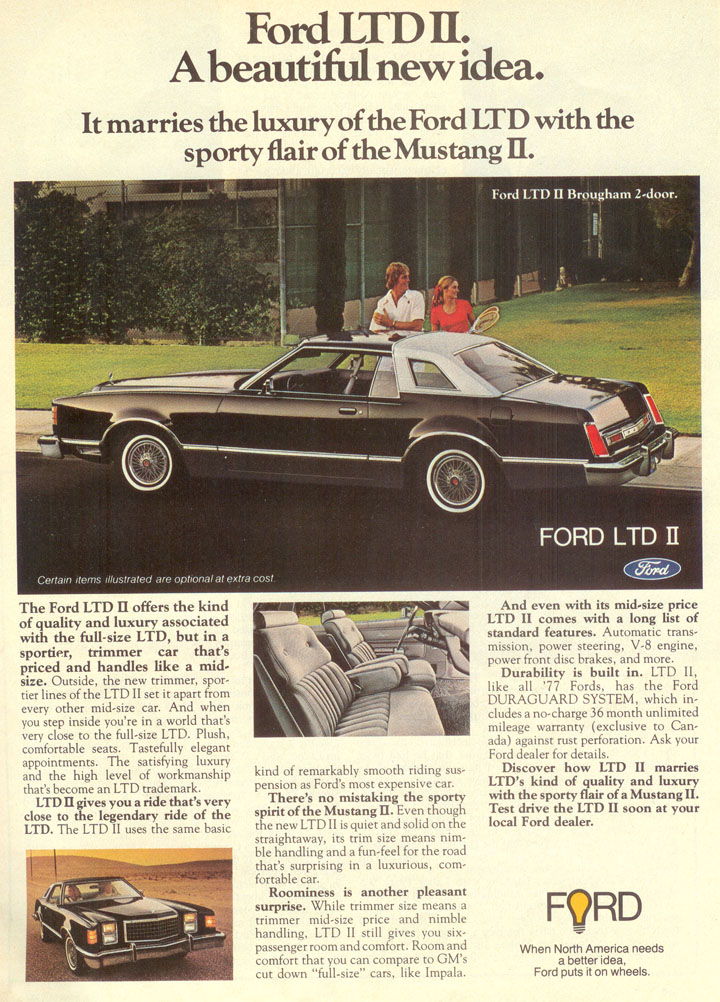 Ford Crown Victoria (1998-2012)
No, really. Done up all monochromatic, with the right wheels, you've got something pretty cool. Like the recent Mercury Marauder, but without the pretense or stench of failure. The ad here pretty much captures the potential. Two-color police livery tends to ruin the effect, as the simple lines of the Vic don't hold up well to the black and white checkerboard thing. Special gratitude is due the designers for forgoing any black bumper inserts or sundry chrome bits.