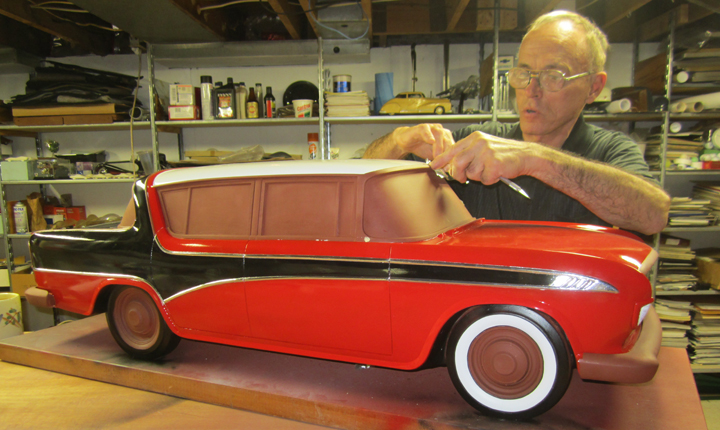 Having worked as a design sculptor in the styling departments of three American automakers, Ron Konopka values the skill and workmanship that go into creating the models that historically have been used to establish the looks of cars. That's what motivated him to obtain and restore a deteriorating ¼-scale plaster model of the 1956 Nash Rambler—a rare artifact of the long-defunct American Motors Corporation.
The 48-inch-long scale model of a Rambler Custom four-door sedan now wears a white, black, and red paint job inspired by period advertisements for Nash's groundbreaking 108-inch-wheelbase compact. But when Konopka brought the model to the basement of his Harper Woods, Michigan, home in October 2011, it was in stained and chipped bare plaster. "It was extensively damaged with water dripping on it," he said.
Just about a year later—on Halloween 2012—Konopka completed work on the model. He used wood filler to smooth out the chips and pits that had blemished the surface. Then he primed and painted the piece. As a finishing touch, he applied metallic foil to simulate the '56 Rambler's chrome trim.
Apart from the absence of details like door handles, badges, and hood ornaments, the plaster model depicts the final accepted body design of the 1956 Rambler Custom. Konopka said such models would have been made for promotional displays or as a way for styling personnel to view prospective paint-color combinations before the start of production. They would have been rare to start with, and the chances of one getting outside the confines of the company would have been extremely slim. "It took a very special person, an executive or someone, to get it out legally," he said.
Still, they did. Konopka said he has collected a number of plaster, wood, and fiberglass styling models. He secured the '56 Rambler model in a trade with another collector, and it fits in with three other AMC concept models that he obtained as the result of an ad that he placed while working for the company from 1982 to '84. (American Motors was born from the 1954 merger of Hudson and Nash. It lasted until 1987, when it was absorbed by Chrysler Corporation.)
Konopka, 69, is retired from General Motors, where he was a clay modeler in advanced-design studios from 1984 to 2001. His career in the auto industry started in 1964 with an office job at the old "Dodge Main" plant in Hamtramck, Michigan. In 1971, he became a sculptor in Chrysler's former Highland Park, Michigan, design studios and worked there until a wave a layoffs hit the company in the late Seventies.
Now that the Rambler model is finished, it won't stay hidden. Konopka said he is hoping to display it next summer at the annual national meet of the American Motors Owners Association.
Masterpieces in Scale: GSL International Model Car Championship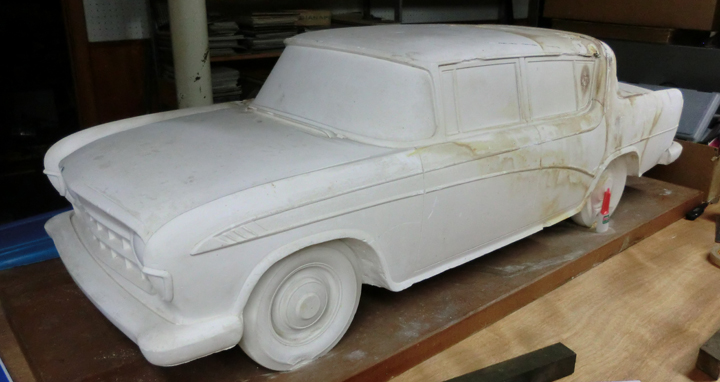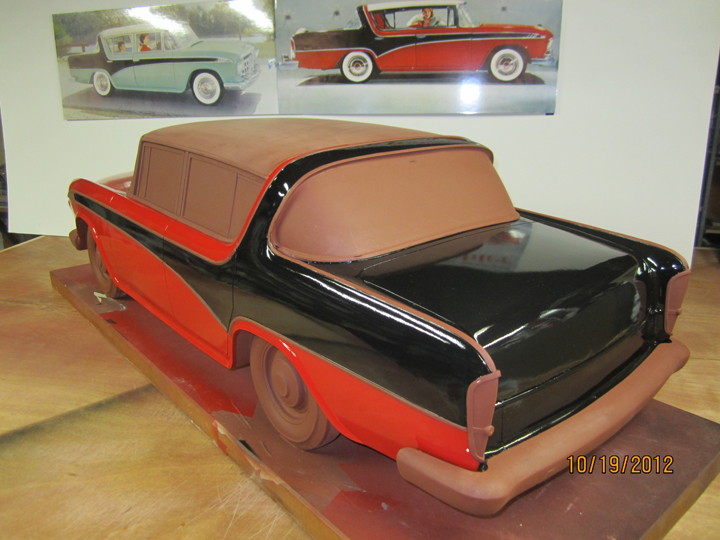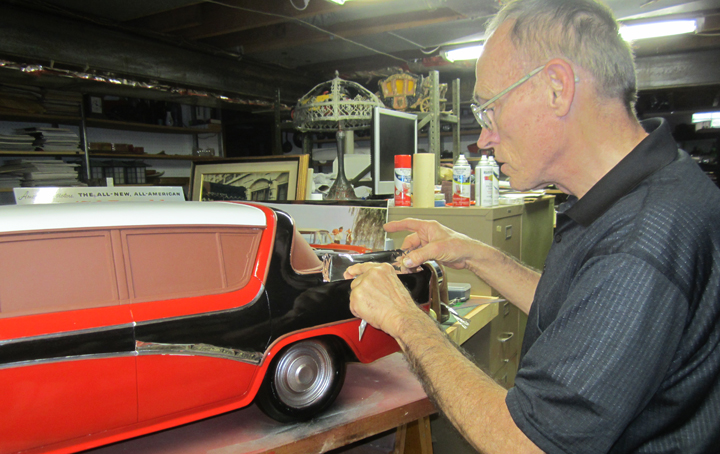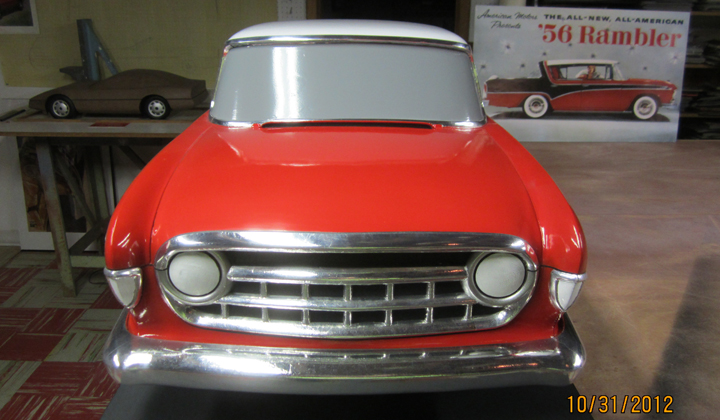 Fisher Body Craftsman's Guild Models to Make Rare Appearance