Toyota's midsize coupe and convertible gain a new engine for 2002 but retain the foundation of the 1997-2001 Camry sedan. Solara is an offshoot of the far-better-selling Camry, which for 2002 is redesigned on a new, slightly larger platform. Solara styling is freshened inside and out for '02, and 4-cyl models switch to the new Camry 2.4-liter engine, which has 21 hp more than the 2.2 it replaces. V6 Solaras retain a 200-hp 3.0. Coupes are available with manual or automatic transmission regardless of engine; all convertibles have automatic. Convertibles come with a power folding top with heated glass rear window. Front side airbags are a Solara option. Antilock 4-wheel disc brakes and leather upholstery are among features standard on the uplevel Solara SLE and optional on the base SE model.
More Consumer Guide Quick Looks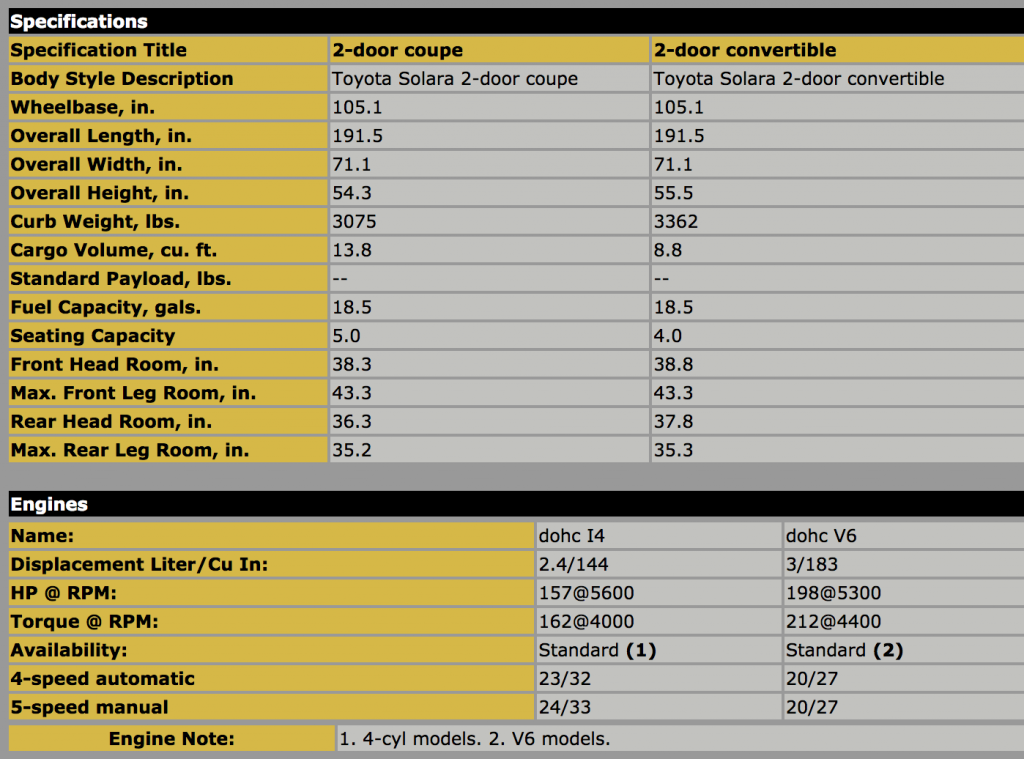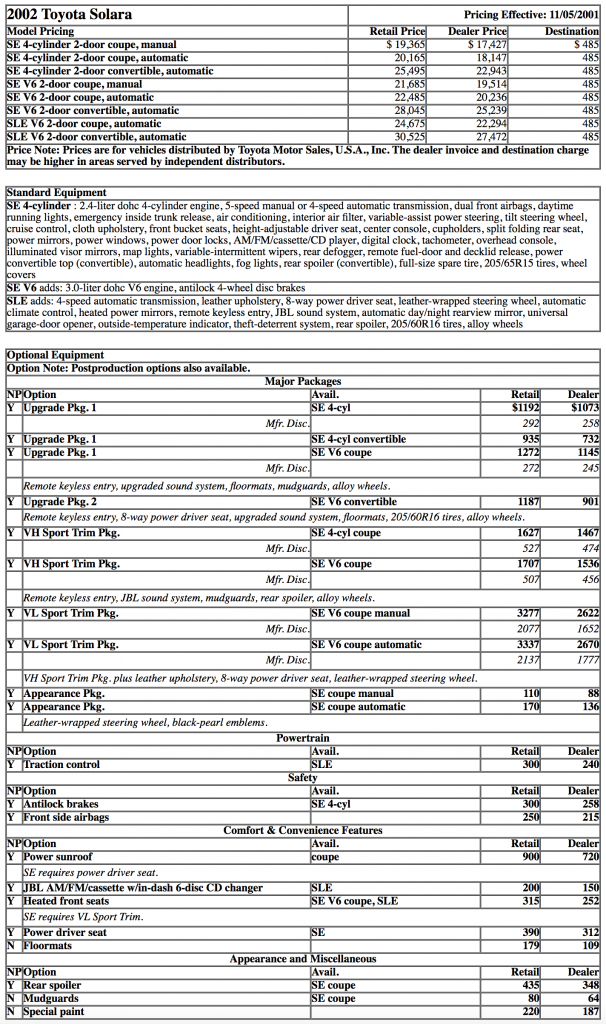 Solara is polished in most every control and movement. It favors ride comfort over sporty road manners, though V6 versions have decent acceleration. The 2-dr body style complicates rear-seat entry/exit, but the back seat itself is no penalty box. The convertible suffers pronounced top-down body flex with the roof lowered, making the solid coupe the more-solid value.
Perennial Best Buys Honda Accord and Toyota Camry continue to shine with refinement, model diversity, and comfort. Both come in coupe and sedan forms, offer economic 4-cylinder or sporty V6 power, have room for four adults, and are reasonably priced. Recommended models include the import-flavored Chevy Malibu, plain-Jane Ford Taurus, and the good-looking Pontiac Grand Prix. All come with V6 power, offer lots of standard equipment, and have pleasing road manners that will suit a variety of driving styles. The restyled and larger Nissan Altima is new to the Recommended list this year. We are impressed with interior room and road manners, but disappointed by the budget-level interior materials and assembly.