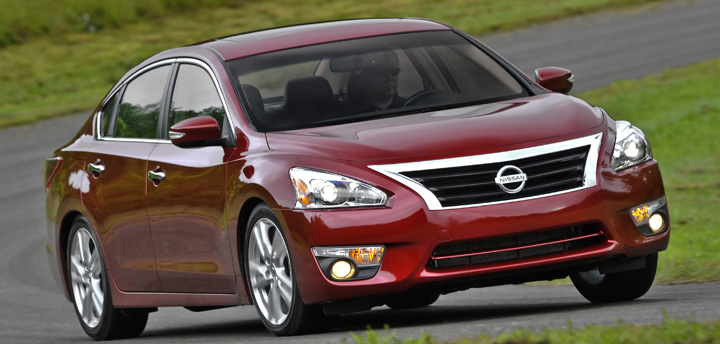 Each year, Consumer Guide Automotive editors test drive and evaluate nearly every vehicle sold in the United States. Together, the editors rate each vehicle 1–10 in the following categories: Acceleration, Fuel Economy, Ride Quality, Steering/Handling/Braking, Quietness, Controls, Details, Room/Comfort/Driver Seating (front), Room/Comfort (rear), Cargo Room, and Value Within Class.
The editors add those numbers to produce a total CG Rating score for each vehicle. Below are the total rating scores for all 2013 midsize cars (excluding luxury cars). Click the name of the car for a detailed review of that vehicle.
Note that the Consumer Guide Automotive Best Buy Awards are not entirely based on the CG Rating scores. A car may be rated No. 4, but if its pricing is pleasingly low, it could be dubbed a Best Buy. Also, a car's maximum rating for an individual category is 10. A car could be "off the charts" in a particular category—such as the Toyota Prius with fuel economy (it gets 50 mpg)—which adds to its Best Buy value. Finally, Best Buy selections are based on personal, informed judgments, not just rating numbers.
Check out our current Best Buys
1) Nissan Altima
Base MSRP: $21,500; Consumer Guide Rating: 75
Altima is a well-rounded car that has very few obvious negatives. On the road, it's a bit sportier than the normal family sedan. The interior is comfortable, tastefully finished, and very practical, although some may find it a bit bland compared to its more stylish competitors.
2) Ford C-MAX
Base MSRP: $25,200; Consumer Guide Rating: 74
This hybrid, which delivers spectacular fuel economy, compares favorably with Toyota's Prius family. C-MAX offers a usefully cubic cargo area along with some neat features such as Ford's hand-free power tailgate, all at Prius-competitive prices.
2) Mazda 5*
Base MSRP: $19,625; Consumer Guide Rating: 74
The 3-row Mazda 5 is a well-made, sensibly sized wagon that's sedan nimble, minivan versatile, and priced right. It also delivers good fuel economy—much better than the larger minivans. Be warned, though, that only small children can sit comfortably in the rear row.
2) Volkswagen Passat
Base MSRP: $20,485; Consumer Guide Rating: 74
Passat offers excellent passenger and cargo room in a practical and comfortable package. While the gasoline engines are very refined, and fine choices in their own right, the available TDI engine is one of this sedan's defining features.
5) Honda Accord Sedan
Base MSRP: $21,680; Consumer Guide Rating: 73
Honda redesigns the Accord for 2013 with an admirable focus on maintaining the car's individual character. The new Accord delivers tangible improvements on most every front, but also stays true to its traditional strengths, including a fine ride/handling balance and a solid, cohesive overall feel.
5) Hyundai Sonata
Base MSRP: $20,895; Consumer Guide Rating: 73
All Sonatas are an excellent value, offering a high features-per-dollar ratio. The 2.0T engine demonstrates V6-like acceleration yet boasts 4-cylinder fuel consumption. While Sonata's suspension composure lags rivals, it is offset by the entire lineup's unique blend of style, interior comfort, standard and available features, and value pricing.
5) Toyota Prius v
Base MSRP: $26,650; Consumer Guide Rating: 73
Though Prius v gives up some fuel economy compared to the original Prius, its excellent packaging makes it an arguably more attractive option for families and active folks looking for better gas mileage than most any midsize car or SUV can deliver. This is a practical, roomy wagon that can easily achieve 40 mpg and be bought with most every feature you could want for $30,000 or less.
8) Ford Fusion
Base MSRP: $21,700; Consumer Guide Rating: 71
The 2013 Fusion has many strong points, but there are a couple weak spots as well. Especially impressive are the refined EcoBoost engines and the car's very comfortable ride. The smoothly integrated hybrid system is a positive, too. However, we're still not convinced that MyFord Touch is a clear improvement over more traditional control interfaces.
8) Kia Optima
Base MSRP: $21,200; Consumer Guide Rating: 71
Optima aims to deliver upscale accoutrements and a sporty, driver-oriented demeanor at bargain prices, and it mostly succeeds. This car hits the bull's-eye with an urbane cabin and many unexpected options, including cooled front seats. Optima is reasonably engaging to drive, though its handling is not as polished as the best in this class.
8) Subaru Legacy
Base MSRP: $20,295; Consumer Guide Rating: 71
Legacy is pleasant to drive, has great interior room, and comes with a lot of equipment at reasonable prices. Standard all-wheel drive is a bonus for snow-belt states.
8) Subaru Outback
Base MSRP: $23,495; Consumer Guide Rating: 71
Outback has a well-rounded combination of midsize car, station wagon, and SUV attributes. Competitive pricing, standard all-wheel drive, and a roomy cabin are additional pluses on all Outback models.
8) Toyota Camry**
Base MSRP: $21,955; Consumer Guide Rating: 71
Camry's virtues include smooth powertrains, good fuel economy, and quiet, roomy cabins. It's no excitement machine—not even the sporty SE model—but for all-around flexibility and practicality, Camry remains a compelling package. We're especially impressed with the substantially improved Hybrid.
13) Chevrolet Malibu
Base MSRP: $22,390; Consumer Guide Rating: 69
The Malibu Eco is dynamically as good or better than most competitors, and it ranks at or near the top of the class in quietness and interior design and layout. On all Malibus, visibility is subpar. Malibus with the 2.5-liter engine deliver decent performance.
13) Toyota Prius
Base MSRP: $24,200; Consumer Guide Rating: 69
The Toyota Prius is a fine midsize car that just happens to achieve some of the best fuel economy we've ever experienced—around 50 mpg. There are some compromises, namely in terms of acceleration, rear visibility, and a somewhat cheap-looking interior. In the grand scheme, these are fairly minor niggles given the car's decent ride, accommodating cabin, and exceptional cargo versatility.
15) Honda Accord Coupe
Base MSRP: $23,350; Consumer Guide Rating: 68
One of just two coupes available in the midsize class, this car delivers a "just right" blend of 2-door style and everyday practicality. The redesigned 2013 model delivers tangible improvements on most every front, including improved fuel-economy figures with no significant penalty in performance.
15) Honda Crosstour****
Base MSRP: $27,655; Consumer Guide Rating: 68
Honda's genre-bending Crosstour brings enhanced cargo versatility and the availability of all-wheel drive to the celebrated Honda Accord platform. However, this hatchback commands a significant price premium over its sedan sibling.
15) Suzuki Kizashi***
Base MSRP: $19,999; Consumer Guide Rating: 68
This is the final year in America for both Kizashi and Suzuki automobiles. Though it suffers from a noisy engine, sluggish off-the-line acceleration, and a somewhat cramped back seat, Kizashi is a fine car that delivers high levels of style and features per dollar. All-wheel-drive is available.
18) Mazda 6
Base MSRP: $20,725; Consumer Guide Rating: 66
Mazda 6 excels for its style, passenger space, and fun-to-drive character. We prefer the 4-cylinder versus the V6 due to those models' better fuel economy and ride/handling balance.
19) Nissan Maxima
Base MSRP: $32,780; Consumer Guide Rating: 64
Maxima offers abundant power and some unexpected features, such as a heated steering wheel. Although Nissan advertises Maxima as a "4-door sports car," it's not athletic enough to live up to that title. And it's very pricey.
20) Chrysler 200
Base MSRP: $18,995; Consumer Guide Rating: 63
With its available V6 engine, the Chrysler 200 impresses with its power and fuel economy. The interior presents well for materials quality but not so much for passenger room. The convertible is a decent cruiser that offers buyers the choice of a soft or retractable hard top.
20) Dodge Avenger
Base MSRP: $18,995; Consumer Guide Rating: 63
Though it still trails the leaders in the midsize class, Avenger no longer competes based solely on price. This car's cabin boasts a modern design with quality materials, although it is not very spacious and rear visibility is poor. Pricing is very reasonable, especially for the V6 engine and useful features, such as Chrysler's Uconnect infotainment system.
—) Chevrolet Impala*****
Base MSRP: $25,860; Consumer Guide Rating: —
No Impala models have been made available for testing. Impala's first redesign in eight years will come in model-year 2014.
Consumer Guide Picks the 15 Best-Looking Cars of All Time*
* 2012 rating; 2012 base MSRP. We anticipate few changes for the 2013 Mazda 5.
** 2012 rating; 2012 base MSRP. We expect few changes for the 2013 Camry, which was redesigned for 2012.
*** 2012 rating; 2013 base MSRP. Changes are minor on the 2013 Kizashi.
**** 2012 rating; 2012 base MSRP. No word yet on the 2013 Crosstour.