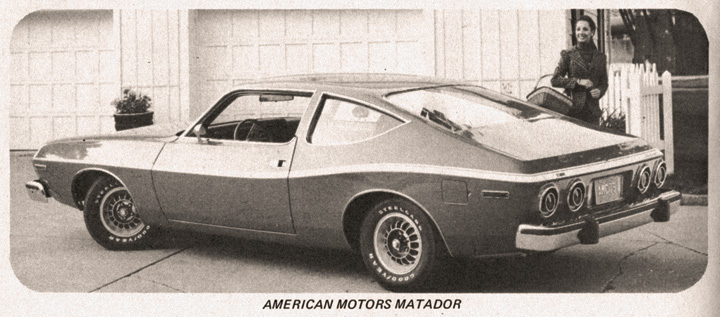 American Motors entered 1975 as a company in transition. The top-of-the-line Ambassador and sporty Javelin were both discontinued at the end of the 1974 model run. The company's plan was to concentrate on small cars, including its compact Hornet and subcompact Gremlin. During the year, the wide-yet-small Pacer was introduced. The last car in the line was AMC's largest, the intermediate-sized Matador.
The Matador line had been updated for 1974. The sedan and wagon received fresh front and rear styling and some other tweaks, but in reality they were heavily based on the 1967 Rambler Rebel under the skin. The big news was the all-new 2-door coupe. It rode a wheelbase that was 4 inches shorter than the 4-doors and had completely different styling.
The coupe had a fastback roofline, fixed quarter windows, and large doors with frameless glass. Signature styling touches included headlamps set into round housings that extended back into the hood. The leading edge of the hood also formed the start of a crease that ran around the middle of the entire car. Freestanding chrome bumpers and a quartet of round taillamps were other touches.
To my eyes, at least, the Matador coupe looked best in sporty "X" trim, which came with a black grille, AMC's slotted steel wheels, and a racing stripe that went from the tip of one front fender and followed the bodyside crease all the way around the car to the other fender tip.
Intermediate coupes sold like beer and brats at a Milwaukee Brewers game in the '70s, so it's easy to understand that AMC wanted a chunk of that business. The market was also trending toward "personal luxury" (think Oldsmobile Cutlass Supreme and Chevy Monte Carlo), but unfortunately the Matador Coupe's design didn't work that well with the styling touches those customers wanted.
AMC sure tried, though, first with an Oleg Cassini "designer" edition of the coupe in 1974. There was also a D/L Formal Window Package, which added then-trendy opera windows. And, of course, there were optional vinyl tops. A Barcelona package, new for '76, tried to inject some class and pump up flagging sales. It evolved into an over-the-top Barcelona II treatment for '77, with two-tone paint, body-color bumpers, and lots of stereotypical '70s luxury touches. Coupe sales peaked at a disappointing 31,169 in '74 and dwindled to a pathetic 2,006 units in '78. AMC dropped the Matador line at the end of the 1978 run. The company's biggest car moving forward would be the Hornet-based Concord, which was "new" for 1978.
When Consumer Guide first previewed the '75 Matadors in Auto '75, the editors were quite complimentary, but much more so for the sedan and wagon. Most talk centered around the various mechanical upgrades shared by the entire AMC line.
More Review Flashback! reviews

Kenosha Madness! 10 Classic AMC Ads